• William Estes Nipper (born October 21, 1978 in Los Angeles, California) is an actor best known for his role as New York Police Department officer Jamie Reagan in the police drama television series "Blue Bloods".
• His net worth is estimated to be over $12 million, earned through his successful career as an actor.
• He began his acting career with a major role in the television series "New Lassie" and has since appeared in other television series, music videos and films.
• He is romantically linked to several celebrities such as Jennifer Love Hewitt and Jodie Sweetin, and is reportedly engaged to actress Rachel Boston.
• He is an advocate of renewable energy and the humane treatment of animals, and enjoys literature and Brazilian Jiu Jitsu in his spare time.

Known for movies
Short Info
| | |
| --- | --- |
| Fact | Co-stars with Tom Guiry in U-571 (2000). Coincidentally, Estes played Lassie's owner/human friend in the television series The New Lassie (1989), while Guiry played a similar role in the film Lassie (1994). |

Who is Will Estes?
William Estes Nipper was born on 21 October 1978, in Los Angeles, California USA, and is an actor, best known for being a part of the police drama television series "Blue Bloods" in which he plays the role of New York Police Department officer Jamison "Jamie" Reagan.
The Net Worth of Will Estes
How rich is Will Estes? As of late-2018, sources inform us of a net worth that is over $12 million, mostly earned through a successful career in acting. He's appeared in numerous other film and television projects throughout his career, and as he continues his endeavors, it is expected that his wealth will also continue to increase.
Beginnings in Acting
Very little information is available about Will's early life, his childhood, family, and his education, except that he was raised in Los Angeles, the only child of his mother, an office administrator, and his father, a projectionist.
He landed his first major role in television after auditioning with 700 other kids to play the role of Will McCullough in the series entitled "New Lassie" which would run from 1989 to 1992, after which more opportunities started to open up for him, and he appeared in other television series including "Baywatch", "Boy Meets World", "Full House", "Diagnosis: Murder", and "7th Heaven" which he had a recurring role.
Later Acting Work
Estes then decided to try his hand at the music video industry, appearing in music videos for various bands. He was a part of the music video for "Objects in the Rear View Mirror May Appear Close Than They Are" by Meat Loaf and was also a part of Bon Jovi's "It's My Life" music video. He did most of his stunts in the music video, having been approached by Jon Bon Jovi himself to appear in his music video after Bon Jovi saw his work in "U-571". This had been his breakout role, as Seaman Ronald "Rabbit" Parker, and around this time, he also did numerous commercials, including for Fruit of the Loom. Over the next few years, he would have guest appearances in other popular series, such as "Santa Barbara" and "Highway to Heaven". Estes then got the leading role in the Fox series entitled "Reunion", which followed six best friends over the course of 20 years, with each episode marking another year. During the 20
th
episode which was the group's 20
th
high school reunion, one of them turns out to be dead, but the mystery was never solved as Fox cancelled the series because of low ratings.
The Reagans are back this Fall @BlueBloods_CBS .#Family pic.twitter.com/3syTnzgWUP

— Will Estes (@WillEstes101) July 15, 2016

In 2007 Will was cast in the short film "Luz Del Mundo" in the role of Jack Kerouac, written and also directed by Ty Roberts.
Estes then tried his hand at photography work, appearing in a couple of photographs in books such as "Hollywood Splash" and "Men Before 10am Too".
Blue Bloods and Latest Work
In 2010 Will then got one of his most notable roles, as Officer Jamie Reagan in the police procedural drama television series "Blue Bloods", filmed on location in New York City with occasional references to the nearby suburbs. Thanks to his performance, he was rewarded with a Prism Award for Best Performance in a Drama Series Episode, and won a Golden Honu Award for Actor of the Year in 2015. He had other projects as well while he was a part of "Blue Bloods", including the television movie "Shadow of Fear" playing the role of Morgan Pierce.
Other projects he has had include films such as "Magic Valley", "Not Since You", "Line of Duty", and "Anchors". He also had the role of Officer Simon Jansen in the "Dark Knight" trilogy film "The Dark Knight Rises", all boosting his reputation as well as his net worth.
Relationships and Personal Life
While Estes has never been married, he has been romantically linked to several celebrities over the years. It is known that he briefly dated Jennifer Love Hewitt in 2004, and was even romantically involved with Jodie Sweetin. There are some reports that say that he is engaged to another actress – Rachel Boston – though this has not been confirmed.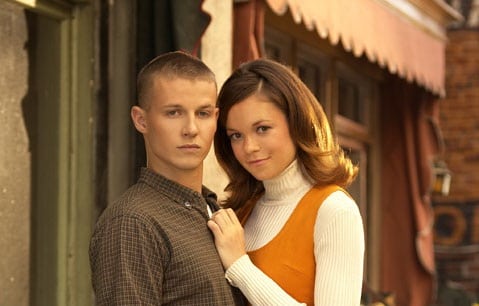 During an interview, he mentions that education is one of the greatest tools to help improve knowledge and experience. Aside from acting, he has trained in gymnastics and Brazilian Jiu Jitsu, even entering a few competitions. He also enjoys literature, and likes to read books during his free time. He also does a bit of charity work, and has been seen as an advocate of renewable energy, and the humane treatment of animals.
General Info
| | |
| --- | --- |
| Full Name | Will Estes |
| Height | 1.77 m |
| Profession | Actor |
| Education | Santa Monica College |
| Nationality | American |
Family
| | |
| --- | --- |
| Parents | Bill Nipper, Mary Lu Nipper |
Accomplishments
| | |
| --- | --- |
| Movies | U-571, Mimic 2, The Dark Knight Rises, Not Since You, The Dive from Clausen's Pier, New Port South, Terror Tract, Blue Ridge Fall, The Familiar Stranger, Once Upon a Forest, Magic Valley, Jonny's Golden Quest, The Last Halloween, Miracle Landing, May, Line of Duty, When Love Kills: The Seduction of ... |
| TV Shows | Reunion, American Dreams, Kelly Kelly, The Secret World of Alex Mack, Meego, Kirk, It Had to Be You, The New Lassie, Blue Bloods |
Social profile links
Quotes
| # | Quote |
| --- | --- |
| 1 | I think education is one of the greatest tools for most kids not only to expand their book knowledge, but their ability to experience new things - I think it opens more doors than any other experience I can think of. |
Facts
| # | Fact |
| --- | --- |
| 1 | Trained in gymnastics and competed in Brazilian Jiu Jitsu. |
| 2 | Attended Santa Monica College and majored in English literature. |
| 3 | He was the top choice for Adam in the movie May (2002) but eventually lost out to Jeremy Sisto. Instead, he had an appearance as Adam's roommate. |
| 4 | Won on Celebrity Jeopardy. |
| 5 | Learned in detail how to behave like a quadriplegic to prepare for his role on The Dive from Clausen's Pier (2005). |
| 6 | Co-stars with Tom Guiry in U-571 (2000). Coincidentally, Estes played Lassie's owner/human friend in the television series The New Lassie (1989), while Guiry played a similar role in the film Lassie (1994). |
| 7 | Is an only child. |
Pictures
Movies
Actor
| Title | Year | Status | Character |
| --- | --- | --- | --- |
| Blue Bloods | 2010-2016 | TV Series | Jamie Reagan |
| Anchors | 2015 | | Dylan |
| Automotive | 2013 | | Kansas |
| Line of Duty | 2013 | | The Dealer |
| The Dark Knight Rises | 2012 | | Officer Simon Jansen |
| Shadow of Fear | 2012 | TV Movie | Morgan Pierce |
| Magic Valley | 2011 | | Jimmy Duvante |
| Not Since You | 2009 | | Billy Sweetzer |
| The Cleaner | 2009 | TV Series | |
| Angels and Fire | 2009 | Short | Cpl. Anderson |
| In Plain Sight | 2009 | TV Series | Henry Atkins Henry Adams |
| Eleventh Hour | 2008 | TV Series | Kevin Pierce |
| Squeegees | 2008 | TV Movie | Pee-Wee Machachi |
| Luz del mundo | 2007 | Short | Jack Kerouac |
| Reunion | 2005-2006 | TV Series | Will Malloy |
| Law & Order: Special Victims Unit | 2006 | TV Series | Adam Halder |
| The Dive from Clausen's Pier | 2005 | TV Movie | Mike Mayer |
| The Drive | 2005 | Short | Aaron |
| American Dreams | 2002-2005 | TV Series | JJ Pryor |
| See You in My Dreams | 2004 | TV Movie | Ben |
| Charity | 2004 | Short | Repo Man |
| May | 2002 | | Chris, Adam's Roommate |
| New Port South | 2001 | | Chris |
| Mimic 2 | 2001 | Video | Nicky |
| The Familiar Stranger | 2001 | TV Movie | Ted Welsh |
| The Fugitive | 2000 | TV Series | Jesse Larson |
| Terror Tract | 2000 | | Sean Goodwin (segment "Come To Granny") |
| 7th Heaven | 1999-2000 | TV Series | Andrew Nayloss |
| U-571 | 2000 | | Seaman Ronald 'Rabbit' Parker |
| Blue Ridge Fall | 1999 | | Taz |
| Kelly Kelly | 1998 | TV Series | Sean Kelly |
| Diagnosis Murder | 1998 | TV Series | Erik Fincher |
| The Secret World of Alex Mack | 1997-1998 | TV Series | Hunter Reeves |
| Meego | 1997 | TV Series | Trip Parker |
| Kirk | 1995-1996 | TV Series | Cory Hartman |
| Boy Meets World | 1994-1996 | TV Series | Alex / Dylan |
| Brothers' Destiny | 1995 | TV Movie | Michael Murphy |
| How to Make an American Quilt | 1995 | | Boy at Party |
| Full House | 1995 | TV Series | Andrew |
| Step by Step | 1994 | TV Series | Kevin Philips |
| Rhythm & Jam | 1993 | TV Mini-Series | Kid On The Street |
| Once Upon a Forest | 1993 | | Willy (voice, as Will Nipper) |
| When Love Kills: The Seduction of John Hearn | 1993 | TV Movie | Gary Black (as Will Nipper) |
| Jonny's Golden Quest | 1993 | TV Movie | Jonny Quest (voice, as Will Nipper) |
| Harry and the Hendersons | 1993 | TV Series | Brad |
| It Had to Be You | 1993 | TV Series | Christopher Quinn |
| The Legend of Prince Valiant | 1992 | TV Series | Stable-Boy / Squire |
| Baywatch | 1992 | TV Series | Cooper |
| The New Lassie | 1989-1992 | TV Series | Will McCullough |
| The Last Halloween | 1991 | TV Short | Michael (as Will Nipper) |
| Dutch | 1991 | | Teddy (as Will Nipper) |
| Menu for Murder | 1990 | TV Movie | Chad Henshaw (as Will Nipper) |
| Miracle Landing | 1990 | TV Movie | David Kornberg (as Will Nipper) |
| Highway to Heaven | 1988-1989 | TV Series | Samuel Hays (age 7) / Louis (at 11) |
| Murphy's Law | 1989 | TV Series | George Segal |
| Santa Barbara | 1984 | TV Series | Brandon DeMott Capwell (1988) (temporary replacement) (as Will Nipper) |
Thanks
| Title | Year | Status | Character |
| --- | --- | --- | --- |
| Charity | 2004 | Short special thanks | |
Self
| Title | Year | Status | Character |
| --- | --- | --- | --- |
| Hollywood Today Live | 2016 | TV Series | Himself |
| The Talk | 2014 | TV Series | Himself |
| Rachael Ray | 2014 | TV Series | Himself |
| 25th Annual Genesis Awards | 2011 | TV Special | Himself |
| Jump Start Live | 2011 | TV Series | Himself |
| Creating Characters | 2011 | Video short | Himself |
| Empire State of Mind | 2011 | Video short | Himself |
| SoapTalk | 2005 | TV Series | Himself |
| The Teen Choice Awards 2005 | 2005 | TV Special | Himself - Attendee |
| Pet Star | 2005 | TV Series documentary | Judge |
| The 6th Annual Family Television Awards | 2004 | TV Special | Himself |
| Nickelodeon Kids' Choice Awards '04 | 2004 | TV Movie documentary | Himself |
| Jessica's Crush | 2004 | TV Series | Himself |
| Jeopardy! | 2003 | TV Series | Himself - Celebrity Contestant |
| Circus of the Stars Gives Kids the World | 1993 | TV Movie documentary | Himself - Trapeze Artist |
Awards
Won Awards
| Year | Award | Ceremony | Nomination | Movie |
| --- | --- | --- | --- | --- |
| 2015 | Golden Honu Award | Big Island Film Festival | Actor | |
| 2014 | Prism Award | Prism Awards | Performance in a Drama Series Episode | Blue Bloods (2010) |
Nominated Awards
| Year | Award | Ceremony | Nomination | Movie |
| --- | --- | --- | --- | --- |
| 1996 | Young Artist Award | Young Artist Awards | Best Performance by a Young Actor - TV Comedy Series | Kirk (1995) |
| 1992 | Young Artist Award | Young Artist Awards | Best Young Actor Starring in an Off-Primetime or Cable Series | The New Lassie (1989) |
| 1991 | Young Artist Award | Young Artist Awards | Best Young Actor Starring in an Off-Primetime Series | The New Lassie (1989) |
| 1990 | Young Artist Award | Young Artist Awards | Best Young Actor in an Off-Primetime Family Series | The New Lassie (1989) |
Source:
IMDb
,
Wikipedia