• Chasty Rose Ballesteros (b. 3rd January 1981) is an actress and model from Vancouver, British Columbia, Canada.
• She started her career as a hairstylist before transitioning to acting.
• She has appeared in over 100 films and television titles.
• Her net worth is estimated to be $2 million.
• Chasty is active on social media networks such as Instagram and Facebook, with over 13,000 and 11,000 followers respectively.

Known for movies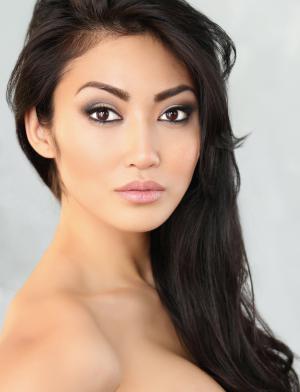 Who is actress Chasty Ballesteros?
Born Chasty Rose Ballesteros on the 3rd January 1981, in Vancouver, British Columbia, Canada, she is an actress and model, perhaps best known to the world for her portrayal of Tea in the TV drama series "The Newsroom" (2012-2013), and also as Rachel in the TV comedy series "The Girl's Guide to Depravity" in 2013, among many other film and television appearances.
Early Life and Education
Of part-Filipino ancestry, Chasty grew up in Winnipeg where she finished high school, and then moved to Vancouver where she pursued a career as a hairstylist. She opened her own hairstyle salon, but after a while began pursuing a career as an actress.
Career beginnings
She made her debut in 2009 with the role of Britt in the television film "Encounter with Danger", and the same year featured in an episode of the popular TV fantasy-drama series "Smallville". Chasty spent the next several years appearing in support roles in such TV series as "Psych" (2010), "Sanctuary" (2010), "How I Met Your Mother" (2012) and others, until she was cast in the part of Tea in the TV series "The Newsroom" in 2012, playing in seven episodes of the critically acclaimed series, which improved her popularity and made her known with casting directors and producers. However, her roles remained minor, though she appeared in several popular films, such as the comedy "Casting Couch" in 2013 directed by Jason Lockhart, and the sci-fi action thriller "Bounty Killer", starring Matthew Marsden, Kristina Loken and Christian Pitre. Her career continued with minor and guest roles in TV series; in 2013 she featured in the acclaimed crime-drama series "Sons of Anarchy", while she also had a role in the TV comedy series "The Girl's Guide to Depravity". The following year, Chasty scored her first starring role, as Cindy in the action drama film "10.0 Earthquake", next to Cameron Richardson and Henry Ian Cusick, and Chasty's career reached new highs when she featured in the horror film "The Funhouse Massacre" (2015), then in 2016 portrayed Raven in the action thriller film "Vigilante Diaries", starring Paul Sloan, Quinton 'Rampage' Jackson and Jason Mewes. She continued with leading and co-starring roles in such films as "After the Sun Fell" in 2016, "One of Us" the following year, while from 2016 to 2017 she portrayed Tanya Showers in the TV comedy series "The Ranch", starring Ashton Kutcher, Debra Winger and Sam Elliott. Most recently, Chasty appeared in the film "Malibu Tapes" (2018), and is working on the films "Broken Links", and "Ball Street" scheduled for release in late 2018.
Do You Know How Rich Chasty Ballesteros Is?
Her somewhat unplanned acting career opened many doors for Chasty, and she has now appeared in over 100 film and TV titles, which has significantly increased her wealth. Let's look just how rich Chasty Ballesteros is – according to authoritative sources, it has been estimated that Ballesteros' net worth is as high as $2 million, earned through her successful dual careers, and active since 2009.
Chasty Ballesteros Height and Weight
Chasty is described as a rather sexy girl, and though in her 30s already, that hasn't stopped her from looking great. Her official height is 5 feet and 6 inches, (170cms) while her body weight is 122 pounds (58kgs), while her body measurements are 36-25-37 inches.
Life Behind the Scene
Chasty is one of those celebrities who tend to keep their private life hidden from the media, however, paparazzi have discovered a few details from the area of Chasty's life that don't include her professional career. According to sources, Chasty is currently single and solely focused on her continuing career, with not even any rumours of romantic associations.
Internet Popularity
Since becoming popular on television and film, Chasty has managed to expand her popularity to social media networks, especially Instagram and Facebook. Her Instagram feed is full of pictures of herself at various destinations, and she has also shared pictures of her
dog
, with her most loyal fans. Her Instagram account now has more than 13,000 followers, while on
Facebook
, Chasty has over 11,000 followers, with whom she has shared some of the most interesting events of her life. So, if you are not already familiar with Chasty's endeavors and enterprises, then this is a great opportunity for you to start following this successful actress.
Pictures
Movies
Actress
| Title | Year | Status | Character |
| --- | --- | --- | --- |
| Sanctuary | 2010 | TV Series | Bridget |
| Guido Superstar: The Rise of Guido | 2010 | | Chastity Divine |
| Psych | 2010 | TV Series | Melissa |
| Supernatural | 2009 | TV Series | Nurse #2 |
| Encounter with Danger | 2009 | TV Movie | Britt |
| The Guard | 2009 | TV Series | Collette |
| Smallville | 2009 | TV Series | Nurse |
| Gumshoes | 2018 | pre-production | Raquel |
| The Malibu Tapes | 2017 | post-production | Michelle |
| Broken Links | 2016 | completed | Mia Lew |
| Renegades | 2017 | TV Series | Ronara |
| The Ranch | 2016-2017 | TV Series | Tanya Showers |
| Angie Tribeca | 2016-2017 | TV Series | Zelda / Young Woman |
| Espionage Tonight | 2017 | | Fei Song |
| The Mummy | 2017 | | Kira Lee (uncredited) |
| Veep | 2017 | TV Series | Casey |
| Bridal Boot Camp | 2017 | TV Movie | Lorelei Liu |
| Review | 2017 | TV Series | Crystal |
| One of Us | 2017/II | | Luna |
| Gorgeous Morons | 2016 | TV Movie | Chelsea |
| Rosewood | 2016 | TV Series | Carina Radnor |
| Noches con Platanito | 2016 | TV Series | |
| After the Sun Fell | 2016 | | Yuan |
| iZombie | 2016 | TV Series | Sapphire |
| Hot Bot | 2016 | | Sophia |
| NCIS: New Orleans | 2016 | TV Series | Angela Goodwin |
| Vigilante Diaries | 2016 | | Raven |
| Angel from Hell | 2016 | TV Series | Katie |
| The Grounds | 2016 | | Krystal |
| Book of Fire | 2015 | | Dhani |
| The Funhouse Massacre | 2015 | | Christina |
| The Player | 2015 | TV Series | Club Girl Alexa / Alexa |
| American Horror Story | 2015 | TV Series | Young Woman |
| The Young and the Restless | 2015 | TV Series | India |
| Why? With Hannibal Buress | 2015 | TV Series | Sierra |
| Rizzoli & Isles | 2015 | TV Series | Young Woman |
| Star Trek: Renegades | 2015 | TV Series | Ronara |
| The Night Crew | 2015 | | Mae |
| Bosch | 2015 | TV Series | Marissa |
| Modern Family | 2015 | TV Series | Lucy |
| Open | 2014 | TV Movie | |
| Stalker | 2014 | TV Series | Sophia Mason |
| Constantine | 2014 | TV Series | Misaki Ross |
| Benched | 2014 | TV Series | Whispers |
| Bad Judge | 2014 | TV Series | Cute Lady |
| Girl House | 2014 | | Janet |
| 10.0 Earthquake | 2014 | | Cindy |
| Revenge | 2014 | TV Series | Kaya |
| New Girl | 2014 | TV Series | Barb |
| Days of Our Lives | 2014 | TV Series | Dana |
| You're the Worst | 2014 | TV Series | Female Interviewer |
| Think Like a Man Too | 2014 | | Leikula |
| American Dream: The True Story | 2014 | Short | Abigail |
| Anger Management | 2014 | TV Series | Stripper |
| Legit | 2014 | TV Series | Jack's Masseuse |
| Neighbors | 2014/I | | Alecia (uncredited) |
| Mixology | 2014 | TV Series | Cute Girl #2 |
| Enlisted | 2014 | TV Series | Theresa |
| Rake | 2014 | TV Series | Pretty Girl |
| Chicks Dig Gay Guys | 2014 | | Gothic girl |
| Smart Alec | 2014 | TV Movie | Chao's Mom |
| The Advocates | 2013 | TV Movie | Sandra Kwan |
| The Girl's Guide to Depravity | 2013 | TV Series | Rachel |
| Ironside | 2013 | TV Series | Sophie |
| Parenthood | 2013 | TV Series | Bob's Assistant |
| Cavemen | 2013 | | Monique |
| The Crazy Ones | 2013 | TV Series | Carly the Model |
| The League | 2013 | TV Series | Stripper #1 |
| Sons of Anarchy | 2013 | TV Series | Cute Hooker |
| See Dad Run | 2013 | TV Series | Nikki |
| The Exes | 2013 | TV Series | Samantha |
| Wendell and Vinnie | 2013 | TV Series | Gretchen |
| Baby Daddy | 2013 | TV Series | Debbie |
| Ray Donovan | 2013 | TV Series | Sunny |
| The Newsroom | 2012-2013 | TV Series | Tea |
| Franklin & Bash | 2013 | TV Series | Hot Young Woman |
| The Internship | 2013 | | Exotic Dancer #1 |
| The Client List | 2013 | TV Series | Tina |
| Bounty Killer | 2013 | | Korah |
| Casting Couch | 2013/I | | Kimmy |
| Californication | 2013 | TV Series | Waitress |
| CSI: NY | 2013 | TV Series | Rowena Black |
| Shameless | 2013 | TV Series | Waitress |
| Not Another Celebrity Movie | 2013 | | Asian Girl |
| Beverly Hills Cop | 2013 | TV Movie | Nina |
| The Neighbors | 2012 | TV Series | Stripper |
| The Movie Out Here | 2012 | | Glacier Girl #1 |
| Two and a Half Men | 2012 | TV Series | Woman |
| The Mindy Project | 2012 | TV Series | Waitress |
| The Soul Man | 2012 | TV Series | Gorgeous Woman |
| Hollywood Heights | 2012 | TV Series | Hostess |
| The Unknown | 2012 | TV Series | Tnen-ku |
| Rules of Engagement | 2012 | TV Series | Grace |
| Three of a Kind | 2012 | Short | Keri |
| Happy Endings | 2012 | TV Series | Hot Girl |
| Criminal Minds | 2012 | TV Series | Tahitian Girl |
| How I Met Your Mother | 2012 | TV Series | Tina |
| Divine: The Series | 2011 | TV Series | Jin |
| Final Destination 5 | 2011 | | Spa Receptionist |
Self
| Title | Year | Status | Character |
| --- | --- | --- | --- |
| From the Mouths of Babes | 2015-2016 | TV Series documentary | Herself |
| Noches con Platanito | 2014-2015 | TV Series | Herself - Guest |
Source:
IMDb
,
Wikipedia