• Wanda Sykes is a multitalented actress, comedian, and writer
• She is best known for her role in CBS's series "The New Adventures of Old Christine"
• She was born in Portsmouth, Virginia in 1964 to banker Marion Louise and US Army Colonel Harry Ellsworth Sykes
• She has amassed a net worth of at least $6 million through her acting career
• She is married to her long-term partner, French woman Alex Niedbalski, and has two fraternal twins

Known for movies
Short Info
| | |
| --- | --- |
| Net Worth | $6 Million |
| Date Of Birth | March 7, 1964 |
| Spouse | Alex Sykes, Dave Hall |
| Mark | Has a sassy sounding voice |
| Fact | Made history as the first African-American master of ceremonies at the White House Correspondents' dinner. [2009] |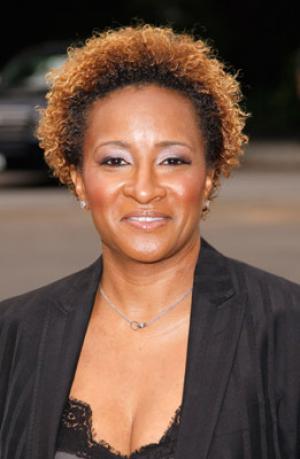 Who is Wanda Sykes?
Wanda Sykes is quite a multitalented personality, an actress as well as a comedian and a writer who is probably best known for starring in the role of Barb Baran in CBS's series "The New Adventures of Old Christine". She is also widely recognized for appearing in the TV comedy series "Curb Your Enthusiasm" as well as in the comedy movies "My Super Ex-Girlfriend" (2006) and "Evan Almighty" (2007) among plenty of others.
Wanda Sykes' Early Life, Family and Education
Wanda was born on the 7
th
March 1964, in Portsmouth, Virginia USA, into the family of banker Marion Louise, and US Army Colonel Harry Ellsworth Sykes. In 2012 she participated in the "Finding Your Roots" TV program where her genealogy was traced back to 1683. Due to her father's job, during her early years her
family moved
to the state of Maryland where she spent the rest of her childhood, and matriculated from Arundel High School. She later enrolled into Hampton University in Hampton, Virginia, from which she graduated with a Bachelor of Science degree in marketing, then began her professional career at the National Security Agency (NSA), where she served as a contracting specialist.

Wanda Sykes' Early Acting Career and "The Chris Rock Show"
In 1987 Wanda decided to turn towards a stand-up comedy career and made her debut performance at the Coors Light Super Talent Showcase in Washington, DC. In 1992, after spending five years at the NSA during which she also honed her comedy skills on the side, Wanda decided to pursue her performing career full time, and relocated to New York City where she quickly made her debut on-camera appearance in Russell Simmons' "Def Comedy Jam". In 1997 Wanda appeared at the Caroline's Comedy Club on Broadway as an opening act for Chris Rock, and subsequently became a crew member of "The Chris Rock Show". For her contribution and her work on the show with her occasional appearances, Wanda was honored with the prestigious Primetime Emmy Award in 1999, as well as with three nominations, in 1998, 2000 and 2001. All of these successful efforts helped Wanda Sykes to establish herself in the world of acting and performing, which had a huge impact on her professional career.
In the early 2000s Wanda began to appear regularly on the big screen, and has since appeared in numerous movies, including early engagements such as the comedies "Down to Earth" and "Pootie Tang" both in 2001. Between 2001 and 2011 Wanda appeared in the recurring role of a fictionalized version of herself in HBO's comedy series "Curb Your Enthusiasm", which helped her to gain a huge dose of popularity with audiences. However, the real breakthrough in Wanda's career occurred in 2006, when she was cast in the recurring role of Barb Baran in the American sitcom "The New Adventure of Old Christine", subsequently through the show's five seasons 'til 2010.
Wanda Sykes' Career Highlights
Apart from all those already mentioned, in Wanda's professional acting portfolio there are numerous notable engagements such as voice acting in "Rio" (2011), as well as in several sequels of the "Ice Age" franchise. Some other memorable appearances include the TV series "Back at the Barnyard", "Futurama", "The Simpsons" as well as "Alpha House", "House of Lies" and "Broad City". Some of Sykes' more recent acting ventures include the comedy movies "Bad Moms" (2016) and "Snatched" (2017), as well as TV appearances in the series' "Vampirina" and "Black-ish". It is certain that all these endeavors have helped Wanda Sykes to make a successful career in the movie-making industry.
For her performances and general contribution to acting, over the years Wanda has amassed an impressive number of awards, which apart from that Primetime Emmy, also includes the American Comedy Award, BET Comedy Award, Gracie Allen Award and GLAAD Stephen F. Kolzak Award.
Need a distraction from the road to Armageddon? My @EpixHD special is now streaming on @AmazonVideo and @hulu! #WhatHappenedMsSykes pic.twitter.com/rhtuQ9JjVe

— Wanda Sykes (@iamwandasykes) January 19, 2017
Wanda Sykes' Net Worth
Have you ever wondered how much wealth this 54-year old multitalented actress and comedian has accumulated so far? How rich Wanda Sykes is? According to sources, it is estimated that the total of Wanda Sykes' net worth, as of mid-2018, revolves around the sum of at least $6 million, acquired through her career that has been active since the 1990s.
Is Wanda Sykes married? What is her marital status?
In 1991 Sykes married to American record producer Dave Hall, but the couple divorced in 1998. However, in 2008 Wanda came out as a lesbian, and subsequently married her long-term partner, French woman Alex Niedbalski with whom in 2009 she welcomed fraternal twins, a boy and a girl.
Unsurprisingly Wanda Sykes is an activist heavily involved in same-sex marriage issues. She is also regularly active on several popular social media networks such as Instagram and Twitter, on which she is followed by almost 600,000 fans.
Currently, alongside her family, Wanda splits her time between Los Angeles, California, and Philadelphia, Pennsylvania.
General Info
| | |
| --- | --- |
| Full Name | Wanda Sykes |
| Net Worth | $6 Million |
| Date Of Birth | March 7, 1964 |
| Height | 1.57 m |
| Profession | Screenwriter, Television producer, Comedian, Film producer, Voice Actor |
| Education | Hampton University, Arundel High School |
| Nationality | American |
Family
| | |
| --- | --- |
| Spouse | Alex Sykes, Dave Hall |
| Children | Lucas Claude Sykes, Olivia Lou Sykes |
| Parents | Harry Ellsworth Sykes, Marion Louise Sykes |
| Siblings | Harry Sykes |
Accomplishments
| | |
| --- | --- |
| Awards | GLAAD Media Stephen F. Kolzak Award, Primetime Emmy Award for Outstanding Writing - Variety Series, Sports Emmy Award for Outstanding Studio Show - Weekly, Emmy Award for Outstanding Writing in a Variety or Music Program |
| Nominations | Primetime Emmy Award for Outstanding Variety, Music or Comedy Special, Primetime Emmy Award for Outstanding Writing in a Comedy, Variety, or Music Special, NAACP Image Award for Outstanding Supporting Actress in a Comedy Series, Teen Choice Award for Choice TV Actress: Comedy, Teen Choice Award for ... |
| Movies | Ice Age: Continental Drift, Monster-in-Law, Pootie Tang, Evan Almighty, Over the Hedge, My Super Ex-Girlfriend, Wanda Sykes: I'ma Be Me, Down to Earth, Barnyard, Rio, The Hot Flashes, Nutty Professor II: The Klumps, Wanda Sykes: Sick & Tired, Brother Bear 2, Clerks II, The Adventures of Brer Rabbit,... |
| TV Shows | Back at the Barnyard, The New Adventures of Old Christine, The Wanda Sykes Show, Premium Blend, Wanda Does It, Wanda at Large, The Downer Channel, The Chris Rock Show, Inside the NFL, Penn Zero: Part-Time Hero |
Social profile links
Marks
| # | Marks / Signs |
| --- | --- |
| 1 | Has a sassy sounding voice |
Quotes
| # | Quote |
| --- | --- |
| 1 | Kids get in the way of the couple. It's hard to be a couple and then kids come and shatter that whole thing. You have to work hard to be a couple. If something happens in the night, we have to put our pajamas on like we're volunteer firemen. |
| 2 | [on the upcoming 2016 US federal election] I think they should make everyone vote. Everyone should have to vote. Maybe everyone gets a Powerball ticket if you vote. I don't know. Vote and you get a scratch-off. |
| 3 | If you feel like there's something out there that you're supposed to be doing, of you have a passion for it, then stop wishing and just do it. |
| 4 | [on the Ellen Degeneres show, talking about revealing that she had breast cancer and a double mastectomy] I was like I don't know, should I talk about it or what. How many things could I have? I'm black, then lesbian. I can't be the poster child for everything. |
| 5 | [on Ellen: The Ellen DeGeneres Show (2003) after the passage of Proposition 8, which took away the right to gay marriage in California] Here in California, the one that's important to me is Prop 8. What broke my heart, you know--I'm watching the news, and there were, you know, like, a lot of the black churches got together, and they were rallying, you know, they were FOR Prop 8; I'm like, come on--it's discrimination! I mean, discrimination is discrimination. And of all people, black people should know discrimination and you're going to vote and get discrimination in the Constitution? I mean, that's . . . I know African-Americans, they get upset. They're like, "Black and gay, that's totally different things. We had it hard." And I'm like, "Yeah, I get it. I'm black. I know. I get it". You know. But there's things that gay people have to go through that black people didn't have to go through. I never had to come out black. Never had to sit my family down and tell them about my blackness. Have a little talk with my employer, let him know about my "black lifestyle". Mom, dad, I gotta tell you something. Hope you still love me. I'm black. You know, and my mother: "Not black, Lord! Anything but black, Jesus! Anything but black! What did I do, what did I do? It was Soul Train (1971), wasn't it? I shouldn't have let you watch 'Soul Train'." "No, ma, that's just me--I mean, I just feel like I was born black". "No, you weren't born black. The bible says Adam and Eve; it doesn't say Adam and Mary J. Blige". |
Facts
| # | Fact |
| --- | --- |
| 1 | In September 2011, Sykes revealed that earlier in the year, she had gone in for breast reduction surgery and discovered that she had very early-stage breast cancer. Because of a history of breast cancer in her family, she decided to have a bilateral mastectomy (both breasts removed). |
| 2 | Made history as the first African-American master of ceremonies at the White House Correspondents' dinner. [2009] |
| 3 | Her partner, Alex, gave birth to twins, a boy Lucas Claude and a girl Olivia Lou, on April 27, 2009. |
| 4 | Came out as gay on November 15, 2008, at a pro-gay marriage rally in Las Vegas hosted by the LGBT (Lesbian, Gay, Bisexual, and Transgender) Center of Southern Nevada. At that rally, she also publicly announced for the first time that she has a wife, to whom she was married in California on October 25, 2008. |
| 5 | Worked as a procurement officer at the National Security Agency (NSA) at Fort Meade in Laurel, Maryland from college graduation in 1986 until 1992. |
| 6 | Ranked #70 in Comedy Central's 100 Greatest Stand-Ups of All Time, the only Black woman to make the list. |
| 7 | Is a member of Alpha Kappa Alpha Sorority Incorporated. |
| 8 | Her stand-up career began at a Super Talent Showcase in Washington, DC, where she performed for the first time in front of a live audience. |
| 9 | Raised in the Maryland-Washington, DC, area. |
| 10 | Received a Bachelor of Sciences degree in marketing from Hampton University. |
Pictures
Movies
Actress
| Title | Year | Status | Character |
| --- | --- | --- | --- |
| Snatched | 2017 | post-production | |
| Black-ish | 2015-2017 | TV Series | Daphne Lido |
| Bad Moms | 2016 | | Dr. Karl |
| Ice Age: Collision Course | 2016 | | Granny (voice) |
| House of Lies | 2016 | TV Series | Rita |
| Animals. | 2016 | TV Series | Chance |
| Bob's Burgers | 2016 | TV Series | Sofa Queen |
| Born Again Virgin | 2016 | TV Series | Wanda Sykes |
| Dream Team | 2016 | TV Movie | Leslie |
| Penn Zero: Part-Time Hero | 2015 | TV Series | General Shirley B. Awesome |
| How to Vajaculate: If You Build It, She Will Come | 2015 | Short | Goddess |
| Alpha House | 2013-2014 | TV Series | Senator Rosalyn DuPeche |
| Real Husbands of Hollywood | 2013 | TV Series | Wanda Sykes |
| The Hot Flashes | 2013 | | Florine Clarkston |
| The Simpsons | 2013 | TV Series | School Therapist |
| Ice Age: Continental Drift - Arctic Games | 2012 | Video Game | Granny (voice) |
| Ice Age: Continental Drift | 2012 | | Granny (voice) |
| Futurama | 2012 | TV Series | Bev |
| Bubble Guppies | 2012 | TV Series | The Witch |
| Bubble Puppy's Fin-tastic Fairytale Adventure | 2012 | TV Movie | Witch |
| Back at the Barnyard | 2007-2011 | TV Series | Bessy the Cow |
| Curb Your Enthusiasm | 2001-2011 | TV Series | Wanda Sykes |
| Drop Dead Diva | 2011 | TV Series | Judge Yvonne Wright |
| Rio | 2011 | | Chloe (The Goose) (voice) |
| The New Adventures of Old Christine | 2006-2010 | TV Series | Barb Baran |
| License to Wed | 2007 | | Doctor (uncredited) |
| Evan Almighty | 2007 | | Rita |
| Hammy's Boomerang Adventure | 2006 | Video short | Stella (voice) |
| CondomNation | 2006 | Short | Linda |
| Brother Bear 2 | 2006 | Video | Innoko (voice) |
| Barnyard | 2006 | | Bessy the Cow (voice) |
| My Super Ex-Girlfriend | 2006 | | Carla Dunkirk |
| Clerks II | 2006 | | Wife |
| Over the Hedge | 2006 | | Stella (voice) |
| Will & Grace | 2006 | TV Series | Cricket |
| The Adventures of Brer Rabbit | 2006 | Video | Sister Moon (voice) |
| Monster-in-Law | 2005 | | Ruby |
| Da Boom Crew | 2004-2005 | TV Series | Special Guest Voice |
| MTV: Reloaded | 2003 | TV Short | The Oracle |
| Wanda at Large | 2003 | TV Series | Wanda Mildred Hawkins Wanda Hawkins |
| Crank Yankers | 2002-2003 | TV Series | Gladys Murphy / Wanda |
| The Drew Carey Show | 2001 | TV Series | Christine Watson |
| The Downer Channel | 2001 | TV Series | Various |
| Pootie Tang | 2001 | | Biggie Shorty |
| Down to Earth | 2001 | | Wanda |
| Nutty Professor II: The Klumps | 2000 | | Chantal |
| Dr. Katz, Professional Therapist | 1999 | TV Series | Wanda Sykes |
| The Chris Rock Show | 1997-1998 | TV Series | Various / Anna Warner / Dawn Wise / ... |
| Tomorrow Night | 1998 | | Wanda (Mel's date) |
Writer
| Title | Year | Status | Character |
| --- | --- | --- | --- |
| Last Comic Standing | 2014 | TV Series writer - 12 episodes | |
| The Wanda Sykes Show | 2009-2010 | TV Series writer - 21 episodes | |
| Wanda Sykes: I'ma Be Me | 2009 | TV Special | |
| Wanda Sykes: Sick and Tired | 2006 | TV Special documentary written by | |
| Wanda Does It | 2004 | TV Series creator - 6 episodes | |
| Wanda at Large | | TV Series creator - 19 episodes, 2003 writer - 2 episodes, 2003 | |
| Wanda Sykes: Tongue Untied | 2003 | TV Special documentary | |
| Premium Blend | 2002-2003 | TV Series writer - 4 episodes | |
| The 74th Annual Academy Awards | 2002 | TV Special special material written by | |
| Best of the Chris Rock Show: Volume 2 | 2001 | TV Movie | |
| The Downer Channel | 2001 | TV Series writer - 2 episodes | |
| The Chris Rock Show | | TV Series 6 episodes, 1997 writer - 24 episodes, 1997 - 2000 | |
| Dr. Katz, Professional Therapist | 1999 | TV Series additional material - 2 episodes | |
| Comedy Central Presents | 1998 | TV Series documentary 1 episode | |
| The Keenen Ivory Wayans Show | 1997-1998 | TV Series writer - 11 episodes | |
Producer
| Title | Year | Status | Character |
| --- | --- | --- | --- |
| What Happened Ms. Sykes? | 2016 | TV Movie executive producer | |
| Last Comic Standing | 2014-2015 | TV Series executive producer - 15 episodes | |
| Last Comic Standing 9 | 2015 | TV Series executive producer | |
| Wanda Sykes Presents Herlarious | 2013-2014 | TV Series executive producer - 4 episodes | |
| NewNowNext Vote with Wanda Sykes | 2012 | TV Movie executive producer | |
| The Wanda Sykes Show | 2009-2010 | TV Series executive producer - 21 episodes | |
| Wanda Sykes: I'ma Be Me | 2009 | TV Special executive producer | |
| Wanda Sykes: Sick and Tired | 2006 | TV Special documentary executive producer | |
| Wanda Does It | 2004 | TV Series executive producer - 6 episodes | |
| Wanda at Large | 2003 | TV Series producer - 19 episodes | |
| Wanda Sykes: Tongue Untied | 2003 | TV Special documentary producer | |
| The Chris Rock Show | 1998-1999 | TV Series co-producer - 11 episodes | |
Miscellaneous
| Title | Year | Status | Character |
| --- | --- | --- | --- |
| Last Comic Standing | 2014 | TV Series mentor - 1 episode | |
| MTV Video Music Awards 1999 | 1999 | TV Special consultant | |
| 1998 MTV Movie Awards | 1998 | TV Special consultant | |
| The Chris Rock Show | 1997 | TV Series consultant - 5 episodes | |
| MTV Video Music Awards 1997 | 1997 | TV Special creative consultant | |
Soundtrack
| Title | Year | Status | Character |
| --- | --- | --- | --- |
| The Hot Flashes | 2013 | performer: "Hot Stuff" | |
| Ice Age: Continental Drift | 2012 | performer: "We Are Theme from Ice Age Continental Drift" | |
| The New Adventures of Old Christine | 2007 | TV Series performer - 1 episode | |
Self
| Title | Year | Status | Character |
| --- | --- | --- | --- |
| The Joy Behar Show | 2009 | TV Series | Herself - Guest |
| The Oprah Winfrey Show | 2009 | TV Series | Herself - Guest |
| Wanda Sykes: I'ma Be Me | 2009 | TV Special | Herself |
| The Cho Show | 2008 | TV Series | Herself |
| Late Night with Conan O'Brien | 1996-2008 | TV Series | Herself - Guest |
| Evan Almighty: Animals on Set Two by Two | 2007 | Video short | Herself |
| Evan Almighty: Becoming Noah | 2007 | Video short | Herself |
| Evan Almighty: The Almighty Green Set | 2007 | Video short | Herself |
| Evan Almighty: The Ark-Itects of Noah's Ark | 2007 | Video short | Herself |
| Evan Almighty: The Building of Noah's Ark | 2007 | Video short | Herself |
| Evan Almighty: Training the Animals | 2007 | Video short | Herself |
| Das große RTL Special zum Film | 2007 | TV Series | Herself |
| HBO First Look | 2005-2007 | TV Series documentary | Herself / Herself - Host |
| The Captain | 2007 | Short | Herself |
| The 33rd Annual People's Choice Awards | 2007 | TV Special documentary | Herself |
| Utter Talent: Voices of Barnyard | 2006 | Video documentary short | |
| The Cast of 'My Super Ex-Girlfriend' | 2006 | Video documentary short | Herself |
| Last Call with Carson Daly | 2004-2006 | TV Series | Herself - Guest |
| Meet the Cast of 'Over the Hedge' | 2006 | Video documentary short | Herself |
| Wanda Sykes: Sick and Tired | 2006 | TV Special documentary | Herself |
| The Megan Mullally Show | 2006 | TV Series | Herself - Guest |
| Train Wreck! | 2006 | Video documentary short | Herself |
| History of Curb Your Enthusiasm: Even Further | 2006 | Video documentary short | Herself / Wanda Sykes |
| History of Curb Your Enthusiasm: So Far | 2006 | Video documentary short | Herself (uncredited) |
| That's What I'm Talking About | 2006 | TV Series documentary | Herself |
| Back to the Well: 'Clerks II' | 2006 | Video documentary | Herself - 'Wife' |
| Dawn French's Girls Who Do: Comedy | 2006 | TV Series documentary | Herself |
| New Year's Eve with Carson Daly | 2005 | TV Movie | Himself - Guest |
| Richard Pryor: The Funniest Man Dead or Alive | 2005 | TV Special documentary | Herself |
| Earth to America | 2005 | TV Movie | Herself |
| 2005 BET Comedy Awards | 2005 | TV Special | Herself |
| The 2nd Annual BET Comedy Awards | 2005 | TV Special | Herself |
| Costas Now | 2005 | TV Series | Herself - Correspondent |
| The Early Show | 2005 | TV Series | Herself |
| 106 & Park Top 10 Live | 2005 | TV Series | Herself |
| Bar Mitzvah Bash! | 2004 | TV Movie | Herself |
| Wanda Does It | 2004 | TV Series | Herself |
| Tavis Smiley | 2004 | TV Series | Herself - Guest |
| BET Comedy Awards | 2004 | TV Special | Herself |
| Celebrity Poker Showdown | 2004 | TV Series | Herself |
| The Commies | 2003 | TV Special documentary | Herself - Presenter |
| Richard Pryor: I Ain't Dead Yet, #*%$#@!! | 2003 | TV Special documentary | Herself |
| The Sharon Osbourne Show | 2003 | TV Series | Herself - Guest |
| MADtv | 2003 | TV Series | Herself |
| The 55th Annual Primetime Emmy Awards | 2003 | TV Special | Herself - Co-Host |
| The Teen Choice Awards 2003 | 2003 | TV Special | Herself |
| Wanda Sykes: Tongue Untied | 2003 | TV Special documentary | Herself |
| Chappelle's Show | 2003 | TV Series | Herself |
| 3rd Annual BET Awards | 2003 | TV Special documentary | Herself |
| 2003 MTV Movie Awards | 2003 | TV Special | Herself |
| Good Day Live | 2003 | TV Series | Guest Co-Host |
| 34th NAACP Image Awards | 2003 | TV Special | Herself |
| Heroes of Comedy: Women on Top | 2003 | TV Mini-Series documentary | Herself |
| Premium Blend | 2002-2003 | TV Series | Herself - Host |
| The Greatest | 2002 | TV Series documentary | Herself - Interviewee |
| Best of the Chris Rock Show: Volume 2 | 2001 | TV Movie | Herself |
| The Mark Twain Prize: Whoopi Goldberg | 2001 | TV Movie | Herself |
| The 15th Annual American Comedy Awards | 2001 | | Herself |
| American Comedy Awards Viewer's Choice | 2001 | TV Special | Herself |
| Best of the Chris Rock Show | 1999 | TV Special | Various characters |
| Dr. Katz, Professional Therapist | 1999 | TV Series | Herself |
| Chris Rock: Bigger & Blacker | 1999 | TV Special documentary | Herself (voice, uncredited) |
| Comedy Central Presents | 1998 | TV Series documentary | Herself |
| The N.Y. Friars Club Roast of Drew Carey | 1998 | TV Movie | Herself |
| HBO Comedy Showcase | 1995 | TV Series | |
| Stand-Up Spotlight | 1988 | TV Series documentary | Guest comedian |
| Inside the NFL | 1977 | TV Series | Herself (2002- ) |
| Harry | 2016 | TV Series | Herself |
| Extra | 2016 | TV Series | Herself |
| Steve Harvey | 2016 | TV Series | Herself |
| What Happened Ms. Sykes? | 2016 | TV Movie | Herself |
| The Chew | 2016 | TV Series | Herself - Guest |
| Today | 2012-2016 | TV Series | Herself - Guest / Herself - Guest Anchor |
| Ellen: The Ellen DeGeneres Show | 2004-2016 | TV Series | Herself - Guest / Herself |
| Ridiculousness | 2016 | TV Series | Herself |
| Made in Hollywood | 2016 | TV Series | Herself |
| The Talk | 2014-2016 | TV Series | Herself - Guest Co-Hostess / Herself - Guest |
| It Got Better | 2016 | TV Mini-Series documentary | Herself |
| Chelsea | 2016 | TV Series | Herself |
| Conan | 2012-2016 | TV Series | Herself - Guest |
| The Late Late Show with James Corden | 2015-2016 | TV Series | Herself - Guest / Herself - Comedian |
| Wanda Sykes: Better Looking & Stylish | 2015 | TV Movie | Herself - Host |
| Jimmy Kimmel Live! | 2003-2015 | TV Series | Herself - Guest |
| Hollywood Game Night | 2015 | TV Series | Herself - Celebrity Player |
| The Dr. Oz Show | 2015 | TV Series | Herself |
| Real Sports with Bryant Gumbel | 2015 | TV Series | Herself - Commentator |
| Inside Comedy | 2015 | TV Series | Herself |
| Repeat After Me | 2015 | TV Series | Herself |
| The Meredith Vieira Show | 2015 | TV Series | Herself - Guest |
| The Queen Latifah Show | 2014-2015 | TV Series | Herself - Guest |
| Late Night with Seth Meyers | 2014-2015 | TV Series | Herself - Guest |
| 17th Annual Kennedy Center Mark Twain Prize for American Humor: Jay Leno | 2014 | TV Movie | Herself |
| Women Aren't Funny | 2014 | | Herself |
| Last Comic Standing | 2014 | TV Series | Herself - Guest Mentor |
| AFI Life Achievement Award: A Tribute to Jane Fonda | 2014 | TV Movie | Herself |
| The Late Late Show with Craig Ferguson | 2005-2014 | TV Series | Herself - Guest |
| The Tonight Show with Jay Leno | 2001-2014 | TV Series | Herself - Guest |
| Late Night with Jimmy Fallon | 2009-2014 | TV Series | Herself - Guest |
| The Wendy Williams Show | 2009-2014 | TV Series | Herself - Guest |
| Katie | 2014 | TV Series | Herself - Guest |
| The View | 2005-2014 | TV Series | Herself - Guest / Herself - Guest Host |
| Oprah's Next Chapter | 2013 | TV Series | Herself |
| Watch What Happens: Live | 2013 | TV Series | Herself - Guest |
| Wanda Sykes Presents Herlarious | 2013 | TV Series | Herself |
| The Out List | 2013 | Documentary | Herself |
| Toyota Pro/Celebrity Race | 2013 | TV Movie | Herself |
| 44th NAACP Image Awards | 2013 | TV Movie documentary | Herself |
| Ice Age Continental Drift: Granny and the Stink of the Sloths | 2012 | Video short | Herself |
| Totally Biased with W. Kamau Bell | 2012 | TV Series | Herself - Guest |
| NewNowNext Vote with Wanda Sykes | 2012 | TV Movie | Herself - Host |
| Chelsea Lately | 2012 | TV Series | Herself - Guest Host / Herself - Guest |
| Finding Your Roots with Henry Louis Gates, Jr. | 2012 | TV Series documentary | Herself |
| Adam Hills in Gordon St Tonight | 2012 | TV Series | Herself |
| The Rosie Show | 2011 | TV Series | Herself - Guest |
| The Mo'Nique Show | 2011 | TV Series | Herself - Guest |
| Piers Morgan Tonight | 2011 | TV Series | Herself - Guest |
| Larry King Live | 2010 | TV Series | Herself - Guest |
| American Idol | 2010 | TV Series | |
| The Wanda Sykes Show | 2009-2010 | TV Series | Herself - Host |
| Close-Up | 2010 | TV Series | Herself |
| Real Time with Bill Maher | 2010 | TV Series | Herself - Guest |
| The Jay Leno Show | 2009-2010 | TV Series | Herself - Guest |
| Entertainment Tonight | 2007-2010 | TV Series | Herself |
| CBS Cares | 2009-2010 | TV Series | Herself |
| The Tonight Show with Conan O'Brien | 2009 | TV Series | Herself - Guest |
| The Daily Show | 2001-2009 | TV Series | Herself - Guest |
Archive Footage
| Title | Year | Status | Character |
| --- | --- | --- | --- |
| The 62nd Primetime Emmy Awards | 2010 | TV Special | Herself - Nominated: Outstanding Writing for a Variety, Music or Comedy Special |
| Corazón de... | 2007 | TV Series | Herself |
| The Making of 'My Super Ex-Girlfriend' | 2006 | Video documentary short | Carla Dunkirk (uncredited) |
| 100 Greatest Stand-Ups of All Time | 2004 | TV Mini-Series | Herself #70 |
| The Award Show Awards Show | 2003 | TV Special documentary | Herself |
Awards
Won Awards
| Year | Award | Ceremony | Nomination | Movie |
| --- | --- | --- | --- | --- |
| 2014 | Gracie | Gracie Allen Awards | Outstanding Special or Variety Show | Wanda Sykes Presents Herlarious (2013) |
| 2010 | Stephen F. Kolzak Award | GLAAD Media Awards | | |
| 2005 | BET Comedy Award | BET Comedy Awards | Outstanding Supporting Actress in a Theatrical Film | Monster-in-Law (2005) |
| 2001 | American Comedy Award | American Comedy Awards, USA | Funniest Female Stand-Up Comic | |
| 1999 | Primetime Emmy | Primetime Emmy Awards | Outstanding Writing for a Variety or Music Program | The Chris Rock Show (1997) |
Nominated Awards
| Year | Award | Ceremony | Nomination | Movie |
| --- | --- | --- | --- | --- |
| 2016 | Image Award | Image Awards | Outstanding Character Voice-Over Performance (Television or Theatrical) | Penn Zero: Part-Time Hero (2014) |
| 2013 | BTVA Feature Film Voice Acting Award | Behind the Voice Actors Awards | Best Vocal Ensemble in a Feature Film | Ice Age: Continental Drift (2012) |
| 2013 | Black Reel | Black Reel Awards | Best Voice Performance | Ice Age: Continental Drift (2012) |
| 2010 | Primetime Emmy | Primetime Emmy Awards | Outstanding Writing for a Variety, Music or Comedy Special | Wanda Sykes: I'ma Be Me (2009) |
| 2010 | Primetime Emmy | Primetime Emmy Awards | Outstanding Variety, Music or Comedy Special | Wanda Sykes: I'ma Be Me (2009) |
| 2009 | Image Award | Image Awards | Outstanding Supporting Actress in a Comedy Series | The New Adventures of Old Christine (2006) |
| 2008 | People's Choice Award | People's Choice Awards, USA | Favorite Funny Female Star | |
| 2007 | Primetime Emmy | Primetime Emmy Awards | Outstanding Variety, Music or Comedy Special | Wanda Sykes: Sick and Tired (2006) |
| 2007 | Annie | Annie Awards | Best Voice Acting in an Animated Feature Production | Over the Hedge (2006) |
| 2007 | Gold Derby TV Award | Gold Derby Awards | Comedy Guest Actress | The New Adventures of Old Christine (2006) |
| 2007 | Gold Derby TV Award | Gold Derby Awards | Variety Performer | Wanda Sykes: Sick and Tired (2006) |
| 2007 | OFTA Television Award | Online Film & Television Association | Best Host or Performer of a Variety, Musical, or Comedy Program | Wanda Sykes: Sick and Tired (2006) |
| 2006 | Black Reel | Black Reel Awards | Best Supporting Actress | Monster-in-Law (2005) |
| 2006 | Image Award | Image Awards | Outstanding Supporting Actress in a Comedy Series | Curb Your Enthusiasm (2000) |
| 2005 | Image Award | Image Awards | Outstanding Supporting Actress in a Comedy Series | Curb Your Enthusiasm (2000) |
| 2005 | People's Choice Award | People's Choice Awards, USA | Favorite Funny Female Star | |
| 2004 | BET Comedy Award | BET Comedy Awards | Outstanding Lead Actress in a Comedy Series | Wanda at Large (2003) |
| 2004 | Golden Satellite Award | Satellite Awards | Best Actress in a Series, Comedy or Musical | Wanda at Large (2003) |
| 2003 | Teen Choice Award | Teen Choice Awards | Choice TV Actress - Comedy | Wanda at Large (2003) |
| 2003 | Teen Choice Award | Teen Choice Awards | Choice Comedian | |
| 2003 | Teen Choice Award | Teen Choice Awards | Choice TV Breakout Star - Female | Wanda at Large (2003) |
| 2001 | Primetime Emmy | Primetime Emmy Awards | Outstanding Writing for a Variety, Music or Comedy Program | The Chris Rock Show (1997) |
| 2000 | Primetime Emmy | Primetime Emmy Awards | Outstanding Writing for a Variety, Music or Comedy Program | The Chris Rock Show (1997) |
| 1998 | Primetime Emmy | Primetime Emmy Awards | Outstanding Writing for a Variety or Music Program | The Chris Rock Show (1997) |
Source:
IMDb
,
Wikipedia