• Mark Worman is a businessman and car enthusiast
• He has a net worth of over $2 million
• He grew up with an older sister and was a Mopar enthusiast
• He owns an automotive shop featured in the television show "Graveyard Carz"
• He is the father of Allysa Rose, a recurring cast member of the show

Known for movies
Short Info
| | |
| --- | --- |
| Fact | Mark dropped out of high school to help support the family after his father passed away. Later he returned to Lane Community College, where he enrolled a high school completion course. Graduating with honors, Mark is proud to have earned his diploma. |

Who is Allysa Rose's father Mark Worman from "Graveyard Carz"?
Mark Worman was born on 21 August 1962, in Eugene, Oregon USA, and is a businessman and car enthusiast, best known for being the owner of the automotive shop featured in the television show "Graveyard Carz".
Just got this original Dodge Boys hat from a fan. I cant wear hats. #GraveyardCarz pic.twitter.com/sWQqICdrLR

— Mark Worman (@GYC_Mark) June 5, 2018
The Net Worth of Mark Worman
How rich is Mark Worman? As of mid-2018, sources inform us of a net worth that is over $2 million, mostly earned through his success in the reality show, and the revenue his automotive shop brings in. He's been featured in numerous publications and other television shows as well. As he continues his endeavors, it is expected that his wealth will also continue to increase.
Early Life – Car Enthusiasm
Mark grew up with an older sister; since he was young, he's always been a Mopar (MOtorPARts) enthusiast. Due to the numerous car magazines they had at home, he spent many hours reading them and his love for cars grew quickly. He struggled growing up as he lost his father at the age of 12 due to cancer. He was also battling serious health issues himself, and his mother had difficulty raising the family on her own.
Due to numerous problems that developed over time, he did not enjoy school. He attended Springfield Jr. High, but dropped out halfway through ninth grade, taking on various jobs, and would only complete his high school diploma through a program at Lane Community College. At the age of 16, he got his first car which was a 1970's 383 two-barrel Dodge Charger with a burnt orange color. His enthusiasm for mopars continued, as he aspired to find a career related to his favorite cars.
Business and Graveyard Carz
Eventually, Worman started his own business with the aim of restoring late 1960s to 1970s muscle cars and selling them for a profit. His restoration skills eventually attracted the attention of the film and television production company entitled The Division, which he would join to become the CEO. The group started filming restorations and decided to pitch the show to various networks, and which caught the attention of Velocity. A deal was struck between the two to have the show appear as a part of the network, while The Division still retained all creative control.
The show proved popular, and had consistently high viewership. A season initially took almost a year to shoot, but now takes around 100 days of continuous shooting, with actual automotive technicians working on various elements of car re-builds and restoration. Once the restoration or redesign is completed, then the car is revealed to the owners. Due to how long it takes to build a car and the constant demands of the show, it is usually edited in parallel with filming, but most of the comedy in the show is natural, and depicts events that actually happened in the workshop.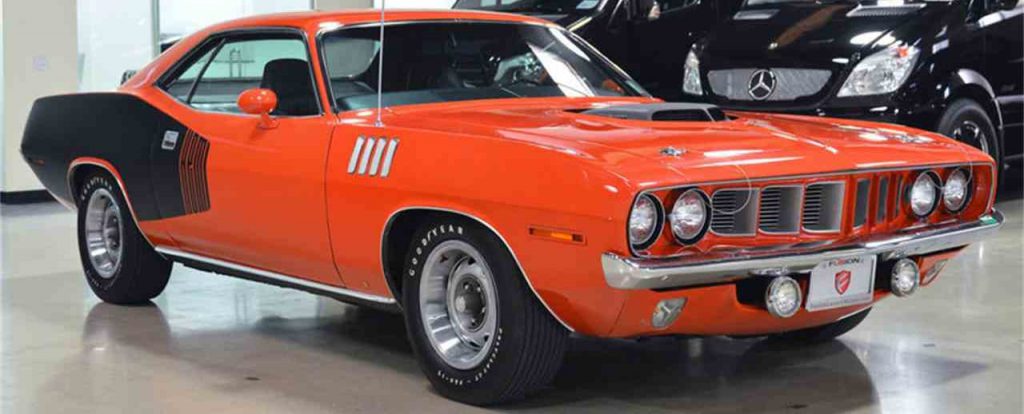 The Phantom 'Cuda Restoration
One of the most notable builds the crew worked on was the restoration of a 1971 Plymouth 'Cuda which was wrecked in 1981 after the driver lost controls in a race with a pickup truck. Mark acquired the car and made a deal with a collector to have it restored. Many doubted his capabilities of doing so, but soon their skills caught the attention of many (which would also lead to the pilot of "Graveyard Carz").
Due to the nature of the damage of the car, The Phantom 'Cuda underwent a slow transformation which took a total of six seasons before it was restored to factory condition. During the first season, the car was dipped and was assessed, in season three they repaired the fender, and it got AMD installation in season four. The fifth season saw it with brand new sheet metal where necessary, and the sixth season showed it completely restored.
Family and Personal Life
"Graveyard Carz" often features Worman's daughter Allysa Rose, who's was a recurring cast member of the show before eventually finding a regular role. She shares her father's love for mopars and they have a great relationship as seen on television. For Worman's wife however, very little information is revealed about her – deliberately – and she is rarely talked about on set. Due to the nature of the privacy of this aspect of his life, many speculate as to whether or not he is still married or if he is divorced. Technicians in the show also come and go, as some leave with new technicians coming in to fill their place.
Facts
| # | Fact |
| --- | --- |
| 1 | Mark dropped out of high school to help support the family after his father passed away. Later he returned to Lane Community College, where he enrolled a high school completion course. Graduating with honors, Mark is proud to have earned his diploma. |
Movies
Producer
| Title | Year | Status | Character |
| --- | --- | --- | --- |
| Graveyard Carz | | TV Series executive producer - 9 episodes, 2012 - 2016 producer - 1 episode, 2014 | |
| Trinket | 2014 | Short associate producer | |
Director
| Title | Year | Status | Character |
| --- | --- | --- | --- |
| Graveyard Carz | 2012 | TV Series 5 episodes | |
Writer
| Title | Year | Status | Character |
| --- | --- | --- | --- |
| Graveyard Carz | | TV Series 2 episodes, 2013 created & written by - 1 episode, 2011 | |
Actor
| Title | Year | Status | Character |
| --- | --- | --- | --- |
| LA Business Today | 2011 | TV Series | |
Self
| Title | Year | Status | Character |
| --- | --- | --- | --- |
| Graveyard Carz | 2011-2016 | TV Series | Himself / Himself - Host |
Source:
IMDb
,
Wikipedia