• Matty Matheson is a 32-year-old Caucasian chef and TV personality.
• He was raised in Saint John, New Brunswick, Canada by his engineer father and waitress mother.
• He began his career at the local "Le Select Bistro" after he dropped out from school.
• He almost died due to his partying habits, but was saved by his friends.
• He is married to Trish Matheson Spencer and has one son. His net worth is estimated to be around $2 million.
 
Who is Matty Matheson?
Born under the sign of Aquarius on the 7th of February 1986 in Saint John, New Brunswick Canada, Matty Matheson is a 32-year-old Caucasian chef and TV personality, perhaps best known to the world for his significant presence on the TV screen as himself in "Dead Set on Life", as well as the owner of "Parts and Labour." He has had a number of other successes as a culinary expert, over the course of his sometimes lucrative chef career over the last decade.
Early Life: Growing up in Canada
Matty was raised in his birthplace by his engineer father Steven Matheson and his waitress mother Joan Matheson. He is one of the four siblings, two other boys named Stephen and Adam, as well as a sister named Sarah, although the ages and professions of the three are unknown. Matty is known to have taken an early interest in cooking, although he never really planned on becoming a chef. As for his education, he attended an unspecified school in his hometown, where in grade 11 he was pepper-sprayed by a police officer for disorderly conduct. He moved to Toronto in 2000 and enrolled in Humber's cooking program, because that was the only place that accepted him at the time. It's here that Matty truly discovered cooking, and what it meant to him, and even though he was scoring his highest all-year-round marks, he dropped out of the school only two weeks before matriculation to tour Canada with a group of his friends who had a metal band. Matty never returned to finishthe last bit of the culinary education which he was initially so excited to get.
Career: From a Troublemaker to a Chef
He began working at the local "Le Select Bistro" after he dropped out from school, where he was taught how to make classic French food, and eventually fell in love with the diversity of cuisine, and thus his profession. While building his career, Matty was taking his partying habits along too, drinking and partying a lot, and ingesting a good number of opiates almost every day after a successful shift. He continued with this habit throughout his next job at "La Palette" from 2006, where he remained for two years, before finally opening his own restaurant – "Goodfellows" – in 2008, as he himself stated: 'All I had to do was cook good food, and I could party. You drink 'til 6 a.m., you sleep till 11. Then on your days off, you drink really hard.' Another two years went by, and he then opened "Parts and Labour", stating: 'When Parts and Labour hit, it got crazy. There were no rules. It was the craziest restaurant, the loudest restaurant in the city. I could party even harder, because I had a team, and I didn't have to cook any more. I was doing drugs and alcohol every day. We had the perfect space for it. I'd do anything. I loved coke, I loved MDMA, ecstasy, K. I'd take any pill. Smash three Ms, do an eight-ball.' He still owns this restaurant today, and runs a successful business.
He Almost Died
As his restaurant's success was rising, but his health was declining, as Matty was trading most of his money for the destruction of his body. However, his friends intervened in the matter, and his life was saved. He stated in an interview: 'Then, when I was 29, I had a heart attack. Everything kind of caught up. I woke up with this crazy pain. It was like something was gripping my heart, and I couldn't make it stop. It was something I've never felt. Doctors said I was lucky to be alive. I was in the hospital for five days, back to work in 10. I was supposed to take time off, but restaurants don't stop. I quit partying for about three months. Then I had a drink, and all of a sudden, I was back in the grips of partying. My friends, my girlfriend, everyone was worried about me. I didn't care that I'd had a heart attack, but everyone else did. I had drug dealers that wouldn't sell me drugs. I started going to different bars, and I started getting different drug dealers. I didn't want the party to be over, but everyone was getting off the party. Everyone was growing up, and everyone was trying to make Parts and Labour a really good restaurant. And I kept on being the kid. Everyone was just tired of Matty fucking everything up.
I kind of had an intervention. It was three friends, and they just said, "You're done." And I said, "Okay, I'm done." I haven't had a drop in two years. It's still an ordeal every day. I travel the world, and I can't drink wine. I miss drinking really good wine and beer.'
Love Life: Married to Trish Matheson Spencer
As for Matty's romantic involvements, he has known Trish Matheson Spencer from a very early age, and although he always liked her, she was for a time uncertain as to whether she should date him. She was later encouraged by her sister, and finally made the decision that she wanted a relationship, and the two eventually married at Trish's aunt and uncle's house in Port Dover in August 2014. As for his wife's profession, she is the co-owner of the wedding boutique called "Lovers Land" in Ossington, Toronto. Together, they have a son named MacArthur, who was born in March 2016. There hasn't been any controversy surrounding their union.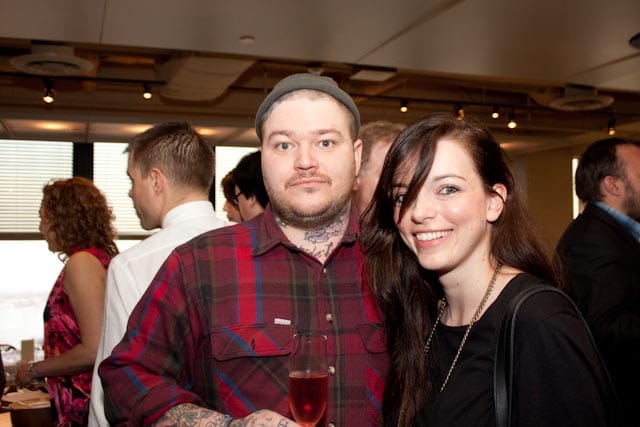 What is Matty Matheson's Net Worth?
Have you ever wondered how rich Matty Matheson is, as of mid-2018? According to various authoritative sources, it has been estimated that Matty's accumulated wealth is close to $2 million, made mainly as a chef and restaurant owner, while he earned the most from his long-term presence on the TV screen in his own TV show entitled "Dead Set on Life." As his career continues to develop, the said amount can be expected to increase.
I ❤️ RIBEYES SO MUCH! HERES HOW TO MAKE A RIBEYE CHILI! @jackbox Partner Content For #JACKSRIBEYEBURGER https://t.co/XnPcIfxYAS pic.twitter.com/iug2K1jeTV

— mattymatheson (@mattymatheson) November 15, 2017
Body Measurements
Concerning the physical attributes of the aspiring actor, his height is unknown, while his hair is dark brown and his eyes are dark blue, and his body shape is generally described as curvy.
Social Media Presence
Due to the major influence of social networks, it is nowadays a regular thing for active celebrities to nourish a close and active relationship with their fans, for the sake of increasing the popularity of the projects they're working on, and thus their own net worth. Matty himself seems to be a regular subscriber, if not the leading example of this celebrity trend, as his presence is quite ubiquitous on most of the popular social media networks. His Facebook page has over 110,000 followers, his Twitter account  almost 50,000, and his Instagram account has close to 450,000 fans.
Source:
IMDb
,
Wikipedia