• Chris P Bacon is a pet pig in a wheelchair born in the US in 2013
• His owner is a veterinarian and manufactured a wheelchair as a prosthesis
• He is popular on Facebook, YouTube and other social media networks
• He has appeared in shows such as "Anderson Live", "ABC Action News", The Today Show" and Discovery Channel, Animal Planet, and PBS
• Chris has raised over $50,000 for animal shelters and is active on Twitter, Instagram and Facebook.
 
Who is Chris P Bacon? Wiki Biography
Chris P Bacon was born in the US on 13 January 2013 so under the zodiac sign of Capricorn and holding American nationality – Chris is a pet pig in a wheelchair, who is very popular on Facebook and other social media networks.
Chris' early life
Chris has spent his entire life with his loving owner, who is a veterinarian and has been taking good care of him throughout the years. Chris was born with malformed back legs, but his owner was there for him as he adopted him when his original owner suggested euthanasia, and manufactured a wheelchair as a prosthesis, which has been adapted as Chris grew.
Chris didn't go to school but his owner rather taught him at home – he so far knows how to eat… and how to sleep. It is not known whether or not Chris had any brothers or sisters when his owner adopted him, but he is the only pig currently living with his 'father' – Len Lucero, Doctor of Veterinary Medicine, while his mother's name is not known. His owner often takes him to the University of Florida hospital to check up on his health.
Chris' popularity on Facebook and YouTube
Chris's (or his owner's) career was launched in January 2013, after his owner began uploading his videos onto his YouTube channel – there are currently more than 12,000 people subscribed to it, while it also counts more than 4.1 million views of all its videos combined. There are numerous videos uploaded onto the channel, in which one can see Chris 'driving' his prosthesis, eating, doing funny things, and spending quality time with his owner and other animals on the farm.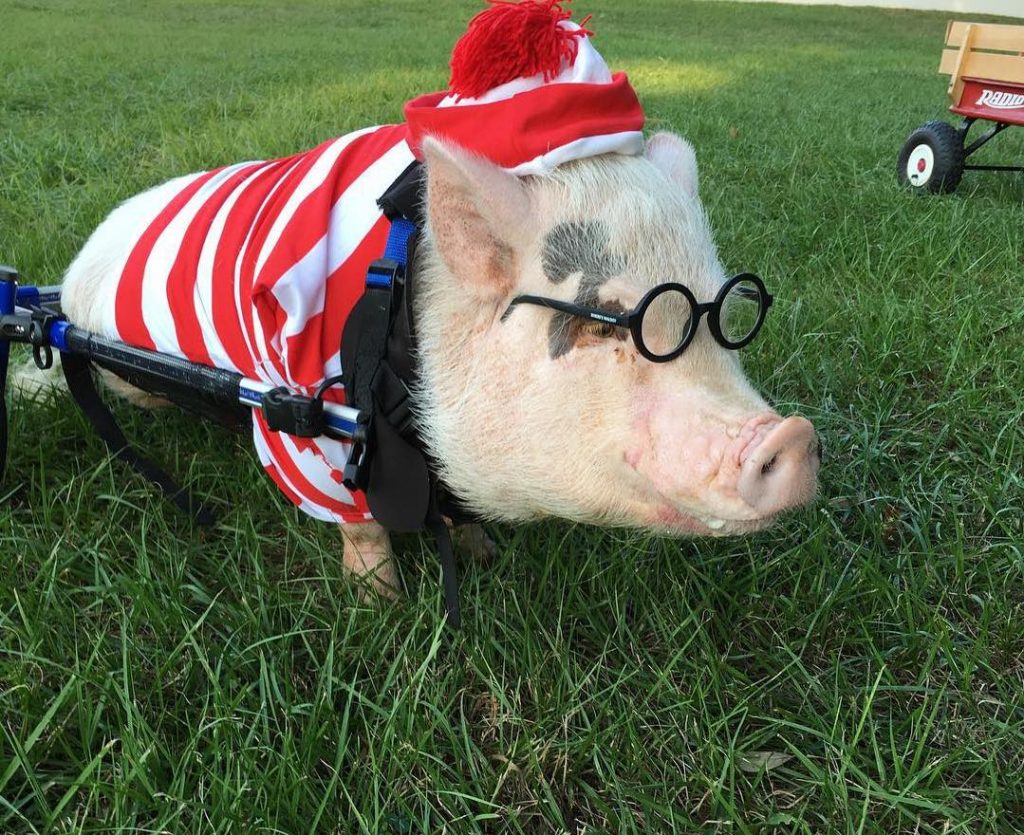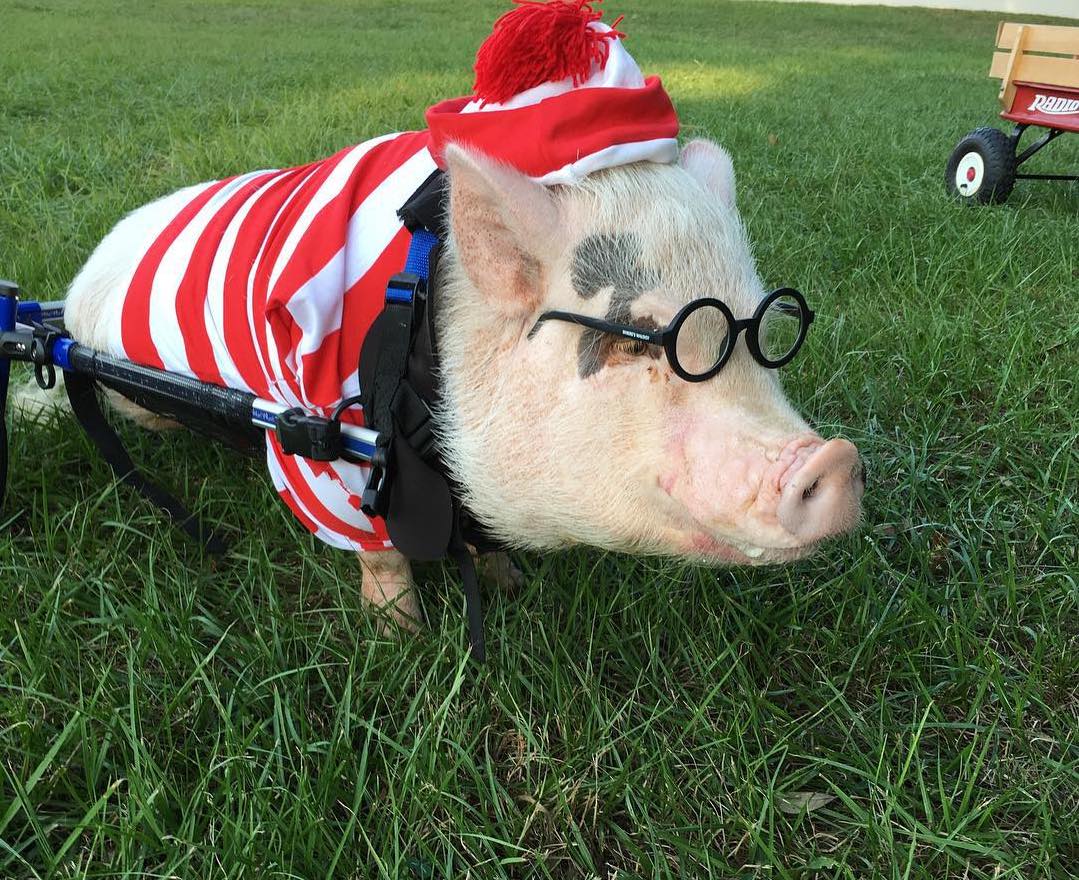 It seems that his owner became more focused on his Facebook page, as the last video entitled "Chris P Bacon Rabbit" was uploaded onto the YouTube channel on 17 August 2016, and has so far been viewed nearly 10,000 times.
Although YouTube helped him gain recognition, Chris became popular on the internet thanks to his Facebook account – as he doesn't know how to use a camera, Chris the Pig asked his owner to take his pictures and videos and help him upload these to Facebook.
He also had his owner translate his witty ideas from Piglish to English and post them as captions of his pictures – it didn't take long for Chris to gain people's attention, and his Facebook page currently counts more than 120,000 fans.
His owner has also launched a website for Chris, on which he sells a book entitled "Chris P. Bacon: My Life So Far" produced especially for children – the website offers other things as well, including toys which resemble Chris, videos, links to Chris's other social media accounts, and a contact form in case you have any questions or suggestions. His owner has also released a second book entitled "How to Roll like Chris P. Bacon".
Chris is an actor too, and it appears as he might have accomplished more in life than some humans – he has so far appeared in shows such as "Anderson Live", "ABC Action News", The Today Show", and featured in several shows on Discovery Channel, Animal Planet, and PBS.
Dr. Len Lucero, Chris' owner
Len Lucero prefers to stay away from media, and is not bragging about all the things he has done to help Chris and numerous other animals have a normal life (and not be killed for meat). Len is a well-educated man who graduated from the University of Florida in May 2012, and became a Doctor of Veterinary Medicine.
Before he went to college, he served in the US Air Force from September 1989 to September 2009 as an aircraft weapons systems specialist – he proudly says that he served in Operation Iraqi Freedom including in an undisclosed location in the Middle East.
Len launched his career of a veterinarian in June 2012 when he began working for the East Side Animal Hospital as a Veterinarian, and has been working for them ever since.
At the same time when he began working for the East Side Animal Hospital, he also started working for the Sumter Mobile Veterinary Services and has simultaneously been doing these two jobs for over seven years now – Len is always on the call 24 hours per day including weekends, and if he is not available to visit your farm in time, he knows numerous other veterinarians who might be able to help you out.
Len is not that active on the internet, as he only seems to be using Facebook, and occasionally YouTube.
Chris' personal life and relationships
Although the pig Chris hasn't 'talked' about his relationship status, he seems to be single but a very happy pig, and is enjoying the life he has with his best friend who is also his owner. His owner is not his only friend as Chris spends a lot of his time with Aspen the Border Collie, his owner's dog – Chris is also an uncle, as Aspen now has puppies. They are not alone on the farm, as they have numerous other friends including horses, goats, dogs, cats, chickens, and many other animals – they all seem to be getting along just fine.
It is not known if Chris' owner has arranged any blind dates for him in the past, or if Chris is planning on having any babies in the future – we sure hope his owner will help him experience pig love by finding a female pig for him.
Hobbies and other interests
Although Chris apparently enjoys being the star of his videos, he seems to have other interests rather than just being an internet attraction.
As Chris is a pig, he loves to eat probably a lot more than his owner, and his favorite food are cheerios – he enjoys fruit as well. and his favorite fruit is grapes, but actually almost any type of edible substance.
Yup, Santa comes from up there and shoots across the sky lightning fast. That's how he covers so much area in one night. I hope sharing this with you earns me extra grapes. Merry Christmas! Oink! Oink!

Posted by Chris P Bacon Pig on Wheels on Monday, December 24, 2018
He loves playing with toys while his favorite one is Doinky, which is a yellow duck. Chris also seems to enjoy doing fundraisers, as he has on several occasions helped his owner gather money to donate to animal shelters. Most of all, Chris loves to spend time with his friends on the farm, and he often goes outside to play and run with his dog friend Aspen – the two seem to be inseparable.
Appearance and net worth
Chris is currently six years old. He is a big white pig, but his height and weight are not known.
This pig was born with deformed legs, but he got a wheelchair — and a dad who throws him birthday parties! pic.twitter.com/JCGv3rySWi

— The Dodo (@dodo) April 13, 2017
According to authoritative sources, Chris' current net worth is estimated to be around $50,000 and he usually donates all of that money to the animal shelter, as he is one compassionate and sensitive pig.
Social media presence
Chris is very active on several popular social media platforms, but as he hasn't learnt how to write yet, his owner is translating his pig ideas into English. He launched his Twitter account in January 2013 as all the other animals at the farm were talking about it, and has tweeted nearly 2,200 times. His Instagram account has nearly 170 pictures onto it, and Chris is  very active on Faceboo too, on which he has amassed more than 120,000 fans.