• Adam Conover is an American television host, writer, and comedian with a net worth of over $500,000.
• He grew up in Wading River and attended Bard College before pursuing a career in comedy.
• He is best known for creating and hosting the truTV show "Adam Ruins Everything".
• He is also a voice actor, appearing in the Netflix show "BoJack Horseman".
• He has been in a relationship with cartoonist and illustrator Lisa Hanawalt since 2015.

Known for movies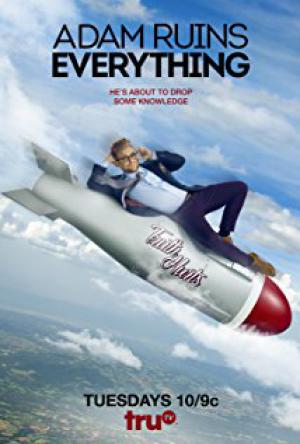 Who is Adam Conover?
Adam Conover was born on 2 March 1983, in Smithtown, New York State, USA, and is a television host, writer, and comedian, best known for being the host of the truTV show entitled "Adam Ruins Everything", a show which he created originally on the website CollegeHumor.
The Net Worth of Adam Conover
How rich is Adam Conover? As of mid-2018, sources inform us of a net worth that is over $500,000, earned through success on television and in comedy. He's also done voice acting work, and writes a lot of his own comedy segments. As he continues his career, it is expected that this wealth will also continue to increase.
Early Life and Education
While Adam was born in Smithtown, he grew up in nearby Wading River; his father is a marine biologist and his mother a botanist. He also grew up with a younger sister who would complete a Ph.D. in particle physics, leading him to state that he is the only member of the family without a Ph.D. He attended Shoreham-Wading River High School, and during his time there developed an interest in performing.

After matriculating in 2000, he then attended Bard College and two years into his college education he joined the comedy sketch group Olde English, and although staying active with the group eventually graduated with a Bachelor's degree in philosophy. With the completion of his studies, he pursued a career in comedy, initially as a part of the comedy website CollegeHumor as a comedy sketch writer. During his time there, he was able to create the concept of a web series which would become "Adam Ruins Everything".
Adam Ruins Everything
The show's concept was to reveal hidden or untold facts about everyday services or goods that have now become a norm in society, with the aim being to also reveal some common misconceptions we have about these goods or services.
"Adam Ruins Everything"
initially began by showing ordinary people going about their daily lives, and stating a misconception about a certain topic. Adam then appears and introduces himself before starting a deconstruction of the misconceptions of said topic. As the show's host, he is given "powers" to help introduce characters or segments that help further explain his point.
He also uses peer-review articles, and experts in the related field to help back up his claims. It comes to a point where the ordinary person in the episode becomes very frustrated, making the topic seem impossible to fix or pointless. However, Conover will always try to give viewers positive takeaways which can help, or recent improvements that have been made. The show proved very popular, and was picked up by truTV in 2015 for a 12-episode season. It has since been renewed for two more seasons with the third set to premiere during late 2018.
A friend of mine saw this on the highway and I have not yet thought of a single plausible explanation for it pic.twitter.com/zpBE2QxsvL

— Adam Conover (@adamconover) April 17, 2017
Outside the Character and Other Projects
In an interview, Adam has stated that the character he does in his show is a comedic interpretation of the person he worried he once was. According to him, during conversations he would try to tell people something he learned, which usually led to them becoming annoyed at him. In 2016, he was asked to speak at a marketing conference, at which he started debating against popular norms, even stating that millennials don't really exist.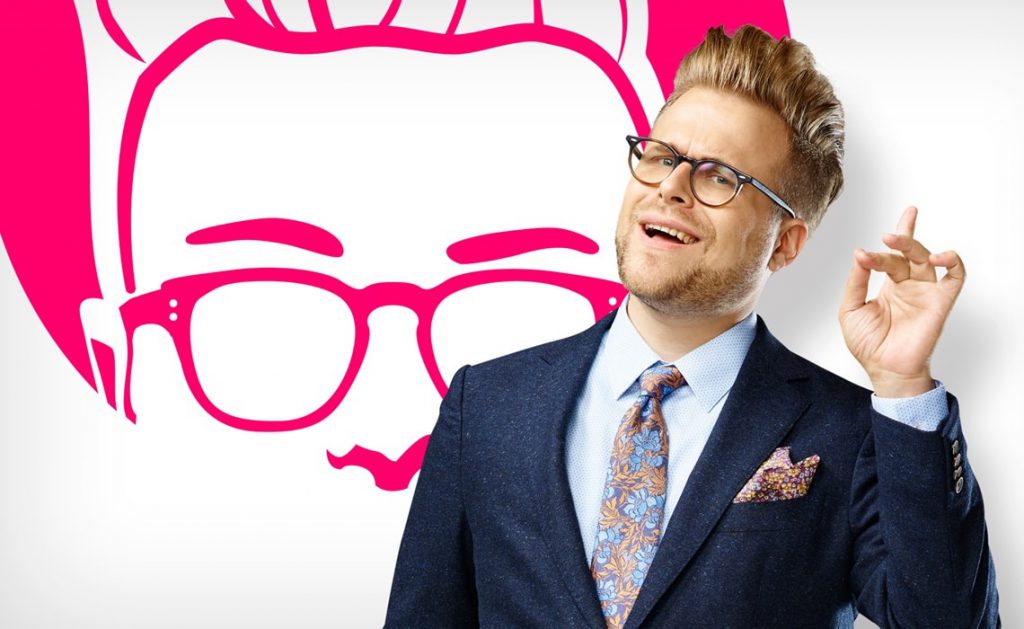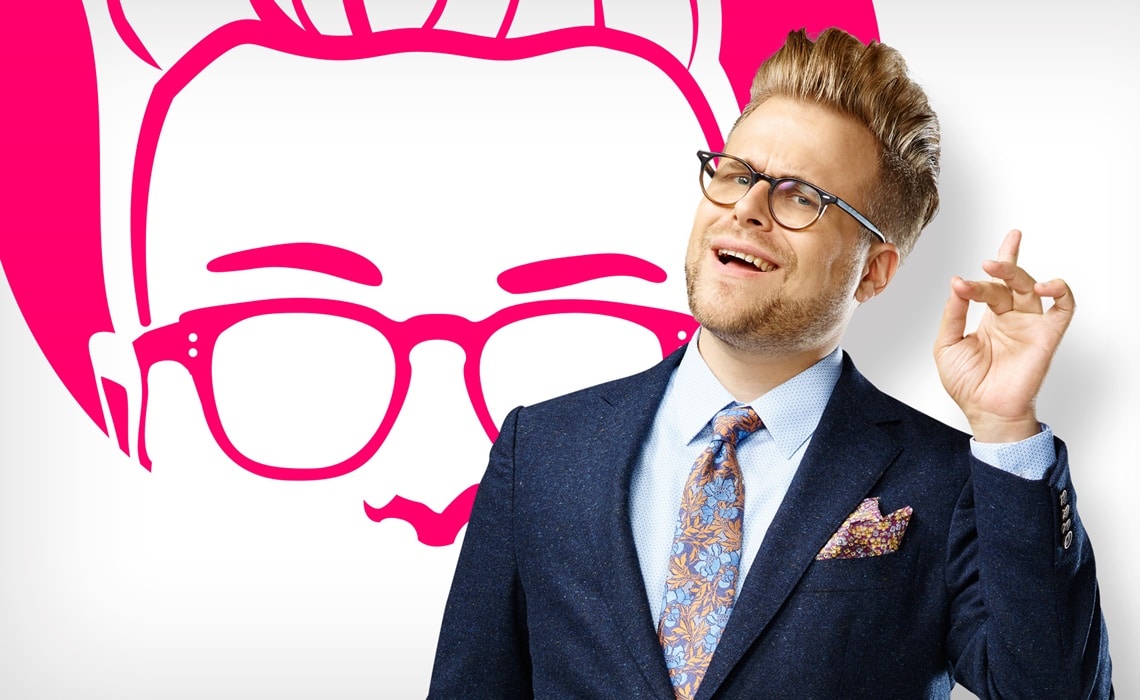 Aside from his work with "Adam Ruins Everything", Conover has also done voice acting. He notably worked on the Netflix animated series entitled "BoJack Horseman" in which he voiced several characters. The show stars Will Arnett with supporting cast members including Aaron Paul and Alison Brie, and is a satirical take on show business, and current events including politics. It also tackles other human problems for which it has received a lot of praise, with some of the characters Conover has voiced including Bradley Hitler-Smith and A Ryan Seacrest-Type. The show has been running for four seasons each of 12 episodes, with the fourth airing in mid to late-2017.
Personal Life
For his personal life, it is known that since 2015 Adam has been in a relationship with Lisa Hanawalt, the production designer of "BoJack Horseman", who is a well-known cartoonist and illustrator who won an Ignatz Award for this work. She is also the creator of another Netflix animated show entitled "Tuca & Bertie". Adam also maintains a personal YouTube channel alongside his girlfriend, which mainly consists of them playing video games together, however, the channel has been inactive for 10 months.

Adam also has a personal website on which he promotes some of his recent projects and appearances, one of his most recent being a video about the Emmy Awards on Gold Derby's YouTube channel.
General Info
| | |
| --- | --- |
| Full Name | Adam Conover |
| Profession | Actor, Comedian, Screenwriter, Film Editor |
| Education | Bard College |
| Nationality | American |
Family
| | |
| --- | --- |
| Parents | David Conover, Margaret Conover |
| Siblings | Emily Conover |
Accomplishments
| | |
| --- | --- |
| Movies | The Exquisite Corpse Project, 1. Episode 1, 27. Adam Ruins Going Green, 26. Adam Ruins Christmas |
Social profile links
Pictures
Movies
Actor
| Title | Year | Status | Character |
| --- | --- | --- | --- |
| Adam Ruins Everything | 2015-2017 | TV Series | Adam |
| BoJack Horseman | 2014-2017 | TV Series | A Ryan Seacrest Type Ethan Blackmailer #1 ... |
| CollegeHumor Originals | 2012-2017 | TV Series | Adam / Victor Vivisector / Narrator / ... |
| Bad Internet | 2016 | TV Series | Mundy |
| Dorkly Originals | 2014-2015 | TV Series | Red / Koopa / Gex / ... |
| Hardly Working | 2012-2015 | TV Series short | Adam / Contestant / Volunteer 3 |
| UCB Comedy Originals | 2014 | TV Series | |
| Best Week Ever | 2013 | TV Series | |
| Jake and Amir | 2012 | TV Series short | Adam |
| Olde English Comedy: Sketch Pilot | 2008 | TV Movie | Misc. |
Writer
| Title | Year | Status | Character |
| --- | --- | --- | --- |
| Adam Ruins Everything | 2016-2017 | TV Series 26 episodes | |
| CollegeHumor Originals | | TV Series 26 episodes, 2012 - 2015 writer - 1 episode, 2014 | |
| The Britishes | 2014 | TV Mini-Series 8 episodes | |
| Jake and Amir | 2014 | TV Series short 1 episode | |
| Sketchy | 2014 | TV Series 1 episode | |
| Stevie TV | 2012-2013 | TV Series writer - 9 episodes | |
| Hardly Working | 2012-2013 | TV Series short 7 episodes | |
| The Exquisite Corpse Project | 2012 | | |
| Late Night Republic | 2010 | TV Series writer - 6 episodes | |
| Olde English Comedy: Sketch Pilot | 2008 | TV Movie | |
Producer
| Title | Year | Status | Character |
| --- | --- | --- | --- |
| Adam Ruins Everything | 2015-2017 | TV Series executive producer - 38 episodes | |
Visual Effects
| Title | Year | Status | Character |
| --- | --- | --- | --- |
| The Exquisite Corpse Project | 2012 | visual effects | |
| CollegeHumor Originals | 2012 | TV Series graphics - 13 episodes | |
| Olde English Comedy: Sketch Pilot | 2008 | TV Movie visual effects | |
Director
| Title | Year | Status | Character |
| --- | --- | --- | --- |
| CollegeHumor Originals | 2013-2014 | TV Series 13 episodes | |
| Olde English Comedy: Sketch Pilot | 2008 | TV Movie | |
Editor
| Title | Year | Status | Character |
| --- | --- | --- | --- |
| CollegeHumor Originals | 2013 | TV Series 1 episode | |
| The Exquisite Corpse Project | 2012 | | |
| Olde English Comedy: Sketch Pilot | 2008 | TV Movie | |
Music Department
| Title | Year | Status | Character |
| --- | --- | --- | --- |
| CollegeHumor Originals | 2011-2013 | TV Series vocalist - 2 episodes | |
Miscellaneous
| Title | Year | Status | Character |
| --- | --- | --- | --- |
| CollegeHumor Originals | 2013 | TV Series script consultant - 1 episode | |
Thanks
| Title | Year | Status | Character |
| --- | --- | --- | --- |
| The Chris Gethard Show: Public Access Web Videos | 2014 | TV Series special thanks - 1 episode | |
Self
| Title | Year | Status | Character |
| --- | --- | --- | --- |
| Conan | 2017 | TV Series | Himself - Guest |
| The Late Show with Stephen Colbert | 2016-2017 | TV Series | Himself / Himself - Guest |
| @midnight | 2016-2017 | TV Series | Himself |
| The UCB Show | 2017 | TV Series | Himself |
| Adam Ruins Everything | 2016 | TV Series | Himself - Presenter |
| Last Call with Carson Daly | 2016 | TV Series | Himself |
| No, You Shut Up! | 2016 | TV Series | Himself |
| CBS This Morning | 2015 | TV Series | Himself |
| Sidewalks Entertainment | 2015 | TV Series | Himself - Guest |
| CollegeHumor Originals | 2013-2015 | TV Series | Himself / Himself - Co-Host |
| The Chris Gethard Show: Public Access | 2013 | TV Series | Himself |
| Wendy: The Wendy Williams Show | 2013 | TV Series | Himself - Guest |
| Big Morning Buzz Live | 2012-2013 | TV Series | Himself - Panelist / Himself |
| The Exquisite Corpse Project | 2012 | | Himself / Captain Boo |
| Hardly Working | 2012 | TV Series short | Himself |
| Fox and Friends | 2009 | TV Series | Himself |
Archive Footage
| Title | Year | Status | Character |
| --- | --- | --- | --- |
| The Chris Gethard Show: Public Access Web Videos | 2014 | TV Series | Himself |
Source:
IMDb
,
Wikipedia