• Andrea Tantaros was born in Allentown, Pennsylvania in 1978.
• She has a Master's degree in journalism and French from the Sorbonne.
• She worked as a political contributor for Fox News for 11 years.
• She wrote a book called "Tied Up in Knots: How Getting What We Wanted Made Women Miserable" and was sued by her ghostwriter.
• She is in a relationship with rock guitarist Dave Navarro and has a large social media following.

Known for movies
Short Info
| | |
| --- | --- |
| Date Of Birth | December 30, 1978 |
| Fact | Favorite Christmas movie: White Christmas (1954). |

Who is Andrea Tantaros?
Born Andreana Kostantina Tantaros on the 30th December 1978 in Allentown, Pennsylvania USA, she is a political analyst and host, best known to the world for her extensive work with Fox News until 2016, when she resigned from her post and filed a sexual harassment lawsuit against the station.
Early Life and Education
Of Greek and Italian ancestry, Andrea grew up in her hometown, and after finishing high school enrolled at Lehigh University where she studied French language and journalism. Before she graduated, Andrea moved to Paris, France, where she enrolled at the Sorbonne, from which she obtained Bachelor's and Master's degrees in journalism and French language. Once she finished her studies, Andrea moved back to the USA, settling in Washington, D.C.
Career Beginnings
Even before her studies were finished, Andrea started pursuing her career; she was first an intern for CNN's "Crossfire" program, and upon returning from France, found a place working as a spokeswoman for Massachusetts Governor William Weld. After a while, she started working for Congressman Pat Toomey, and later the National Republican Congressional Committee Chairman Thomas Reynolds. In 2005, Andrea switched from Washington to New York City and founded her own company, which would offer services to Fortune 500 companies, focusing on crisis management and media strategy consulting, and political campaigns. After several years of success, Andrea was recruited by the Fox News Channel as a political contributor.
Rise to Prominence
After only a year at Fox News, Andrea was named as one of the co-hosts of "The Five", a political news show. Gradually, her own popularity increased along with the show, and next to other co-hosts made "The Five" the most popular show not only on Fox but also in comparison to MSNBC and CNN.
"Outnumbered"
After several successful years and 443 episodes as a co-host of "The Five", Andrea left the show and joined "Outnumbered" as the hostess. This further increased her net worth and popularity, but there was a hidden motive in her move, which would surface a year later – she started having problems with Roger Ailes, claiming that he sexually harassed her and even filed a lawsuit. However, this led to her being moved from "The Five" to "Outnumbered", and eventually off the air since April 2016.
The Lawsuit
Andrea filed a lawsuit in 2015 claiming that Ailes, Scott Brown, Dean Cain and Billy O'Reilly sexually harassed her, made inappropriate comments, and that Brown and Cain touched her without her consent. The result was Andrea being taken off the air and her lawsuit denied, though she has made a complaint and is waiting for new trial.
Why @AndreaTantaros is on a mission to change the culture of Fox News. https://t.co/iqr3kXjJOK pic.twitter.com/GvWXvs0vBG

— Bizwomen (@bizwomen) October 11, 2016
Life After Fox News Channel
She has remained secretive about her projects following her dismissal from the Fox News Channel, however, she has published the book "Tied Up in Knots: How Getting What We Wanted to be Made Women Miserable". Although the book got her back in the public eye, she faced a lawsuit from Michael Krechmer for breach of contract; Michael is a successful ghostwriter and he stated that the book is his creation and that he wasn't paid for his services. However, Andrea claimed that Fox News paid Michael to say such a thing and file a lawsuit. Although it has been two years since the book was published, the outcome of the case is yet to be determined.
How Rich Andrea Tantaros Is?
Since entering the informative world, Andrea has built a name for herself, and with that a decent wealth. So, let's check how rich exactly Andrea is. Well, according to authoritative sources, Andrea's wealth is estimated at $1.5 million, earned through her successful career, active since the early 2000s.
Life Behind the Scene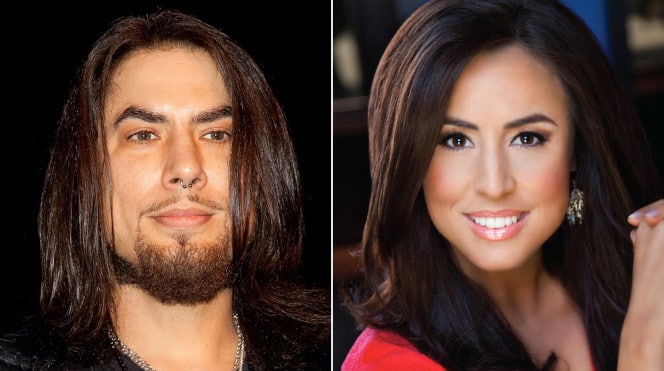 In regards to her romantic relationships, Andrea has been in a relationship with famous rock guitarist Dave Navarro since 2015. Navarro has played in such bands as Jane's Addiction, Red Hot Chili Peppers, Deconstruction, and others.
Social Media Presence
Since gaining national fame, Andrea has managed to expand her influence to social media platforms, particularly Twitter. Like many other journalists, analysts, and TV hosts, she has used her Twitter account to promote her own work. So far she has been followed by close to 500,000 people, and if you are not already a fan, you can easily jump over to her account and start following one of the most successful TV hosts of the present day.
She has also built-up a decent Facebook following, with more than 600,000 people on her official Facebook page.
General Info
| | |
| --- | --- |
| Full Name | Andrea Tantaros |
| Date Of Birth | December 30, 1978 |
| Height | 1.63 m |
| Profession | Commentator, Political analyst |
| Education | Lehigh University, Parkland High School |
| Nationality | American |
Family
| | |
| --- | --- |
| Parents | Konstantinos Tantaros, Barbara Tantaros |
| Siblings | Daniel Tantaros, Dean Tantaros, Thea Tantaros |
Accomplishments
Social profile links
Facts
| # | Fact |
| --- | --- |
| 1 | Favorite Christmas movie: White Christmas (1954). |
| 2 | Her brother, Daniel Tantaros, 31, died on August 19, 2013. |
| 3 | Fan of classic rock, including Rush and Kansas. |
| 4 | Was a gymnast when she was younger. |
| 5 | Her father was the youngest of 14 and came to the United States at age 16. |
| 6 | Graduated from Parkland High School in 1997. |
| 7 | Was born on December 30, 1978 in Allentown, Pennsylvania to an immigrant Greek family. |
| 8 | Has an older sister and older brother and a younger brother. |
| 9 | Has become the aunt of a girl [October 2011]. |
| 10 | As a teenager, she worked as a waitress in her parents' restaurant, the "Pied Piper Diner". First began working at the restaurant when she was 8. |
| 11 | Had worked for Pat Buchanan. |
| 12 | Political columnist, New York Daily News. |
| 13 | Former intern to Bill Press. |
| 14 | Currently, she is a vice-president with Sloane and Company where she specializes in crisis communications, health-care and public affairs clients. Before joining Sloane, she started Andrea Tantaros Media, where she advised Fortune 500 corporations and political campaigns facing reputational challenges and media strategy. |
| 15 | She is of Greek descent. |
| 16 | Had a disabled younger brother, named Daniel Tantaros (aka Danny), who was autistic. |
| 17 | Graduate of Lehigh University (in 2001), where she majored in journalism and French and wrote political commentary for the college newspaper, and The Universite de Paris in Paris, France. Proficient in Spanish, French and Greek and lives in New York City. |
| 18 | Native of Allentown, Pennsylvania. |
| 19 | FoxNews.com contributor. |
| 20 | Former press secretary to Gov. William Weld and Judge Jeanine Pirro. |
| 21 | Her brother is a Continental Airlines pilot. |
| 22 | Former House GOP press secretary. |
| 23 | Republican media consultant. |
| 24 | Republican strategist. |
Movies
Self
| Title | Year | Status | Character |
| --- | --- | --- | --- |
| Good Morning America | 2016 | TV Series | Herself - Guest |
| Outnumbered | 2014-2016 | TV Series | Herself - Co-Hostess / Herself - Host / Herself - Co-Hostesss / ... |
| Cashin' In | 2016 | TV Series | Herself - Guest Panelist |
| Media Buzz | 2014-2016 | TV Series | Herself - Co-Hostess, Outnumbered / Herself - Panelist / Herself |
| Fox and Friends | 2012-2016 | TV Series | Herself / Herself - Co-Hostess, Outnumbered |
| The O'Reilly Factor | 2007-2015 | TV Series | Herself - Republican Strategist / Herself - Co-Hostess, Outnumbered / Herself / ... |
| The Five | 2011-2015 | TV Series | Herself - Co-Hostess / Herself / Herself - Co- Hostess / ... |
| The Insider | 2014 | TV Series | Herself - Co-Hostess, Outnumbered |
| Hannity | 2010-2014 | TV Series | Herself / Herself - Co-Hostess, The Five / Herself - Panelist / ... |
| Red Eye w/Tom Shillue | 2008-2014 | TV Series | Herself - Guest Panelist / Herself - Panelist / Herself - Guest Ombudsman / ... |
| Lou Dobbs Tonight | 2013-2014 | TV Series | Herself - Co-Hostess, The Five / Herself |
| On the Record w/ Brit Hume | 2013 | TV Series | Herself - Guest Hostess |
| The Kelly File | 2013 | TV Series | Herself |
| Happening Now | 2012 | TV Series | Herself |
| Stossel | 2012 | TV Series | Herself |
| America's Newsroom | 2012 | TV Series | Herself |
| Studio B | 2012 | TV Series | Herself |
| Fox News Watch | 2012 | TV Series | Herself |
Archive Footage
| Title | Year | Status | Character |
| --- | --- | --- | --- |
| Extra | 2016 | TV Series | Herself |
| Media Buzz | 2014-2015 | TV Series | Herself - Co-Hostess, Outnumbered / Herself - Co-Hostess, The Five |
| The Greg Gutfeld Show | 2015 | TV Series | Herself - Co-Hostess, Outnumbered |
| Stossel | 2015 | TV Series | Herself - Co-Hostess, Outnumbered |
| Inside Edition | 2014-2015 | TV Series documentary | Herself / Herself - Outnumbered |
Source:
IMDb
,
Wikipedia