• Dolly Parton is a prominent singer-songwriter, actress, record producer, author and businesswoman.
• She has released over 40 studio albums, with the most popular being "Here You Come Again" (1977), "Heartbreaker" (1978), and "9 to 5 and Odd Jobs" (1980).
• She has won many awards, making her the most honored female artist in country music history.
• She has also starred in a number of films, including "9 to 5" (1980), "The Best Little Whorehouse in Texas" (1982), and "Steel Magnolias" (1989).
• Her net worth is estimated at $500 million, and she is also known for her philanthropic work and her love of books.

Known for movies
Short Info
| | |
| --- | --- |
| Net Worth | $500 million |
| Date Of Birth | January 19, 1946 |
| Spouse | Carl Thomas Dean |
| Mark | Always uses butterflies as her logos, since she feels they represent beauty and freedom. |
| Fact | Reportedly has her breasts insured for $600,000. |
| Payments | Earned $2,000,000 from Rhinestone (1984) |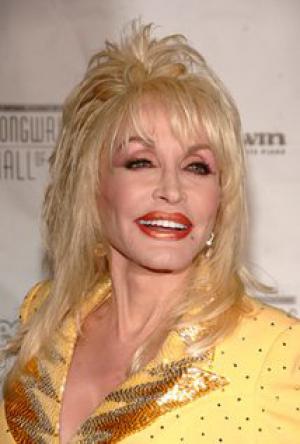 Who is Dolly Parton?
Born Dolly Rebecca Parton on the 19th January 1946, in Sevier County, Tennessee USA, she is a prominent singer, actress, record producer, author and businesswomen, but best known to the world for her work in country music. She has released over 40 studio albums, with the most popular being "Here You Come Again" (1977), "Heartbreaker" (1978), and "9 to 5 and Odd Jobs" (1980). She is the most honored female artist in country music history, with a number of awards, aside from hits that reached the top of the Billboard country music charts.
Early Life, Parents, Siblings, and Education
Born the fourth of twelve children to Avie Lee Caroline and Robert Lee Parton, her mother had 12 children by the age of 35. The Parton family apparently resided in a one-room cabin in Locust Ridge; her father was a subsistence farmer and construction worker, which wasn't enough for a decent living. Dolly subsequently sang about her childhood and how poor her family was in a number of her songs, including "Coat of Many Colors", and "In the Good Old Days (When Times Were Bad)".
Dolly obviously found her solace in music; her grandfather, Jake Robert Owens was a pastor at the Church of God, where Dolly made her first public performance at just six years of age. The following year she took up a homemade guitar, then when she was eight years old, Dolly received a real guitar from her uncle.
Career Beginnings
Gradually, Dolly's focus on music became more concentrated, and she was soon performing on radio and television programs, and when she was 10 years old, Dolly appeared in "The Cas Walker Show". At 14 she recorded her first song "Puppy Love", after signing a contract with Goldband Records, a small Louisiana label. The same year she made her first appearance at the Grand Ole Opry; there she met Johnny Cash, who told her to follow her own instincts and dreams in regards to her career. Once she finished high school in 1964, Dolly moved to Nashville, the Tennessee centre of country music, where before earning a name for herself as a singer, Dolly worked as a songwriter. She then signed a contract with Combine Publishing, and reached fame with such hits as "Put It Off Until Tomorrow", and "Fuel to the Flame", performed by Bill Phillips and Skeeter Davis, respectively. After this initial success, Dolly was offered a recording contract by Monument Records, but upon accepting the offer Dolly was planned as a bubblegum pop singer, however, after several uncharted singles, Dolly stated her desire to record country music.
This project has been such a joy to work on! Can't wait for y'all to hear it!! https://t.co/e0odejuARk pic.twitter.com/pS3UAeullN

— Dolly Parton (@DollyParton) May 15, 2018
Country Music Career
Her first country song was "Dumb Blonde", which reached No. 24 on the country chart in 1967, followed by another successful single "Something Fishy", which reached No. 17. As she entered the music scene, many people came to her with their own ideas on how to exploit Dolly's remarkable voice and talent. The first was Porter Wagoner, who became her mentor over the years, and helped her sign a contract with RCA Victor, but also brought her to a wider public thanks to his own "The Porter Wagoner Show", a weekly syndicated television program. Although the public wasn't initially in awe of Dolly, after releasing her debut album "Hello, I'm Dolly" in 1967 through Monument Records, they soon came to love her when she signed with RCA Victor Records, and new albums followed. Unfortunately, her success was only mediocre until the late '70s, when she changed from country to more pop-orientated music.
Pop Albums and Rise to Prominence
In 1977 she recorded her first pop album with the help of producer Gary Klein – "Here You Come Again" – her first album to sell over a million copies, and top the country chart, while it reached No. 20 on the pop chart. In the next several years, Dolly enjoyed continued success, becoming one of the major stars of the '70s and '80s with such albums as "Heartbreaker" (1978), "Dolly, Dolly, Dolly" (1980), "9 to 5 and Odd Jobs", Heartbreak Express" (1982), and "Real Love" (1985). During this period, Dolly recorded such hit singles as "Here You Come Again", "It's All Wrong, But It's All Right", "You're the Only One", "Starting Over Again"  and "But You Know I Love You", among many others that made her the most honored female musician.

The decline in Music Career
From the end of the '80s, Dolly's career began to decline somewhat, and though she has released a number of albums since then, she hasn't comparable success, except the "Eagle When She Flies" (1991), "Backwoods Barbie" (2008), and most recently "Pure & Simple" (2016), which also topped the country chart.
Acting Career
Dolly is also an actress; she made her debut in the comedy film "9 to 5" (1980), starring next to Jane Fonda and Lilly Tomlin, and two years later starred in the Academy Award-nominated comedy film "The Best Little Whorehouse in Texas", alongside Burt Reynolds and Dom DeLuise. Throughout the '80s, Dolly had several other roles, such as in the comedy film "Rhinestone" (1984), starring with Sylvester Stallone, and Richard Farnsworth, while in 1989 she appeared in the Academy Award-nominated romantic comedy film "Steel Magnolias", with Shirley MacLaine, Olympia Dukakis and Sally Field in the lead roles. In 1992 she starred in the romantic comedy "Straight Talk", and in 1999 had another lead role in the film "Blue Valley Songbird". Since the start of the new millennium, Dolly hasn't had any major role, except in the comedy-drama film "Joyful Noise" in 2012, in which she starred next to Queen Latifah, and Keke Palmer.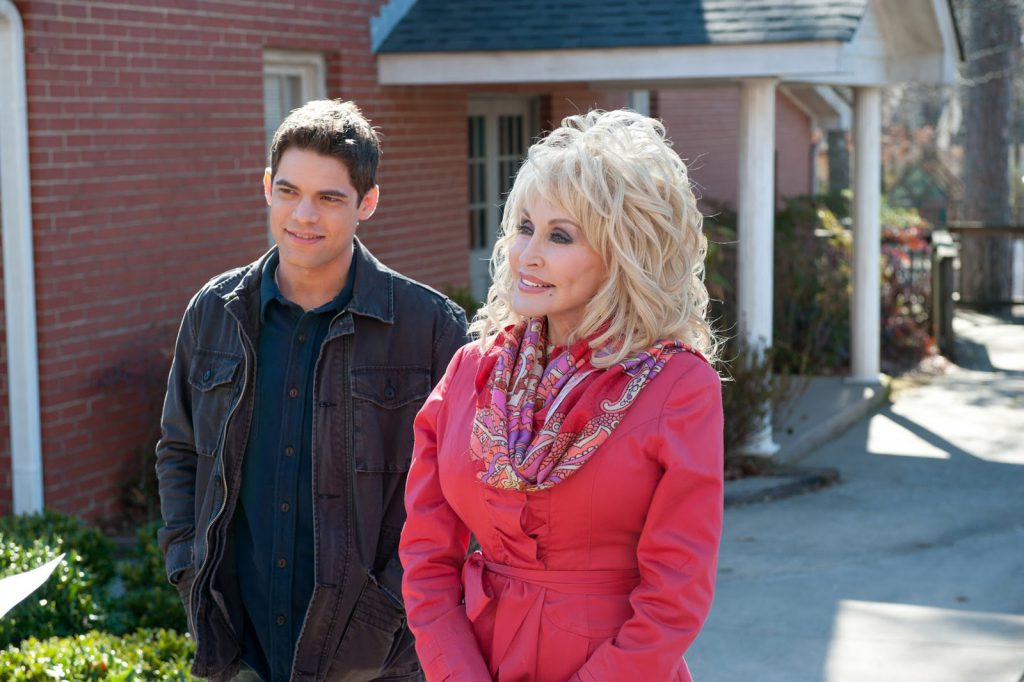 Dolly Parton Awards and Honors
Since recording her first song, Dolly has captured the hearts of many for her true lyrics and beautiful voice. This brought her a number of awards and honors, including nine Grammy Awards from 46 Grammy Award nominations. She also has three American Music Awards, and in 1999 was inducted into the Country Music Hall of Fame, while two years later she was inducted into the Songwriters Hall of Fame. She has also received the National Medal of Arts given by the US government, among many other awards and honors.
Do You Know How rich successful musician and actress, Dolly Parton is?
With more than 40 studio albums released and with 25 chart-topping singles, Dolly has sold more than 100 million albums, which has significantly increased her net worth. So, have you ever wondered how rich Dolly Parton is, as of mid- 2018? According to authoritative sources, it has been estimated that Parton's net worth is at an impressive $500 million, plus.
Life Behind the Scene
Dolly has been married for over 50 years to Carl Thomas Dean; the wedding ceremony was held in Ringgold, Georgia. Her husband isn't fond of public events and is rarely seen next to Dolly on such occasions. Anyways, although he doesn't go to gatherings, that doesn't mean he isn't supportive of her career and dedication to other aspects. The couple doesn't have children, but helped raise her younger siblings – their children call her 'Aunt Granny'!
Philanthropic Work
Since the '80s, Dolly has been involved with a number of charitable organizations through her own Dollywood Foundation, collecting money through her numerous charity concerts and telethon campaigns. She is largely devoted to helping children, but also other causes, supporting such organizations as the American Red Cross, American Eagle Foundation, several HIV/AIDS-related charities, PETA, and other. She has received several honors and awards for her work, including Woodrow Wilson Award for Public Service, given by the Woodrow Wilson International Center for Scholars of the Smithsonian Institution, Association of American Publishers Honors Award, and is made an honorary Doctor of Humane Letters by the University of Tennessee, Knoxville's College of Arts and Sciences.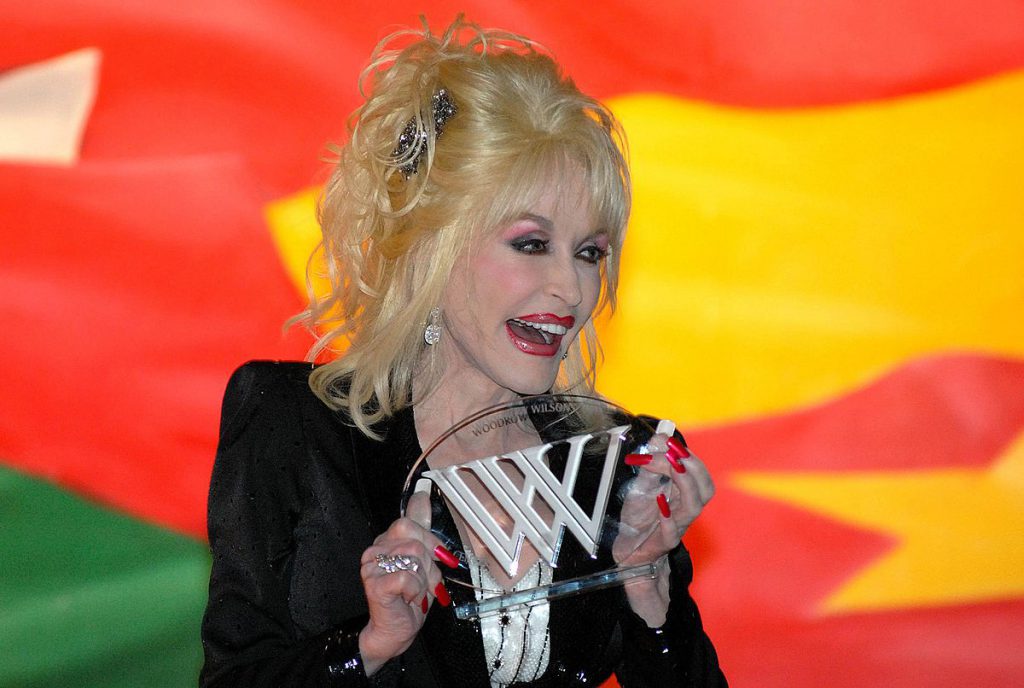 Plastic Surgeries
As she got older, Dolly wanted to preserve her young looks, which has resulted in a number of plastic surgery processes, from face lifting to other 'improvements' on her whole body. She often jokes about her looks, particularly in the statement "It takes a lot of money to look this cheap". Anything for beauty, right?
Internet Fame
Despite entering her eighth decade, Dolly is still no stranger to social media platforms. Her Instagram feed has more than 1.2 million followers, and is flooded with her pictures that have over 50,000 likes, such as:
She is also a heavy Facebook user, on which she has more than four million followers, with whom she has shared details of her personal and professional life – most recently she announced her collaboration with Netflix, through her Facebook page. Dolly is no stranger to Twitter, on which she is followed by almost five million people, and many of her tweets went viral, such as her birthday wish to Willie Nelson:
Happy Birthday to my friend, Willie Nelson! pic.twitter.com/nkSemodYjL

— Dolly Parton (@DollyParton) April 30, 2018
and her expression of love for books:
You can never have too many books! What are you reading right now? pic.twitter.com/v4uzCkfKzp

— Dolly Parton (@DollyParton) April 2, 2018
So, if you are not already a fan of this legendary singer, songwriter, and actress, then this is a fantastic opportunity for you.
General Info
| | |
| --- | --- |
| Full Name | Dolly Parton |
| Net Worth | $500 million |
| Date Of Birth | January 19, 1946 |
| Height | 1.52 m |
| Profession | Record producer, Screenwriter, Multi-instrumentalist, Television producer, Singer-songwriter, Film producer, Voice Actor, Author, Philanthropist, Composer, Businessperson |
| Education | Sevier County High School |
| Nationality | American |
Family
| | |
| --- | --- |
| Spouse | Carl Thomas Dean |
| Parents | Robert Lee Parton, Avie Lee Owens |
| Siblings | Stella Parton, Randy Parton, Rachel Dennison, Willadeene Parton, Robert Lee Parton Jr., Floyd Parton, Cassie Nan Parton, Coy Denver Parton, Larry Gerald Parton, Freida Estelle Parton, David Wilburn Parton, Jolene, 9 to 5, Islands in the Stream |
Accomplishments
| | |
| --- | --- |
| Awards | Grammy Lifetime Achievement Award, Country Music Association Award for Entertainer of the Year, Kennedy Center Honors, Willie Nelson Lifetime Achievement Award, Country Music Association Award for Female Vocalist of the Year, Grammy Award for Best Country Song, Grammy Award for Best Country Duo/Grou... |
| Nominations | Grammy Award for Album of the Year, Grammy Award for Song of the Year, Grammy Award for Best Country Album, Country Music Association Award for Single of the Year, Academy Award for Best Original Song, Country Music Association Award for Album of the Year, Country Music Association Award for Vocal G... |
| Movies | Dolly Parton's Christmas of Many Colors: Circle of Love, Joyful Noise, 9 to 5, Rhinestone, Straight Talk, Steel Magnolias, Wild Texas Wind, The Best Little Whorehouse in Texas, Unlikely Angel, Blue Valley Songbird, A Smoky Mountain Christmas, Gnomeo & Juliet, Frank McKlusky, C.I., Dolly Parton: Live... |
| TV Shows | Dolly, Seven Sharp, The Howie Mandel Show, The Porter Wagoner Show |
Social profile links
Marks
| # | Marks / Signs |
| --- | --- |
| 1 | Southern accent |
| 2 | Lisp, breathless voice |
| 3 | Voluptuous figure and short stature |
| 4 | Sparkling blue eyes |
| 5 | Platinum blonde hair |
| 6 | Always uses butterflies as her logos, since she feels they represent beauty and freedom. |
Salary
Quotes
| # | Quote |
| --- | --- |
| 1 | [on helping the victims of the 2016 Great Smokey Mountains wildfires]We want to provide a hand up to those families who have lost everything in the fires. I know it has been a trying time for my people and this assistance will help get them back on their feet. |
| 2 | [on helping the victims of the 2016 Great Smokey Mountains wildfires] I've always believed charity begins at home and my home is some place special. That's why I've asked my Dollywood Companies, including the Dollywood theme park, and DreamMore Resort, my dinner theater attractions including Dixie Stampede and Lumberjack Adventure, and my Dollywood Foundation to help me establish the My People Fund. |
| 3 | [observation, 2016] I think it would be wonderful to have a woman for president if she's qualified to do the job. And so I don't know who's going to wind up being president but we're going to have PMS in the White House - presidential mood swings. I think we're in for a show. |
| 4 | I really would love to do something [film role] that would be something special enough for me to be willing not to wear the high heels and the fingernails and all that. In the same way that Billy Bob Thornton did Sling Blade, I'd love to have a character where I could really, really be an actress and not just Dolly Parton, the personality, the boobs and the hair and all that. It would have to be something special, 'cause normally I'm not that comfortable, but if a great role, like a Norma Rae or something should come along, I would do it. At least once in my life, I'd like to do one really great movie where I could really act and not just be all of this phony stuff. |
| 5 | [on countering public criticism of her wardrobe and her style] I never let that stop me from being the business girl I was. I knew my songs were good even, if I had been ugly as sin. I felt like I could sing, even if I had been ugly as sin. I mean, this is my look. I like a lot of makeup. I like a lot of hair. I like flashy clothes. I like to show it off. That's just who I am. |
| 6 | I can't imagine a thing that people don't already know about me. I think people would be surprised at how really at-home I am. I look like a party doll but I'm very home-lovin'. I'm a homebody, and I'm family-oriented. I don't get out much unless it's a special occasion. So I guess people might be surprised at just how calm I really am. |
| 7 | In the country field, we're brought up in spiritual homes, we're taught to "judge not lest you be judged", and it's always been a mystery to me how people jump all over things just to criticize, condemn and judge other people when that is so un-Christian - and they claim to be good Christians! We're supposed to love one another. We're supposed to accept and love one another. Whether we do or not, that's a different story. But that's what we're supposed to do. |
| 8 | I do have large boobs. Always had them. I've pushed them up, whacked them around. Why not make fun of them? I've made a fortune with them. |
| 9 | [When commenting on her songwriting] Some of my simplest things have been my best. I tend to over-think, because I like to write and I like to rhyme. And I like to go for really deep lines. Sometimes with my melody I'll get too many words and it's hard for anyone else to sing besides me. You want to write songs that other people can sing, too. That's what I always loved about (Merle) Haggard's writing. Same thing with Willie (Nelson). They can write so simple, but still so deep and say so much. That's the kind of stuff you long for. |
| 10 | I just write all the time. In my whole life I've never had what I've heard people talk about writer's block. I've never had that. Life is like a song to me. I just hear everything in music, so I have never once thought "Well, I'm never gonna be able to write again." I've got thousands of songs. |
| 11 | [her motto] Dream more, learn more, care more and be more. |
| 12 | [when remarking about her Imagination Library childhood literacy program] If I'm remembered 100 years from now, I hope it will be not for looks but for books. I don't want to be responsible for any boobs in the future! I had to get that off my chest. |
| 13 | I don't give advice, I might give you some information. I often want to say, "Hell, I don't know what you should do. I've got (stuff) to figure out in my own life.". |
| 14 | I've never tried to be like anybody but myself. As a singer, I've never wanted to sound like anybody else. God knows, I couldn't, anyway. I just always felt I was responsible for my own personality and gifts. |
| 15 | Sometimes, my mouth is a little too big and a little too open and sounds too much like a sailor. |
| 16 | Mine is only one of millions of hearts broken over the death of Whitney Houston. I will always be grateful and in awe of the wonderful performance she did on my song and I can truly say from the bottom of my heart - Whitney, I will always love you. You will be missed. |
| 17 | I always pattern my look after the town tramp. I swear to God that's true, but I can't give her name. |
| 18 | I think my life actually changed at 40. That's when you realize you can't ride the fence anymore. You either have to get on one side or the other. I think some of my best years were between 40 and 50: I got my priorities straight and life is good to me now. It's only other people who say, "God, she's 50 years old!" as if I'm over the hill. I feel like I just started. |
| 19 | I'm one of those people that if its something to eat I'm going to eat the whole thing, If I'm going to be in love I'm going to love you all the way and if my heart's broken, it's just shattered all to pieces. |
| 20 | People say how down-home I seem to be. I think of myself as a working girl, not a star or celebrity. I love my life, I would not bitch about it now. A lot of people do, but they don't deserve it, the fame or the money they make, when they are running away from their fans like that. There are some people who just absolutely hate fans. I just think they're not happy in their own lives. |
| 21 | All these fine Christian-type people that seem to think they know what God wants for all of us, that's certainly more of a sin then anything they would claim about us. To judge people is one of the greatest sins. |
| 22 | [When speaking of Gay rights]: It's not a crusade for me, I just think everybody should stand up and I think it's really sad when people get crucified for standing up for what they believe in. |
| 23 | I think in a way, my music has been almost like my ministry. Hopefully, it's healing in some ways, just having a good sense of humor to be able to lift people up, to have songs that people can relate to. |
| 24 | I used to dream, when I would go to other people's shows and the artist had songs that people sang along with, "How cool must that be?". I've been working this "9 to 5" job for 30 years, so God only knows how many times on the road I've sung it. Thousands of times, for sure. But I don't get tired of it, really. |
| 25 | I'm a poor candidate for espionage. |
| 26 | If I have one more face-lift I'll have a beard. |
| 27 | I want to be like one of those little fainting goats that get scared and then just fall over. I want to go and go and then drop dead in the middle of something I'm loving to do. And if that doesn't happen, if I wind up sitting in a wheelchair, at least I'll have my high heels on. |
| 28 | On writing a musical version of 9 to 5 (1980) for Broadway: It's not like this is a job that I hope I do good at. It's a joy, and it's just my nature. And I've made it into something I can make money doing. And thank God for that. Because nobody can ever make enough money for as many poor relatives as I've got. Somebody's got a sick kid, or somebody needs an operation, somebody ain't got this, somebody ain't got that. Or to give the kids all a car when they graduate. Let them shine, let them do what they want to. And not just family - it's for a lot of other people to have their dreams, too. Going into a new business, you make a certain amount of money, build your name, build your brand, and it's prestigious, but it gives other people opportunities, too, even if it's not something I particularly want to do myself. I'm creating jobs. I'm like Barack Obama! |
| 29 | On plastic surgery: I'm a proud person. I'm not vain. I look at it like it is. If you've got the money and you're going to be out there, you owe it to people not to look like a dog if you can help it. |
| 30 | It was never a marketing tool. People say that, but I dress this way for the same reasons I did when I first started doing it. It still comes from a serious place inside of me. I get up in the morning, and I think I just look better a certain way I do my makeup. I want to shine, I want to glitter. I'm not getting up thinking, "Oh, this'll get 'em." And I'm not doing it to make a statement. I'm just doing it to look like Dolly - the Dolly that I know and the Dolly that you know. |
| 31 | (on the Women's Lib movement of the 1960s) I was the first woman to burn my bra - it took the fire department four days to put it out! |
| 32 | [when asked about political ambitions] Don't you think we've had enough boobs in the White House? |
| 33 | When the new country came out ten to 15 years ago, people my age were almost too old. But it never stopped me. I never stopped writing. I never stopped recording. |
| 34 | I saw early on that I could make a business out of this [music business] because I wanted money, I wanted to travel, I wanted clothes, I wanted to be loved, I wanted to be staying in fine hotels. It wasn't to get away from what I was because I knew that would always be me. I've never been ashamed of my people. I love my people and I love my home. |
| 35 | Tammy Wynette, Loretta Lynn and myself were all in it [Country Music] about the same time. They got a little bit of a head start on me, certainly Loretta, but we were all three good friends and actually ended up doing an album together. But I think I was a little different from them. Loretta had a house full of kids and she wrote those being brought down by men songs. Hers were more about home life and all the women who had children and I totally love and respect her. Tammy could sing any number of things but she was also singing that "Stand By Your Man". I was singing songs like "Just Because I'm a Woman"... my mistakes are no worse than yours just because I'm a woman. I think we all did our little thing. I just filled my spot. |
| 36 | I never, ever get involved in politics. With politics you are not allowed to be honest. I don't have time to deal with that. I would rather work with kids. |
| 37 | I enjoy the way I look, but it's a joke. |
| 38 | I'm on a seafood diet -- I see food, I eat it. |
| 39 | I have always been a firm believer in working hard for what is right and for making your own breaks if you want things to change. |
| 40 | To me, it's about dreaming in the day and in the night. Dreams have always helped me visualize my goals and aspirations. When I was a child, I could see me on stage singing my heart out. I could see what I was wearing and where I was going. I would visit that dream every single day and as I look back, my dreams kept me focused on what I wanted to do and the person I wanted to be. |
| 41 | I feel blessed that I still have the little Dolly in my heart, I'm still the same girl that wants to squeeze every little drop out of life that I can. |
| 42 | Sometimes, you see folks who have a negative view of dreamers - people who sit around all day on their hindquarters and do absolutely nothing. These folks aren't dreamers - they are just lazy. To me, dreaming is just part of being alive, inspired, and curious about the world. |
| 43 | I was blessed to have family members who encouraged me to pursue my dreams. Whether it is your parents, or your uncles or your aunts or even the neighbor down the road, it's important that kids have someone who encourages them to chase their rainbow. |
| 44 | Sure I'm in it for the money, but also because I love music. I picture myself in the future as a happy old lady, chubby, rosy cheeks, telling stories to the little kids. When I sit back in my rocker, I want to have done it all. [Time magazine, April 18, 1977] |
| 45 | It's when you treat people like freaks that you become one yourself. |
| 46 | I've never been the big recording star I'd love to be some day. I've had lots of hits off and on through the years but I've never had the success of other artists - one hit after another back-to-back-to-back and big hits, where every song is going to be number one. I'm not greedy or nothing. I just want everything. Is there something wrong with that? |
| 47 | My music is so mine, it's hard to turn it over to someone else. I have to be really involved in the production. It's like someone else taking care of your kids -- if they don't treat them well, you're going to be pissed off. I'm actually co-producing [Backwoods] with my guitar player of 20 years, Kent Wells. We make a good combination... I think we're going to have a real good record. |
| 48 | I figure if I keep my health, I have no intention of retiring. I love to work. I want to be like Bob Hope. I want to keep on going out and doing what I love to do. Of course, I'm no Bob Hope, but I mean that feeling that you never are old and have things to offer and can be useful to somebody. I always want to be useful, I have no intentions of retiring unless I should get sick or something should happen to my husband. Other than that I'm going to work until I fall over. |
| 49 | I always love working with children. I never had children of my own. God has his purposes. God didn't let me have children so everybody's children could be mine. That's kind of how I'm looking at it. |
| 50 | If there's a heaven, I hope to hell I go! |
| 51 | I'll never harden my heart, but I've toughened the muscles around it. |
| 52 | I feel fortunate that I've had a lot of songs recorded by other people, because I take my songwriting very seriously. It's only those people that have followed me over the years and really know my work that know how serious I am about all of it - including the way I look. You can't take my high heels from me, you can't have my long fingernails, you can't take all this hair from me, because it's part of this thing that I've become. I wouldn't want to give any of it up. Do I have to be ugly to be a songwriter? This is the way I am, and it's what I choose to be. |
| 53 | I learned early on that I could get a lot of attention by singing and writing little songs, so it was like throwing nuts to a monkey... I just couldn't get enough. |
| 54 | I'm a show-off basically... always have been. |
| 55 | I'm just a singer/songwriter and entertainer and I miss people and the energy of the crowd. When I play live, it's a lovefest with me and my audience. It's how I get my rocks off. |
| 56 | I'm not like a real person. I love being artificial. I think there's a little magic in the fact that I'm so totally real, but look so artificial at the same time. |
| 57 | I have loved performing since I was big enough to wrestle my little brothers and sisters into sitting long enough for me to sing them my latest musical masterpiece. I just hope ya'll will come out and see this little girl from the hills of Tennessee walk out there on that big ole stage and make her dreams come true, don't make me wrestle you too 'cause I will if I have to! |
| 58 | People don't realize that, you know, we have -- 'we' meaning people in show business have the same problems as everybody else. Money don't change that. Fame don't change that. Sometimes, that brings on more problems. You know, it's just a -- different kind of problems. As they say, money ain't everything. |
| 59 | Some of my dreams are so big they would scare you. |
| 60 | I'm like a cartoon! I'll look this way when I'm eighty. I can see it now, people will be rolling me around in a wheelchair and I'll still have my big hair, nails, my high heels and my boobs stuck out! |
| 61 | He's a precious man. He's got a lot of bad press lately but I think he's out to try to save the world, not destroy it. (on Cat Stevens' (Yusuf Islam's) deportation from the United States in September 2004) (Source: The Daily Show (1996) - October 17, 2005) |
| 62 | I wake up with new dreams every day. So the more I can do to channel that into things that I love to create is healthier for me and probably for everybody around me. And the older I get, the earlier I get up. The second my feet hit the floor, I'm awake. I'm like hurry, hurry. I just love life. And I feel like we ain't got but a certain amount of time anyway. I want to make the most of all of it. (Source: Reader's Digest - January 2006) |
| 63 | I hope to die right in the middle of a song and right on the stage doing what I love to do. I hope to be about 120 when that happens. (Source: The Mountain Press) |
| 64 | (on plastic surgery) If I see something saggin', baggin' or dragin', I'm gonna have it nipped, tucked or sucked. |
| 65 | [when asked about her 60th birthday] I don't mind being it, I just don't like saying it. |
| 66 | [on her 2006 birthday milestone] I'm not sixty, I'm "sexty". |
| 67 | After Momma gave birth to twelve of us kids, we put her up on a pedestal. It was mostly to keep Daddy away from her. |
| 68 | There's a heart beneath the boobs and a brain beneath the wig. |
| 69 | If you want to see the rainbow you gotta put up with the rain. |
| 70 | (alluding to her famous bust) If I build another park, it will probably be in Silicon Valley. |
| 71 | (on the topic of her bust size) People always ask me if they're mine. Yes, they are... all bought and paid for. |
| 72 | (on her ample bosom) I don't know if I'm supporting them, or they're supporting me. |
| 73 | There are plenty of charities for the homeless. Isn't it time somebody helped the homely? |
| 74 | I had to get rich so I could afford to sing like I was poor again. |
| 75 | If you don't like the road you're walking, start paving another one. |
| 76 | I have little feet because nothing grows in the shade. |
| 77 | I like to buy clothes that are two sizes too small and then take them in a little. |
| 78 | It takes a lot of money to make a person look this cheap! |
| 79 | I describe my look as a blend of mother goose, cinderella, and the local hooker! |
| 80 | I'm not offended by dumb blonde jokes because I know that I'm not dumb. I also know I'm not blonde. |
Facts
| # | Fact |
| --- | --- |
| 1 | Parton was named Tennessean of the Year twice. Once in 2006 for her work with the Dollywood Foundation and "The Imagination Library" literacy program and again in 2016 due to her work helping those displaced by the Sevier County, TN wild fires. |
| 2 | Created the "My People Fund" to raise money for victims of the wildfires that have ravaged the Great Smokey Mountains region which caused 2,000 people to be evacuated, and 100 buildings being destroyed [December 2016]. |
| 3 | Was mentioned by Grethen Wilson in the song "California Girls". |
| 4 | Was mentioned by Kanye West in the remix version of the song "Lollipop". |
| 5 | Spoofed by Raven-Symone in the series "That's So Raven". |
| 6 | She was awarded the 2009 Back Stage Garland Award for Musical Score for "9 to 5: The Musical," at the Ahmanson Theatre in Los Angeles, California. |
| 7 | She was awarded the 2008 Los Angeles Drama Critics Circle Award for Musical Score for "9 to 5: The Musical" at the Ahmanson Theatre in Los Angeles, California. |
| 8 | She was nominated for a 2009 Antoinette Perry (Tony) Award for Best Original Score for the musical, "9 to 5: The Musical" on Broadway in New York City. |
| 9 | Her musical, "9 to 5: The Musical," at the Ahmanson Theatre in Los Angeles, California was awarded the 2009 Back Stage Garland Award for Production. |
| 10 | Her younger sister Rachel Dennison played her character from the film 9 to 5 in the TV series of the same name. |
| 11 | Although she was not credited by name, Dolly Parton was one of the executive producers of the cult-classic teen horror series "Buffy the Vampire Slayer" through her production partnership (called Sandollar Entertainment) with Sandy Gallin, who had managed Parton's career. |
| 12 | She was Peter Gabriel's original choice to sing the female vocal of the 1986 duet "Don't Give Up" (a UK Top Ten hit in 1986). When Parton turned it down (she didn't know who Gabriel was), Kate Bush recorded it with him instead. |
| 13 | Dolly wrote two of her biggest hits, "Jolene" and "I Will Always Love You", on the same evening in 1973. |
| 14 | In October 2012, Dolly Parton Video Slots, along with Two Doors Down and Nine to Five Spinning Reels debuted in Las Vegas and were manufactured by International Gaming Technologies (IGT). The slot machines featured interactive jukebox-style song selections, big bonus action and front-row concert experiences, complete with Parton cheering the player along as they go. |
| 15 | Although Parton originally agreed to work with Porter Wagoner for five years, she stayed with Wagoner an extra two years because of her immense respect for him. At the end of the seventh year, Parton and Wagoner argued, because she wanted to go on her own and Wagoner wanted her to stay. Eventually, she decided to write a song to express how she felt and she penned her eventual mega hit, "I Will Always Love You". |
| 16 | Dolly recorded the song, "I Will Always Love You", which she also wrote, in 1974. Thereafter, she found out that Elvis Presley was interested in singing the song as a duet with her; however, there was one catch: She would have to give him 50% of the publishing royalties, as was his custom with any duet he sang. Since she had already published the song herself, it made no sense to her to give up those royalties. Thus, despite her intense desire to sing with "The King of Rock 'n' Roll", she had to decline the request... which turned out to be a multi-million dollar decision, after the song became a humongous hit when Whitney Houston sang the song in the movie, The Bodyguard (1992) and the single sold over 24 million records, worldwide. |
| 17 | On January 9, 2012, Parton was interviewed by Queen Latifah as part of Cinemax's "60 Seconds With" program. The interview spot was done as part of the promotional campaign for the two ladies' film, Joyful Noise (2012). |
| 18 | Starred in a TV commercial for Dolly Parton's Trinkets and Treasures retail store in Nashville, Tennessee (2010). |
| 19 | In February 2011, Parton took part in "The Boot Campaign" by The Boot Girls. Parton posed in a photo campaign wearing a pair of sequin cargo pants and combat boots in order to support America's troops and families. |
| 20 | In December 2010, Parton released her first ever officially licensed calendar for the 2011 year. |
| 21 | (December 23, 2010) Recepient of a 2010 Lifetime Achievement Grammy Award. |
| 22 | Inducted into the Country Gospel Hall of Fame in 2010. |
| 23 | Received the Applause Award from the Tennessee Performing Arts Center in 2010. |
| 24 | Dolly was offered $7 million to play the role of "Selena" in Supergirl (1984), but turned it down because she felt she couldn't play a witch. The role was eventually filled by Faye Dunaway. |
| 25 | Inducted into the Music City Walk of Fame (Nashville, Tennessee) in 2009. |
| 26 | On August 9, 1995, Parton was awarded the Outstanding Service to Youth Award from the Tennessee District - Optimist International. |
| 27 | She was nominated for a Tony Award (Best Score for a Musical) for her work on "9 to 5: The Musical" in 2009. She did not win the honor. The Tony Award was bestowed to the score writers of the Broadway musical "Next to Normal". |
| 28 | During the 40th Annual Los Angeles Drama Critics Circle Awards in 2009, Parton won for Best Musical Score for "9 to 5: The Musical" which played the Ahmanson Theatre in Los Angeles during in the fall of 2008. |
| 29 | In 2009, the University of Tennessee - Knoxville presented Parton with an Honorary Doctor of Humane and Musical Letters Degree. Parton was awarded an Honorary Doctor of Letters Degree from Carson-Newman College in 1990. |
| 30 | Inducted into the Blue Ridge Music Hall of Fame [Songwriter Category] in 2008. |
| 31 | In 2008, Parton was commissioned as a Kentucky Colonel. The highest honor given in the state of Kentucky [USA]. |
| 32 | Inducted into the Gospel Music Association's Gospel Music Hall of Fame in 2009. |
| 33 | In Poker, a hole card combination of a 9 and a 5 is called a "Dolly Parton", named after the song and movie, 9 to 5 (1980). |
| 34 | She was awarded a Star on the Hollywood Walk of Fame for Recording at 6712 Hollywood Boulevard in Hollywood, California on June 14, 1984. |
| 35 | Met her future husband, Carl Dean, at a laundromat. |
| 36 | In 2006, she donated $500,000 to Fort Sanders Medical Center. |
| 37 | Her cousin is adult actress and model Julia Parton, formally known as Nina Alexander. |
| 38 | In November 2007, the Woodrow Wilson International Center for Scholars of the Smithsonian Institution honored Dolly with the Woodrow Wilson Award for Public Service in recognition of her civic work in regard to children's literacy. |
| 39 | On August 1, 2007, it was announced she would be starting her own record label, Dolly Records. She is the only artist signed to the label. This is Parton's second record label launch. In 1994, she and producer Steve Buckingham launched Blue Eye Records which Dolly was also the only artist on the roster. The Blue Eye Records imprint appeared on every Parton solo CD from 1994-2006. Dolly Records first release will be Parton's February 2008 CD, "Backwoods Barbie". Dolly personally finances her recordings and then leases the finished albums to other labels for distribution. For her Dolly Records label, she will also take on the responsibility of marketing her CD releases personally and major label partners will only handle distribution of the projects. |
| 40 | Godmother of Miley Cyrus. |
| 41 | Inducted into the American Songwriters Hall of Fame in 2001. |
| 42 | Honored with a lifetime membership to Girl Scouts of Tanasi Council, a chapter of Girl Scouts of America, on June 15, 2007. |
| 43 | Awarded the Cliffie Stone Pioneer Award from the Academy of Country Music in 2007. This lifetime achievement award is presented to the pioneers of country music who have made lasting contributions to the genre. |
| 44 | Selected by the Songwriters Hall of Fame as the 2007 recipient of the prestigious Johnny Mercer Award. |
| 45 | On March 25, 2007, she was entered into London's Wembley Square of Fame with the unveiling of a plaque of her handprints. The presentation was made before her sold-out concert that night at the Wembley Arena. |
| 46 | Had such a miserable time during filming of Straight Talk (1992), that she effectively retired from big screen acting. All her work since has been television work or appearances as herself. |
| 47 | Dolly's 2007 greatest hits compilation album "The Very Best of Dolly Parton", released in Europe as part of the promotional campaign for her 2007 European Tour, debut at #9 on the U.K. Pop Chart. This becomes the first album in Dolly's career to break the top 10 Pop Albums Chart in the U.K. The CD also debuted at #1 on the U.K. Country Albums Chart. |
| 48 | On December 31, 2006, Parton was named by the Tennessean newspaper as 2006 Tennessean of the Year for her work with children's literacy. The newspaper has been naming a Tennessean of the Year since 1994. |
| 49 | Lost a Dolly Parton Lookalike Contest. |
| 50 | In September 2002, she was named Tennessee's official ambassador for film and music by Governor Don Sundquist. Her job is to promote the state to industry executives in Hollywood and raise awareness of Tennessee's capability to produce television, film and recording projects (soundtracks) for Hollywood productions. |
| 51 | Her theme park 'Dollywood' in Pigeon Forge, Tennessee is the most popular tourist attraction in the state according to the Tennessee Department of Tourist Development. |
| 52 | Sister of Willadeene Parton, Randy Parton and Stella Parton. |
| 53 | Became WIVK Radio's 2006 Americana Highway HEMI Award Hall of Fame Inductee during the 1st Annual HEMI Awards. Winners in all categories were announced September 24, 2006. |
| 54 | Sang with Solomon Burke on his 2006 CD "Nashville". The two did a duet on the Dolly written track "Tomorrow is Forever". The song was originally recorded by Parton and Porter Wagoner in 1969 and reached #9 on Billboard's Hot Country Singles chart. |
| 55 | Co-wrote the song "I Didn't Hear the Thunder (But I Sure Did Feel the Rain)" with late country legend Tammy Wynette. |
| 56 | There was a Dolly Parton lookalike contest in Gilley's bar in Urban Cowboy (1980). |
| 57 | Dolly, Steven Spielberg, Smokey Robinson, Andrew Lloyd Webber, and conductor Zubin Mehta were awarded Kennedy Center Honors in 2006. |
| 58 | Among 120 celebrities and movie industry executives to receive invitations for membership into the Academy of Motion Picture Arts and Sciences (AMPAS) on July 5, 2006. The Academy only allows for 30 new members each year, but in 2006 invited more people for membership in order to replace previous members who passed away or were retiring. Other celebrities receiving invitations include Jake Gyllenhaal, Werner Herzog, Felicity Huffman, Joaquin Phoenix, Terrence Howard, Heath Ledger and Dakota Fanning. |
| 59 | Inducted as a member of the Grand Ole Opry on January 4, 1969. |
| 60 | She has a star on Nashville's Starwalk for Grammy Award Winners. She also has a star on Hollywood's Walk of Fame, which represents her accomplishments in the field of recording arts. |
| 61 | A bronze sculpture of her sits on the courthouse lawn in Sevierville, Tennessee, USA. Sevierville is her hometown. |
| 62 | In 1987, she was among the women honored by Ms. Magazine as "Woman of the Year". |
| 63 | Inducted into the Nashville Songwriters Hall of Fame in 1986. |
| 64 | She has earned five BMI Million-Air (or more) Performance Awards and numerous BMI Songwriter Citations of Achievement. Her classic hit song "I Will Always Love You" is currently certified with a Six Million-Air award, meaning it has been played on radio and television over six million times. She was also honored with the prestigious BMI Icon Award in 2003. |
| 65 | In 1993, she was honored with the Country Music Association's very first "Country Music Honors" Award. As of 2009, she is still the sole recipient of this honor. |
| 66 | Recorded the song "My Tennessee Hills" with folk icon Janis Ian for Ian's 2004 album "Billie's Bones". |
| 67 | In 1978, she became one of the few celebrities to have their own pinball machine. Manufactured by Bally Manufacturing Company. The "Dolly" pinball machine played Dolly's #1 single "Here You Come Again" while the pinball machine was active. This item is a highly sought after piece of Dolly Parton memorabilia. |
| 68 | In 2006, she was awarded the Lindy Boggs Award from the Stennis Center for Public Service. She becomes the first nonpolitical recipient. |
| 69 | Purchased her hometown radio stations in Sevierville, Tennessee in 1991. She owned and operated WSEV 930 AM and WDLY 105.5 FM, the FM station billed as 'Dolly's Station', until 2000 when she sold both radio stations. Stating at that time that she and her business partners had built up the audiences for both stations and could not take the stations to "the next level". Dolly first appeared on WSEV-AM when she as 10 years old. While owning the radio stations, WDLY-FM was broadcast every operating day from Dolly's Dollywood theme park in Pigeon Forge, Tennessee. The small section of the park dedicated to the radio broadcast was known as 'Radio Square'. |
| 70 | Dolly Parton was awarded the National Medal of Arts in 2005. |
| 71 | Was named 4th Sexiest Woman in CMT list of the 20 sexiest women in Country Music |
| 72 | Her duet, "Islands in the Stream", with fellow country singer Kenny Rogers was ranked the #1 duet of all time on CMT 100 greatest country duets of all time. |
| 73 | Ranked #4 on the 40 Greatest Women in Country Music, #3 Loretta Lynn, #2 Tammy Wynette and #1 Patsy Cline. |
| 74 | She was unable to have children of her own because of an allergic reaction she experienced to birth control pills when she was younger. |
| 75 | Created her song, "Nine to Five", whilst on the set of the film of the same name, 9 to 5 (1980), by tapping her nails. |
| 76 | Her ancestry includes English, German, Irish, Scottish, and Welsh. |
| 77 | Covered Collective Soul's "Shine". In her version, she turns it into a bluegrass song instead of an alternative rock ballad. |
| 78 | Her iconic hit song, "I Will Always Love You", was voted the No. 1 song on CMT 100 Greatest Love Songs of Country Music (2004). |
| 79 | Her Oscar nominated song "Nine to Five" from 9 to 5 (1980) was ranked #78 while her song writing contribution, "I Will Always Love You", from The Bodyguard (1992) came in at #65 on The American Film Institute's list of AFI's 100 Years... 100 Songs: America's Greatest Music in the Movies (2004). |
| 80 | Ranked #34 on VH1's Greatest Women of Rock N Roll |
| 81 | Her song "Jolene" was also covered by Olivia Newton-John. Ms. Newton-John sang it at a taped concert in the Dee Events Center in Ogden, Utah. |
| 82 | Distant cousin of screenwriter Richard O'Sullivan. |
| 83 | She and her husband, Carl Dean, raised five of her younger brothers and sisters. |
| 84 | The children's television series Sesame Street (1969) introduced a character in homage to Dolly Parton. She had purple skin and blonde hair and went by the name of Polly Darton. |
| 85 | Various tabloids have reported that her breast implants - which she has never disputed having - have increased her measurements to anywhere from 38CC to a high mark of 48DD |
| 86 | Sister-in-law of Richard Dennison. |
| 87 | Inducted to the Country Music Hall of Fame in 1999. |
| 88 | Was a candidate for the hosting duties on Family Feud (1999) before Louie Anderson was hired. |
| 89 | The world's first cloned mammal, Dolly the sheep, was named after Parton. |
| 90 | Her late father Robert was one of 15 children, and her mother Avie (Owens) was one of 10 children. |
| 91 | Dolly's classic song "Jolene" was covered by Sherrié Austin (aka Sherrie Austin) on her third album "Followin' a Feelin" (2001). |
| 92 | Reportedly has her breasts insured for $600,000. |
| 93 | When Drew Barrymore spoke about her film, Home Fries (1998), prior to its release, she revealed that her character was a huge fan of Dolly Parton. She said that several of Parton's songs would appear in the film, and that they spent a two-day shoot at Dollywood. When the film was finally released, the only reference to Dolly Parton was on the walls of Drew's bedroom, which are covered with posters and pictures of Dolly. |
| 94 | During the early 1990s, she filmed a series of sitcom pilots for CBS-TV. Initially, in 1994, "Heavens to Betsy" was made, starring Dolly and Constance Shulman. Six episodes were completed. That sitcom was scrapped, and the story was revamped for the Movie of the Week, Unlikely Angel (1996). Following the television movie, she was to develop a sitcom where she would star as a "caterer to the stars". This program would have aired as Mindin' My Own Business (1996). However, the pilot was never broadcast. |
| 95 | Owner/namesake of Smoky Mountain area theme park, "Dollywood", located in Pigeon Forge, Tennessee, USA. |
| 96 | One of 12 children; grew up in a 1-room cabin in Tennessee. |
Pictures
Movies
Soundtrack
| Title | Year | Status | Character |
| --- | --- | --- | --- |
| The Queens of Country | 2009 | Video arranger: "Comin' For To Carry Me Home" / performer: "Love Is Like a Butterfly", "Silver Threads and Golden Needles", "Applejack", "Do I Ever Cross Your Mind", "The Sweetest Gift", "Bury Me Beneath The Willow Tree", "I Will Always Love You", "China Grove", "Feelings", "My Funny Valentine", "All I Can Do", "Every Loner Has To Go Alone", "Knock Three Times", "Bad, Bad LeRoy Brown", "He's Got The Whole World In His Hands", "Joshua", "Spanish Eyes", "Brown Eyed Handsome Man", "Blue Eyes Cryin' | |
| 17th Annual Country Music Association Awards | 1983 | TV Special performer: "Islands In The Stream" | |
| 60 Minutes | | TV Series documentary performer - 3 episodes, 1986 - 2009 writer - 3 episodes, 1986 - 2009 | |
| The Barbara Walters Summer Special | | TV Series performer - 1 episode, 1982 writer - 1 episode, 1982 | |
| The 63rd Annual Tony Awards | 2009 | TV Special performer: "9 To 5" / writer: "9 To 5" | |
| The Best Little Special in Texas | 1982 | TV Movie documentary performer: "Rocky Top" | |
| Good Day New York | 2009 | TV Series writer - 1 episode | |
| The Best Little Whorehouse in Texas | 1982 | performer: "A Lil' Ole Bitty Pissant Country Place", "Sneakin' Around", "Hard Candy Christmas", "I Will Always Love You" / writer: "Sneakin' Around", "Where Stallions Run", "I Will Always Love You" | |
| The Visa Signature Tony Awards Season Celebration | 2009 | TV Special writer: "Get Out and Stay Out" | |
| Cheryl Ladd: Scenes from a Special | 1982 | TV Movie writer: "9 To 5" | |
| The View | | TV Series writer - 2 episodes, 2002 - 2009 performer - 2 episodes, 2002 - 2005 | |
| Nine to Five | 1982 | TV Series performer: "9 to 5" / writer: "9 to 5" | |
| Dr. Robert F. Thomas: The Great Smoky Mountain Horseback Healer of Body and Soul | 2009 | Documentary short performer: "Dr. Robert F. Thomas" / writer: "Dr. Robert F. Thomas" | |
| The 53rd Annual Academy Awards | 1981 | TV Special performer: "9 to 5" / writer: "9 to 5" | |
| Limo | 2009 | writer: "Apple Jack" | |
| New American Bandstand 1965 | | TV Series performer - 2 episodes, 1979 - 1981 writer - 2 episodes, 1979 - 1981 | |
| Studio 330 Sessions | | TV Series performer - 1 episode, 2009 writer - 1 episode, 2009 | |
| 9 to 5 | 1980 | performer: "Nine To Five" / writer: "Nine To Five" | |
| Dolly Parton & Friends: Love Always - Live from Texas | 2009 | Video performer: "Train, Train", "Little Sparrow", "Shine", "Mountain Angel", "Marry Me", "A Tender Lie", "I Don't Believe You've Met My Baby", "Coat of Many Colors", "I Will Always Love You" / writer: "Little Sparrow", "Mountain Angel", "Marry Me", "Coat of Many Colors", "I Will Always Love You" | |
| Dolly Parton: On Tour | 1980 | TV Movie performer: "Your Love Has Lifted Me Higher And Higher", "Here You Come Again", "All I Can Do", "Jolene", "Rocky Top", "To Daddy", "Coat of Many Colors", "Applejack", "Do I Ever Cross Your Mind", "Heartbreaker", "Baby I'm Burnin'", "I Will Always Love You" / writer: "All I Can Do", "Jolene", "To Daddy", "Coat of Many Colors", "Applejack", "Do I Ever Cross Your Mind", "Baby I'm Burnin'", "I Will Always Love You" | |
| White Lightnin' | 2009 | performer: "It Wasn't God Who Made Honky Tonk Angels" | |
| Barbara Mandrell and the Mandrell Sisters | | TV Series performer - 1 episode, 1980 writer - 1 episode, 1980 | |
| Katherine Jenkins: A Girl from Neath | 2008 | TV Movie documentary writer: "L'Amore Sei Tu I Will Always Love You" - uncredited | |
| The Merv Griffin Show | | TV Series performer - 1 episode, 1980 writer - 1 episode, 1980 | |
| Close-Up | | TV Series lyrics - 1 episode, 2008 performer - 1 episode, 2008 writer - 1 episode, 2008 | |
| The Midnight Special | | TV Series performer - 5 episodes, 1975 - 1980 writer - 5 episodes, 1975 - 1980 | |
| Canada A.M. | | TV Series performer - 1 episode, 2008 writer - 1 episode, 2008 | |
| Country Superstars of the 70s | 1979 | TV Movie performer: "Country Is", "Here You Come Again", "The Seeker", "All I Can Do", "Jolene", "Two Doors Down", "I Will Always Love You", "My Tennessee Mountain Home", "Coat of Many Colors", "Applejack" / writer: "The Seeker", "All I Can Do", "Jolene", "Two Doors Down", "I Will Always Love You", "My Tennessee Mountain Home", "Coat of Many Colors", "Applejack" | |
| The Office | 2008 | TV Series performer - 1 episode | |
| 13th Annual Country Music Association Awards | 1979 | TV Special performer: "Sweet Summer Lovin'" | |
| The Love Guru | 2008 | writer: "9 to 5" | |
| Norma Rae | 1979 | performer: "It's All Wrong, But It's All Right" 1978 - uncredited / writer: "It's All Wrong, But It's All Right" 1978 - uncredited | |
| Bones | 2008 | TV Series writer - 1 episode | |
| Dolly and Carol in Nashville | 1979 | TV Movie performer: "No One Picks Like a Nashville Picker Picks", "It's a Kick, Kickin' Around with You", "Wayfaring Stranger", "Amazing Grace", "In The Sweet By and By", "I'll Fly Away", "Old Time Religion", "This Little Light of Mine", "The Pedestal Song", "Heart to Heart Medley", "Turn Around" | |
| It Takes Two | 2008 | TV Series writer - 1 episode | |
| Pop! Goes the Country | | TV Series performer - 4 episodes, 1974 - 1978 writer - 4 episodes, 1974 - 1978 | |
| What Perez Sez | | TV Series performer - 1 episode, 2008 writer - 1 episode, 2008 | |
| 12th Annual Country Music Association Awards | 1978 | TV Special performer: "Heartbreaker" / writer: "To Daddy" | |
| Hannah Montana: One in a Million | 2008 | Video performer: "True Friend" | |
| Cher... Special | 1978 | TV Movie performer: "Two Doors Down", "Musical Battle to Save Cher's Soul Medley" / writer: "Two Doors Down" | |
| 57000 km entre nous | 2008 | performer: "If" | |
| 50 Years of Country Music | 1978 | TV Movie performer: "Here You Come Again", "Mule Skinner Blues", "The Cowgirl and the Dandy", "The Seeker/All I Can Do/Jolene/Two Doors Down/I Will Always Love You Medley", "Hank Williams Medley" / writer: "The Seeker/All I Can Do/Jolene/Two Doors Down/I Will Always Love You Medley" | |
| Clatterford | 2008 | TV Series writer - 1 episode | |
| The Muppet Show | 1977 | TV Series writer - 1 episode | |
| Grand Ole Opry | | TV Series performer - 6 episodes, 1995 - 2007 writer - 6 episodes, 1995 - 2007 | |
| 11th Annual Country Music Association Awards | 1977 | TV Special performer: "Here You Come Again" | |
| Jake's Adventures in Dollyworld | 2007 | TV Movie documentary performer: "Calm On The Water", "9 to 5", "Jolene", "Islands In The Stream", "My Tennessee Mountain Home", "More Where That Came From", "Joshua", "Coat of Many Colors", "Better Get to Livin'", "Why'd You Come In Here Lookin' Like That" / writer: "Calm On The Water", "9 to 5", "Jolene", "My Tennessee Mountain Home", "More Where That Came From", "Joshua", "Coat of Many Colors", "Better Get to Livin'" | |
| Mac Davis: Sounds Like Home | 1977 | TV Movie performer: "Coat of Many Colors", "Applejack", "Naughty Girl" / writer: "Coat of Many Colors", "Applejack" | |
| Biography | | TV Series documentary performer - 4 episodes, 2005 - 2007 writer - 3 episodes, 2006 - 2007 | |
| The Mike Douglas Show | | TV Series performer - 2 episodes, 1977 writer - 1 episode, 1977 | |
| Olivia Newton-John and the Sydney Symphony Orchestra: Live at the Sydney Opera House | 2007 | TV Movie writer: "Jolene" | |
| Musikladen | | TV Series performer - 1 episode, 1977 writer - 1 episode, 1977 | |
| Macy's Thanksgiving Day Parade | 2007 | TV Movie documentary performer: "Better Get to Livin'" / writer: "Better Get to Livin'" | |
| Dolly | | TV Series performer - 26 episodes, 1976 - 1977 writer - 22 episodes, 1976 - 1977 | |
| Opry Video Classics: Duets | 2007 | Video performer: "Holding On to Nothin'", "If Teardrops Were Pennies" / writer: "Put It Off Until Tomorrow" | |
| Captain Kangaroo | | TV Series performer - 1 episode, 1976 writer - 1 episode, 1976 | |
| Opry Video Classics: Legends | 2007 | Video performer: "Coat of Many Colors" / writer: "Coat of Many Colors" | |
| 10th Annual Country Music Association Awards | 1976 | TV Special performer: "Applejack" / writer: "Applejack" | |
| Opry Video Classics: Love Ballads | 2007 | Video performer: "I Will Always Love You" / writer: "I Will Always Love You" | |
| Top of the Pops | | TV Series performer - 1 episode, 1976 writer - 1 episode, 1976 | |
| Opry Video Classics: Queens | 2007 | Video performer: "Jolene" / writer: "Jolene" | |
| Dinah! | | TV Series performer - 1 episode, 1976 writer - 1 episode, 1976 | |
| Opry Video Classics: The Hall of Fame | 2007 | Video performer: "Joshua" / writer: "Joshua" | |
| The Porter Wagoner Show | | TV Series performer - 154 episodes, 1967 - 1975 writer - 127 episodes, 1967 - 1976 arranger - 1 episode, 1971 | |
| The Life and Times of Vivienne Vyle | 2007 | TV Series performer - 1 episode | |
| The Ronnie Prophet Show | | TV Series performer - 1 episode, 1975 writer - 1 episode, 1975 | |
| Patinando por un sueño | 2007 | TV Series writer - 1 episode | |
| 9th Annual Country Music Association Awards | 1975 | TV Special performer: "Love is Like a Butterfly" / writer: "Love is Like a Butterfly" | |
| Slipstream | 2007 | performer: "Coat Of Many Colors" / writer: "Coat Of Many Colors" | |
| In Concert | | TV Series performer - 1 episode, 1975 writer - 1 episode, 1975 | |
| Gilmore Girls | 2007 | TV Series writer - 1 episode | |
| Hee Haw | | TV Series performer - 3 episodes, 1970 - 1975 writer - 3 episodes, 1970 - 1975 | |
| The Best of the Doves Marathon | 2007 | TV Movie performer: "He's Alive" | |
| Rafferty and the Gold Dust Twins | 1975 | performer: "Jolene" / writer: "Jolene" | |
| La noche desesperada | 2007 | TV Movie performer: "Travelin' Thru" / writer: "Travelin' Thru" | |
| Alice Doesn't Live Here Anymore | 1974 | performer: "I Will Always Love You" 1973 - uncredited / writer: "I Will Always Love You" 1973 - uncredited | |
| The Charlotte Church Show | 2007 | TV Series writer - 1 episode | |
| 8th Annual Country Music Association Awards | 1974 | TV Special performer: "Jolene" / writer: "Jolene" | |
| Karaoke-Dokey | 2007 | TV Series writer - 1 episode | |
| RCA's Opening Night | 1973 | TV Movie performer: "Travelin' Man", "If Teardrops Were Pennies" - uncredited / writer: "Travelin' Man" - uncredited | |
| Dolly Parton & Friends | 2007 | Video arranger: "Comin' For To Carry Me Home" / performer: "Love Is Like a Butterfly", "Silver Threads and Golden Needles", "Applejack", "Do I Ever Cross Your Mind", "The Sweetest Gift", "Bury Me Beneath The Willow", "I Will Always Love You", "China Grove", "Feelings", "My Funny Valentine", "All I Can Do", "Every Loner Has To Go Alone", "Knock Three Times", "Bad, Bad LeRoy Brown", "He's Got The Whole World In His Hands", "Joshua", "Spanish Eyes", "Brown Eyed Handsome Man", "Blue Eyes Cryin' In T | |
| The Wilburn Brothers Show | | TV Series performer - 2 episodes, 1967 - 1973 writer - 2 episodes, 1967 - 1973 | |
| 30 Rock | 2007 | TV Series writer - 1 episode | |
| That Good Ole Nashville Music | | TV Series performer - 1 episode, 1971 writer - 1 episode, 1971 | |
| American Dad! | | TV Series performer - 1 episode, 2007 writer - 1 episode, 2007 | |
| The Nashville Sound | 1970 | Documentary performer: "My Blue Ridge Mountain Boy", "Just Someone I Used to Know" / writer: "My Blue Ridge Mountain Boy" | |
| The Kennedy Center Honors: A Celebration of the Performing Arts | 2006 | TV Special performer: "Islands in the Stream", "Here You Come Again", "I Will Always Love You", "Little Sparrow" / writer: "My Tennessee Mountain Home", "Jolene", "Coat of Many Colors", "9 to 5", "I Will Always Love You", "Little Sparrow" | |
| The Kraft Music Hall | | TV Series performer - 1 episode, 1970 writer - 1 episode, 1970 | |
| CMT Giants | 2006 | TV Series performer - 1 episode | |
| The Johnny Cash Show | 1970 | TV Series writer - 1 episode | |
| 40th Annual Country Music Association Awards | 2006 | TV Special performer: "Islands In The Stream" | |
| An Old-Time Country Christmas | 1969 | TV Movie performer: "Away In a Manger", "Where Santa Claus Lives", "Santa Claus is Coming to Town" | |
| CMT: The Greatest - 40 Days That Shaped Country Music | 2006 | TV Movie documentary performer: "I Will Always Love You" / writer: "I Will Always Love You" | |
| The Road to Nashville | 1967 | writer: "Put It Off Until Tomorrow" | |
| CMT Stacked | 2006 | TV Series performer - 1 episode | |
| Music City USA | | TV Series performer - 1 episode, 1967 writer - 1 episode, 1967 | |
| Race to the Red Carpet: 2006 Country Music Awards | 2006 | TV Special performer: "When I Get Where I'm Going", "I Still Miss Someone" | |
| GMTV | | TV Series performer - 1 episode, 2006 writer - 1 episode, 2006 | |
| Brad Paisley: The Video Collection | 2006 | Video short performer: "When I Get Where I'm Going" | |
| Dolly Parton: The Acoustic Collection, 1999-2002 | 2006 | Video short performer: "Seven Bridges Road", "Travelin' Prayer", "Shine", "I'm Gone", "Dagger Through The Heart", "The Grass Is Blue" / writer: "I'm Gone", "Little Sparrow", "Dagger Through The Heart", "The Grass Is Blue" | |
| Best of Country Live! | 2006 | Video performer: "Suspicious Minds" | |
| Kenny Rogers: The Journey | 2006 | Video performer: "Islands In The Stream" | |
| CMT: The Greatest - 40 Greatest Albums | 2006 | TV Movie documentary performer: "Jolene", "I Will Always Love You" / writer: "Jolene", "I Will Always Love You" | |
| Sugar Hill Records: A Retrospective | 2006 | Video documentary performer: "Shine" | |
| Today's Country Music | 2006 | Video performer: "Train, Train" | |
| Australian Idol | 2005-2006 | TV Series writer - 2 episodes | |
| Naomi's New Morning | | TV Series performer - 1 episode, 2006 writer - 1 episode, 2006 | |
| CMT Greatest Moments: Dolly Parton | 2006 | TV Movie documentary performer: "Jolene", "Here You Come Again", "Dumb Blonde", "Just Because I'm a Woman", "Silver Threads and Golden Needles", "The Grass Is Blue", "Shine", "Halos and Horns", "When I Get Where I'm Going", "Baby I'm Burnin'", "Those Memories of You", "Islands In The Stream", "Tennessee Homesick Blues", "Coat of Many Colors", "Travelin' Thru", "I Will Always Love You", "9 to 5", "Train, Train", "My Tennessee Mountain Home", "Smoky Mountain Memories" / writer: "Jolene", "Just Bec | |
| My Name Is Earl | 2006 | TV Series performer - 1 episode | |
| Will & Grace | 2006 | TV Series writer - 1 episode | |
| CMT Presents: Karaoke Revolution Country | 2006 | Video Game "9 To 5" | |
| American Inventor | 2006 | TV Series writer - 1 episode | |
| The 78th Annual Academy Awards | 2006 | TV Special performer: "Travelin' Thru" / writer: "Travelin' Thru" | |
| The Tony Danza Show | 2005 | TV Series performer - 1 episode | |
| The King of Queens | 2005 | TV Series writer - 1 episode | |
| 39th Annual Country Music Association Awards | 2005 | TV Special performer: "Imagine", "Turn The Lights Out When You Leave" | |
| Karaoke Revolution Party | 2005 | Video Game "I Will Always Love You" | |
| Saturday Night Live: The Best of David Spade | 2005 | TV Special writer: "I Will Always Love You" | |
| Bang Bang Orangutang | 2005 | lyrics: "Love Is Like a Butterfly" / music: "Love Is Like a Butterfly" / performer: "Love Is Like a Butterfly" | |
| Late Night with Conan O'Brien | | TV Series performer - 3 episodes, 2001 - 2005 writer - 2 episodes, 2001 - 2003 | |
| Behind the Scenes at Dolly Parton's Dixie Stampede | 2005 | Video short performer: "Color Me America" / writer: "Color Me America" | |
| Chasing Rainbows: An Insiders Tour of the Chasing Rainbows Museum with Dolly Parton | 2005 | Video performer: "My Tennessee Mountain Home", "Chasing Rainbows", "Little Tiny Tassletop", "Coat of Many Colors", "9 to 5", "Color Me America" / writer: "My Tennessee Mountain Home", "Chasing Rainbows", "Little Tiny Tassletop", "Coat of Many Colors", "9 to 5", "Color Me America", "I Will Always Love You" | |
| CMT: 100 Greatest Duets Concert | 2005 | TV Special performer: "Islands In The Stream" | |
| The Tonight Show Starring Jimmy Fallon | | TV Series writer - 4 episodes, 2014 - 2017 performer - 2 episodes, 2014 - 2016 | |
| CMA Music Festival: Country Music's Biggest Party | 2005 | TV Movie performer: "Viva Las Vegas" | |
| RuPaul's Drag Race | | TV Series performer - 1 episode, 2017 writer - 1 episode, 2017 | |
| Dolly's Imagination Playhouse | 2005 | Short performer: "I Believe In You", "Song of Friends", "You Gotta Be" / writer: "I Believe In You", "Song of Friends", "You Gotta Be" | |
| Loose Women | | TV Series performer - 2 episodes, 2011 - 2017 writer - 2 episodes, 2011 - 2017 | |
| CMT: Class of 1975 | 2005 | TV Movie documentary performer: "Love Is Like a Butterfly" / writer: "Love Is Like a Butterfly" | |
| Spise med Price | 2016-2017 | TV Series documentary writer - 2 episodes | |
| The King | 2005 | performer: "There will be Peace in the Valley for Me" 1939 | |
| CHIPS | 2017 | performer: "I Will Always Love You" / writer: "I Will Always Love You" | |
| Reba | 2005 | TV Series writer - 1 episode | |
| Table 19 | 2017 | writer: "9 To 5" | |
| Idol - Jakten på en superstjerne | 2005 | TV Series writer - 1 episode | |
| The 89th Annual Academy Awards | 2017 | TV Special lyrics: "I Will Always Love You" / music: "I Will Always Love You" | |
| Grand Ole Opry's Vintage Classics | 2005 | TV Movie performer: "Jolene" / writer: "Jolene" | |
| The Simpsons | | TV Series writer - 3 episodes, 1991 - 2017 performer - 1 episode, 1991 | |
| Transamerica | 2005 | performer: "Travelin' Thru" / producer: "Travelin' Thru" / writer: "Travelin' Thru" | |
| The Big Interview with Dan Rather | | TV Series performer - 2 episodes, 2014 - 2016 writer - 2 episodes, 2014 - 2016 | |
| Pinoy Pop Superstar | 2005 | TV Series writer: "I Will Always Love You" | |
| Jennifer Nettles: 'Tis the Season | 2016 | TV Movie writer: "Circle of Love" | |
| Shakespeare Was a Big George Jones Fan: 'Cowboy' Jack Clement's Home Movies | 2005 | Documentary performer: "Just Someone I Used To Know" | |
| Smoky Mountains Rise: A Benefit for the My People Fund | 2016 | TV Movie performer: "Appalachian Memories", "Islands In The Stream", "My Mountains, My Home", "My Tennessee Mountain Home" / writer: "Appalachian Memories", "My Mountains, My Home", "My Tennessee Mountain Home" | |
| The Vicar of Dibley | 2005 | TV Series performer - 1 episode | |
| Christmas in Rockefeller Center | 2016 | TV Movie performer: "Christmas of Many Colors" / writer: "Christmas of Many Colors" | |
| Slovensko hladá SuperStar | 2004 | TV Series writer - 1 episode | |
| Dolly Parton's Christmas of Many Colors: Circle of Love | 2016 | TV Movie performer: "Circle of Love", "Love and Forgiveness", "Nickles and Dimes", "The Magic of Being Together" / writer: "Circle of Love", "Love and Forgiveness", "Nickles and Dimes", "The Magic of Being Together" | |
| White Stripes: Under Blackpool Lights | 2004 | Video documentary writer: "Jolene" | |
| The Voice | | TV Series writer - 7 episodes, 2011 - 2016 performer - 2 episodes, 2015 - 2016 | |
| Norah Jones & the Handsome Band: Live in 2004 | 2004 | TV Special documentary performer: "Creepin' In" | |
| Gilmore Girls: A Year in the Life | 2016 | TV Mini-Series performer - 1 episode | |
| CMT Flame Worthy Video Music Awards | 2004 | TV Special performer: "Welcome Home" / writer: "Welcome Home" | |
| The 50th Annual CMA Awards | 2016 | TV Movie writer: "Jolene", "9 to 5", "I Will Always Love You" | |
| Dolly Parton: Live & Well | 2004 | Video performer: "Orange Blossom Special", "Train, Train", "The Grass Is Blue", "Mountain Angel", "Shine", "Little Sparrow", "Rocky Top", "My Tennessee Mountain Home", "Coat of Many Colors", "Smokey Mountain Memories", "Applejack", "Marry Me", "Halos And Horns", "I'm Gone", "Dagger Through The Heart", "If", "After The Gold Rush", "9 to 5", "Jolene", "A Cappella Medley: Islands In The Steam / Here You Come Again / Why'd You Come In Here Lookin' Like That? / Two Doors Down", "We Irish", "Stairway | |
| Supergirl | 2016 | TV Series performer - 1 episode | |
| Six Feet Under | 2004 | TV Series writer - 1 episode | |
| Strictly Come Dancing | | TV Series writer - 2 episodes, 2011 - 2016 performer - 1 episode, 2011 | |
| Malaysian Idol | 2004 | TV Series writer - 1 episode | |
| Superstar Duets | 2016 | TV Series writer - 1 episode | |
| CMT 100 Greatest Love Songs of Country Music | 2004 | TV Special performer: "I Will Always Love You" / writer: "I Will Always Love You" | |
| Jimmy Kimmel Live! | | TV Series performer - 1 episode, 2016 writer - 1 episode, 2016 | |
| Indonesian Idol | 2004 | TV Series writer - 1 episode | |
| Sing | 2016 | writer: "9 to 5" | |
| Garfield | 2004 | writer: "9 to 5" 1980 | |
| Today | | TV Series performer - 7 episodes, 1998 - 2016 writer - 6 episodes, 1998 - 2016 | |
| Hell's Kitchen | 2004 | TV Series performer - 1 episode | |
| Lip Sync Battle Philippines | 2016 | TV Series writer - 1 episode | |
| Hrvatski Idol | 2004 | TV Series writer - 1 episode | |
| Stranger Things | | TV Series performer - 1 episode, 2016 writer - 1 episode, 2016 | |
| High Chaparall | 2004 | TV Series documentary lyrics - 1 episode | |
| The Voice | 2014-2016 | TV Series writer - 4 episodes | |
| CMT Stacked: Dolly Parton | 2004 | TV Movie performer: "I'm Gone", "Light of a Clear Blue Morning", "Shine", "Why'd You Come In Here Lookin' Like That?", "Welcome Home" / writer: "I'm Gone", "Light of a Clear Blue Morning", "Welcome Home" | |
| Cocktails & Classics | | TV Series performer - 1 episode, 2016 writer - 1 episode, 2016 | |
| U.S. Library of Congress: I Hear America Singing with Dolly Parton | 2004 | TV Movie performer: "Red, White and Bluegrass", "Coat of Many Colors", "Black Drought Theme", "9 to 5", "Here You Come Again", "Jolene", "I Will Always Love You", "Welcome Home", "Color Me America" / writer: "Red, White and Bluegrass", "Coat of Many Colors", "9 to 5", "Jolene", "I Will Always Love You", "Welcome Home", "Color Me America" | |
| Home & Family | | TV Series performer - 5 episodes, 2016 writer - 5 episodes, 2016 | |
| CMT: 100 Greatest Music Videos | 2004 | TV Movie performer: "Romeo" / writer: "Romeo" | |
| Britain's Got More Talent | 2016 | TV Series writer - 1 episode | |
| Super Idol | 2004 | TV Series writer - 1 episode | |
| Tvoje tvár má známý hlas | 2016 | TV Series writer - 1 episode | |
| Cesko hledá SuperStar | 2004 | TV Series writer - 1 episode | |
| 51st Annual Academy of Country Music Awards | 2016 | TV Movie performer: "Coat of Many Colors/Jolene/9 to 5 Medley" / writer: "Coat of Many Colors/Jolene/9 to 5 Medley" | |
| Singing Songwriters | 2004 | Video performer: "Mountain Angel" / writer: "Mountain Angel" | |
| Backstage | 2015 | TV Series 1 episode | |
| CMT Crossroads | | TV Series performer - 1 episode, 2003 writer - 1 episode, 2003 | |
| Els dies clau | 2015 | TV Series documentary writer - 1 episode | |
| Skeppsholmen | 2003 | TV Series music - 1 episode | |
| Dolly Parton's Coat of Many Colors | 2015 | TV Movie performer: "Coat of Many Colors", "Angel Hill", "Say Forever You'll Be Mine" / writer: "Coat of Many Colors", "Angel Hill", "Poor Folks Town", "Say Forever You'll Be Mine" | |
| The Mark Twain Prize: Lily Tomlin | 2003 | TV Movie performer: "9 to 5" / writer: "9 to 5" | |
| Independent Lens | 2015 | TV Series documentary performer - 1 episode | |
| Narodnyy artist | 2003 | TV Series writer - 1 episode | |
| Mike & Mike | 2015 | TV Series writer - 3 episodes | |
| 37th Annual Country Music Association Awards | 2003 | TV Special performer: "The Grass Is Blue" / writer: "The Grass Is Blue" | |
| Scouts Guide to the Zombie Apocalypse | 2015 | performer: "9 TO 5" / writer: "9 TO 5" | |
| Dolly Parton & Friends on the Country Train | 2003 | Video performer: "Train, Train", "Little Sparrow", "Shine", "Mountain Angel", "Marry Me", "A Tender Lie", "I Don't Believe You've Met My Baby", "Coat of Many Colors", "I Will Always Love You" / writer: "Little Sparrow", "Mountain Angel", "Marry Me", "Coat of Many Colors", "I Will Always Love You" | |
| The Meddler | 2015 | performer: "Here You Come Again" / writer: "To Daddy" | |
| Tarnation | 2003 | Documentary performer: "A Lil' Ole Bitty Pissant Country Place" | |
| 20 Moments That Rocked Pop | 2015 | TV Movie documentary performer: "9 to 5", "Jolene" - uncredited / writer: "9 to 5", "Jolene" - uncredited | |
| Deutschland sucht den Superstar | 2002-2003 | TV Series writer - 2 episodes | |
| Lip Sync Battle | | TV Series performer - 1 episode, 2015 writer - 1 episode, 2015 | |
| Canadian Idol | 2003 | TV Series writer - 3 episodes | |
| Todd's Pop Song Reviews | | TV Series documentary writer - 3 episodes, 2014 - 2015 performer - 1 episode, 2014 | |
| The John Walsh Show | | TV Series performer - 1 episode, 2003 writer - 1 episode, 2003 | |
| The Official Top 50 Best-Selling Singles of the 90s and 00s | 2015 | TV Movie writer: "I Will Always Love You" | |
| We Shall Behold Him: A Tribute to Dottie Rambo | 2003 | Video performer: "Stand By The River" | |
| Doctors | 2015 | TV Series performer - 1 episode | |
| Futurama | 2003 | TV Series writer - 1 episode | |
| Fúsi | 2015/I | performer: "Islands in the Stream" | |
| A Capitol Fourth | 2003 | TV Movie lyrics: "When Johnny Comes Marching Home" / performer: "Light of a Clear Blue Morning", "When Johnny Comes Marching Home", "9 to 5" / writer: "Light of a Clear Blue Morning", "9 to 5" | |
| Whitney | 2015 | TV Movie writer: "I Will Always Love You" | |
| MWL Star | | TV Series performer - 1 episode, 2003 writer - 1 episode, 2003 | |
| It Takes a Choir | 2014 | TV Series documentary writer - 1 episode | |
| Our Country | 2003 | Documentary short performer: "Turn, Turn, Turn To Everything There is a Season" | |
| The Wrong Mans | 2014 | TV Series performer - 1 episode | |
| Nouvelle Star | 2003 | TV Series writer - 1 episode | |
| The Heart of Country: How Nashville Became Music City USA | 2014 | TV Movie documentary performer: "Holding on to Nothing" | |
| Stars Over Texas Concert | 2003 | TV Movie performer: "Coat of Many Colors", "Leave That Cowboy Alone", "I Will Always Love You" / writer: "Coat of Many Colors", "Leave That Cowboy Alone", "I Will Always Love You" | |
| The Affair | 2014 | TV Series performer - 1 episode | |
| Dolly Parton: Platinum Blonde | 2003 | TV Movie documentary performer: "Sugar Hill", "My Tennessee Mountain Home", "To Daddy", "Puppy Love", "Harper Valley P.T.A.", "Mama Say A Prayer", "Dumb Blonde", "It's My Time", "Joshua", "Jolene", "I Will Always Love You", "The Seeker", "Love Is Like a Butterfly", "Coat of Many Colors", "Halos and Horns", "The Grass Is Blue", "Little Sparrow", "Applejack", "Shine", "Here You Come Again", "Your Love Has Lifted Me Higher and Higher", "Baby I'm Burnin'", "9 To 5", "Lonely Comin' Down", "Islands In | |
| Marry Me | 2014 | TV Series writer - 1 episode | |
| BingoLotto | | TV Series performer - 2 episodes, 2002 writer - 2 episodes, 2002 | |
| Dolly Parton: Early Morning Breeze | 2014 | Video short performer: "Early Morning Breeze", "Jolene", "Coat of Many Colors", "Dumb Blonde", "Gypsy, Joe and Me", "I Will Always Love You", "Little Sparrow", "Train, Train", "Mountain Angel", "Marry Me", "A Tender Lie", "I Don't Believe You've Met My Baby", "Shine" / writer: "Early Morning Breeze", "Jolene", "Coat of Many Colors", "Gypsy, Joe and Me", "I Will Always Love You", "Little Sparrow", "Mountain Angel", "Marry Me" | |
| Idol | 2002 | TV Series writer - 1 episode | |
| Backstory: Dolly Parton | 2014 | TV Movie performer: "9 to 5", "I Will Always Love You", "Jolene", "Backwoods Barbie", "Coat of Many Colors", "Dumb Blonde", "Here You Come Again", "Islands In The Stream", "When I Get Where I'm Going", "Home" / writer: "9 to 5", "I Will Always Love You", "Jolene", "Backwoods Barbie", "Coat of Many Colors", "Home" | |
| 36th Annual Country Music Association Awards | 2002 | TV Special performer: "Hello God" / writer: "Hello God" | |
| Today at Wimbledon | | TV Series performer - 1 episode, 2014 writer - 1 episode, 2014 | |
| Sweet Home Alabama | 2002 | performer: "Marry Me" / writer: "Marry Me" | |
| Wimbledon | | TV Series performer - 1 episode, 2014 writer - 1 episode, 2014 | |
| Mission Hill | 2002 | TV Series writer - 1 episode | |
| Sing Your Face Off | 2014 | TV Series writer - 1 episode | |
| S.P.U.N.G | | TV Series lyrics - 1 episode, 2002 music - 1 episode, 2002 performer - 1 episode, 2002 | |
| The Wendy Williams Show | | TV Series writer - 2 episodes, 2010 - 2014 performer - 1 episode, 2014 | |
| Top of the Pops 2 | 2002 | TV Series performer - 1 episode | |
| Imus in the Morning | | TV Series lyrics - 1 episode, 2014 performer - 1 episode, 2014 writer - 1 episode, 2014 | |
| Graham Goes to Dollywood | 2001 | TV Special documentary performer: "My Tennessee Mountain Home", "Coat of Many Colors", "Shine", "Islands In The Stream" / writer: "My Tennessee Mountain Home", "Coat of Many Colors" | |
| Dancing with the Stars | | TV Series 2 episodes, 2012 - 2014 writer - 4 episodes, 2006 - 2012 performer - 1 episode, 2007 | |
| Pop Idol | 2001 | TV Series writer - 2 episodes | |
| Headline Country | | TV Series performer - 4 episodes, 2006 - 2014 writer - 4 episodes, 2006 - 2014 | |
| Emeril | 2001 | TV Series writer - 1 episode | |
| Dolly Parton Q Sessions Live from Nashville - Featuring 'Blue Smoke' | 2014 | TV Movie lyrics: "Banks of the Ohio" / performer: "Blue Smoke", "Don't Think Twice", "If I Had Wings", "Jolene", "Banks of the Ohio", "Home", "I Will Always Love You" / writer: "Blue Smoke", "If I Had Wings", "Jolene", "Home", "I Will Always Love You" | |
| Vacuuming Completely Nude in Paradise | 2001 | TV Movie performer: "Peace Train" - uncredited | |
| One Hit Wonderland | | TV Series documentary performer - 2 episodes, 2012 - 2014 writer - 1 episode, 2012 | |
| CNN World Beat | | TV Series performer - 1 episode, 2001 writer - 1 episode, 2001 | |
| Dolly: A Collection of Hits & Duets | 2014 | Video performer: "Dumb Blonde", "Fuel To The Flame", "I'll Oilwells Love You", "Your Ole Handy Man", "Mama Say A Prayer", "Don't Let it Trouble Your Mind", "The Bridge", "Daddy Come And Get Me", "He's A Go Getter", "Joshua", "Just Because I'm A Woman", "Coat of Many Colors", "My Tennessee Mountain Home", "Traveling Man", "I Can't Stop Loving You", "Bubbling Over", "Love With Me", "Gypsy, Joe And Me", "I Will Always Love You", "Coat Of Many Colors", "Jolene", "Love is Like a Butterfly", "Early Mo | |
| 1st Annual BET Awards | 2001 | TV Special writer: "I Will Always Love You" | |
| Sunrise | | TV Series performer - 1 episode, 2014 writer - 1 episode, 2014 | |
| Moulin Rouge! | 2001 | writer: "Elephant Love Medley" | |
| Breakfast | | TV Series performer - 1 episode, 2014 writer - 1 episode, 2014 | |
| Country Legends | 2001 | Video performer: "I Will Always Love You", "Jolene" / writer: "I Will Always Love You", "Jolene" | |
| Unplugged | 2014 | TV Series documentary writer - 1 episode | |
| Austin City Limits | | TV Series documentary performer - 1 episode, 2001 writer - 1 episode, 2001 | |
| Dolly Parton @ Glastonbury 2014 | 2014 | TV Movie lyrics: "Banks Of The Ohio" / performer: "Baby I'm Burnin'/Girl On Fire" Medley, "Why'd You Come In Here Lookin' Like That?", "Jolene", "Blue Smoke", "Coat of Many Colors", "Rocky Top", "Mud Song", "Banks Of The Ohio", "Old Flames Can't Hold a Candle To You/But You Know I Love You/Real Love/Think About Love" Medley, "Here You Come Again", "Two Doors Down", "Islands In The Stream", "9 to 5", "Lay Your Hands On Me", "I Will Always Love You" / writer: "Baby I'm Burnin'/Girl On Fire" Medley | |
| So Graham Norton | | TV Series performer - 1 episode, 2001 writer - 1 episode, 2001 | |
| Kenny & Dolly: An Intimate Conversation | 2013 | TV Special performer: "Islands In The Stream", "You Can't Make Old Friends" | |
| The 43rd Annual Grammy Awards | 2001 | TV Special performer: "Travelin' Prayer" | |
| A Country Christmas Story | 2013 | TV Movie performer: "Jingle Bells" / writer: "Miss You, Miss Me", "Fiddlin' Around" | |
| Open House | | TV Series documentary performer - 1 episode, 2001 writer - 1 episode, 2001 | |
| The Queen Latifah Show | | TV Series performer - 1 episode, 2013 writer - 1 episode, 2013 | |
| Sweet November | 2001 | performer: "Heart Door" | |
| Tu cara me suena | 2012-2013 | TV Series writer - 2 episodes | |
| Eva & Adam - Fyra födelsedagar och ett fiasko | 2001 | writer: "I Will Always Love You" | |
| Tu cara me suena - Argentina | 2013 | TV Series writer - 1 episode | |
| Hedwig and the Angry Inch | 2001 | writer: "I Will Always Love You" | |
| HaKochav HaBa | 2013 | TV Series writer - 1 episode | |
| Twentieth Century Fox: The Blockbuster Years | 2000 | TV Movie documentary performer: "Nine to Five" / writer: "Nine to Five" | |
| The X Factor | | TV Series writer - 4 episodes, 2005 - 2013 performer - 1 episode, 2008 | |
| Grand Ole Opry 75th: A Celebration | 2000 | TV Special performer: "Wabash Cannonball/Blue Eyes Crying in the Rain/Night Train to Memphis/I Saw The Light" Medley, "Hey, Good Lookin'", "Coat of Many Colors", "Kiss An Angel Good Morning", "Will The Circle Be Unbroken" / writer: "Coat of Many Colors" | |
| Drunk History | 2013 | TV Series writer - 1 episode | |
| Bette | 2000 | TV Series performer - 1 episode | |
| So You Think You Can Dance | | TV Series writer - 2 episodes, 2012 - 2013 performer - 1 episode, 2006 | |
| 35th Annual Academy of Country Music Awards | 2000 | TV Special performer: "Travelin' Prayer", "Stand By Your Man" | |
| About Time | 2013/I | writer: "I Will Always Love You" | |
| Whitney Houston: The Greatest Hits | 2000 | Video documentary writer: "I Will Always Love You" | |
| This Is the End | 2013 | writer: "I Will Always Love You" | |
| 31st Annual Gospel Music Association's Dove Awards | 2000 | TV Special performer: "Only My Pillow Knows" | |
| North America | | TV Series documentary performer - 1 episode, 2013 writer - 1 episode, 2013 | |
| Songcatcher | 2000 | performer: "When Love Is New" / writer: "When Love Is New" | |
| Britain's Got Talent | 2013 | TV Series performer - 1 episode | |
| Blue Valley Songbird | 1999 | TV Movie performer: "Blue Valley Songbird", "I Hope You're Never Happy", "Wildflowers", "We Might Be In Love", "My Blue Tears", "Runaway Feeling", "Amazing Grace", "Angel Band" / writer: "Blue Valley Songbird", "I Hope You're Never Happy", "Wildflowers", "We Might Be In Love", "My Blue Tears", "Runaway Feeling" | |
| The '80s: The Decade That Made Us | | TV Mini-Series documentary performer - 1 episode, 2013 writer - 1 episode, 2013 | |
| Donny & Marie | | TV Series performer - 2 episodes, 1999 writer - 2 episodes, 1999 | |
| The Voice UK | | TV Series performer - 1 episode, 2013 writer - 1 episode, 2013 | |
| The Martin Short Show | | TV Series performer - 1 episode, 1999 writer - 1 episode, 1999 | |
| Song by Song | | TV Series performer - 6 episodes, 2013 writer - 6 episodes, 2013 | |
| The National Lottery | | TV Series performer - 2 episodes, 1998 - 1999 writer - 2 episodes, 1998 - 1999 | |
| The Neighbors | | TV Series performer - 1 episode, 2013 writer - 1 episode, 2013 | |
| 33rd Annual Country Music Association Awards | 1999 | TV Special performer: "Train, Train", "My Kind of Woman, My Kind of Man" | |
| t Schaep met de 5 pooten | 2013 | TV Series writer - 1 episode | |
| Bravo Profiles | | TV Series documentary performer - 1 episode, 1999 writer - 1 episode, 1999 | |
| Inequality for All | 2013 | Documentary performer: "9 to 5" - uncredited / writer: "9 to 5" - uncredited | |
| Dolly Parton's Precious Memories | 1999 | TV Movie performer: "Precious Memories", "The Seeker", "In The Sweet Bye and Bye", "In The Garden", "Softly and Tenderly", "When the Roll is Called Up Yonder", "Washed in the Blood", "Power in the Blood", "Coat of Many Colors", "Over in the Glory Land" / writer: "The Seeker", "Coat of Many Colors" | |
| Mulheres Ricas | 2013 | TV Series writer - 1 episode | |
| Elämää itsemurhan jälkeen | 1999 | Documentary writer: "I Will Always Love You" | |
| The Hour | | TV Series performer - 1 episode, 2012 writer - 1 episode, 2012 | |
| Prime Time Country | | TV Series performer - 3 episodes, 1996 - 1999 writer - 3 episodes, 1996 - 1999 | |
| Promised Land | 2012 | performer: "Even Cowgirls Get the Blues" | |
| The Howie Mandel Show | | TV Series performer - 1 episode, 1999 writer - 1 episode, 1999 | |
| Fox and Friends | | TV Series performer - 4 episodes, 2010 - 2012 writer - 4 episodes, 2010 - 2012 | |
| CBS This Morning | 1999 | TV Series performer - 1 episode | |
| Live with Kelly and Ryan | | TV Series performer - 10 episodes, 1989 - 2012 writer - 7 episodes, 1994 - 2012 arranger - 1 episode, 2000 | |
| Office Space | 1999 | writer: "9 to 5" 1980 | |
| Good Morning America | | TV Series performer - 5 episodes, 1984 - 2012 writer - 4 episodes, 2005 - 2012 | |
| The Rosie O'Donnell Show | | TV Series performer - 3 episodes, 1996 - 1999 writer - 1 episode, 1998 | |
| The Colbert Report | | TV Series performer - 1 episode, 2012 writer - 1 episode, 2012 | |
| Live by Request: Vince Gill | 1999 | TV Special writer: "I Will Always Love You" | |
| The Insider | | TV Series performer - 1 episode, 2012 writer - 1 episode, 2012 | |
| Linnunradan pianobaari | 1998 | TV Series writer - 1 episode | |
| ABC News Nightline | | TV Series performer - 1 episode, 2012 writer - 1 episode, 2012 | |
| Unspoiled Country | 1998 | TV Movie documentary performer: "My Tennessee Mountain Home" / writer: "My Tennessee Mountain Home" | |
| We Will Always Love You: A Grammy Salute to Whitney Houston | 2012 | TV Movie documentary writer: "I Will Always Love You" | |
| Paradise Road: The Life and Songs of Dolly Parton | 1998 | Short performer: "Paradise Road", "I Will Always Love You" / writer: "Paradise Road", "I Will Always Love You" | |
| Backstory: Kenny Rogers | 2012 | TV Movie performer: "Islands In The Stream" | |
| Tammy Wynette: First Lady of Country Memorial Service | 1998 | TV Special performer: "Shine On", "I Will Always Love You" / writer: "Shine On", "I Will Always Love You" | |
| Avenida Brasil | 2012 | TV Series writer - 1 episode | |
| Another Day in Paradise | 1998 | writer: "Here I Am" | |
| Gravity Falls | | TV Series performer - 1 episode, 2012 writer - 1 episode, 2012 | |
| Prime Time Country Celebrates 15 Years of TNN | 1998 | TV Movie performer: "I Will Always Love You", "Paradise Road" / writer: "I Will Always Love You", "Paradise Road" | |
| Duets | 2012 | TV Series writer - 1 episode | |
| Video Playback: TNN's First 15 Years | 1998 | TV Movie performer: "Rockin' Years" | |
| Lorraine | | TV Series performer - 2 episodes, 2011 - 2012 writer - 2 episodes, 2011 - 2012 | |
| Und vor mir die Sterne... - Das Leben der Schlagersängerin Renate Kern | 1998 | Documentary performer: "The Greatest Gift of All" | |
| The Bachelorette | | TV Series performer - 1 episode, 2012 writer - 1 episode, 2012 | |
| Top Ten | | TV Series documentary performer - 1 episode, 1998 writer - 1 episode, 1998 | |
| The Dictator | 2012 | writer: "9 to 5" | |
| Annabelle's Wish | 1997 | Video performer: "Silent Night", "Something Bigger Than Me" | |
| The Balancing Act | | TV Series performer - 1 episode, 2012 writer - 1 episode, 2012 | |
| The Apostle | 1997 | performer: "Shine On" / writer: "Shine On" | |
| Inside Music Row | | TV Series performer - 1 episode, 2012 writer - 1 episode, 2012 | |
| Company's Comin': A Tribute to Porter Wagoner | 1997 | TV Movie performer: "The Last Thing On My Mind", "In The Shade Of The Family Tree", "I Will Always Love You" / writer: "I Will Always Love You" | |
| Dr Steve | | TV Series performer - 1 episode, 2012 writer - 1 episode, 2012 | |
| Night Fever | 1997 | TV Series writer - 1 episode | |
| The Revolution | | TV Series performer - 1 episode, 2012 writer - 1 episode, 2012 | |
| Dollywood: A Memory Worth Repeating | 1996 | Video documentary performer: "My Tennessee Mountain Home", "Appalachian Memories", "Heartsong", "Coat of Many Colors", "Something Fishy", "I Will Always Love You" / writer: "My Tennessee Mountain Home", "Appalachian Memories", "Heartsong", "Coat of Many Colors", "Something Fishy", "I Will Always Love You", "Daddy Was An Old Time Preacher Man", "Applejack" | |
| CMT Insider | | TV Series writer - 10 episodes, 2006 - 2012 performer - 9 episodes, 2006 - 2012 | |
| Unlikely Angel | 1996 | TV Movie performer: "Unlikely Angel", "Whatcha Tryin' to Do to Me?" / writer: "Unlikely Angel", "Whatcha Tryin' to Do to Me?" | |
| Huckabee | | TV Series performer - 1 episode, 2012 writer - 1 episode, 2012 | |
| Dolly Parton: Treasures | 1996 | TV Movie documentary performer: "Peace Train", "Today I Started Loving You Again", "Something's Burning", "Before the Next Teardrop Falls", "Walking on Sunshine", "Behind Closed Doors", "Don't Let Me Cross Over Love's Cheating Line", "For the Good Times" | |
| Better | | TV Series performer - 2 episodes, 2011 - 2012 writer - 2 episodes, 2011 - 2012 | |
| 30th Annual Country Music Association Awards | 1996 | TV Special performer: "Before The Next Teardrop Falls / Behind Closed Doors" medley | |
| American Idol | | TV Series writer - 6 episodes, 2002 - 2012 performer - 1 episode, 2008 | |
| Bulletproof | 1996 | writer: "I Will Always Love You" | |
| Divendres | 2012 | TV Series writer - 1 episode | |
| Stars in Their Eyes | 1994-1996 | TV Series writer - 4 episodes | |
| Glee | 2011-2012 | TV Series writer - 2 episodes | |
| It's My Party | 1996 | performer: "I Will Always Love You" / writer: "I Will Always Love You" | |
| The 54th Annual Grammy Awards | 2012 | TV Special writer: "I Will Always Love You" | |
| Grand Ole Opry 70th Anniversary | 1996 | TV Special performer: "Wabash Cannonball", "You Gotta Be My Baby", "I Don't Need Your Rockin' Chair", "I'll Oilwells Love You", "Will The Circle Be Unbroken", "I Saw The Light" / writer: "I'll Oilwells Love You" | |
| Anderson Live | | TV Series performer - 1 episode, 2012 writer - 1 episode, 2012 | |
| Heartsong | 1995 | Short documentary performer: "Heartsong", "God's Coloring Book", "Love is Like a Butterfly", "Applejack", "Runaway Feeling", "He's Alive", "I Will Always Love You" / writer: "Heartsong", "God's Coloring Book", "Love is Like a Butterfly", "Applejack", "Runaway Feeling", "I Will Always Love You" | |
| Joyful Noise | 2012 | performer: "Not Enough", "From Here to the Moon and Back", "Forever", "He's Everything" / writer: "Not Enough", "From Here to the Moon and Back", "He's Everything" | |
| Vanessa-Mae: The Red Hot Tour - Live at the Royal Albert Hall | 1995 | Video documentary writer: "I Will Always Love You" | |
| Late Show with David Letterman | | TV Series performer - 12 episodes, 1994 - 2012 writer - 9 episodes, 1994 - 2012 arranger - 1 episode, 2000 | |
| 29th Annual Country Music Association Awards | 1995 | TV Special performer: "I Will Always Love You", "King of the Road" / writer: "I Will Always Love You" | |
| No me la puc treure del cap | | TV Series performer - 1 episode, 2011 writer - 1 episode, 2010 | |
| Music City Tonight | | TV Series performer - 1 episode, 1995 writer - 1 episode, 1995 | |
| Little Crackers | 2011 | TV Series writer - 1 episode | |
| Evelyn Hamann's Geschichten aus dem Leben | | TV Series performer - 1 episode, 1995 writer - 1 episode, 1993 | |
| The Nation's Favourite Bee Gees Song | 2011 | TV Movie documentary performer: "Islands In The Stream" | |
| Heavens to Betsy | | TV Series performer - 1 episode writer - 1 episode | |
| How Sweet the Sound Finale | 2011 | TV Special performer: "He's Everything" / writer: "He's Everything" | |
| Donahue | | TV Series performer - 3 episodes, 1977 - 1994 writer - 3 episodes, 1977 - 1994 | |
| Dolly Parton Tour TV | | TV Series documentary performer - 15 episodes, 2011 writer - 15 episodes, 2011 | |
| 28th Annual Country Music Association Awards | 1994 | TV Special performer: "To Daddy" / writer: "To Daddy" | |
| Two and a Half Men | 2011 | TV Series writer - 1 episode | |
| Ralph Emery on the Record | | TV Series performer - 1 episode, 1994 writer - 1 episode, 1994 | |
| Hick | 2011 | performer: "Island in the Stream" | |
| Dateline NBC | | TV Series documentary performer - 1 episode, 1994 writer - 1 episode, 1994 | |
| RuPaul's Drag U | | TV Series performer - 1 episode, 2011 writer - 1 episode, 2011 | |
| Dolly Parton: In Country | 1994 | Video documentary performer: "Calling My Children Home" | |
| The Glee Project | 2011 | TV Series writer - 1 episode | |
| Dolly Parton: In the Movies | 1994 | Video documentary performer: "9 to 5" / writer: "9 to 5" | |
| Access Hollywood | | TV Series performer - 1 episode, 2011 writer - 1 episode, 2011 | |
| The Crazy World of Dolly Parton | 1994 | Video documentary performer: "9 to 5", "Calling My Children Home" / writer: "9 to 5" | |
| CMT Hot 20 Countdown | | TV Series performer - 5 episodes, 2007 - 2011 writer - 5 episodes, 2007 - 2011 | |
| The 66th Annual Academy Awards | 1994 | TV Special performer: "The Day I Fall In Love" | |
| The Tonight Show with Jay Leno | | TV Series performer - 13 episodes, 1993 - 2011 writer - 9 episodes, 1993 - 2011 | |
| Beethoven's 2nd | 1993 | performer: "The Day I Fall in Love" | |
| On the Streets | | TV Series performer - 1 episode, 2011 writer - 1 episode, 2011 | |
| Saved by the Bell: The College Years | 1993 | TV Series writer - 1 episode | |
| Crook & Chase | | TV Series performer - 2 episodes, 2009 - 2011 writer - 2 episodes, 2009 - 2011 | |
| Sunset Music Festival | 1993 | TV Movie performer: "Cross My Heart" | |
| The Collection | | TV Series performer - 1 episode, 2011 writer - 1 episode, 2011 | |
| Beavis and Butt-Head | | TV Series performer - 1 episode, 1993 writer - 1 episode, 1993 | |
| Hollywood to Dollywood | 2011 | Documentary performer: "Travelin' Thru", "White Limozeen", "Jolene", "Shattered Image", "I'm Gone", "Will He Be Waiting For Me", "God's Coloring Book", "Sha-Kon-O-Hey", "Celebrate The Dreamer In You", "Tennessee Homesick Blues", "Coat of Many Colors", "Family", "Sugar Hill", "Full Circle" / writer: "Travelin' Thru", "White Limozeen", "Jolene", "Shattered Image", "I'm Gone", "Will He Be Waiting For Me", "God's Coloring Book", "Sha-Kon-O-Hey", "Celebrate The Dreamer In You", "Tennessee Homesick Bl | |
| The Beverly Hillbillies | 1993 | performer: "IF YOU AIN'T GOT LOVE" / producer: "IF YOU AIN'T GOT LOVE" / writer: "IF YOU AIN'T GOT LOVE" | |
| Today | | TV Series performer - 1 episode, 2011 writer - 1 episode, 2011 | |
| 27th Annual Country Music Association Awards | 1993 | TV Special performer: "Silver Threads and Golden Needles" | |
| A Current Affair | | TV Series performer - 1 episode, 2011 writer - 1 episode, 2011 | |
| The Arsenio Hall Show | | TV Series performer - 1 episode, 1993 writer - 1 episode, 1993 | |
| Opry Memories | 2011 | TV Movie performer: "I Will Always Love You", "Holding On To Nothin'" / writer: "I Will Always Love You" | |
| Late Night with David Letterman | 1990-1993 | TV Series performer - 2 episodes | |
| Ellen: The Ellen DeGeneres Show | | TV Series performer - 4 episodes, 2004 - 2011 writer - 4 episodes, 2004 - 2011 | |
| Billy Ray Cyrus: Dreams Come True | 1993 | TV Special documentary performer: "Romeo" / writer: "Romeo" | |
| Why Not? With Shania Twain | 2011 | TV Series documentary writer - 1 episode | |
| Country Music Association's 35th Anniversary | 1993 | TV Special performer: "Full Circle" / writer: "Full Circle", "To Daddy" | |
| CMT: What's Your 20? 20 Greatest Women, 20 Years | 2011 | TV Movie performer: "Backwoods Barbie", "I Will Always Love You", "Eagle When She Flies", "Shine" / writer: "Backwoods Barbie", "I Will Always Love You", "Eagle When She Flies" | |
| Lo Kolel Sherut | 1993 | TV Series writer - 1 episode | |
| Idool 2011 | 2011 | TV Series writer - 2 episodes | |
| The Ben Stiller Show | 1992 | TV Series writer - 1 episode | |
| This Morning | | TV Series performer - 2 episodes, 2001 - 2011 writer - 2 episodes, 2001 - 2011 | |
| The Bodyguard | 1992 | writer: "I Will Always Love You" | |
| Daybreak | | TV Series performer - 1 episode, 2011 writer - 1 episode, 2011 | |
| 26th Annual Country Music Association Awards | 1992 | TV Special performer: "Put a Little Love in Your Heart" | |
| The One Show | | TV Series performer - 1 episode, 2011 writer - 1 episode, 2011 | |
| NFL Country | 1992 | Video performer: "Runaway Feelin'" / writer: "Runaway Feelin'" | |
| The Talk | 2011 | TV Series performer - 1 episode | |
| The Tonight Show Starring Johnny Carson | | TV Series performer - 15 episodes, 1977 - 1992 writer - 13 episodes, 1977 - 1992 | |
| Jag är min egen Dolly Parton | 2011 | Documentary music: "Two Doors Down", "The Grass is Blue", "I Will Always Love You", "Nine to Five", "Daddy Was an Old Time Preacher" / performer: "Two Doors Down", "The Grass is Blue", "I Will Always Love You", "Here You Come Again", "Nine to Five", "Daddy Was an Old Time Preacher" / writer: "Two Doors Down", "The Grass is Blue", "I Will Always Love You", "Nine to Five", "Daddy Was an Old Time Preacher" | |
| Burt Reynolds' Conversations with... | 1992 | TV Movie performer: "I Will Always Love You" / writer: "I Will Always Love You" | |
| Kenny Rogers: The First 50 Years | 2011 | TV Movie performer: "Sweet Music Man", "Through The Years", "Islands In The Stream" | |
| Straight Talk | 1992 | performer: "Blue Grace", "The Light of a Clear Blue Morning", "Dirty Job", "Blue Me", "Straight Talk", "Fish Out of Water", "Burning", "Livin' a Lie", "You Thought I Couldn't Dance", "Burning to Burned", "Light of a Clear Blue Morning reprise" / writer: "Blue Grace", "The Light of a Clear Blue Morning", "Dirty Job", "Blue Me", "Straight Talk", "Fish Out of Water", "Burning", "Livin' a Lie", "You Thought I Couldn't Dance", "Burning to Burned", "Light of a Clear Blue Morning reprise" | |
| The Year Dolly Parton Was My Mom | 2011 | performer: "Love Is Like a Butterfly" / writer: "Love Is Like a Butterfly", "Do I Ever Cross Your Mind", "The Grass Is Blue", "Light of a Clear Blue Morning", "The Seeker", "Little Sparrow" | |
| Bob Hope's America: Red, White and Beautiful | 1992 | TV Special performer: "Light of a Clear Blue Morning" / writer: "Light of a Clear Blue Morning" | |
| Top 20 Country Countdown | 2008-2011 | TV Series performer - 4 episodes | |
| Mystery Science Theater 3000 | 1992 | TV Series writer - 1 episode | |
| The 53rd Annual Grammy Awards | 2011 | TV Special writer: "Jolene" | |
| 25th Annual Country Music Association Awards | 1991 | TV Special performer: "Eagle When She Flies" / writer: "Eagle When She Flies" | |
| CMT: 40 Greatest Love Songs | 2011 | TV Movie performer: "I Will Always Love You" / writer: "I Will Always Love You" | |
| Wild Texas Wind | 1991 | TV Movie performer: "Big T", "Wild Texas Wind", "Tall Man", "Swingin' Like Tarzan and Jane", "Speakin' of the Devil", "Farther Along" / writer: "Big T", "Wild Texas Wind", "Speakin' of the Devil" | |
| Big Love | | TV Series performer - 2 episodes, 2010 - 2011 writer - 2 episodes, 2010 - 2011 | |
| Babes | 1991 | TV Series performer - 1 episode | |
| Pizza & Karaoke | 2010 | TV Movie writer: "I Will Always Love You" | |
| Christmas in America | 1990 | TV Movie writer: "Christmas in America" | |
| Hannah Montana | 2006-2010 | TV Series performer - 4 episodes | |
| Christmas at Home | 1990 | TV Movie documentary arranger: "Joy To The World", "Rudolph The Red-Nosed Reindeer", "Jingle Bells", "Go Tell It On The Mountain", "Santa Claus Is Coming to Town", "I'll Be Home For Christmas", "Deck The Halls", "The Little Drummer Boy", "Silent Night", "First Noel", "We Three Kings", "O Little Town of Bethlehem" / performer: "Joy To The World", "Rudolph The Red-Nosed Reindeer", "Jingle Bells", "Go Tell It On The Mountain", "Santa Claus Is Coming to Town", "I'll Be Home For Christmas", "Deck The | |
| Gingerdead: The Adventures of Nella & Nello | 2010 | Video short music: "Backwoods Babies" | |
| 24th Annual Country Music Association Awards | 1990 | TV Special performer: "Love Is Strange" | |
| Larry King Live | | TV Series performer - 2 episodes, 2009 - 2010 writer - 2 episodes, 2009 - 2010 | |
| 21st Annual Gospel Music Association's Dove Awards | 1990 | TV Special performer: "He's Alive" | |
| First Dog | 2010 | performer: "Eager To Please", "Family of Friends", "Somebody's Missing You" / writer: "Eager To Please", "Family of Friends", "Somebody's Missing You" | |
| Doogie Howser, M.D. | 1990 | TV Series writer - 1 episode | |
| The Nate Berkus Show | | TV Series performer - 1 episode, 2010 writer - 1 episode, 2010 | |
| Designing Women | 1990 | TV Series performer - 1 episode | |
| 20 to 1 | | TV Series documentary writer - 3 episodes, 2006 - 2010 performer - 2 episodes, 2006 - 2010 | |
| Kenny, Dolly and Willie: Something Inside So Strong | 1989 | TV Movie performer: "9 to 5", "Coat of Many Colors", "The Gambler", "Mamas Don't Let Your Babies Grow Up To Be Cowboys", "Sweet Music Man", "Two Doors Down", "On The Road Again", "Real Love", "Islands In The Stream", " Something Inside So Strong" / writer: "9 to 5", "Coat of Many Colors", "Two Doors Down" | |
| Ai Wu xian | 2010 | TV Series lyrics: "I Will Always Love You" / writer: "I Will Always Love You" | |
| 23rd Annual Country Music Association Awards | 1989 | TV Special performer: "He's Alive" | |
| Dolly Celebrates 25 Years of Dollywood | 2010 | TV Movie performer: "My Mountains, My Home", "Islands In The Stream", "Daddy Was An Old Time Preacher Man", "Jolene", "I Will Always Love You", "Romeo", "9 to 5", "My Tennessee Mountain Home", "Light of a Clear Blue Morning", "Sha-Kon-O-Hey!", "Celebrate the Dreamer in You" / writer: "My Mountains, My Home", "Daddy Was An Old Time Preacher Man", "Jolene", "I Will Always Love You", "Romeo", "9 to 5", "My Tennessee Mountain Home", "Light of a Clear Blue Morning", "Sha-Kon-O-Hey!", "Celebrate the D | |
| Pink Cadillac | 1989 | performer: "Two Doors Down" / writer: "Two Doors Down" | |
| Extra | | TV Series performer - 1 episode, 2010 writer - 1 episode, 2010 | |
| The Pat Sajak Show | 1989 | TV Series performer - 1 episode | |
| E! News Live | | TV Series performer - 1 episode, 2010 writer - 1 episode, 2010 | |
| Saturday Night Live | | TV Series performer - 1 episode, 1989 writer - 1 episode, 1989 | |
| The Marty Stuart Show | | TV Series performer - 1 episode, 2010 writer - 1 episode, 2010 | |
| Nashville Now | | TV Series performer - 1 episode, 1989 writer - 1 episode, 1989 | |
| Rare Southern Gospel Singing Celebration | 2010 | Video performer: "The Seeker" / writer: "The Seeker" | |
| The 1989 Miss Tennessee Pageant | 1989 | TV Special performer: "9 to 5" / writer: "9 to 5" | |
| The Oprah Winfrey Show | | TV Series performer - 4 episodes, 1991 - 2010 writer - 4 episodes, 1991 - 2010 | |
| Bob Hope's Jolly Christmas Show | 1988 | TV Movie performer: "Hard Candy Christmas", "Silver Bells" | |
| Comedy Lab | | TV Series performer - 1 episode, 2010 writer - 1 episode, 2010 | |
| Young Country | 1988 | Video short performer: "Those Memories of You" | |
| 90210 | | TV Series performer - 1 episode, 2010 writer - 1 episode, 2010 | |
| 22nd Annual Country Music Association Awards | 1988 | TV Special performer: "If It's Coming From The Country, It's Coming From The Heart", "Traveling Down the Same Road Those Who Came Before" | |
| Putty Hill | 2010 | writer: "I Will Always Love You" | |
| Dolly | | TV Series performer - 22 episodes, 1987 - 1988 writer - 21 episodes, 1987 - 1988 | |
| Live from Studio Five | | TV Series writer - 3 episodes, 2009 - 2010 performer - 1 episode, 2009 | |
| Emu's Wide World | 1987 | TV Series writer - 1 episode | |
| The Alan Titchmarsh Show | | TV Series performer - 1 episode, 2010 writer - 1 episode, 2010 | |
| Down and Out with Donald Duck | 1987 | TV Movie performer: "Nine To Five" / writer: "Nine To Five" | |
| Country's Greatest Stars Live: Vol. 1 | 2010 | Video performer: "Here You Come Again", "Muleskinner Blues Blue Yodel #8", "Cowgirl And The Dandy", "The Seeker/All I Can Do/Jolene/Two Doors Down/I Will Always Love You", "Hey Good Lookin'/Your Cheatin' Heart/Cold, Cold Heart/I'm So Lonesome I Could Cry/I Can't Help It If I'm Still In Love With You/You Win Again/I'm So Lonesome I Could Cry/I Saw The Light/Jambalaya" / writer: "The Seeker/All I Can Do/Jolene/Two Doors Down/I Will Always Love You" | |
| A Smoky Mountain Christmas | 1986 | TV Movie performer: "Mountain Magic" uncredited, "Pretty is as Pretty Does" uncredited, "I've Been Dreaming of A Smoky Mountain Christmas" uncredited, "All Wrapped Up In You" uncredited, "Christmas With Santa", "Country Memories" uncredited, "I'd Like To Spend Christmas With Santa" uncredited, "A Smoky Mountain Christmas" uncredited, "Look On The Bright Side" uncredited / writer: "Mountain Magic", "Pretty is as Pretty Does", "I've Been Dreaming of A Smoky Mountain Christmas", "All Wrapped Up In | |
| Carrie Underwood: An All-Star Holiday Special | 2009 | TV Movie performer: "Here You Come Again", "I Will Always Love You", "Comin' Home For Christmas" / writer: "I Will Always Love You", "Comin' Home For Christmas" | |
| Walt Disney's Wonderful World of Color | | TV Series performer - 1 episode, 1986 writer - 1 episode, 1986 | |
| Fern Britton Meets... | | TV Series performer - 1 episode, 2009 writer - 1 episode, 2009 | |
| The Winning Hand | 1985 | TV Movie performer: "The Little Things", "Everything's Beautiful In It's Own Way", "What Do You Think About Lovin'", "Ping Pong", "Put It Off Until Tomorrow", "Happy, Happy Birthday Baby", "Don't Let Your Left Hand Know What Your Right Hand Does" / writer: "The Little Things", "Everything's Beautiful In It's Own Way", "What Do You Think About Lovin'", "Put It Off Until Tomorrow", "Don't Let Your Left Hand Know What Your Right Hand Does" | |
| GAC Nights | 2009 | TV Series performer - 1 episode | |
| Kenny Rogers and Dolly Parton: Together | 1985 | TV Movie performer: "Real Love", "Here You Come Again", "Jolene", "Applejack", "Coat of Many Colors", "We've Got Tonight", "Blaze of Glory", "Baby I'm Burnin'", "Two Doors Down", "Drag Annette", "I Don't Want to Throw Rice I Want to Throw Rocks at Her", "I'll Oilwells Love You", "Appalachian Memories", "9 to 5", "The Stranger", "Islands in the Stream" / writer: "Jolene", "Applejack", "Coat of Many Colors", "Baby I'm Burnin'", "Two Doors Down", "I Don't Want to Throw Rice I Want to Throw Rocks at | |
| The White Stripes Under Great White Northern Lights | 2009 | Documentary writer: "Jolene" | |
| Miami Vice | 1985 | TV Series performer - 1 episode | |
| Whip It | 2009 | performer: "Jolene" / writer: "Jolene" | |
| Kenny & Dolly: A Christmas to Remember | 1984 | TV Movie documentary performer: "A Christmas to Remember", "The Christmas Song", "Winter Wonderland/Sleigh Ride", "With Bells On", "The Greatest Gift of All", "White Christmas", "I Believe in Santa Claus", "Christmas Without You", "Once Upon a Christmas" / writer: "A Christmas to Remember", "With Bells On", "I Believe in Santa Claus", "Christmas Without You", "Once Upon a Christmas" | |
| Jerry Lewis MDA Labor Day Telethon | | TV Series performer - 2 episodes, 1990 - 2009 writer - 1 episode, 1990 | |
| Single Bars, Single Women | 1984 | TV Movie performer: "Single Women" | |
| Charlie Rose | | TV Series performer - 2 episodes, 2009 writer - 2 episodes, 2009 | |
| Rhinestone | 1984 | performer: "Tennessee Homesick Blues", "One Emotion After Another", "What a Heartache", "Stay Out of My Bedroom If You Can't Take the Heat, "Woke Up In Love", "God Won't Get You", "Sweet Lovin' Friends", "Butterflies", "Be There" / writer: "Tennessee Homesick Blues", "Too Much Water", "One Emotion After Another", "Goin' Back to Heaven", "What a Heartache", "Stay Out of My Bedroom If You Can't Take the Heat, "Woke Up In Love", "God Won't Get You", "Drinkenstein", "Sweet Lovin' Friends", "Waltz Me | |
| Revealed | | TV Series performer - 1 episode, 2009 writer - 1 episode, 2009 | |
| A Night in Heaven | 1983 | writer: "9 to 5" | |
| Dancing with the Stars | 2009 | TV Series writer - 1 episode | |
| Butterflies | 1978-1983 | TV Series lyrics - 28 episodes | |
| The Early Show | | TV Series writer - 6 episodes, 2003 - 2009 performer - 5 episodes, 2003 - 2007 | |
| Dolly Parton Meets the Kids | 1983 | TV Movie performer: "Little Tiny Tassletop", "Here You Come Again", "Try" / writer: "Little Tiny Tassletop", "Try" | |
| 17 Kids and Counting | | TV Series documentary performer - 1 episode, 2009 writer - 1 episode, 2009 | |
| Dolly in Concert | 1983 | TV Special documentary performer: "Baby, I'm Burnin'", "Jolene", "Two Doors Down", "Coat of Many Colors", "Appalachian Memories", "Applejack", "Do I Ever Cross Your Mind?", "Me and Little Andy", "Down From Dover", "Here You Come Again", "Nine to Five", "Great Balls of Fire", "I Will Always Love You" / writer: "Baby, I'm Burnin'", "Jolene", "Two Doors Down", "Coat of Many Colors", "Appalachian Memories", "Applejack", "Do I Ever Cross Your Mind?", "Me and Little Andy", "Down From Dover", "Nine to | |
| Dolly: Live in London O2 Arena | 2009 | TV Movie performer: "Two Doors Down", "Jolene", "Backwoods Barbie", "Coat of Many Colors", "Only Dreamin'", "Shinola", "Here You Come Again", "9 to 5", "I Will Always Love You", "Jesus & Gravity", "Better Get To Livin'", "Little Sparrow", "Grass Is Blue", "Do I Ever Cross Your Mind?", "Islands In The Stream" / writer: "Two Doors Down", "Jolene", "Backwoods Barbie", "Coat of Many Colors", "Only Dreamin'", "Shinola", "9 to 5", "I Will Always Love You", "Better Get To Livin'", "Little Sparrow", "Gr | |
| Wogan | | TV Series performer - 1 episode, 1983 writer - 1 episode, 1983 | |
Music Department
| Title | Year | Status | Character |
| --- | --- | --- | --- |
| Olive | 2011 | original songs | |
| Dolly Parton Tour TV | 2011 | TV Series documentary composer - 15 episodes | |
| The Year Dolly Parton Was My Mom | 2011 | featuring the music of | |
| First Dog | 2010 | original songs | |
| Dolly: Live in London O2 Arena | 2009 | TV Movie music supervisor | |
| Dancing with the Stars | 2007 | TV Series performer - 1 episode | |
| Love Is Like a Butterfly | 2004 | Short music | |
| Blue Valley Songbird | 1999 | TV Movie original songs | |
| Unlikely Angel | 1996 | TV Movie original songs | |
| Straight Talk | 1992 | original songs written & performed by | |
| Wild Texas Wind | 1991 | TV Movie music supervisor | |
| Christmas at Home | 1990 | TV Movie documentary music supervisor | |
| Dolly | 1987-1988 | TV Series composer - 21 episodes | |
| Nine to Five | 1982-1988 | TV Series composer - 85 episodes | |
| A Smoky Mountain Christmas | 1986 | TV Movie composer: original songs | |
| Butterflies | 1978-1983 | TV Series composer - 28 episodes | |
| The Best Little Whorehouse in Texas | 1982 | composer: additional songs / music supervisor | |
| Dolly | 1976-1977 | TV Series composer - 26 episodes | |
Actress
| Title | Year | Status | Character |
| --- | --- | --- | --- |
| Lily's Driftwood Bay | 2017 | TV Series | Noleen |
| Dolly Parton's Christmas of Many Colors: Circle of Love | 2016 | TV Movie | The Painted Lady |
| A Country Christmas Story | 2013 | TV Movie | Dolly Parton |
| Dollywood's a Christmas Carol | 2013 | | Ghost of Christmas Past |
| Joyful Noise | 2012 | | G.G. Sparrow |
| The Year Dolly Parton Was My Mom | 2011 | | Dolly Parton (voice) |
| Gnomeo & Juliet | 2011 | | Dolly Gnome (voice) |
| Hannah Montana | 2006-2010 | TV Series | Aunt Dolly |
| Reba | 2005 | TV Series | Dolly Majors |
| Miss Congeniality 2: Armed and Fabulous | 2005 | | Dolly Parton |
| Frank McKlusky, C.I. | 2002 | | Edith McKlusky |
| Smoky Mountain Wilderness Adventure | 2002 | | Dolly Parton |
| Blue Valley Songbird | 1999 | TV Movie | Leanna Taylor |
| Jackie's Back! | 1999 | TV Movie | Dolly Parton |
| The Simpsons | 1999 | TV Series | Dolly Parton |
| Get to the Heart: The Barbara Mandrell Story | 1997 | TV Movie | Dolly Parton |
| Mindin' My Own Business | 1996 | TV Series | Catering Business Owner |
| The Magic School Bus | 1996 | TV Series | Katrina Eloise 'Murph' Murphy |
| Unlikely Angel | 1996 | TV Movie | Ruby Diamond |
| Naomi & Wynonna: Love Can Build a Bridge | 1995 | TV Movie | Dolly Parton |
| Big Dreams & Broken Hearts: The Dottie West Story | 1995 | TV Movie | Dolly Parton |
| Heavens to Betsy | 1994 | TV Series | Betsy Baxter |
| The Beverly Hillbillies | 1993 | | Dolly Parton |
| Straight Talk | 1992 | | Shirlee |
| Wild Texas Wind | 1991 | TV Movie | Thiola 'Big T' Rayfield |
| Babes | 1991 | TV Series | Dolly Parton |
| Designing Women | 1990 | TV Series | Dolly Parton, Guardian Movie Star |
| Steel Magnolias | 1989 | | Truvy Jones |
| A Smoky Mountain Christmas | 1986 | TV Movie | Lorna Davis |
| Rhinestone | 1984 | | Jake Farris |
| Alvin & the Chipmunks | 1983 | TV Series | Dolly Parton |
| The Best Little Whorehouse in Texas | 1982 | | Mona Stangley |
| 9 to 5 | 1980 | | Doralee Rhodes |
| Captain Kangaroo | 1976 | TV Series | Dolly Parton |
Production Manager
| Title | Year | Status | Character |
| --- | --- | --- | --- |
| Dolly | 1987-1988 | TV Series production supervisor - 22 episodes | |
Producer
| Title | Year | Status | Character |
| --- | --- | --- | --- |
| Smoky Mountains Rise: A Benefit for the My People Fund | 2016 | TV Movie executive producer | |
| Dolly Parton's Christmas of Many Colors: Circle of Love | 2016 | TV Movie executive producer | |
| Dolly Parton's Coat of Many Colors | 2015 | TV Movie executive producer | |
| Dolly Celebrates 25 Years of Dollywood | 2010 | TV Movie executive producer | |
| Dolly: Live in London O2 Arena | 2009 | TV Movie executive producer | |
| Dolly Parton: Live & Well | 2004 | Video executive producer / producer | |
| Blue Valley Songbird | 1999 | TV Movie executive producer | |
| Dolly Parton's Precious Memories | 1999 | TV Movie executive producer | |
| Mindin' My Own Business | 1996 | TV Series executive producer - 1 episode | |
| Unlikely Angel | 1996 | TV Movie executive producer | |
| Dolly Parton: Treasures | 1996 | TV Movie documentary executive producer | |
| Heavens to Betsy | 1994 | TV Series executive producer - 1 episode | |
| Wild Texas Wind | 1991 | TV Movie executive producer | |
| Christmas at Home | 1990 | TV Movie documentary executive producer | |
Writer
| Title | Year | Status | Character |
| --- | --- | --- | --- |
| Dolly Parton's My People | 2013 | writer | |
| Blue Valley Songbird | 1999 | TV Movie song "Blue Valley Songbird" | |
| Wild Texas Wind | 1991 | TV Movie story | |
| Dolly | 1987 | TV Series written by - 1 episode | |
| A Smoky Mountain Christmas | 1986 | TV Movie co-story | |
Composer
| Title | Year | Status | Character |
| --- | --- | --- | --- |
| Dollywood's a Christmas Carol | 2013 | original music by | |
| Rhinestone | 1984 | original music by | |
Miscellaneous
| Title | Year | Status | Character |
| --- | --- | --- | --- |
| Dolly Parton's Christmas of Many Colors: Circle of Love | 2016 | TV Movie introduction and narration by | |
| Dolly Parton's Coat of Many Colors | 2015 | TV Movie introduction and narration by | |
Thanks
| Title | Year | Status | Character |
| --- | --- | --- | --- |
| The Meddler | 2015 | special thanks | |
| My Collection Obsession | 2011 | TV Movie documentary special thanks | |
| The Year Dolly Parton Was My Mom | 2011 | heartfelt thanks | |
| First Dog | 2010 | special thanks | |
| The Nate Berkus Show | 2010 | TV Series special thanks - 1 episode | |
| King of Dirt | 2010 | TV Series special thanks - 1 episode | |
| Dr. Robert F. Thomas: The Great Smoky Mountain Horseback Healer of Body and Soul | 2009 | Documentary short extra special thanks | |
| For the Love of Dolly | 2006 | Documentary special thanks | |
| Chasing Rainbows: An Insiders Tour of the Chasing Rainbows Museum with Dolly Parton | 2005 | Video very special thanks | |
| Tarnation | 2003 | Documentary thanks | |
| Hedwig and the Angry Inch | 2001 | special thanks | |
| Dollywood: A Memory Worth Repeating | 1996 | Video documentary special thanks | |
| It's My Party | 1996 | special thanks | |
Self
| Title | Year | Status | Character |
| --- | --- | --- | --- |
| Good Morning, Texas | 2011 | TV Series | Herself |
| Nashville Story | 1986 | Video | Herself |
| Today | 2011 | TV Series | Herself - Guest |
| The Winning Hand | 1985 | TV Movie | Herself |
| A Current Affair | 2011 | TV Series | Herself - Guest |
| Kenny Rogers and Dolly Parton: Together | 1985 | TV Movie | Herself |
| Ellen: The Ellen DeGeneres Show | 2004-2011 | TV Series | Herself / Herself - Guest |
| All-Star Party for Burt Reynolds | 1984 | TV Movie | Herself |
| The Oprah Winfrey Show | 1989-2011 | TV Series | Herself / Herself - Guest |
| Kenny & Dolly: A Christmas to Remember | 1984 | TV Movie documentary | Herself |
| CMT: What's Your 20? 20 Greatest Women, 20 Years | 2011 | TV Movie | Herself |
| The Making of... 'Kenny & Dolly: A Christmas to Remember' | 1984 | TV Movie documentary | Herself |
| Loose Women | 2011 | TV Series | Herself |
| Breakaway | 1984 | TV Series | Herself |
| This Morning | 1992-2011 | TV Series | Herself |
| The 56th Annual Academy Awards | 1984 | TV Special documentary | Herself - Presenter: Best Actor in a Leading Role |
| Jag är min egen Dolly Parton | 2011 | Documentary | |
| Champs-Elysées | 1983 | TV Series | Herself |
| Kenny Rogers: The First 50 Years | 2011 | TV Movie | Herself |
| Live... And in Person | 1983 | TV Series | Herself |
| AFFT Video for Legislators | 2011 | Video short | Herself - Spokesperson |
| Dolly Parton Meets the Kids | 1983 | TV Movie | Herself |
| CMT: 40 Greatest Love Songs | 2011 | TV Movie | Herself |
| Dolly in Concert | 1983 | TV Special documentary | Herself |
| Larry King Live | 1992-2010 | TV Series | Herself |
| Solid Gold | 1983 | TV Series | Herself |
| Bee Gees: In Our Own Time | 2010 | TV Movie | Herself |
| Wogan | 1983 | TV Series | Herself - Musical Guest |
| The Nate Berkus Show | 2010 | TV Series | Herself |
| Good Morning Britain | 1983 | TV Series | Herself - Guest |
| Bert the Conqueror | 2010 | TV Series | Herself |
| 17th Annual Country Music Association Awards | 1983 | TV Special | Herself - Performer |
| Dolly Celebrates 25 Years of Dollywood | 2010 | TV Movie | Herself - Host |
| The Barbara Walters Summer Special | 1977-1982 | TV Series | Herself |
| Good Day New York | 2010 | TV Series | Herself |
| The Best Little Special in Texas | 1982 | TV Movie documentary | Herself |
| E! News Live | 1998-2010 | TV Series | Herself |
| Roy Acuff... 50 Years the King of Country Music | 1982 | TV Special | Herself |
| CTV National News | 2010 | TV Series | Herself - Interviewee |
| The 53rd Annual Academy Awards | 1981 | TV Special | Herself - Performer |
| Investing in a Dream: The Story of Dollywood | 2010 | TV Movie documentary | Herself |
| Lily: Sold Out | 1981 | TV Movie | Herself |
| The Marty Stuart Show | 2010 | TV Series | Herself - Special Guest |
| The 38th Annual Golden Globe Awards | 1981 | TV Special | Herself - Nominee |
| King of Dirt | 2010 | TV Series | Herself |
| Dolly Parton: On Tour | 1980 | TV Movie | Herself - Performer |
| Dolly Parton's Hometown Story | 2010 | Short | Herself |
| Barbara Mandrell and the Mandrell Sisters | 1980 | TV Series | Herself |
| The Alan Titchmarsh Show | 2010 | TV Series | Herself |
| The Merv Griffin Show | 1975-1980 | TV Series | Herself / Herself - Vocalist / Actress |
| Master Series | 2007-2010 | TV Series | Herself - Guest |
| Mac Davis 10th Anniversary Special: I Still Believe in Music | 1980 | TV Movie | Herself |
| Noel's Christmas Presents | 2009 | TV Special | Herself - Guest |
| Johnny Cash: The First 25 Years | 1980 | TV Special | Herself |
| Carrie Underwood: An All-Star Holiday Special | 2009 | TV Movie | Herself |
| The 52nd Annual Academy Awards | 1980 | TV Special | Herself - Co-Presenter |
| Fern Britton Meets... | 2009 | TV Series | Herself - Participant |
| A Christmas Special... With Love, Mac Davis | 1979 | TV Movie | Herself |
| GAC Nights | 2008-2009 | TV Series | Herself - Guest |
| Country Superstars of the 70s | 1979 | TV Movie | Herself - Host |
| The Joy Behar Show | 2009 | TV Series | Herself |
| 13th Annual Country Music Association Awards | 1979 | TV Special | Herself - Performer |
| The Jay Leno Show | 2009 | TV Series | Herself |
| The Midnight Special | 1975-1979 | TV Series | Herself / Herself - Host |
| Jerry Lewis MDA Labor Day Telethon | 1990-2009 | TV Series | Herself - Performer |
| Dolly and Carol in Nashville | 1979 | TV Movie | Herself |
| Revealed | 2009 | TV Series | Herself |
| Big Night | 1978 | TV Series | Herself - Guest |
| 17 Kids and Counting | 2009 | TV Series documentary | Herself |
| Pop! Goes the Country | 1974-1978 | TV Series | Herself |
| Dolly: Live in London O2 Arena | 2009 | TV Movie | Herself - Performer |
| Tonight | 1978 | TV Series | Herself - Guest |
| The 63rd Annual Tony Awards | 2009 | TV Special | Herself - Nominee & Performer |
| The Hollywood Squares | 1976-1978 | TV Series | Herself |
| Charlie Rose | 2009 | TV Series | Herself |
| 12th Annual Country Music Association Awards | 1978 | TV Special | Herself - Performer |
| The Early Show | 2003-2009 | TV Series | Herself |
| Cher... Special | 1978 | TV Movie | Herself |
| The Visa Signature Tony Awards Season Celebration | 2009 | TV Special | Herself |
| The 5th Annual American Music Awards | 1978 | TV Special | Herself |
| The View | 1998-2009 | TV Series | Herself |
| 50 Years of Country Music | 1978 | TV Movie | Herself - Host |
| The Book Lady | 2009 | Documentary | Herself |
| 11th Annual Country Music Association Awards | 1977 | TV Special | Herself - Performer |
| Dr. Robert F. Thomas: The Great Smoky Mountain Horseback Healer of Body and Soul | 2009 | Documentary short | Herself |
| Mac Davis: Sounds Like Home | 1977 | TV Movie | Herself - Performer |
| 60 Minutes | 1986-2009 | TV Series documentary | Herself (segment "Dolly") / Herself |
| The Mike Douglas Show | 1970-1977 | TV Series | Herself - Co-Host / Herself / Herself - County Vocalist |
| Studio 330 Sessions | 2009 | TV Series | Herself - Performer |
| Musikladen | 1977 | TV Series | Herself |
| The Morning Show with Mike & Juliet | 2009 | TV Series | Herself |
| Captain Kangaroo | 1977 | TV Series | Herself |
| Biography | 1998-2009 | TV Series documentary | Herself |
| The 19th Annual Grammy Awards | 1977 | TV Special | Herself |
| National Press Club Luncheon | 2000-2009 | TV Series | Herself |
| The 4th Annual American Music Awards | 1977 | TV Special | Herself |
| One on One | 2009 | TV Series | Herself |
| Dolly | 1976-1977 | TV Series | Herself - Host |
| CMT 100 Greatest Videos | 2008 | TV Movie | Herself |
| 10th Annual Country Music Association Awards | 1976 | TV Special | Herself - Performer |
| Close-Up | 2008 | TV Series | Herself |
| Sing Country 1976 | 1976 | TV Movie | Herself - Performer |
| Canada A.M. | 2008 | TV Series | Herself |
| Festival of Entertainment | 1976 | TV Movie | Herself |
| GMTV | 2002-2008 | TV Series | Herself |
| Dinah! | 1976 | TV Series | Herself - Performer |
| American Idol | 2008 | TV Series | Herself - Guest Performer / Herself - Guest / Mentor |
| The Ronnie Prophet Show | 1975 | TV Series | Herself |
| What Perez Sez | 2008 | TV Series | Herself |
| 9th Annual Country Music Association Awards | 1975 | TV Special | Herself - Performer |
| CMT Online Awards | 2008 | TV Special | Herself |
| Sing Country 1975 | 1975 | TV Movie | Herself - Performer |
| Project Mom | 2008 | TV Series | Herself |
| In Concert | 1975 | TV Series | Herself |
| Jake's Adventures in Dollyworld | 2007 | TV Movie documentary | Herself |
| Hee Haw | 1970-1975 | TV Series | Herself / Herself - Special Guest |
| BBC Look North: Yorkshire and North Midlands | 2007 | TV Series | Herself |
| Candid Camera | 1975 | TV Series | Herself |
| Macy's Thanksgiving Day Parade | 2007 | TV Movie documentary | Herself |
| The Porter Wagoner Show | 1967-1975 | TV Series | Herself / Herself - Guest / Herself - Special Guest Host |
| Good Day Sacramento | 2007 | TV Series | Herself - Guest |
| 8th Annual Country Music Association Awards | 1974 | TV Special | Herself - Performer |
| Dancing with the Stars | 2007 | TV Series | Herself - Special Musical Guest |
| Dinah's Place | 1974 | TV Series | Herself |
| Yusuf Islam: A Few Good Songs | 2007 | TV Movie documentary | Herself |
| Burt Reynolds' Late Show | 1973 | TV Movie | Herself |
| 'Transamerica': Travelin' Thru | 2007 | Short | Herself |
| RCA's Opening Night | 1973 | TV Movie | Herself |
| Grand Ole Opry | 1988-2007 | TV Series | Herself - Performer / Herself - Host / Performer / ... |
| The Rowan and Martin Special | 1973 | TV Movie | Herself |
| God kveld Norge | 2007 | TV Series | Herself |
| The Wilburn Brothers Show | 1967-1973 | TV Series | Herself - Performer |
| The Kennedy Center Honors: A Celebration of the Performing Arts | 2006 | TV Special | Herself - Honoree |
| That Good Ole Nashville Music | 1971 | TV Series | Herself - Guest Performer |
| Barney's Holiday Extravaganza | 2006 | Video short | Herself |
| The David Frost Show | 1971 | TV Series | Herself |
| CMT Giants | 2006 | TV Series | Herself - Performer |
| The Nashville Sound | 1970 | Documentary | Herself |
| In the Cutz | 2006 | TV Series | Herself |
| The Kraft Music Hall | 1968-1970 | TV Series | Herself |
| CMT: The Greatest - 40 Days That Shaped Country Music | 2006 | TV Movie documentary | Herself |
| An Old-Time Country Christmas | 1969 | TV Movie | Herself |
| CMT: The Greatest - 40 Greatest Albums | 2006 | TV Movie documentary | Herself |
| Music City USA | 1967 | TV Series | Herself - Guest Performer |
| CMT Greatest Moments: Wynonna | 2006 | TV Movie documentary | Herself |
| The Early Morning Show | 1964 | TV Series | Herself |
| CMT Greatest Myths 3: Even More Rumors, Legends and Downright Lies | 2006 | TV Movie | Herself |
| The Ralph Emery Early Morning Show | 1963 | TV Series | Herself (1967) |
| Naomi's New Morning | 2006 | TV Series | Herself |
| Cas Walker Farm and Home Hour | 1954 | TV Series | Herself (1956-1964) |
| CMT Greatest Moments: Dolly Parton | 2006 | TV Movie documentary | Herself |
| For Which WE Stand (One Queer Music Nation in the Visible) | | Documentary | Herself |
| CMT Greatest Moments: Willie Nelson | 2006 | TV Special | Herself |
| Imagine | 2006 | TV Series documentary | Herself |
| Heartland | 2006 | TV Series | Herself |
| Get Out There! | 2006 | TV Series | Herself |
| Showbiz Tonight | 2005-2006 | TV Series | Herself |
| CBS News Sunday Morning | 2004-2006 | TV Series | Herself |
| E!'s Live 2006 Academy Awards Post Show | 2006 | TV Special | Herself |
| E! Live from the Red Carpet | 2006 | TV Series | Herself |
| Joan & Melissa: Live at the Academy Awards | 2006 | TV Special | Herself |
| The 78th Annual Academy Awards | 2006 | TV Special | Herself - Nominee: Best Original Song and Performer: Travelin' Thru |
| For the Love of Dolly | 2006 | Documentary | Herself |
| The Late Late Show with Craig Ferguson | 2006 | TV Series | Herself |
| HARDtalk Extra | 2006 | TV Series | Herself |
| The Heaven and Earth Show | 2001-2006 | TV Series | Herself |
| CMT: The Greatest - 20 Sexiest Men | 2006 | TV Special | Herself |
| Isaac | 2005 | TV Series | Herself |
| The Tony Danza Show | 2005 | TV Series | Herself |
| 39th Annual Country Music Association Awards | 2005 | TV Special | Herself - Performer |
| Late Night with Conan O'Brien | 2001-2005 | TV Series | Herself |
| Behind the Scenes at Dolly Parton's Dixie Stampede | 2005 | Video short | Herself |
| Chasing Rainbows: An Insiders Tour of the Chasing Rainbows Museum with Dolly Parton | 2005 | Video | Herself - Tour Guide |
| CMT: 100 Greatest Duets Concert | 2005 | TV Special | Herself - Performer |
| CMA Music Festival: Country Music's Biggest Party | 2005 | TV Movie | Herself |
| Tootsie's Orchid Lounge: Where the Music Began | 2005 | Video | Herself |
| Hollywood Greats | 2005 | TV Series documentary | Herself |
| Dolly's Imagination Playhouse | 2005 | Short | Herself |
| E! True Hollywood Story | 2005 | TV Series documentary | Herself |
| Imagine | 2005/II | Short | Herself |
| Shakespeare Was a Big George Jones Fan: 'Cowboy' Jack Clement's Home Movies | 2005 | Documentary | Herself |
| Norah Jones & the Handsome Band: Live in 2004 | 2004 | TV Special documentary | Herself - Special Guests: 'Creepin' In' |
| 38th Annual Country Music Association Awards | 2004 | TV Special | Herself - Presenter: Entertainer of the Year |
| Country Requests Live | 2004 | TV Series | Herself |
| The Paul O'Grady Show | 2004 | TV Series | Herself |
| CMT Flame Worthy Video Music Awards | 2004 | TV Special | Herself - Host |
| Dolly Parton: Live & Well | 2004 | Video | Herself |
| CMT 100 Greatest Love Songs of Country Music | 2004 | TV Special | Herself - Performer |
| On-Air with Ryan Seacrest | 2004 | TV Series | Herself |
| CMT Flame Worthy Video Music Awards Pre-Party | 2004 | TV Special | Herself |
| U.S. Library of Congress: I Hear America Singing with Dolly Parton | 2004 | TV Movie | Herself |
| Stars in Their Eyes | 2004 | TV Series | Herself |
| Parking Lot | 2004 | TV Series documentary | Herself |
| CMT Crossroads | 2003 | TV Series | Herself - Performer |
| The Mark Twain Prize: Lily Tomlin | 2003 | TV Movie | Herself |
| The O'Reilly Factor | 2003 | TV Series | Herself |
| 37th Annual Country Music Association Awards | 2003 | TV Special | Herself - Performer |
| Women Rock! Concert: Songs from the Movies | 2003 | TV Special | Herself - Performer |
| The Terry and Gaby Show | 2003 | TV Series | Herself |
| Dolly Parton: Behind the Scenes | 2003 | Video | Herself |
| The John Walsh Show | 2003 | TV Series | Herself - Performer |
| We Shall Behold Him: A Tribute to Dottie Rambo | 2003 | Video | Herself - Performer |
| A Capitol Fourth | 2003 | TV Movie | Herself |
| MWL Star | 2003 | TV Series | Herself |
| Our Country | 2003 | Documentary short | Herself |
| Willie Nelson & Friends: Live and Kickin' | 2003 | TV Special | Herself |
| Inside Fame | 2002-2003 | TV Series documentary | Herself |
| Travel Channel Secrets Of | 2003 | TV Series | Herself - Guide |
| Lost Highway | 2003 | TV Mini-Series documentary | Herself |
| Stars Over Texas Concert | 2003 | TV Movie | Herself - Performer |
| Songs of Praise | 2003 | TV Series | Herself |
| Dolly Parton: Platinum Blonde | 2003 | TV Movie documentary | Herself |
| Kelly | 2002 | TV Series | Herself |
| Harlem to Hollywood | 2017 | TV Movie documentary completed | Herself |
| 36th Annual Country Music Association Awards | 2002 | TV Special | Herself - Presenter / Performer |
| Celebrating Laughter: The Life and Films of Colin Higgins | 2017 | Documentary post-production | Herself |
| Uncut: The True Story of Hair | 2002 | Documentary | Herself |
| Morning Express with Robin Meade | 2012-2017 | TV Series | Herself / Herself - Guest |
| Today with Des and Mel | 2002 | TV Series | Herself |
| Born in Bristol | 2017 | Documentary | Herself |
| BingoLotto | 2002 | TV Series | Herself - Performer |
| Entertainment Tonight | 1995-2017 | TV Series | Herself |
| TROS TV Show | 2002 | TV Series documentary | Herself - Performer |
| 23rd Annual Screen Actors Guild Awards | 2017 | TV Special | Herself - Presenter |
| The Frank Skinner Show | 2002 | TV Series | Herself |
| The Insider | 2005-2017 | TV Series | Herself |
| CMT: 40 Greatest Women of Country Music | 2002 | TV Movie documentary | Herself |
| Weekend Today | 2016 | TV Series | Herself |
| CMT Most Wanted Live | 2001-2002 | TV Series | Herself |
| ABC World News Tonight with David Muir | 2016 | TV Series | Herself - Person of the Week |
| American Morning | 2002 | TV Series | Herself |
| The 85th Annual Hollywood Christmas Parade | 2016 | TV Movie | Herself |
| CMT Flame Worthy Video Music Awards | 2002 | TV Special | Herself |
| A Pentatonix Christmas Special | 2016 | TV Movie | Herself |
| Cool Women | 2002 | TV Series documentary | Herself |
| Smoky Mountains Rise: A Benefit for the My People Fund | 2016 | TV Movie | Herself - Host |
| Graham Goes to Dollywood | 2001 | TV Special documentary | Herself |
| The Smoky Mountain Wildfires Telethon | 2016 | TV Special | Herself |
| CNN World Beat | 2001 | TV Series | Herself |
| Christmas in Rockefeller Center | 2016 | TV Movie | Herself |
| 36th Annual Academy of Country Music Awards | 2001 | TV Special | Herself |
| Hollywood Today Live | 2016 | TV Series | Herself |
| Austin City Limits | 2001 | TV Series documentary | Herself |
| The Real | 2016 | TV Series | Herself |
| So Graham Norton | 2001 | TV Series | Herself |
| The Voice | 2015-2016 | TV Series | Herself - Guest Mentor |
| The 43rd Annual Grammy Awards | 2001 | TV Special | Herself - Nominee / Presenter / Performer |
| Today | 1984-2016 | TV Series | Herself / Herself - Musical Guest / Herself - Performer |
| Open House | 2001 | TV Series documentary | Herself |
| Access Hollywood | 2006-2016 | TV Series | Herself |
| Parkinson | 1979-2001 | TV Series | Herself |
| The 50th Annual CMA Awards | 2016 | TV Movie | Herself |
| Wave to the World | 2000 | Video short | Herself |
| All Access Nashville: Celebrating the CMA Awards with Robin Roberts | 2016 | TV Movie | Herself |
| Grand Ole Opry 75th: A Celebration | 2000 | TV Special | Herself - Host / Performer |
| Jimmy Kimmel Live! | 2016 | TV Series | Herself - Musical Guest |
| Bette | 2000 | TV Series | Herself |
| The Talk | 2011-2016 | TV Series | Herself - Guest / Herself |
| Chet Atkins: A Life in Music | 2000 | TV Movie | Herself |
| American Graduate Day | 2016 | TV Special | Herself |
| 35th Annual Academy of Country Music Awards | 2000 | TV Special | Herself - Host |
| Steve Harvey | 2016 | TV Series | Herself |
| Showbiz Today | 1996-2000 | TV Series | Herself |
| On the Money | 2016 | TV Series | Herself |
| 31st Annual Gospel Music Association's Dove Awards | 2000 | TV Special | Herself - Performer |
| Larry King Now | 2016 | TV Series | Herself / Herself - Guest |
| Top Ten | 1998-2000 | TV Series documentary | Herself |
| Fox and Friends | 2006-2016 | TV Series | Herself / Herself - Country Music Legend / Herself - Guest |
| Donny & Marie | 1999 | TV Series | Herself |
| The Tonight Show Starring Jimmy Fallon | 2014-2016 | TV Series | Herself / Herself - Guest |
| The Martin Short Show | 1999 | TV Series | Herself |
| CMT Hot 20 Countdown | 2007-2016 | TV Series | Herself / Herself - Special Guest / Herself - Guest |
| The National Lottery | 1998-1999 | TV Series | Herself / Herself - Guest Presenter |
| Cocktails & Classics | 2016 | TV Series | Herself |
| 33rd Annual Country Music Association Awards | 1999 | TV Special | Herself - Performer / Country Music Hall of Fame Honoree |
| Home & Family | 2015-2016 | TV Series | Herself |
| CBS This Morning | 1989-1999 | TV Series | Herself |
| CBS This Morning | 2016 | TV Series | Herself |
| Bravo Profiles | 1999 | TV Series documentary | Herself |
| The 700 Club | 2016 | TV Series | Herself |
| The South Bank Show | 1999 | TV Series documentary | Herself |
| 51st Annual Academy of Country Music Awards | 2016 | TV Movie | Herself |
| Dolly Parton's Precious Memories | 1999 | TV Movie | Herself - Host / Performer |
| Pop Wrapped TV | 2016 | TV Series documentary | Herself |
| Prime Time Country | 1996-1999 | TV Series | Herself |
| Extra | 2006-2016 | TV Series | Herself |
| The Howie Mandel Show | 1998-1999 | TV Series | Herself |
| The 24th Annual Movieguide Awards | 2016 | TV Special | Herself |
| The Rosie O'Donnell Show | 1996-1999 | TV Series | Herself - Guest |
| FabLife | 2015 | TV Series | Herself |
| Live by Request: Vince Gill | 1999 | TV Special | Herself |
| CMT Artists of the Year 2015 | 2015 | TV Movie | Herself |
| CMT Hit Trip | 1999 | TV Series | Herself |
| American Graduate Day 2015 | 2015 | TV Movie | Herself |
| Intimate Portrait | 1999 | TV Series documentary | Herself |
| Mama Mae: The Life and Music of Mae Boren Axton | 2015 | Documentary | Herself |
| CMT Showcase | 1998 | TV Series | Herself |
| The Heart of Country: How Nashville Became Music City USA | 2014 | TV Movie documentary | Herself |
| Des O'Connor Tonight | 1998 | TV Series | Herself - Performer |
| Backstory: Dolly Parton | 2014 | TV Movie | Herself |
| Midday | 1998 | TV Series | Herself |
| Good Morning Britain | 2014 | TV Series | Herself |
| TFI Friday | 1998 | TV Series | Herself - Performer |
| The One Show | 2007-2014 | TV Series | Herself |
| This Week in Country Music | 1997-1998 | TV Series | Herself |
| Better | 2011-2014 | TV Series | Herself / Herself - Guest |
| Unspoiled Country | 1998 | TV Movie documentary | Herself |
| The Wendy Williams Show | 2010-2014 | TV Series | Herself |
| Crook & Chase | 1998 | TV Series | Herself |
| Imus in the Morning | 2014 | TV Series | Herself - Guest |
| Paradise Road: The Life and Songs of Dolly Parton | 1998 | Short | Herself |
| Wake Up with Al | 2014 | TV Series | Herself |
| Tammy Wynette: First Lady of Country Memorial Service | 1998 | TV Special | Herself - Speaker / Performer |
| Headline Country | 2003-2014 | TV Series | Herself |
| Prime Time Country Celebrates 15 Years of TNN | 1998 | TV Movie | Herself |
| American Pickers | 2014 | TV Series documentary | Herself |
| British Country Music Awards | 1997 | TV Special | Herself |
| Entertainment Tonight Canada | 2008-2014 | TV Series | Herself |
| Company's Comin': A Tribute to Porter Wagoner | 1997 | TV Movie | Herself |
| Dolly Parton Q Sessions Live from Nashville - Featuring 'Blue Smoke' | 2014 | TV Movie | Herself - Performer |
| Dolly Parton: She Ain't No Dumb Blonde | 1997 | TV Movie documentary | Herself |
| Fox Business | 2009-2014 | TV Series | Herself |
| Dollywood: A Memory Worth Repeating | 1996 | Video documentary | Herself |
| The Big Interview with Dan Rather | 2014 | TV Series | Herself |
| Dolly Parton: Treasures | 1996 | TV Movie documentary | Herself |
| Tosh.0 | 2014 | TV Series | Herself |
| The Late Late Show with Tom Snyder | 1996 | TV Series | Herself |
| Studio 10 | 2014 | TV Series | Herself - Guest |
| 30th Annual Country Music Association Awards | 1996 | TV Special | Herself - Performer |
| Sunrise | 2006-2014 | TV Series | Herself |
| America's Music: The Roots of Country | 1996 | TV Mini-Series documentary | Herself |
| Breakfast | 2014 | TV Series | Herself |
| The Grand Ole Opry Musical Salute to Minnie Pearl | 1996 | TV Movie | Herself |
| Dolly Parton @ Glastonbury 2014 | 2014 | TV Movie | Herself |
| Grand Ole Opry 70th Anniversary | 1996 | TV Special | Herself |
| Kenny & Dolly: An Intimate Conversation | 2013 | TV Special | Herself |
| Heartsong | 1995 | Short documentary | Herself |
| 20/20 | 2013 | TV Series documentary | Herself |
| 29th Annual Country Music Association Awards | 1995 | TV Special | Herself - Performer |
| The Magazine | 2013 | TV Series | Herself |
| Music City Tonight | 1995 | TV Series | Herself - Performer |
| Seven Sharp | 2013 | TV Series | Herself |
| Opry Backstage | 1995 | TV Series | Herself |
| The Project | 2013 | TV Series | Herself |
| Kenny Rogers Going Home | 1995 | TV Movie | Herself |
| Daybreak | 2011-2013 | TV Series | Herself |
| The Best of Elwood Smooch | 1994 | | Herself |
| The Queen Latifah Show | 2013 | TV Series | Herself - Guest |
| Donahue | 1977-1994 | TV Series | Herself |
| 60 Minutes | 2013 | TV Series | Herself |
| The 10th TV Academy Hall of Fame | 1994 | TV Movie documentary | Herself |
| Good Morning America | 1980-2013 | TV Series | Herself / Herself - Performer |
| 28th Annual Country Music Association Awards | 1994 | TV Special | Herself - Performer |
| Top 20 Country Countdown | 2008-2013 | TV Series | Herself - Guest / Herself |
| Ralph Emery on the Record | 1994 | TV Series | Herself |
| Dolly Parton's My People | 2013 | | Herself |
| A Current Affair | 1994 | TV Series | Herself - Guest |
| Song by Song | 2013 | TV Series | Herself |
| Dateline NBC | 1994 | TV Series documentary | Herself |
| Morning Joe | 2013 | TV Series | Herself |
| 28th Annual TNN/Music City News Country Awards | 1994 | TV Special | Herself |
| Renfro Valley All Access | 2013 | TV Series | Herself |
| The 66th Annual Academy Awards | 1994 | TV Special | Herself - Co-Performer: The Day I Fall in Love |
| The Hour | 2012 | TV Series | Herself |
| The 36th Annual Grammy Awards | 1994 | TV Special | Herself - Presenter |
| Live with Kelly and Ryan | 1989-2012 | TV Series | Herself / Herself - Guest Host / Herself - Guest |
| Sunset Music Festival | 1993 | TV Movie | Herself - Host / Performer |
| The Colbert Report | 2012 | TV Series | Herself |
| 27th Annual Country Music Association Awards | 1993 | TV Special | Herself - Performer / Presenter: Entertainer of the Year |
| ABC News Nightline | 2012 | TV Series | Herself |
| The Arsenio Hall Show | 1990-1993 | TV Series | Herself |
| Ann Richards' Texas | 2012 | Documentary | Herself |
| Bill Monroe: Father of Bluegrass Music | 1993 | TV Movie documentary | Herself |
| Backstory: Kenny Rogers | 2012 | TV Movie | Herself |
| Kathie Lee Gifford's Celebration of Motherhood | 1993 | TV Movie | Herself |
| Katie | 2012 | TV Series | Herself |
| Late Night with David Letterman | 1987-1993 | TV Series | Herself |
| Breakfast | 2002-2012 | TV Series | Herself |
| The Joan Rivers Show | 1993 | TV Series | Herself |
| Scotland Tonight | 2012 | TV Series | Herself |
| Billy Ray Cyrus: Dreams Come True | 1993 | TV Special documentary | Herself |
| Lorraine | 2011-2012 | TV Series | Herself |
| Country Music Association's 35th Anniversary | 1993 | TV Special | Herself |
| The Bachelorette | 2012 | TV Series | Herself |
| Celebrities Offstage | 1992 | TV Series | Herself |
| The Balancing Act | 2011-2012 | TV Series | Herself - Guest |
| 26th Annual Country Music Association Awards | 1992 | TV Special | Herself - Performer |
| Inside Music Row | 2012 | TV Series | Herself |
| Burt Reynolds' Conversations with... | 1992 | TV Movie | Herself |
| Dr Steve | 2012 | TV Series | Herself |
| Burt Reynolds' Conversation With | 1992 | TV Series | Herself |
| The Revolution | 2012 | TV Series | Herself |
| The Tonight Show Starring Johnny Carson | 1977-1992 | TV Series | Herself - Guest |
| CNN Newsroom | 2012 | TV Series | Herself |
| Bob Hope's America: Red, White and Beautiful | 1992 | TV Special | Herself |
| On the Streets | 2009-2012 | TV Series | Herself |
| Walt Disney World's 20th Anniversary Celebration | 1991 | TV Special | Herself |
| CMT Insider | 2004-2012 | TV Series | Herself |
| 25th Annual Country Music Association Awards | 1991 | TV Special | Herself - Performer |
| Huckabee | 2012 | TV Series | Herself |
| Into the Night | 1991 | TV Series | Herself |
| CBS This Morning: Saturday | 2012 | TV Series | Herself |
| Texas, Our Texas Inaugural Gala | 1991 | TV Movie | Herself |
| Inside Edition | 2006-2012 | TV Series documentary | Herself |
| Christmas at Home | 1990 | TV Movie documentary | Herself |
| NewsNation with Tamron Hall | 2012 | TV Series | Herself |
| 24th Annual Country Music Association Awards | 1990 | TV Special | Herself - Performer |
| ES.TV HD | 2012 | TV Series | Herself - Guest |
| Holiday Gourmet | 1990 | TV Series | Herself |
| IC Places Hollywood | 2012 | TV Series | Herself |
| 21st Annual Gospel Music Association's Dove Awards | 1990 | TV Special | Herself - Special Guest Performance "He's Alive" |
| Anderson Live | 2012 | TV Series | Herself - Guest |
| An All Star Salute to Country Music | 1990 | TV Movie | Herself |
| 106 & Park Top 10 Live | 2012 | TV Series | Herself - Guest |
| Kenny, Dolly and Willie: Something Inside So Strong | 1989 | TV Movie | Herself |
| Access Hollywood Live | 2012 | TV Series | Herself |
| 23rd Annual Country Music Association Awards | 1989 | TV Special | Herself - Performer |
| Late Night with Jimmy Fallon | 2012 | TV Series | Herself |
| The Pat Sajak Show | 1989 | TV Series | Herself - Musical Guest |
| The Daily Show | 2005-2012 | TV Series | Herself |
| Saturday Night Live | 1989 | TV Series | Herself - Host / Various / Musical Guest |
| Late Show with David Letterman | 1994-2012 | TV Series | Herself / Herself - Guest / Musical Guest |
| Nashville Now | 1989 | TV Series | Herself - Guest |
| The Joy of Country | 2011 | TV Movie | Herself |
| The 1989 Miss Tennessee Pageant | 1989 | TV Special | Herself - Special Musical Guest |
| VH1 Divas Celebrates Soul | 2011 | TV Movie | Herself |
| Bob Hope's Jolly Christmas Show | 1988 | TV Movie | Herself |
| Made in Hollywood | 2011 | TV Series | Herself |
| 22nd Annual Country Music Association Awards | 1988 | TV Special | Herself - Host / Performer |
| How Sweet the Sound Finale | 2011 | TV Special | Herself |
| Dolly | 1987-1988 | TV Series | Herself - Host |
| Dolly Parton Tour TV | 2011 | TV Series documentary | Herself - Narrator |
| Aspel & Company | 1988 | TV Series | Herself |
| The 7PM Project | 2011 | TV Series | Herself |
| The 23rd Annual Academy of Country Music Awards | 1988 | TV Special | Herself |
| Strictly Come Dancing | 2011 | TV Series | Herself - Musical Guest |
| The 14th Annual People's Choice Awards | 1988 | TV Special documentary | Herself - Winner: Favourite All Around Female Entertainer and Winner: Favourite Female Performer in New Television Program |
| My Collection Obsession | 2011 | TV Movie documentary | Herself |
| Hour Magazine | 1987 | TV Series | Herself |
| Crook & Chase | 2009-2011 | TV Series | Herself |
| This Is Your Life | 1987 | TV Special | Herself |
| The Tonight Show with Jay Leno | 1993-2011 | TV Series | Herself / Herself - Musical Guest |
| Nightlife | 1987 | TV Series | Herself |
| The Collection | 2011 | TV Series | Herself |
| Walt Disney's Wonderful World of Color | 1986 | TV Series | Herself |
| Hollywood to Dollywood | 2011 | Documentary | Herself |
| Cover Story | 1986 | TV Series | Herself |
| Tonight's the Night | 2011 | TV Series | Herself |
| 20th Annual Music City News Awards | 1986 | TV Special | Herself - Presenter |
| Big Morning Buzz Live | 2011 | TV Series | Herself |
| Grand Ole Opry 60th Anniversary | 1986 | TV Movie | Herself |
Archive Footage
| Title | Year | Status | Character |
| --- | --- | --- | --- |
| National Enquirer Investigates | 2017 | TV Series | Herself |
| Good Morning Britain | 2017 | TV Series | Herself |
| The Big Interview with Dan Rather | 2016 | TV Series | Herself |
| Entertainment Tonight | 2006-2016 | TV Series | Herself |
| Extra | 2015-2016 | TV Series | Herself |
| Access Hollywood | 2006-2016 | TV Series | Herself |
| Home & Family | 2016 | TV Series | Herself |
| 60 Minutes | 2009-2016 | TV Series documentary | Herself (segment "Dolly") / Herself - Actress |
| My Music: 60s & 70s Slow Songs | 2015 | TV Movie | Herself |
| 20 Moments That Rocked Pop | 2015 | TV Movie documentary | Herself (uncredited) |
| Glastonbury Golden Greats | 2015 | TV Movie | Herself |
| Pop Gold | 2015 | TV Mini-Series | Herself |
| Wogan: The Best Of | 2015 | TV Series | Herself |
| Dolly Parton: Queen of Country | 2015 | | Herself |
| Dolly Parton: Early Morning Breeze | 2014 | Video short | Herself - Performer |
| Somewhere Over the Rainbow | 2014 | TV Movie documentary | Herself (uncredited) |
| Media Buzz | 2014 | TV Series | Herself |
| Barbara Walters: Her Story | 2014 | TV Movie | Herself |
| Dolly: A Collection of Hits & Duets | 2014 | Video | Herself - Performer |
| The Fabulous Life of | 2014 | TV Series documentary | Herself |
| New Year's Rockin' Eve Presents the 30 Greatest Women in Music | 2013 | TV Movie | Herself - Performer |
| For the Love of Music: The Story of Nashville | 2013 | Documentary | Herself |
| Live with Kelly and Ryan | 2013 | TV Series | Herself |
| Inequality for All | 2013 | Documentary | Doralee Rhodes |
| We Will Always Love You: A Grammy Salute to Whitney Houston | 2012 | TV Movie documentary | Herself |
| 20/20 | 2012 | TV Series documentary | Herself - Country Singer (segment "The Greatest Women of Country Music") |
| Sunday Night | 2012 | TV Series | Herself |
| American Masters | 2012 | TV Series documentary | Herself |
| CMT Insider | 2006-2012 | TV Series | Herself / G.G. Sparrow |
| No me la puc treure del cap | 2011 | TV Series | Herself |
| Country at the BBC | 2011 | TV Movie | Herself |
| CMT Hot 20 Countdown | 2007-2011 | TV Series | Herself |
| Why Not? With Shania Twain | 2011 | TV Series documentary | Herself |
| Opry Memories | 2011 | TV Movie | Herself |
| Top 20 Country Countdown | 2008-2011 | TV Series | Herself |
| The 53rd Annual Grammy Awards | 2011 | TV Special | Herself |
| Hannah Montana | 2010 | TV Series | Aunt Dolly |
| Video Nasties: Moral Panic, Censorship & Videotape | 2010 | Documentary | Herself |
| A Capitol Fourth | 2010 | TV Movie documentary | Herself |
| Rare Southern Gospel Singing Celebration | 2010 | Video | Herself - Performer |
| Country's Greatest Stars Live: Vol. 1 | 2010 | Video | Herself - Host |
| Charlie Rose | 2009 | TV Series | Herself |
| Crook & Chase | 2009 | TV Series | Herself |
| The Queens of Country | 2009 | Video | Herself - Performer |
| Best of CMT Music Awards | 2009 | TV Special | Herself |
| 20 to 1 | 2006-2009 | TV Series documentary | Herself |
| Dolly Parton & Friends: Love Always - Live from Texas | 2009 | Video | Herself - Performer |
| Larry King Live | 2001-2009 | TV Series | Herself |
| The Best of the Porter Wagoner Show! Classic Shows: Vol. 1 | 2008 | Video | Herself |
| The Best of the Porter Wagoner Show! Classic Shows: Vol. 2 | 2008 | Video | Herself |
| The Best of the Porter Wagoner Show! Classic Shows: Vol. 3 | 2008 | Video | Herself |
| The Best of the Wilburn Brothers Show! Classic Shows: Vol. 3 | 2008 | Video | Herself |
| The O'Reilly Factor | 2008 | TV Series | Herself |
| Mike Douglas: Moments & Memories | 2008 | Video | Herself |
| Come Feud with Me: The Top 10 Disney Channel Character Feuds | 2008 | Video short | Aunt Dolly |
| Hannah Montana: One in a Million | 2008 | Video | Aunt Dolly |
| Grand Ole Opry | 2007 | TV Series | Herself |
| Have I Got News for You | 2007 | TV Series | Herself |
| Opry Video Classics: Duets | 2007 | Video | Herself |
| Opry Video Classics: Legends | 2007 | Video | Herself |
| Opry Video Classics: Love Ballads | 2007 | Video | Herself |
| Opry Video Classics: Queens | 2007 | Video | Herself |
| Opry Video Classics: The Hall of Fame | 2007 | Video | Herself |
| 41st Annual Country Music Association Awards | 2007 | TV Special | Herself |
| Josh Turner: My Road to the Opry | 2007 | TV Movie documentary | Herself |
| The Best of the Doves Marathon | 2007 | TV Movie | Herself - Performer |
| CNN Presents | 2007 | TV Series documentary | Herself |
| Dolly Parton & Friends | 2007 | Video | Herself - Host |
| 40th Annual Country Music Association Awards | 2006 | TV Special | Herself |
| CMT Stacked | 2006 | TV Series | Herself |
| The Barbara Walters Summer Special | 2006 | TV Series | Herself |
| Race to the Red Carpet: 2006 Country Music Awards | 2006 | TV Special | Herself |
| Brad Paisley: The Video Collection | 2006 | Video short | Herself |
| Dolly Parton: The Acoustic Collection, 1999-2002 | 2006 | Video short | Herself |
| Best of Country Live! | 2006 | Video | Herself |
| Kenny Rogers: The Journey | 2006 | Video | Herself |
| Sugar Hill Records: A Retrospective | 2006 | Video documentary | Herself - Performer |
| Today's Country Music | 2006 | Video | Herself |
| Extreme | 2006 | TV Series documentary | Herself |
| CMT Crossroads | 2006 | TV Series | Herself |
| Best of Amusement Parks 2006 | 2006 | TV Movie | Herself |
| Academy Awards Fashion Wrap with Joan and Melissa | 2006 | TV Special | Herself |
| Fashion Police | 2006 | TV Series | Herself |
| Showbiz Tonight | 2005-2006 | TV Series | Herself |
| The Hee Haw Collection, Vol. 5 | 2006 | Video | Herself |
| Corazón de... | 2005 | TV Series | Herself |
| Biography | 2005 | TV Series documentary | Herself |
| Ban the Sadist Videos! | 2005 | Video documentary | Herself |
| Candid Camera: 5 Decades of Smiles | 2005 | Video | Herself |
| A Capitol Fourth | 2005 | TV Special | Herself |
| CMT: Class of 1975 | 2005 | TV Movie documentary | Herself |
| Favouritism | 2005 | TV Series | Herself |
| Grand Ole Opry's Vintage Classics | 2005 | TV Movie | Herself |
| 101 Most Sensational Crimes of Fashion | 2004 | TV Movie | Herself |
| Retrosexual: The 80's | 2004 | TV Mini-Series documentary | Herself |
| CMT: 20 Sexiest Women | 2004 | TV Special | Herself |
| The Best of 'So Graham Norton' | 2004 | Video | Herself |
| Sex 'n' Pop | 2004 | TV Mini-Series documentary | Herself |
| AFI's 100 Years... 100 Songs: America's Greatest Music in the Movies | 2004 | TV Movie documentary | Doralee Rhodes |
| Country Superstars: Video Hits | 2004 | Video short | Herself |
| CMT Stacked: Dolly Parton | 2004 | TV Movie | Herself |
| E! 101 Most Starlicious Makeovers | 2004 | TV Movie documentary | Herself |
| CMT: 100 Greatest Music Videos | 2004 | TV Movie | Herself |
| CMT Most Shocking | 2004 | TV Series documentary | Herself |
| Singing Songwriters | 2004 | Video | Herself |
| Diva Graham Norton | 2003 | TV Movie | Herself |
| VH1: All Access | 2003 | TV Series | Herself |
| CMT: 40 Greatest Fashion Statements | 2003 | TV Movie documentary | Herself |
| Dolly Parton & Friends on the Country Train | 2003 | Video | Herself |
| The Greatest | 2003 | TV Series documentary | Herself |
| BingoLotto | 2002 | TV Series | Herself - Musical Guest |
| Bob Hope's Funniest Out-Takes | 2002 | TV Movie | Herself |
| Top of the Pops 2 | 2002 | TV Series | Herself |
| The Porter Wagoner Show: Collectors Series, Vol. 1 | 2001 | Video | Herself |
| Country Legends | 2001 | Video | Herself - Performer |
| Twentieth Century Fox: The Blockbuster Years | 2000 | TV Movie documentary | Doralee Rhodes |
| AFI's 100 Years... 100 Laughs: America's Funniest Movies | 2000 | TV Special documentary | Doralee Rhodes |
| The Life and Times of the Women of Country | 1999 | TV Movie | Herself |
| E! True Hollywood Story | 1998 | TV Series documentary | Herself |
| Video Playback: TNN's First 15 Years | 1998 | TV Movie | Herself |
| The Oprah Winfrey Show | 1996 | TV Series | Herself |
| Before They Were Stars | 1996 | TV Series | Herself |
| Larry King Live: 10th Anniversary Volume One | 1995 | Video documentary | Herself |
| The Johnny Carson Collection, His Favorite Moments from 'The Tonight Show': 1962-1992 | 1994 | Video | Herself |
| Ralph Emery on the Record | 1994 | TV Series | Herself |
| Dolly Parton: In Country | 1994 | Video documentary | Herself |
| Dolly Parton: In the Movies | 1994 | Video documentary | Herself |
| The Crazy World of Dolly Parton | 1994 | Video documentary | Herself |
| Carol Burnett: The Special Years | 1994 | TV Movie documentary | Herself |
| The Best of the Don Lane Show | 1994 | TV Movie | Herself |
| Bob Hope's Bag Full of Christmas Memories | 1993 | TV Special | Herself |
| Beavis and Butt-Head | 1993 | TV Series | Herself |
| Hard Copy | 1993 | TV Series | Herself |
| The Women of Country | 1993 | TV Movie | Herself |
| Oscar's Greatest Moments | 1992 | Video documentary | Herself |
| The Tonight Show Starring Johnny Carson | 1988-1992 | TV Series | Herself / Herself from BOB HOPE'S JOLLY CHRISTMAS SHOW |
| Designing Women | 1990 | TV Series | Herself |
| Grand Ole Opry Country Music Celebration | 1989 | Video | Herself |
| Young Country | 1988 | Video short | Herself |
| Captain Kangaroo and His Friends | 1985 | Video | Herself |
| Hittimittari | 1984 | TV Series | Herself |
| Bilder aus Amerika | 1982 | TV Series documentary | Herself |
| The Midnight Special | 1980 | TV Series | Herself |
| Tonight Show Starring Johnny Carson 17th Anniversary Special | 1979 | TV Special | Herself |
| Top of the Pops | 1976 | TV Series | Herself |
Awards
Won Awards
| Year | Award | Ceremony | Nomination | Movie |
| --- | --- | --- | --- | --- |
| 2016 | Epiphany Prize | MovieGuide Awards | Most Inspiring TV Program | Dolly Parton's Coat of Many Colors (2015) |
| 2015 | Christopher Award | Christopher Awards | Television | Dolly Parton's Coat of Many Colors (2015) |
| 2011 | Grammy | Grammy Awards | Lifetime Achievement Award | |
| 2006 | Gold Derby Award | Gold Derby Awards | Original Song | Transamerica (2005) |
| 2006 | Kennedy Center Honors | The Kennedy Center Honors | | |
| 2005 | Sierra Award | Las Vegas Film Critics Society Awards | Best Song | Transamerica (2005) |
| 2005 | PFCS Award | Phoenix Film Critics Society Awards | Best Original Song | Transamerica (2005) |
| 2003 | TV Land Award | TV Land Awards | Most Memorable Female Guest Star in a Comedy as Herself | Designing Women (1986) |
| 2002 | Grammy | Grammy Awards | Best Country Vocal Performance - Female | For the song "Shine." |
| 2001 | Grammy | Grammy Awards | Best Bluegrass Album | For the album "The Grass Is Blue." |
| 2000 | Grammy | Grammy Awards | Best Country Collaboration with Vocals | |
| 1988 | Grammy | Grammy Awards | Best Country Vocal Performance by a Duo or Group | |
| 1988 | People's Choice Award | People's Choice Awards, USA | Favorite All-Around Female Entertainer | |
| 1988 | People's Choice Award | People's Choice Awards, USA | Favorite Female Performer in a New TV Program | |
| 1985 | Razzie Award | Razzie Awards | Worst Original Song | Rhinestone (1984) |
| 1984 | Star on the Walk of Fame | Walk of Fame | Recording | Awarded on June 14, 1984 at 6712 Hollywood Blvd. |
| 1982 | Grammy | Grammy Awards | Best Country Song | Nine to Five (1980) |
| 1982 | Grammy | Grammy Awards | Best Country Vocal Performance - Female | Nine to Five (1980) |
| 1979 | Grammy | Grammy Awards | Best Country Vocal Performance - Female | For the album "Here You Come Again." |
Nominated Awards
| Year | Award | Ceremony | Nomination | Movie |
| --- | --- | --- | --- | --- |
| 2017 | Grammy | Grammy Awards | Best Country Duo/Group Performance | |
| 2015 | People's Choice Award | People's Choice Awards, USA | Favorite Female Country Artist | |
| 2014 | Grammy | Grammy Awards | Best Country Duo/Group Performance | |
| 2010 | Grammy | Grammy Awards | Best Musical Theater Album | |
| 2007 | Grammy | Grammy Awards | Best Song Written for Motion Picture, Television or Other Visual Media | Transamerica (2005) |
| 2007 | Grammy | Grammy Awards | Best Country Collaboration with Vocals | |
| 2006 | Oscar | Academy Awards, USA | Best Achievement in Music Written for Motion Pictures, Original Song | Transamerica (2005) |
| 2006 | Golden Globe | Golden Globes, USA | Best Original Song - Motion Picture | Transamerica (2005) |
| 2006 | Critics Choice Award | Broadcast Film Critics Association Awards | Best Song | Transamerica (2005) |
| 2006 | OFTA Film Award | Online Film & Television Association | Best Music, Original Song | Transamerica (2005) |
| 2005 | Grammy | Grammy Awards | Best Country Collaboration with Vocals | |
| 2004 | Grammy | Grammy Awards | Best Country Vocal Performance - Female | For the song "I'm Gone." |
| 2003 | Grammy | Grammy Awards | Best Country Album | For the album "Halos & Horns." |
| 2003 | Grammy | Grammy Awards | Best Country Vocal Performance - Female | For the song "Dagger Through The Heart." |
| 2002 | Grammy | Grammy Awards | Best Bluegrass album | For the album "Little Sparrow." |
| 2002 | OFTA Film Award | Online Film & Television Association | Best Music, Adapted Song | Moulin Rouge! (2001) |
| 2001 | Grammy | Grammy Awards | Best Country Vocal Performance - Female | For the song "Travelin' Prayer." |
| 2000 | Grammy | Grammy Awards | Best Country Album | |
| 1996 | Grammy | Grammy Awards | Best Country Collaboration with Vocals | |
| 1995 | Grammy | Grammy Awards | Best Country Collaboration with Vocals | |
| 1994 | Grammy | Grammy Awards | Best Country Collaboration with Vocals | |
| 1992 | Grammy | Grammy Awards | Best Country Song | For the song "Eagle When She Flies." |
| 1992 | Grammy | Grammy Awards | Best Country Collaboration with Vocals | |
| 1990 | Grammy | Grammy Awards | Best Country Vocal Performance - Female | For the song "Why'd You Come in Here Looking Like That." |
| 1988 | Grammy | Grammy Awards | Album of the Year | |
| 1986 | Grammy | Grammy Awards | Best Country Vocal Performance - Female | For the album "Real Love." |
| 1986 | Grammy | Grammy Awards | Best Country Vocal Performance by a Duo or Group | |
| 1985 | Grammy | Grammy Awards | Best Country Vocal Performance - Female | For the song "Tennessee Homesick Blues." |
| 1985 | Razzie Award | Razzie Awards | Worst Original Song | Rhinestone (1984) |
| 1985 | Razzie Award | Razzie Awards | Worst Musical Score | Rhinestone (1984) |
| 1984 | ACE | CableACE Awards | Actress in a Comedy or Music Program | Dolly in Concert (1983) |
| 1984 | Grammy | Grammy Awards | Best Pop Performance by a Duo or Group with Vocals | |
| 1984 | Grammy | Grammy Awards | Best Country Vocal Performance - Female | For the album "Burlap & Satin." |
| 1983 | Golden Globe | Golden Globes, USA | Best Actress in a Motion Picture - Comedy or Musical | The Best Little Whorehouse in Texas (1982) |
| 1983 | Grammy | Grammy Awards | Best Country Vocal Performance - Female | For the song "I Will Always Love You." |
| 1982 | Grammy | Grammy Awards | Best Album of Original Score Written for a Motion Picture or Television Special | Nine to Five (1980) |
| 1982 | Grammy | Grammy Awards | Song of the Year | Nine to Five (1980) |
| 1981 | Oscar | Academy Awards, USA | Best Music, Original Song | Nine to Five (1980) |
| 1981 | Golden Globe | Golden Globes, USA | Best Actress in a Motion Picture - Comedy or Musical | Nine to Five (1980) |
| 1981 | Golden Globe | Golden Globes, USA | New Star of the Year in a Motion Picture - Female | Nine to Five (1980) |
| 1981 | Golden Globe | Golden Globes, USA | Best Original Song - Motion Picture | Nine to Five (1980) |
| 1978 | Primetime Emmy | Primetime Emmy Awards | Outstanding Continuing or Single Performance by a Supporting Actress in Variety or Music | Cher... Special (1978) |
| 1978 | Grammy | Grammy Awards | Best Country Vocal Performance - Female | For the song "Higher and Higher." |
| 1978 | Grammy | Grammy Awards | Best Pop Vocal Performance - Female | For the song "Here You Come Again." |
| 1977 | Grammy | Grammy Awards | Best Country Vocal Performance - Female | For the album "All I Can Do." |
| 1976 | Grammy | Grammy Awards | Best Country Vocal Performance - Female | For the song "Jolene" (Live track performance). |
| 1975 | Grammy | Grammy Awards | Best Country Vocal Performance - Female | For the song "Jolene." |
| 1974 | Grammy | Grammy Awards | Best Country Vocal Performance by a Duo or Group | |
| 1973 | Grammy | Grammy Awards | Best Country Vocal Performance - Female | For the song "Touch Your Woman." |
| 1972 | Grammy | Grammy Awards | Best Sacred Performance | For the song "Golden Streets of Glory." |
| 1972 | Grammy | Grammy Awards | Best Country Vocal Performance by a Duo or Group | |
| 1972 | Grammy | Grammy Awards | Best Country Vocal Performance - Female | For the song "Joshua." |
| 1971 | Grammy | Grammy Awards | Best Country Vocal Performance by a Duo or Group | |
| 1971 | Grammy | Grammy Awards | Best Country Vocal Performance - Female | For the song "Mule Skinner Blues." |
| 1969 | Grammy | Grammy Awards | Best Country Vocal Performance by a Duo or Group | |
Source:
IMDb
,
Wikipedia