• Becky Quick is a 45-year-old Caucasian TV journalist, newscaster and co-anchorwoman.
• She attended Rutgers University and was the editor-in-chief of her university's daily student newspaper.
• She has been a journalist and newscaster since 1996 and is best known for her roles on CNBC's "Squawk Box" and "On the Money".
• She is married to Matt Quayle and has two children with him.
• Her current estimated net worth is $4 million.

Who is Becky Quick from CNBC News?
Born Rebecca Quick on the 18th of July 1972, in Gary, Indiana USA of Jewish descent, Becky Quick is a 45-year-old Caucasian TV journalist, newscaster and co-anchorwoman. She is perhaps best known as co-anchorwoman in financial news shows on the CNBC channel, entitled "Squawk Box" and "On the Money". Other than that, she has had previous employment as a journalist and newscaster in various places throughout her career, having been active in the sometimes lucrative journalism business since 1996.
Early Life and Education
Becky was the oldest sibling of her three brothers, in a family headed by a geologist father, and since he was pursuing the oil business booms across the country, they initially moved around a lot. Thus, even though she was born in Indiana, she also went through Ohio, Texas and Oklahoma during her early childhood, until her family finally settled down in New Jersey. Due to this fact, it is also unknown which high schools Rebecca went to or matriculated from. Any details regarding the time when she gained interest in the profession she has today are unknown, but she attended Rutgers University in New Jersey, from where she graduated with a Bachelor of Arts degree in Political Science in 1993. It's also important to note that she was the editor-in-chief of her university's daily student newspaper entitled "The Daily Targum", while she also obtained the Times Mirror Fellowship award from the Journalism Resources institute at her university as an undergraduate.
Career
In 1994 Becky landed a position at The Wall Street Journal magazine, where she did reports on retail, e-commerce and the internet initially, until she became a more influential employee and worked with her colleagues to launch a website for the said magazine in April of 1996. She was then promoted to the position of the website's international news editor, focus primarily on coverage of foreign affairs.
Having worked for the Wall Street Journal for seven years, Becky left to join CNBC in the position of a financial correspondent in 2001. After she became the main anchorwoman of "On the Money" and the co-anchorwoman of "Squawk Box", she gained the opportunity to publicly consort with some of the world's richest men, including Warren Buffett, David Rockefeller, Bill Gates, Charlie Munger, Alan Greenspan, Jamie Dimon and T. Boone Pickens, to name a few. The contribution that this position made towards the rise of her name is evident when coupled with the fact that she also
got to interview
three US presidents, as well as host the TV documentary entitled "Warren Buffett: The Billionaire Next Door Going Global", and co-moderate one of the republican presidential debates on October 28
th
2015.
Love Life
Although it is unknown when Becky first started dating her first husband, computer programmer Kevin Cahillane, they married in January 2006, however, the two split up in 2008 due to private matters that the celebrity hasn't divulged. The same year, she married her second husband, Matt Quayle, whom also happens to be an executive producer of the aforementioned "Squawk Box". Their first child was born on 26th August 2011 – a son named Kyle Nathaniel Quayle, the in October 2016, Becky gave birth to their second child, a daughter named Kaylie Noelle Quayle. She is also a stepmother to Matt's two daughters from his previous marriage, named Natalie and Kimiko.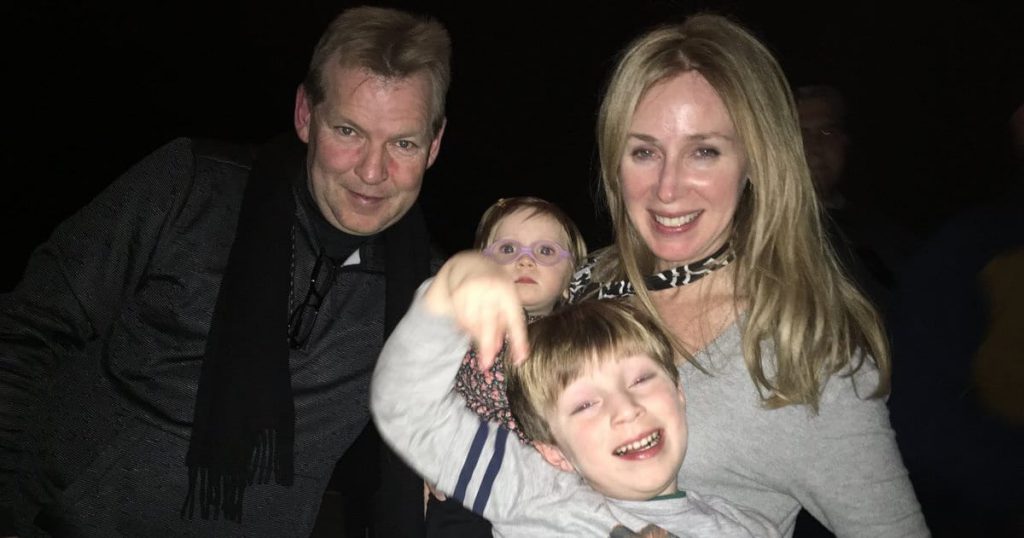 What is Becky Quick's Net Worth?
Have you ever wondered how rich Rebecca Quick is, as of mid-2018? According to various authoritative sources, it has been estimated that the current total of Becky's net worth is close to $4 million, largely aided by her numerous successes as a journalist and anchorwoman, the greatest contribution coming from her screen time during her years as a CNBC employee. As her career is ongoing, Becky's wealth is expected to continue growing.
Body Measurements
Concerning the physical attributes of the popular anchorwoman, her vital statistics are unfortunately not available to the public, while various sources repute her height to be at 5ft 4ins (1.64m), while her weight remains to be disclosed by the celebrity herself, as are her bra and foot size.
Send us your pics of the National Parks. 100th anniversary this week! #NPS100 Olympic Nat'l Park in May pic.twitter.com/TTFU7alBV2

— Becky Quick (@BeckyQuick) August 22, 2016
Social Media Presence
Due to the major influence of social networks, it is nowadays a regular thing for news anchors to nourish a close and active relationship with their fans, for the sake of increasing the popularity of the channels they're working on, and thus their own net worth. It looks like Becky herself is a big-time follower of this trend, as she appears to be quite active on social media – her Facebook account currently enjoys 3,500 followers, while her Twitter account boasts a much higher 201,000 followers. Ultimately, even though she does have a publicly inaccessible Instagram page, the posts are reserved only for her 58 followers, who she personally approved.
Source:
IMDb
,
Wikipedia