• Jimmy Garoppolo is a 26-year-old football player of Italian descent who currently plays for the San Francisco 49ers in the NFL.
• He grew up in Arlington Heights, Illinois in a tight-knit Italian family.
• He has achieved multiple honors and records during his college career.
• He signed a five-year contract with the San Francisco 49ers worth $137.5 million in 2018.
• He is active on social media, with over 770,000 followers on Instagram.

Who is Jimmy Garoppolo?
Born James Richard Garoppolo under the sign of Scorpio on the 2nd of November 1991 in Arlington Heights, Illinois USA, Jimmy Garoppolo is a 26-year-old Caucasian football player of Italian descent. He is perhaps best known to the world for his significant presence on the TV screen as a quarterback for the San Francisco 49ers of the National Football League (NFL). He has also played for another team over the course of his often lucrative football-playing career since 2014.
Early Life: Growing up in Arlington Heights
Jimmy was raised alongside his two older brothers and a younger one in his birthplace, by his parents Denise Garoppolo and Tony Garoppolo of unknown professions. In one of his interviews, he called it a 'tight-knight, big Italian family'. He took a very early interest in football, since he was already exposed to it the moment he started attending Rolling Meadows High School, from where he matriculated in 2009; he then enrolled in Eastern Illinois University, where he played for the Eastern Illinois Panthers from 2010 to 2013. As a freshman, he started eight games, totaling
1,639 passing yards
for 14 touchdowns, earning him the All-Ohio Valley Conference Newcomer Team honors, also thanks to his coach Bob Spoo. He went on to start every game at Eastern Illinois until he graduated, passing for 2,644 yards and 20 touchdowns in 2011, 3,823 yards and 31 touchdowns in 2012, and 5,050 yards and 53 touchdowns in 2013. He also broke the school record for career pass completions which was previously held by the (later) former Dallas Cowboys quarterback Tony Romo.
Career: A Bright Future
During the 2014 NFL Draft, Jimmy was selected by the New England Patriots in the second round as the 62
nd
pick overall, which makes him the first player from the Football Championship Subdivision drafted in 2014, as well as New England's highest-drafted quarterback since Drew Bledsoe in 1993 as the first overall pick. After signing a four-year contract with New England Patriots, Garoppolo made his debut in the fourth quarter of the Patriots' Week 4 41-14 road loss to the Kansas City Chiefs on "Monday Night Football." He finished his first game with six of seven completed passes for 70 yards and a single touchdown, with a passer rating of 147.9. As a rookie, Garoppolo played in six games, completing
19 of 27 passes
for 182 yards and a touchdown with a 101.2 passer rating, along with 10 rushing attempts for 9 yards. He was later credited with helping prepare his team's defense against Seattle Seahawks quarterback Russell Wilson. In the next year, he played in five games in relief roles, completing 1 of 4 passes for 6 yards. 2016 was his last year at New England Patriots, during which he played in six games and started two. He was traded to the San Francisco 49ers on October 31
st
2017, debuting in Week 12 of the season against the Seattle Seahawks. He achieved a career-high of 120 completed passes for a total of 1,560 yards in 2017, and remains active there in 2018.
His 2018 Contract
On the 8th of February 2018, Jimmy signed a 5-year contract with the San Francisco 49ers, worth $137.5 million, which makes for the largest contract in NFL history on an annual basis. With $90 million guaranteed in the first three years, it's also the largest amount in the history of NFL.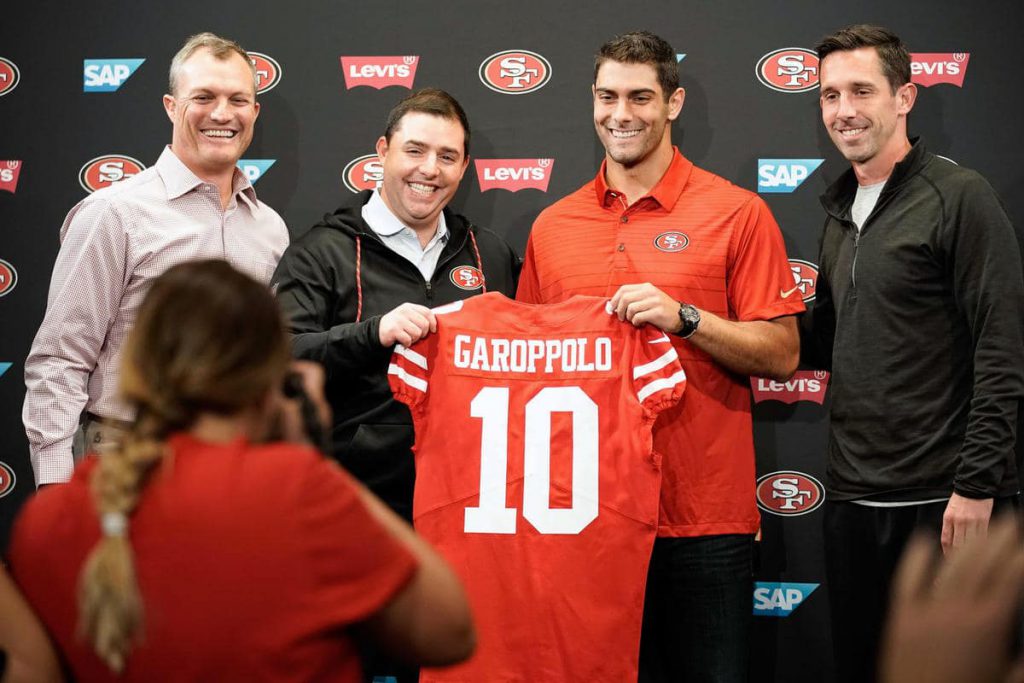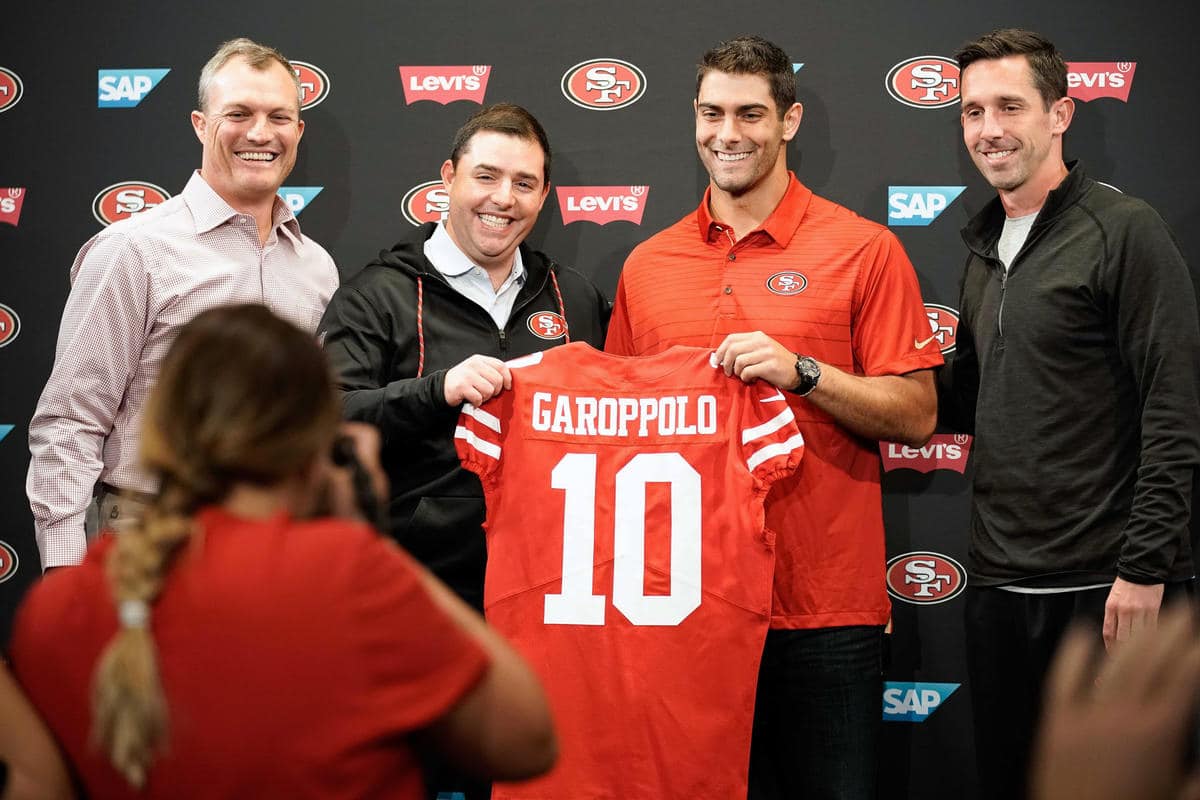 Love Life: A Mystery
As for his romantic involvements, Jimmy remains quite secretive when it comes to this subject. Thus far, he hasn't been seen attending any public events in the company of a potential significant other. According to his words or the lack thereof, he is currently single. However, there is speculation that he is dating a certain girl named Summer. She was connected to him by the audience through her tweets about him, and she also sent a picture of them in bed to a website. Although her Twitter account no longer exists, she is known to have made several posts about Jimmy, such as "Moving to Cali tomorrow goodbye cold weather. Hello Sunshine..@JimmyG_10 see you when you play at the @Pats_Superbowl."
What is Jimmy Garoppolo's Net Worth?
Have you ever wondered how rich Jimmy Garoppolo is, as of mid-2018? According to various authoritative sources, it has been estimated that the total of Jimmy's accumulated wealth is close to $28 million, made mainly as a football player, earned mostly from his long-term presence in the NFL as a quarterback for the New England Patriots and San Francisco 49ers. As his career continues to develop, the said amount will certainly increase, as mentioned above.
Sweetness baby pic.twitter.com/CLJnLR0shN

— Jimmy Garoppolo (@JimmyG_10) December 17, 2013
Body Measurements
Concerning the physical attributes of the aspiring quarterback, the circumferences of his chest, waist and biceps are 44, 35 and 16 inches, his height is 6ft 2ins (1.88m), while his current weight is 225lbs (102kg). His hair is light brown and his eyes are hazel, while his body shape is generally described as muscular.
Social Media Presence
Due to the major influence of social networks, it is nowadays a regular thing for active celebrities to nourish a close and active relationship with their fans, for the sake of increasing the popularity of the projects they're working on, and thus their own net worth. Lance himself seems to be a regular subscriber, if not the leading example of this celebrity trend, as his presence is quite ubiquitous on most of the popular social media networks. His Facebook page has almost 15,000 followers, his Twitter account almost 180,000, and his Instagram account over 770,000 fans.
Source:
IMDb
,
Wikipedia