• Kimberly Stewart is a model, actress, reality TV star, and fashion designer
• She was born in Holmby Hills, Los Angeles, California USA
• She has featured in magazines such as Vanity Fair and Tatler
• She has her own fashion collection named "Pinky Starfish"
• Her net worth is estimated to be around $10 million
 
Who is Kimberly Stewart?
Born Kimberly Alana Stewart on the 21st August 1979, in Holmby Hills, Los Angeles, California USA, she is a model, actress, reality TV star and fashion designer, however, she is probably best known to the world as the daughter of Rod Stewart and his second wife Alana Stewart. She has featured in a number of magazines, including Vanity Fair and Tatler, and has started her own fashion collection named "Pinky Starfish".
Kimberly Stewart Wiki: Early Life, Siblings, and Education
Kimberly is the second child of Rod's eight children. She has one older half-sibling Sarah Streeter, who was born in 1963, however, she was raised by adoptive parents. She has one younger sibling, Sean Roderick Stewart, who was born on the 1st September 1980 and five younger half-siblings. Furthermore, Kimberly has a half-sister from Alana's marriage to George Hamilton. Kimberley went to Buckley school in Sherman Oaks, and after matriculation started taking acting courses being taught by Janet Alhanti and Ivana Chubbuck. Kimberly then moved to London where she studied acting with Barbara Houseman and Penny Dyer, and also took singing lessons from Mark Meylan.
Acting Career
Her acting career began in 2001 with a role in the television series called "Going to California", written by Scott Rosenberg and directed by Ted Demme. A year later, she appeared in "Undeclared", by Judd Apatow, then Kimberly's debut movie was "Black and White", directed by James Toback, starring Robert Downey Jr. and Jared Leto. In 2011, Kimberly starred in Sean Hackett's movie named "Homecoming", and her last known role was as Kim in the horror thriller film "Lost Lake".

Fashion Career
Realizing the potential of a career in the fashion industry, Kimberly started her own clothing line, Pinky Starfish, when she was only 19 years old, using French vintage fabrics on dresses sold in Barney's, Tracey Ross, and Lisa Kline. Since then, Kimberly has become more focused on appearing in magazines, and has since featured on the cover magazine of Tatler and German Vanity Fair, in pictures taken by Bryan Adams, the famous Canadian guitarist and singer. Since launching her fashion career, Kimberly has collaborated with a number of famous brands, including Tommy Hilfiger, American Vogue, Elle, Catherine Malandrino, among many others, all of which helped her become as popular as she is today.
Modeling Career
Kimberly is also a successful model; back in 2008, she appeared in the music video for the song "Razoreyes", performed by the band Elevation. Since then, she has featured nude in Tatler, this time with Peaches Geldof and Leah Wood, while also posing nude with a crucifix for Italian Vogue.

Do You Know How Rich Kimberly Stewart Is?
Since launching her career, Kimberly has showcased that she is a multi-talented personality, making a name for herself in modeling, fashion, and acting as well. All of her accomplishments have helped her to increase her wealth. So, have you ever wondered how rich Kimberly Stewart is, as of mid- 2018? According to authoritative sources, it has been estimated that Stewart's net worth is as high as $10 million – pretty impressive don't you think?
10 min and counting until the #StewHam premiere. I'll be live tweeting with @_thesisterhood and rest of the fam pic.twitter.com/yPSrExZz3J

— Kimberly A Stewart (@kimberlystewart) July 27, 2015
Do You Know About Kimberly's Personal Life, Affairs, Marriage, Daughter Delilah Genoveva Stewart?
Since entering the entertainment world, Kimberly has been seen with a number of high-profile celebrities. She dated Jack Osbourne, Ozzy Osbourne's son, back when she was 18, and later started dating with Laguna Beach's Talan Torriero. They even announced an engagement, but called it off after only two weeks. However, her most controversial relationship was with actor and film director Benicio Del Toro; Kimberly gave birth to their daughter,
Delilah Genoveva Stewart Del Toro
on the 21st December 2011. According to reports, the two were never a couple and haven't become one following the birth of their child. Kimberley is still officially single.
Internet Popularity
Kimberly has managed to expand her popularity to social media platforms, especially Instagram and Twitter. Her official Instagram page has over 40,000 followers, with whom she has shared details from her personal life, such as pictures of her daughter, and of two of them having a good time at Rod Stewart's concert, among many other posts. Kimberly can also be found on Twitter, though she is yet to build a fan base on this social media network, as she only has around 9,000 followers.
Kimberly Stewart Parents, Rod Stewart and Alana Stewart
Now that we have covered all the major details about Kimberly, let's share some information about her parents, as both of them are involved in the entertainment industry. Born Roderick David Stewart on the 10th January 1945 in Highgate, London England, he is a musician, singer, songwriter and record producer, best known to the world for his six consecutive No. 1 albums released in the '70s, "Every Picture Tells a Story" (1971), "Never a Dull Moment" (1972), "Smiler" (1974), "Atlantic Crossing" (1975), and "A Night on the Town", released in 1976. Some of his most popular songs include "Maggie May", "Sailing", and "I Don't Want to Talk About It".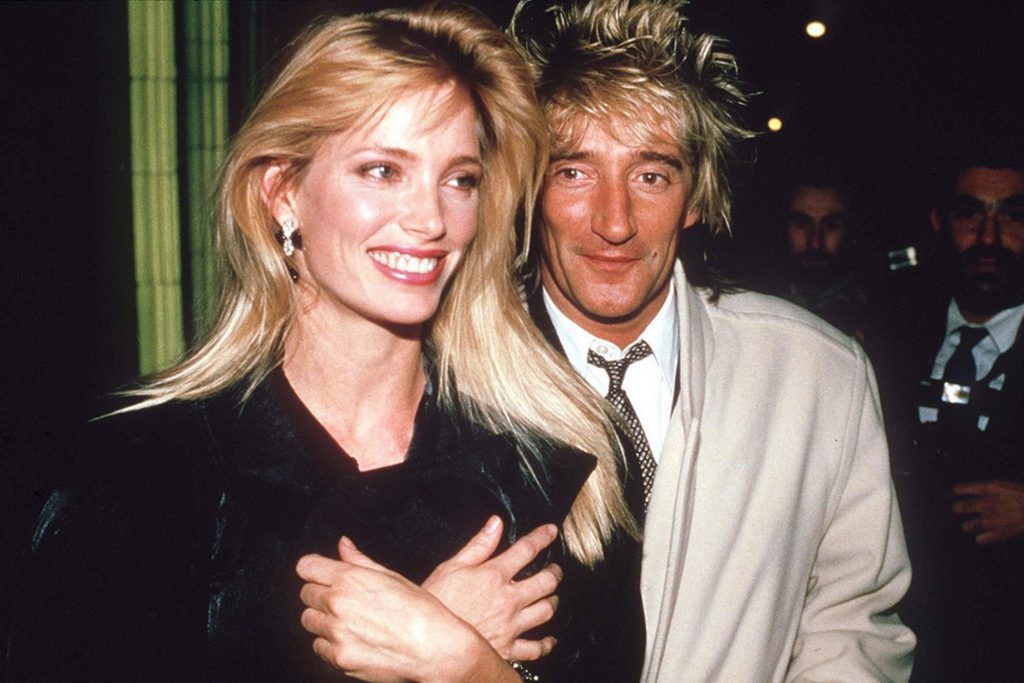 He is the son of Robert Joseph Stewart and Elsie Rebecca Gilbart. He didn't excel in school, and started working in the family compan, delivering newspapers and before launching his music career, Rod held several other odd jobs. His first single, "Good Morning Little Schoolgirl", came out in September 1964.
Alana Stewart
Born as Alana Kaye Collins on the 18th May 1945, in San Diego, California USA, she is an actress best known for being a part of the reality TV show "Stewarts And Hamiltons", with her ex-husbands Rod Stewart and George Hamilton and their families. Alana is also recognized as a model, known for working with Ford Models.

She grew up in Houston, Texas and went to Stephen F. Austin High School, and after matriculation, moved to New York in order to pursue her modeling career. She signed a contract with Ford Models and slowly started building her reputation, both as a model and actress. Some of her most prominent achievements are appearances in the films "Wasted in Babylon" (1999), and "Delivered" (2011). Before Rod Stewart, she was married to actor George Hamilton, with whom she has a daughter, Ashley Hamilton.