• KSI was born in London, England, and is a British national
• He is popular for his YouTube Channel "KSIOlajidebtHD"
• After matriculating from the Berkhamsted School, he decided not to pursue a college degree but focus on his career of a YouTuber
• He is a successful rapper, with four EPs released to date
• He has an estimated net worth of over $11 million.

Short Info
| | |
| --- | --- |
| Date Of Birth | June 19, 1993 |

KSI Wiki Biography
Olajide William 'JJ' Olatunji was born in London, England UK on 19 June 1993 under the zodiac sign of Gemini and holds British nationality – better known as KSI, he is popular for his YouTube Channel "KSIOlajidebtHD"
Who is KSI girlfriend today?
KSI appears to be single at the moment. He was dating another YouTuber (YouTubers mostly date other YouTubers, as it is a very unique way of life) Seana Cuthbert, who goes by the nickname Seanyyy. Their relationship lasted for two years, when Seana was the one to call it quits – based on her confession, KSI did not have time for her because of his YouTube career, and she simply got sick of the lack of attention.
Early life and education
KSI grew up with his parents and his younger brother Deji in Watford, Hertfordshire. There is not much known about KSI's early life and background story, as he prefers to keep these matters to himself – his brother is a successful YouTuber just as him, and runs his "Deji" channel, which counts nearly 10 million subscribers.
After KSI matriculated from the Berkhamsted School, he decided not to pursue a college degree but to rather focus on his career of a YouTuber.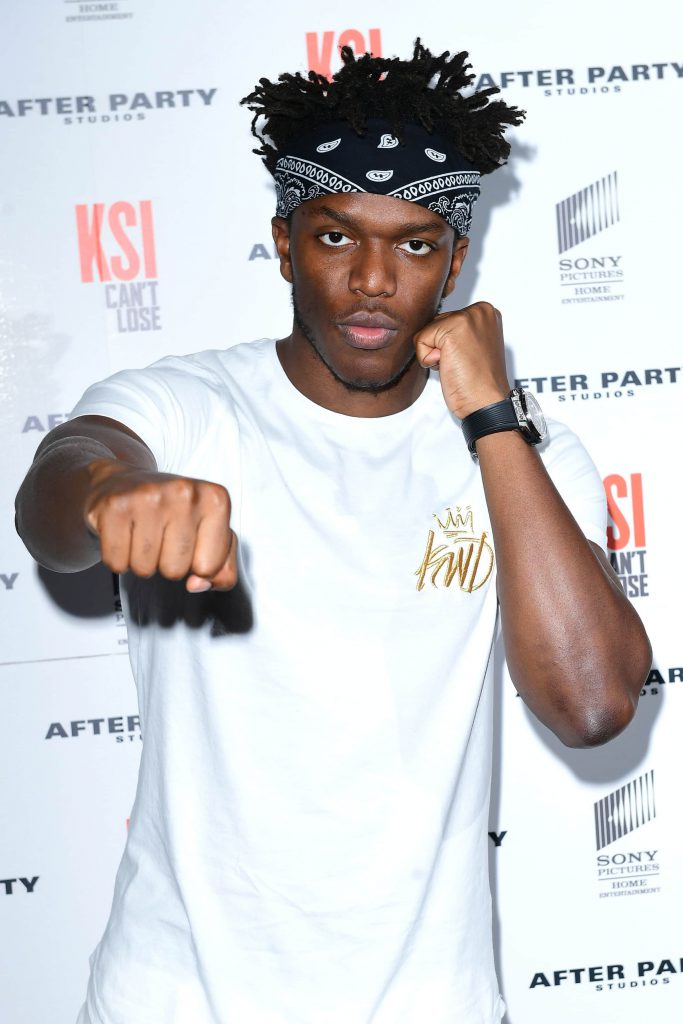 The launch of his career on YouTube
KSI's career began when he created his "JideJunior" channel on YouTube on 24 April 2008, and on which KSI mostly uploaded FIFA videos – it's no longer active.
On 26 January 2011, he launched his present channel entitled "KSIOlajidebtHD" which now counts over seven million subscribers and more than one billion views of all his videos combined. Four years after the launch of his main YouTube channel, KSI together with Behzinga (Ethan Payne), Miniminter (Simon Minter), Zerkaa (Josh Bradley), and TBJZL (Tobi Brown) launched the "Sidemen" YouTube channel on 14 June 2015. The group is focused only on uploading funny videos, including challenges and pranks, and the channel so far counts nearly five million subscribers and over half a billion views of all their videos combined.
At the beginning of 2017, KSI took a break from posting videos to his channel, later explaining that it was because he disliked the direction in which the entire YouTube community was heading. In the summer of the same year, he left the "Sidemen" group because of a disagreement with one of its members – the conflict made him make diss videos of the "Sidemen" members, who responded with their diss videos (not leading anywhere though). Then thanks to the problem he had with his visa when he was supposed to be deported from the US, he returned to the mansion in which he was living with the "Sidemen" members, the team fixed the problems between them, and KSI became part of the group once again.
People thought that KSI's war against the "Sidemen" was scripted to attract more fans (which they did get), and the YouTuber Joe Weller made a diss video criticizing them – this resulted in KSI challenging Weller to a boxing match, which took place on 3 February 2018. KSI won the fight in under two minutes by a technical knockout, then won the YouTube Boxing Championship Belt and because the video of the fight gathered an immense number of views (21 million in a single day), the fights continued as KSI challenged the Paul brothers (more YouTubers). KSI fought the older brother Logan while his brother Deji fought the younger brother Jake – the fights ended in draws, and was named the "largest event in YouTube history".
KSI as a writer
Even though he is part of this virtual online world, KSI published a book against the internet entitled "KSI: I Am A Bellend" – released in the UK on 24 September 2015, and a couple of days later in the US with a slightly different title – "KSI: I Am A Tool". The book follows everything that has happened to the YouTuber during his existence on the internet, and is considered to be a full frontal attack on the internet world.
To support his book, KSI went on a tour the very day it was released, which lasted for 11 days.
Rapping career
KSI is not only a YouTuber, writer, and a part-time boxer, but is also a successful rapper. In 2011, he released the "Heskey Time" song with another YouTuber named Randolph – the song is about popular football player Emile Heskey, and all his missed shots in the FIFA video game.
After the success of "Heskey Time", KSI released his first solo song entitled "Lamborghini" in March 2015, and then his first Extended Play (EP) named "Keep Up" in October. Nobody expected the EP to be such a giant success, but it got to #1 on the UK R&B Albums Chart.
KSI has so far released four EPs and is still making music.
— KSI (@KSIOlajidebt) May 31, 2019
Controversies
In 2012, Microsoft banned KSI from the Eurogamer Expo gaming show – according to Microsoft, KSI was sexually harassing women attending the event, and then uploaded a video of it on his YouTube channel. His manager tried to set things right by apologizing in his name – 'Sexism is not something he condones or wants to be associated with. He wishes to apologize for any offence the video of 15 months ago may have caused in the short time it was on his YouTube channel, references to it since and subsequently used by other people.'
KSI's relationships and dating affairs
KSI remains quite secretive when it comes to his past and present affairs. The public only knows about his two-year relationship with fellow YouTuber Seana Cuthbert – he keeps all others hidden. It is without a doubt that the popular YouTuber had been with others during these years, but he is keeping these matters to himself.
Problems between KSI and his brother Deji
Deji was as popular on YouTube as his brother. In November 2018, Deji leaked details of KSI's personal bank account when he dissed another YouTube celebrity called Randolph. KSI wasn't happy about it, and wondered why his parents let him do that – Deji apologized in January 2019 for his behavior, however, he made the video available to the public again in the same month. After that, KSI announced on his social media platforms that he was done with Deji.
Making it into the Guinness World Records Gamer's Edition
There are many weird Guinness World Records, and others related to gaming. In the beginning of 2013, KSI played a game of FIFA against the computer, and managed to score 190 goals while the previous record was 110, and this earned him a place in the Guinness World Records Gamer's Edition in 2013. The video can be found on YouTube, entitled "KSI VS FIFA // The Record Slam (EP14)".
Appearance and net worth
Ksi is currently 25 years old. He has short black dreadlock hair and brown eyes, is 5ft 10ins (1.78m) tall and weighs around 170lbs (77kgs).
According to authoritative sources, KSI's current net worth is estimated to be over $11 million, and is always rising thanks to his YouTube channel and his rap career – he owns two expensive cars, including a Lamborghini Aventador and a Porsche.
Social media presence
Being a popular YouTuber, it is expected that KSI is active on other popular social media platforms as well – he launched his Twitter account in March 2011, and has so far gathered over 4.8 million followers, but tweeted less than 700 times. His Instagram account is followed by over 6.3 million people, while he's uploaded more than 140 pictures – he has a Facebook page as well which is followed by over 2.3 million fans.
Olajide William 'JJ' Olatunji was born in London, England, on 19 June 1993 so under the zodiac sign of Gemini and holding British nationality – better known as KSI, his popularity revolves around his YouTube Channel.
General Info
| | |
| --- | --- |
| Full Name | KSI |
| Date Of Birth | June 19, 1993 |
| Profession | YouTuber, Comedian, Author, Rapper, Commentator, Lamborghini, Friends with Benefits, Keep Up, YouTuber, Rapper, Author, Comedian, Commentator, Lamborghini, Friends with Benefits, Keep Up |
| Nationality | British, British |
Family
| | |
| --- | --- |
| Children | Deji Olatunji |
| Siblings | Deji Olatunji, Deji Olatunji |
Accomplishments
| | |
| --- | --- |
| Awards | NME Award for Vlogger of the Year, NME Award for Vlogger of the Year |
| Nominations | Shorty Award for Best in Gaming, Shorty Award for Best in Gaming |
| Movies | Laid in America, Brotherhood, Laid in America |
Social profile links
Movies
Actor
| Title | Year | Status | Character |
| --- | --- | --- | --- |
| Laid in America | 2016 | post-production | Duncan |
Self
| Title | Year | Status | Character |
| --- | --- | --- | --- |
| Backchat | 2015 | TV Series | Himself |
| Project YouTube: The Sidemen | 2015 | Documentary short | |
| The 50 Funniest Moments of 2014 | 2014 | TV Movie documentary | Himself (as KSI) |
| YouTubers React | 2014 | TV Series | Himself |
| England's Worst Ever Football Team | 2014 | TV Special documentary | Himself - YouTuber (as KSI) |
Source:
IMDb
,
Wikipedia