• Amina Blue is a fashion, runway and print model, and an internet celebrity.
• She was born in New York City's borough of Queens, and is of German and Pakistani descent.
• She gained fame by appearing in Kanye West's debut fashion collection Yeezy Season 1, and in Tyga's music video "1 of 1".
• She has a net worth of $400,000 and is a vegan and animal rights activist.
• She was romantically linked to Rob Kardashian and DeAndre Hopkins.
 
Who is Amina Blue?
Amina Blue is a fashion, runway and print model, and an internet celebrity, who is probably best known for her collaborations with Kanye West for his fashion apparel line Yeezy. as well as with Tyga in his music video "1 of 1".
https://www.instagram.com/p/BhiVnyqD-Pz
Amina Blue before Fame: Her early life
Amina was born the third of four children, on the 2nd April 1993 in the USA, in New York City's borough of Queens, and was raised in Brooklyn. Her older brother who was a police officer, died in a motorcycle accident while she was still in middle school. Her older sister is an orthodontist while her younger brother works as a production assistant. Apart from being of American, she is also of German ancestry from her mother's as well as of Pakistani descent from her father's side. Amina is of white ethnicity while her zodiac sign is Aries. There isn't much available information about her education or her family's background, except that her parents are now divorced, and that she in close contact with her mother – as her father is a devout Muslim, he does not approve Amina's career choice or her physical appearance, so Amina "cut him off". Amina's real last name hasn't been publically disclosed yet – the moniker "Blue" refers to her eye color.
Amina Blue's Early Career
From an early age, Amina desired to become model; the first steps towards her dream-come-true occurred in 2012, when at the age of 19 she began starring as a video vixen, and appearing in various music videos. In the course of the next couple of months, Amina appeared in Busta Rhymes' "Thank You" and in the "Everyday" music video by Rich Gang. She also had a huge role in "New Level" music video for A$AP Ferg's eponymous song.
Amina Blue and Kanye West's Yeezy
The real breakthrough in Amina Blue's career occurred later, when in early 2015 she became Kanye West's muse for his debut fashion apparel collection – Yeezy Season 1 – which was presented during the New York Fashion Week in February 2015. where she appeared on the catwalk. Alongside catwalk veterans such as Naomi Campbell, Veronica Webb and Liya Kebedem, Amina was also featured during the presentation of the Kanye West's Yeezy Season 3 at Madison Square Garden in New York City in February 2016, which is considered to be one of the most watched fashion shows ever.
She gained huge media attention in September 2016 when, during her catwalk on Roosevelt Island at the the Yeezy Season 4 show, she stopped halfway, ripped of her high-heeled shoes and continued the parade barefoot.
Amina Blue and Tyga
In July 2017, Amina appeared in the music video for "1 of 1" – a hit single song from Tyga's fifth studio album entitled "BitchImTheShit2". The video faced severe criticism and disturbed the media as, being filmed in Jamaica, Tyga who is half-Jamaican on his father's side, uses the white girl as the main protagonist and his in-video love interest, while Jamaican girls appeared as props. To make things even worse, in the video Amina sports Bantu knots, a hairstyle traditionally worn by black African women. However, all these made a huge contribution to Amina Blue's overall popularity.
After his split with Kylie Jenner, on his snapchat account Tyga posted several pictures with Amina, taken during filming of the "1 of 1" music video, which started a rumor that they are dating. However, although these rumors were never officially confirmed nor denied, the speculations were later dropped as untrue.
https://twitter.com/kanyewest/status/991828339961643008
Amina Blue's Personal Appearance and Social Media presence
Featuring a height of 5 ft 1 in, Amina doesn't appear like an average model of 5 ft 9 in. She is a genuine ink lover, as her petite and toned figure, measuring 32-18-34, is covered with numerous tattoos, including the Eye of Horus on her chest and large mermaid on her right thigh; one of the tattoos on her ribs represents a tribute to her fallen brother. Amina sports platinum blonde hair, which in combination with her piercing blue eyes makes her appearance quite alluring. All of these attributes have helped Amina Blue to become successful in the world of modeling, including being featured on the cover of Inked magazine.
This 25-year old American model and celebrity is also quite active on several social media networks, such as Twitter, Facebook as well as Instagram on which she regularly posts updates about her professional and personal life, and on which she has managed to amass a total of more than 715,000 fans.
Amina Blue's Net Worth
Have you ever wondered how much wealth this talented young woman has accumulated so far? How rich Amina Blue is? According to authoritative sources, it is estimated that the total of Amina Blue's net worth, as of mid-2018, revolves around the sum of at least $400,000, and that it includes assets such as an estate in Raleigh, North Carolina, acquired largely through her modeling career, as well as collaborations with popular music artists which have resulted in her memorable on-camera appearances.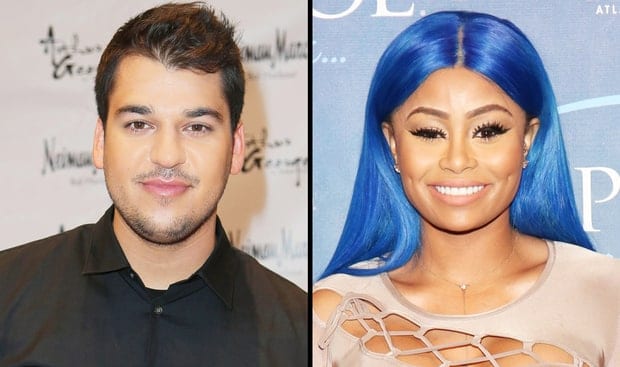 Amina Blue's Personal Life
When it comes to her personal life, it has been publically acknowledged that Amina has been romantically connected to several men, including dating Rob Kardashian between 2014 and 2015 as well as a 2016 relationship with the NFL Houston Texan's wide receiver DeAndre Hopkins.
Amina is also a vegan as well as animal rights activist; being a true animal lover, she has four pit bulls.
She is currently working on her own line of vegan footwear.
General Info
| | |
| --- | --- |
| Full Name | Amina Blue |
| Height | 1.55 m |
| Profession | Model |
| Nationality | American |
Social profile links
Source:
IMDb
,
Wikipedia