• Natasha Liu Bordizzo is a 23-year-old Asian actress and model of Chinese and Italian descent.
• She obtained a Black Belt Dan One in Taekwondo in 2009.
• Her first acting role was as Snow Vase in "Crouching Tiger, Hidden Dragon: Sword of Destiny" in 2016.
• She is currently single and her net worth is estimated at close to $600,000.
• She is active on social media with over 130,000 followers on Instagram.

Short Info
| | |
| --- | --- |
| Fact | Natasha was age 19 during the filming of Crouching Tiger Hidden Dragon: The Green Legend, the same age as Zhang Ziyi during the filming of the first film. |

Who is Natasha Liu Bordizzo?
Born under the sign of Virgo on the 25th of August 1994, in Sydney, New South Wales Australia, Natasha Liu Bordizzo is a 23-year-old Asian actress and model of Chinese and Italian descent. She is perhaps best known to the world for her significant presence on the TV screen as Snow Vase in "Crouching Tiger, Hidden Dragon: Sword of Destiny," but she has also had other roles across a few films over the course of her acting career since 2015.
https://www.instagram.com/p/BkuY_ach1HJ/?hl=en&taken-by=natashaliubordizzo
Early Life and Education: Growing up in Sydney
Natasha was apparently an only child, raised in her birthplace by her Italian father and Chinese mother, of unknown professions. Concerning her early interests, she always expressed an affection towards martial arts, and thus started taking taekwondo lessons during her early years, ultimately obtaining her Black Belt Dan One in 2009. As for her education, she attended Sydney Girls High School, from where she matriculated in 2012, then enrolled into the University of Technology, Sydney, where she started studying for the Bachelor of law / Bachelor of communication degree, although it is unknown whether she graduated.
Career: A Rising Actress
Natasha's first role was assigned after her first ever audition, as Snow Vase in "Crouching Tiger, Hidden Dragon: Sword of Destiny" in 2016. When asked about this role, she stated that she is certain both her appearance and her knowledge of martial arts were the key factors when it came to obtaining a part in the film. After the film's release in February 2016, she moved to Los Angeles, California to further pursue her acting career. She was eventually cast in a short film entitled "On That Night… While We Dream" in 2017, as well as in the musical entitled "The Greatest Showman" in the supporting role of Deng Yan, alongside Hugh Jackman, Zac Efron, Rebecca Ferguson, Michelle Williams and Zendaya. In early 2018, she was cast in "Detective Chinatown 2", a Chinese film produced by Orient Imagine Entertainment, in which she portrayed Chen Ying. As of mid-2918, she is about to be seen in the upcoming American-Australian thriller entitled "Hotel Mumbai", while there are another three titles that she is involved with – one in post-production, one that is still being filmed, and one in pre-production, which makes a total of eight acting credits thus far in her career.
Love Life: A Mystery
As for Natasha's romantic involvements, virtually nothing can be said on the matter at the moment. She hasn't been seen attending public events in the company of a potential suitor, while she herself has never stated anything regarding this part of her life. According to her words or the lack thereof, Natasha is currently single. There haven't even been any rumors about her affairs.
Styled by @stylemeromy and photographed by Steven Chee for new @westfieldsyd #TodayIAm campaign 〰 pic.twitter.com/PuI7hKpJhk

— Natasha Liu Bordizzo (@natashaliub) September 2, 2015
Her Interview
In an interview with oystermag.com, Natasha was asked basic questions that help the audience to better understand who she is. When it comes to describing herself in three words, Natasha used 'ambitious, loyal, quirky.' The best piece of advice she has received since becoming an actress is 'Success is going from failure to failure without any loss of enthusiasm.' Her favorite place to eat in Sydney is 'Toko on Crown Street. Or anything Japanese. Or Italian. This is hard…' Her favorite Australian movie of all time is "Mad Max". The last song she downloaded is 'Ta-ku's Songs To Make Up To album.' When asked what she's looking forward to this summer, she said 'Hopefully working on more films and creative projects. Learning, progressing, growing. I'm not too interested in downtime right now – I'm ready to work!' The five things she thinks every person should own are 'A Netflix account, a warm knight that feels like a cloud, a well-stocked bookshelf, anytime boots and a huge suitcase.' Lastly, if she could choose what to come back as, she would be 'A Hogwarts student. Easy.'
About Her First Film
When interviewed about her acting debut, Natasha stated: '"Crouching Tiger" was my first audition. To be honest, I was pushed. I was just studying, and I was in university in Sydney, which is where I'm from. Then, my agent – my now-agent – she is a boutique model/actor agent in Sydney, and she scouted me for modeling. And I was like, 'I'm very busy, I'm studying I don't think I have time for that.' And I just didn't have much interest in it.'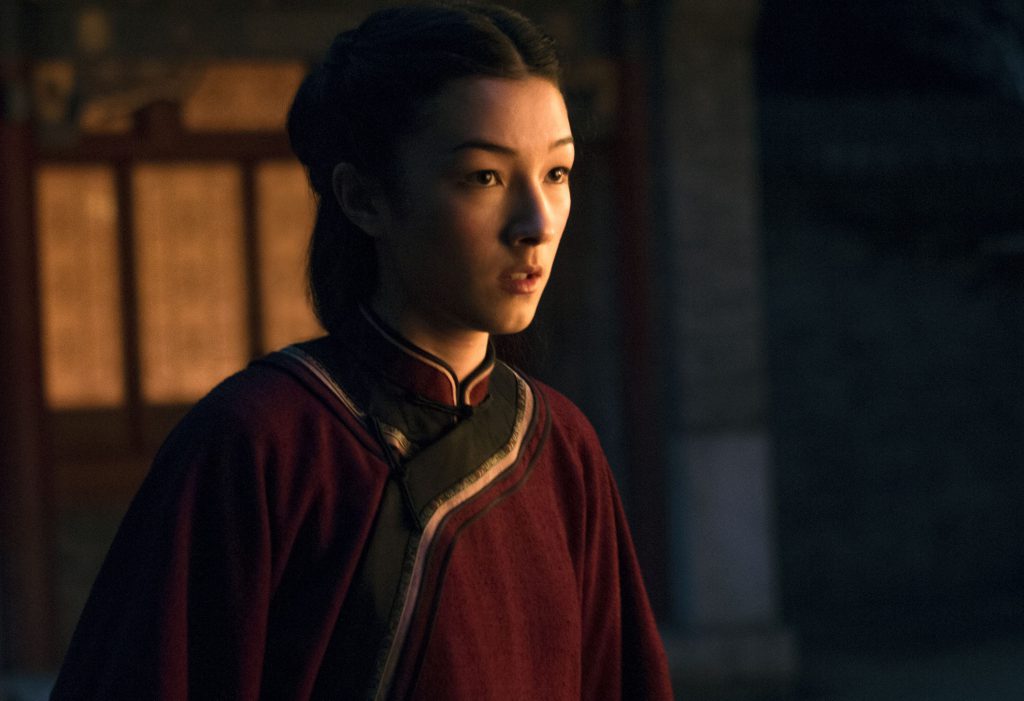 What is Natasha Liu Bordizzo's Net Worth?
Have you ever wondered how rich Natasha Liu Bordizzo is, as of mid-2018? According to various authoritative sources, it has been estimated that the total of Natasha's accumulated wealth is close to $600,000, made primarily as an actress, while she earned the most from her presence on the TV screen as Snow Vase in "Crouching Tiger, Hidden Dragon: Sword of Destiny." As her career continues to develop, the said amount can be expected to increase.
First look! @HarryShumJr and I in "Crouching Tiger Hidden Dragon II: The Green Legend" @netflix @WeinsteinFilms pic.twitter.com/AqLBDvTuYa

— Natasha Liu Bordizzo (@natashaliub) September 21, 2015
Body Measurements
Concerning the physical attributes of the aspiring actress, her height is 5ft 5ins (1.65m), while her current weight is 93lbs (42kg). Her body shape is generally described as average, while her hair color is pitch dark and her eyes are dark brown.
Social Media Presence
Due to the major influence of social networks, it is nowadays a regular thing for active celebrities to nourish a close and active relationship with their fans, for the sake of increasing the popularity of the projects they're working on, and thus their own net worth. Natasha herself seems to be a regular subscriber, if not the leading example of this celebrity trend, as her presence is quite ubiquitous on most of the popular social media networks. Her Facebook page has over 8,000 followers, her Twitter account over 2,000, and her Instagram account more than 130,000 fans.
Facts
| # | Fact |
| --- | --- |
| 1 | Natasha was age 19 during the filming of Crouching Tiger Hidden Dragon: The Green Legend, the same age as Zhang Ziyi during the filming of the first film. |
| 2 | She trained in Taekwondo for five years until her mid-teens, and achieved her Black Belt Dan One in 2009. |
| 3 | Natasha has taken a jack-of-all-trades approach to sports, and aside from martial arts enjoys horse-riding, figure-skating and touch football. |
Pictures
Source:
IMDb
,
Wikipedia