Overtimemegan
Megan Patricia Eugenio, known online as Overtimemegan, is a social media sensation with millions of followers across several platforms. Born on 17th October 1999, in Massachusetts, USA, the blonde has reportedly been passionate about acting and dancing since her childhood years, and immediately made waves on TikTok when she joined in 2019 thanks to her lip-sync videos and skits.
Megan was soon sharing a wider range of content, such as story times, challenges, pranks, and dialogue videos, which helped her garner millions of likes and followers. Shortly afterwards, she joined the Overtime group, which describes itself as "the leading brand for the next generation of sports fans".
Financially backed alike by media corporations (such as Bezos Expeditions and Winslow Capital) and prominent figures (Drake, Alexis Ohanian, Carmelo Anthony and others), Overtime's core mission is to revolutionize sports media, by providing a platform for new athletes and fans to connect, engage, and showcase their talents.
Although a TikTok star may not seem like the right fit for the brand, Megan is actually a keen ice hockey and basketball player, who frequently posts herself enjoying her favorite sports. The Massachusetts native also promotes Overtime by regularly modeling its merchandise, and attending all sorts of sports games in order to interview athletes and create content for her online profiles. Although many fans are interested in knowing how much Megan is paid by the brand, this information is currently unavailable.
In May 2023, Megan was understandably devastated when a number of nude photos and other compromising material was leaked online. In some of the videos, which were uploaded onto a number of porn sites almost immediately, the influencer was seen engaging in sexual acts with her ex-boyfriend, ice hockey player Cole Schwindt.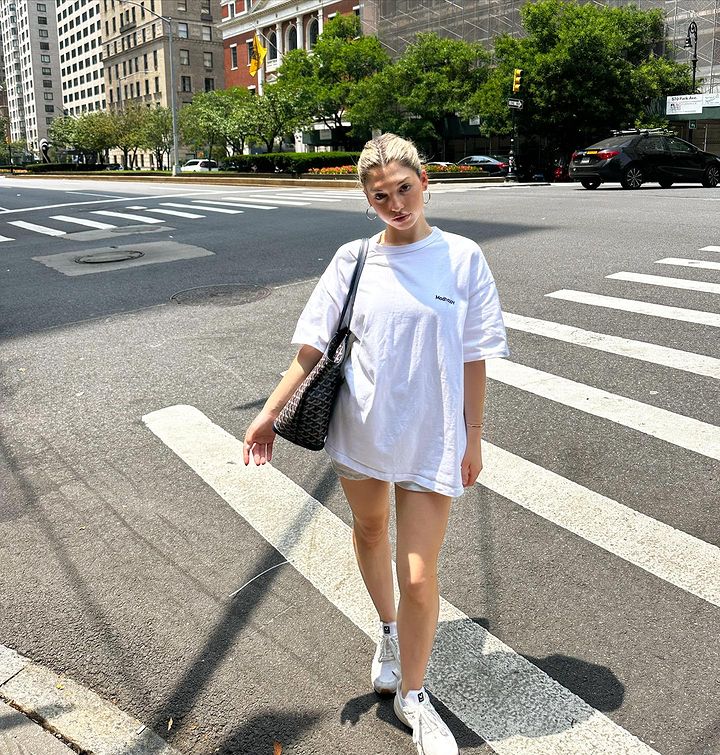 Megan finally addressed the mortifying situation in July 2023, saying: "I have to be real, it brought me to the lowest point in my life. It ruined a lot of things for me; it dug a wedge into, like, the relationship that I had at the time." The sports influencer added that the incident also negatively impacted her mental health, and that nobody knew how bad she felt, but that she was determined to overcome the leaks; however, she was less than amused by the fact that months later, people continue to joke about the photos and videos.
To this day, it's unclear how Megan's intimate moments were leaked for the world to see. Many fans believe that the social media star was merely hacked, while others speculate that Cole had something to do with it.
As for Megan's physical stats, the American is 5ft 2ins (157cm) tall and weighs about 116lbs (53kgs).
Personal Life
Given that so many parts of Megan's life are public, it's understandable that the blonde rarely publicizes her relationships. She began dating Cole sometime in 2022; the pair presumably bonded over their love for ice hockey; but after a few month, the relationship fizzled out – as Megan herself said, the leaks played a part in their split.
Cole was born on 25th April 2001, in Breslau, Ontario, Canada. During his youth career, he played in the Alliance Hockey League for the Kitchener Jr. Rangers, later being promoted to the Ontario Hockey League (OHL), where he played major junior hockey with the Mississauga Steelheads. Following two seasons with the Steelheads, Cole was selected by the Florida Panthers in the 2019 NHL Entry Draft.
In April 2020, Cole's career reached new heights when he signed a three-year, entry-level contract with the Panthers. Due to the 2021-21 season being delayed by the COVID-19 pandemic, Cole made his professional debut with the Syracuse Crunch, the Panthers' temporary AHL affiliate. Shortly before the 2021-22 season, Cole attended the Panthers training camp and was reassigned to its primary AHL affiliate, the Charlotte Checkers.
lulu effect pic.twitter.com/FNvwivhkpX

— Megan Patricia (@overtimemegan) August 3, 2022
Cole finally made his NHL debut in December 2021, when he was recalled to the Panthers after a player suffered an injury. Unfortunately, the team lost 4-1 to the Los Angeles Kings that day. Finally, in July 2022, Cole and two other Panthers players were traded to the Calgary Flames.
In April 2023, Megan confirmed that she was in a new relationship with Australian basketball player Josh Giddey. Born in Melbourne, Victoria, Josh grew up in the small suburb of Yarraville, and became considered one of Australia's top basketball prospects with the NBA Global Academy, which is part of Canberra's Australian Institute of Sport (AIS).
While training full-time at the AIS, Josh also studied at UC Senior Secondary College Lake Ginninderra. At the Australian Under-18 Championships in April 2019, Josh wowed spectators with a stellar performance and helped lead VIC Metro to the title. Under a year later, he earned most valuable players (MVP) honors after helping the NBA Global Academy win the Torneo Junior Ciutat de L'Hospitalet in Barcelona. Shortly afterwards, he participated in NBA All-Star Weekend in Chicago, and was named an all-star player at the camp.
March 2020 was a momentous time for Josh, as he signed with the Adelaide 36ers of the National Basketball League (NBL) as part of the league's Next Stars program. Apart from becoming the first Australian player in Next Stars, Josh turned down offers from Arizona and other NCAA Division I programs.
Although the 36ers lost against the New Zealand Breakers in April 2021, Josh became the youngest Australian player in NBL history to record a triple double. A month later, he became the first ever Australian player to record a triple-double in consecutive games. With such impressive stats, it's easy to see why Josh was selected as the NBL Rookie of the Year.
Josh declared for the 2021 NBA draft in April 2021, and was the sixth overall pick by the Oklahoma City Thunder in July of the same year, and signed a contract with the team a month later. However, five minutes into his NBA Summer League debut, Josh suffered an ankle injury and was ruled out for the rest of the competition as a precautionary measure.
At last, Josh made his NBA debut in October 2021 and was named the NBA Western Conference Rookie of the Month for his October and November games. Breaking even more records, in December 2021 the Australian became the second player in NBA history to record a scoreless double-double. After being declared Western Conference Rookie of the Month four consecutive times, he was ruled out for the rest of the season due to hip pain.
If he plays his cards right, Josh clearly has the potential to blossom into one of the best Gen Z players in the league. In a recent feature with GQ Australia, the basketball prodigy discussed his inspirations – LaMelo Ball and RJ Hampton – fashion, and future goals. As the interview was a solely professional one, Josh made no mention of Megan; however, fans of both eagerly await their first public appearance as a couple.