Rose Dorothy Dauriac Wiki
She's a celebrity child, perhaps only known as the daughter of the famed actress, Scarlett Johansson and her second husband, Romain Dauriac. Rose Dorothy was born under the zodiac sign of Virgo on 30 August 2014, and will soon celebrate her 9th birthday.
Rose's mother is known as one of those celebrities who prefer to keep their private life away from the media's attention, and there isn't much information about Rose. There are some photos on the internet talen by paparazzi which show Scarlett and Rose in public places. Judging by those photos, Rose has blonde hair and green eyes.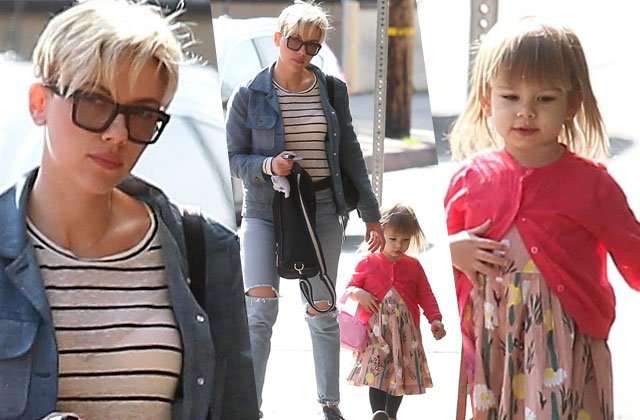 In one of her interviews, the actress said that Rose wants to be a princess, and that on some days she refuses to wear 'normal' clothes, and likes to be dressed like one of her favorite Disney princesses. Many tabloids wrote about Rose's relationship with her mother's new husband, saying that it appears that the two get along well.
Rose has a half-brother from her mother's third marriage, named Cosmo, who was born in 2021.
How did her parents meet? Wedding
Scarlett Johansson and Romain Dauriac kept their relationship secret for years. Reportedly, they met sometime in 2011, in Paris, France, while Scarlett was shooting the movie "Midnight in Paris", through a joint friend. In 2012, the two were seen together having lunch in a New York City's restaurants; they became engaged in the following year, and married secretly a month after their daughter Rose was born.
Divorce and custody battle
Although it all seemed great, and the two even launched their joint popcorn brand, Yummy Pop in 2016, and opened a store,in January 2017, they separated two months later, Scarlett filed for divorce according to court documents, citing that their marriage was 'irretrievably broken'.
Shortly after the news about Scarlett and Romain's divorce was publicized, the actress gave a statement, and among other things, said that she will never comment on the dissolution of their marriage, adding that she doesn't want her daughter to one day read in the newspapers about her parent's divorce.
Romain's lawyer stated that his client was shocked by Scarlett's filing for divorce, and allegedly planned to move with Rose to France. Ultimately, the actress and Romain settled and their divorce was finalized in September 2017; the two share joint custody over Rose.
Briefly about her mother
Scarlett Johansson's legacy in the entertainment industry is marked by her impressive acting talent, her contributions to both independent and blockbuster films, and her status as one of Hollywood's highest-paid actresses. Her roles, particularly as Black Widow in "The Avengers", have left a lasting impact on popular culture.
Born Scarlett Ingrid Johansson under the zodiac sign of Sagittarius on 22 November 1984, she's today aged 38 (as of August 2023). A native of New York City USA, she holds both American and Danish citizenship, through her father, who is originally from Copenhagen, Denmark. Scarlett's ethnicity is of mixed Danish, Swedish and Ashkenazi Jewish descent.
She comes from a family with a background in the entertainment industry; her mother, Melanie Sloan, was a producer, and her father Karsten Johansson, was an architect, but also tried his hand as an actor. Scarlett has a twin brother, Hunter, and two older siblings, Vanessa and Adrian. They have a half-brother, Christian, from their father's first marriage. Their parents divorced in 1997.
Scarlett showed an early interest in acting, and began performing in theater productions at a young age. When it comes to her educational background, she attended Professional Children's School, and made her acting debut aged ten playing Laura in the 1994 movie "North".
Scarlett Johansson & Robert Redford on the set of THE HORSE WHISPERER, 1998. pic.twitter.com/fW0iQbyAVi

— Stephane Celerier (@stephanecel) August 3, 2020
Scarlett's first major role came in the 1996 movie "Manny & Lo", which earned her critical acclaim. However, it was her role in "The Horse Whisperer" (1998) that brought her more attention in Hollywood. She continued to build her reputation with roles in movies such as "Ghost World" (2001) and "Lost in Translation" (2003), the latter earning her widespread recognition and her first the British Academy of Film and Television Arts (BAFTA) Award for Best Performance by an Actress in a Leading Role.
In the mid-2000s, Scarlett's career continued to flourish with roles in films "Match Point" (2005), "The Prestige" (2006), and "Vicky Cristina Barcelona" (2008), establishing herself as a versatile and talented actress, capable of taking on a wide range of roles.
One of Scarlett's most iconic roles is that of Natasha Romanoff, also known as Black Widow, in the Marvel Cinematic Universe, making her first appearance in the role in the 2010 movie "Iron Man 2" and going on to portray the character in several other Marvel films, becoming an integral part of the superhero franchise. She was seen in "The Avengers" (2012), "Captain America: The Winter Soldier" (2014), "Avengers: Age of Ultron" (2015), and "Captain America: Civil War" (2016), and its sequels. She reprised her role in the 2021 movie "Black Widow".
Apart from this success, Scarlett also starred in a variety of movies, including "Her" (2013), in which she voiced the character of Samantha, "Lucy" (2014), "Marriage Story" (2019), and "Jojo Rabbit" (2019), among many others. Her performances in the latter two earned her additional Academy Award nominations for Best Performance by an Actress in a Supporting Role.
When it comes to Scarlett's personal life, she married the famous Canadian actor, Ryan Reynolds in 2008. The two were considered a Hollywood power couple, but announced their separation in 2010 and divorced in 2011. As mentioned, from 2014 through 2017, she was married to Rose's father, Romain Dauriac. In 2020, it was announced that Scarlett Johansson had become engaged to Colin Jost, a comedian and writer known for his work on "Saturday Night Live". The couple had been dating since 2017, and tied the knot in an intimate ceremony, with the wedding details kept relatively private. As of August 2023, the couple is still married, and as mentioned, they have a son together.
Now, we know that you all want to find out how rich the highest-paid actress is. Well, according to sources, Scarlett's net worth has been estimated at over $165 million, as of August 2023.
Rose's father's short bio
Rose's father is the first non-celebrity person with whom Scarlett Johansson had a relationship, and later married. He's a native of Paris, born under the zodiac sign of Cancer on 3 July 1982, and so recently celebrated his 41st birthday. When it comes to his profession, Romain is a former journalist and now works as an art show curator.
He's only known as the now ex-husband of the famous actress, and after the two divorced, Romain withdrew from public life – he has no social media accounts, and prefers not to give interviews, thus there isn't much known about him.