-Kristina Pink is a reporter, journalist, and sports caster from Miami, Florida, USA.
-She works as a National Football League (NFL) FOX Sideline reporter and L.A. Clippers Courtside reporter.
-She studied telecommunications at the University of Florida and began her career in broadcasting for the university's television and radio station.
-She joined FOX Sports in 2012 and is now one of the most respected female reporters in the business.
-Kristina has an estimated net worth of $750,000 and is active on social media with over 10,000 followers on Instagram.
 
Who is Kristina Pink from Fox Sports?
Kristina Pink was born on 12th March 1986, in Miami, Florida USA. She is now a 33 year-old reporter, journalist and sportsrcaster, who became famous for her work at FOX Sports. She currently works as a National Football League (NFL) FOX Sideline reporter, and L.A. Clippers Courtside reporter. Her career has been active since 2007.
Kristina Pink Wiki Bio: Early Life, Family, Education
Regarding her early years, shortly after Kristina's birth her parents moved from Miami to the smaller town of Pembroke Pines, where Kristina met most of her current friends, fell in love with the world of sports, and attended high school. Surprisingly, it was actually Kristina's mother, who is an avid basketball fan, who introduced her daughter to the world of sports – Kristina's father was more concerned with her finishing her education. Basketball and football became Kristina's favorite sports to watch.
Having matriculated from high school, she enrolled at the University of Florida in 2003; she studied telecommunications and got her Bachelor's degree in December 2007. Kristina's first contact with broadcasting was during her college studies, and her first entry in her decorated professional resume was actually her work for the university's television station called WUFT, and its radio station called WRUF-AM 850. During the four years at college, Kristina did a number of athletics feature stories regarding various sports events that were played on campus, and the sports teams that participated in them. Therefore, when she graduated from college she had enough knowledge and experience to venture into the world of sportscast reporting.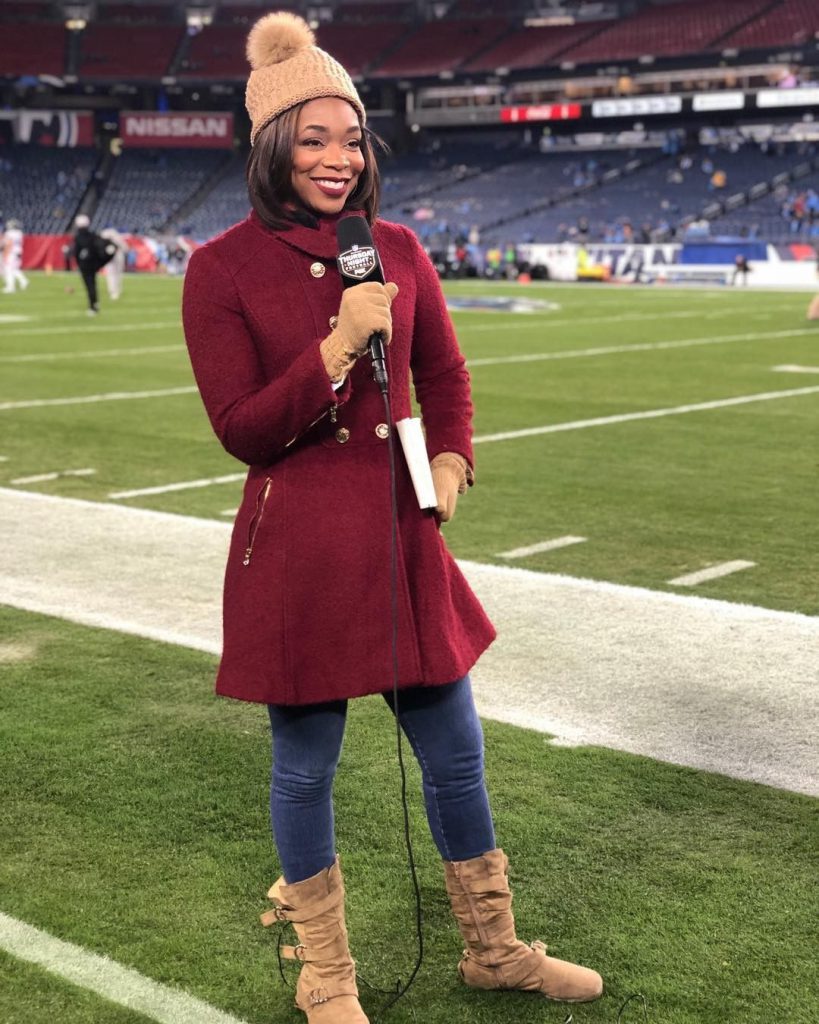 Career Beginnings
Following her graduation, Pink joined WDBT-TV station located in Jackson, Mississippi in early 2008. Her duties included editing and writing for the station's official website, in addition to her standard roles of sideline game reporting. Pink soon became one of the most respected and sought after female sportscasters in the business. In 2010, she was chosen to cover the Super Bowl XLIV game between the New Orleans Saints and Indianapolis Colts. Later that year, she covered the Pro Bowl game held in Miami. On behalf of NBC Miami affiliate WTVJ station, she reported from the 2012 National Basketball Asociation (NBA) Finals between the Miami Heat and Oklahoma City Thunder.
After a one-year stint at WDBT-TV, Pink moved to New Orleans and started working for the ABC affiliate WGNO-TV. Her next job took her back to Miami, where she stayed for the next four years working as a sports reporter for WTVJ-TV.
Joining the FOX Sports
Pink became a member of the large FOX Sports family in late 2012, enough of a success in its own to earn respect of your colleagues and coworkers. Pink managed not only to do that, but she also earned the trust and respect of NBA and NFL players and coaches. Soon after joining FOX Sports, she became known among fans and sports professionals as a reliable, well-informed and knowledgeable reporter.
Her career continued to blossom at her new workplace. Initially she also covered college football games, particularly seasons 2013 and 2014, then collaborated with analyst Chris Spielman and play-by-play announcer Dick Stockton during the 2016 NFL season. In the following season, she was paired with play-by-play announcer Kenny Albert and analyst Ronde Barber. Moreover, in the 2018/2019 season she covered Wild Card, Divisional and Championship games as the AFC reporter for FOX Sports. In addition to this, she currently serves as a courtside reporter for the NBA team the Los Angeles Clippers, broadcast on Prime Ticket, Fox Sports' regional network. Beside her usual work, Pink was a presenter oat the 67th Los Angeles Area Emmy Awards.
Personal Life
Concerning her personal life, even though Kristina is pretty open about the professional aspect of her life, she is keen on keeping her love life as secretive as possible, and has refused to comment on her current relationship status on several occasions. Similarly, her social media accounts are filled with pictures from work and daily life with friends and family, but there are no pictures with anyone who might be considered her romantic interest. Kristina currently resides in Los Angeles.
Net Worth
Speaking about her overall wealth, authoritative sources have estimated that the FOX Sports reporter has amassed a net worth of $750,000 over the course of her career. Seeing that she is one of the most respected female sportscasters in the business and working for a high profile sports network, we can expect that her net worth will increase even more in the future.
Social Media
Kristina likes to share her daily activities with her fans on social media. She has a Twitter account with more than 11,000 followers, and has an account on Instagram where she is followed by more than 10,000 fans.
Work flow pic.twitter.com/OEbEHNHaAt

— Kristina Pink (@Kristina_Pink) April 19, 2019
Appearance and Physical Characteristics
When it comes to her appearance, Kristina has a slim figure and curvy physique – she is regarded by sports fans as one of the sexiest female sportscasters. She has medium-length black hair and dark brown eyes. Unfortunately there is no information regarding her height, weight and vital statistics.
Source:
IMDb
,
Wikipedia