• Paul Vincent Sinclair was born in 1967 and is the twin brother of actor Vin Diesel.
• His net worth is estimated to be over $400,000.
• He is known to have done film work, and sound editing.
• He took part in a film written, directed, and produced by Vin Diesel entitled "Multi-Facial".
• His marital status is unknown and he has no known social media accounts.

Known for movies
Short Info
| | |
| --- | --- |
| Fact | Cousin of rapper Kwamé. |

Who is Vin Diesel twin brother Paul Vincent?
Paul Vincent Sinclair was born on 18 July 1967, in Alameda, California USA, and is the twin brother of actor Vin Diesel, who is known for his various film work including as a part of the "Fast & Furious" film series. Paul himself is known for keeping himself out of the public eye, and has only been spotted a few times with Vin or his friends.
The Wealth of an Actor's Twin
How rich is Paul Vincent? As of early-2018, sources inform us of a net worth that is over $400,000, earned through success in numerous endeavors. Few details are known about his work but he has been a part of films, involved in sound editing. His wealth is also said to be elevated by his brother's success, as Vin is known to have a net worth of over $160 million thanks to his numerous high-valued contracts.
The Rumor of a Twin Brother
While Vin Diesel found a lot of popularity in films, there was no question about his family as people mainly focused on his work. He initially found popularity as a part of "The Chronicles of Riddick" series beginning with the film "Pitch Black". He then found more popularity as he became a part of the "xXx" series as well as "The Fast and Furious" film series. He is also known to have done a lot of voice-acting work, and is the voice of Groot in the "Guardians of the Galaxy".
In 2015, rumors started spreading that Vin actually has a twin brother, and many speculated on what his twin brother looked like or if they've been fooled at times, believing that his twin brother would look exactly like him. Diesel would later confirm that he actually has a fraternal twin brother who lived life out of the spotlight. He wanted to keep his twin brother away from the media, but constant nagging eventually led him to decide to release a picture of his real twin.
Family Life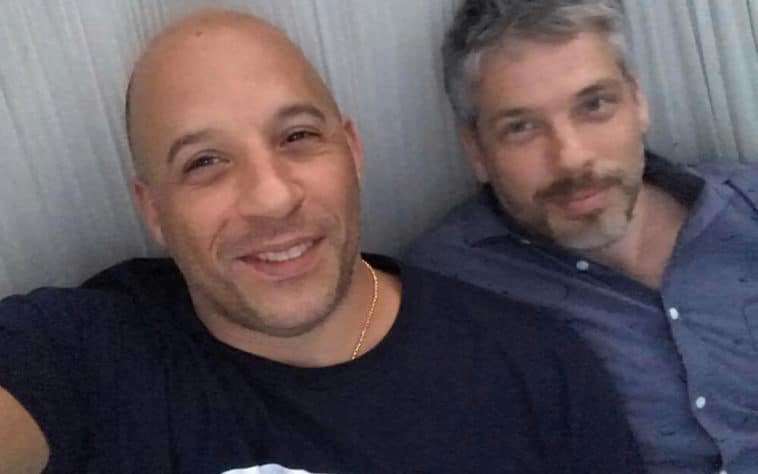 Paul and Vin were born to astrologer Delora Sinclair and they have German, English, and Scottish ancestry. They were raised by a stepfather who is an acting instructor and theatre manager, and have never met their biological father. They were raised alongside two other siblings. When Vin got into the acting business, he used his brother as an inspiration for his first name, using the name Vin from Paul Vincent as a tribute to his twin brother. Vin Diesel's real name is Mark Sinclair.
When Diesel posted a picture of his twin brother Vincent, fans and the media were surprised as they didn't really look anything like each other. While Vin kept a shaved look and was more muscular, his brother had a beard, short grey hair and was slimmer than his brother. Of course, this was to be expected since fraternal twins usually have different identifying traits. Despite being raised together, they've gone on to have separate paths.
Film Work?
Prior to all the media attention in 2015, it is known that Vin's brother was already seen on the set of a "Fast and Furious" film, in which he was pictured alongside the now-late actor Paul Walker. In the picture, Diesel confirmed that it contained two Pauls, one of whom is his twin. Many became curious of his twin brother, then and believe that he also shares the same attractiveness as his brother.
Since his media exposure, many have speculated if Paul would try his hand at appearing in a small role in film, probably as a part of an established franchise such as "Fast and the Furious". He did take part in a short film written, directed, and produced by Vin Diesel entitled "Multi-Facial", for which Vincent did the sound editing. The story of the film is about a multiracial actor who faces various emotional and professional issues. The film was released in 1995, and it is credited as the work that led Vin to be cast by Steven Spielberg in "Saving Private Ryan", which was his first major film role.
Paul Vincent on Social Media
Paul tries his best to keep away from the spotlight, and as such doesn't have any known social media accounts on the popular websites such as Facebook, Twitter and Instagram. Vin has confirmed that his brother doesn't want any media attention, while on the other hand Vin Diesel is very active on social media, particularly on Instagram on which he posts some of his daily endeavors, and recent film work. He also posts pictures with his family, and produces videos to help him connect with fans.
He also has a Facebook page on which he does similar work, and posts videos of his recent projects such as "The Avengers: Infinity War".
Paul's Marital Status
Perhaps unsurprisingly, as with the rest of his life, Paul's private affairs remain exactly that – there is no public information about his marital status, not even any rumours of dating or affairs, so the assumption is that he remains single, at the age of 50. He continues to live in southern California.
General Info
| | |
| --- | --- |
| Full Name | Paul Vincent |
| Nationality | American |
Family
| | |
| --- | --- |
| Siblings | Vin Diesel, Samantha Vincent, Tim Vincent |
Accomplishments
| | |
| --- | --- |
| Music Groups | Vincent Rocks |
| Movies | Arthur, Heartsounds, Albert! Or, My Life in the Ocean, My Brother Has Bad Dreams, Willy & Scratch, Willie and Scratch |
Social profile links
Source:
IMDb
,
Wikipedia