• Josh Leyva is a YouTuber, vlogger and actor
• 27 years old, born on December 27th 1990
• Raised in California City by unknown parents
• Career includes 6-episode role in "Saving Lives" and 11 episodes of "Cooking on High"
• Net Worth estimated at $700,000
 
Who is Josh Levya?
Born Josh Jovanny Leyva in California City USA, Josh Leyva is an Hispanic-Caucasian YouTuber, vlogger and actor. He is perhaps best known to the world for his long-term presence on YouTube, as the creator of funny videos posted on his channel entitled "YoMuscleBoii." He has had a number of successes in his sometimes lucrative YouTuber career since 2011.
https://www.instagram.com/p/BjLoSuagouK/?taken-by=thejoshleyva
How old is he?
Josh Leyva is at the moment 27 years old, and he will be 28 on the 27th of December this year. He was born in 1990 on the said date, under the sign of Capricorn.
Early Life: Growing up in California City
Josh was raised in his birthplace, by parents of yet unknown names and professions. Even though his mother has been seen in quite a few of his videos, her identity is still a mystery. Josh has a younger brother named Mark, of unknown age. Josh garnered an interest in acting from an early age, and had dreams about being cast in a big Hollywood production. Over the years, he transformed his passion for acting into a drive for creating comedy videos for his YouTube channel. As for his education, Josh attended an unspecified high school, from where he is thought to have matriculated in 2008. It is unknown whether he on to college.
Career: An Internet Comedian
Josh created his YouTube channel "YoMuscleBoii" on the 17th of September 2011, and posted his first video entitled "You Ain't A Guido!" twelve days later. His next 20+ videos were all on the subject of 'guidos', which is a slang term for an Hispanic man (mostly Italian American) who is aggressive, impulsive and socially unsophisticated. This was reflected in titles such as "Guido Life: Curls for Gurls", "Guido Life: Freakin' Shoppin!", "Guido Life: The Guidfather!", "GUIDZ ARE HERE! (OFFICIAL MUSIC VIDEO)", etc. In 2012, Josh starred in an episode of the TV series entitled "Cholo Adventures", and once more in 2013, plus showing-up in a single episode of "AwesomenessTV" in 2014, and in another five projects in 2015, the most significant of which is his 6-episode role in "Saving Lives." In 2016, he was featured in a total of six releases, and another four in 2017, the most significant of which is "Gaylo Returns", which is listed as his most important role on the Internet Movie Database. He made an appearance in a TV series this year, and another in 11 episodes of "Cooking on High."

His YouTube Channels
Josh's YouTube channel has attracted almost 260 million total views, and has over two million subscribers, with the description 'On my channel you will discover a variety of exciting characters, full of punchlines and non-stop comedic elements! Please allow me to make you LOL!' He also has a channel named "yojoshyboii", on which he often posts videos about his personal life, and thus caters to that part of the audience's interests as well. He created this account on the 15
th
of April 2013, and it has since accumulated over 7.5 million views, and over 200,000 subscribers. The most viewed video on his former channel is entitled "Normal People vs Justin Bieber", and it has almost 8.5 million views, while the most popular video on his vlog channel is entitled "Are You Gay Test", and it has over 650,000 views.
Love Life: A Mystery
As for Josh's romantic involvements, he is known to have dated the popular dancer Olivia Chachi Gonzales. They began dating near the end of 2014, and remained together for approximately three years, but broke-up publicly in late 2017. It was speculated that the instability in their relationship was caused by Josh's increasing closeness with the transgender beauty vlogger named Nikita Dragun. However, this allegation was never confirmed nor dismissed by either of the celebrities. It is not known whether Josh has a romantic relationship with Nikita now, nor whether he is dating anyone else. According to his words, or the lack thereof, Josh is currently single.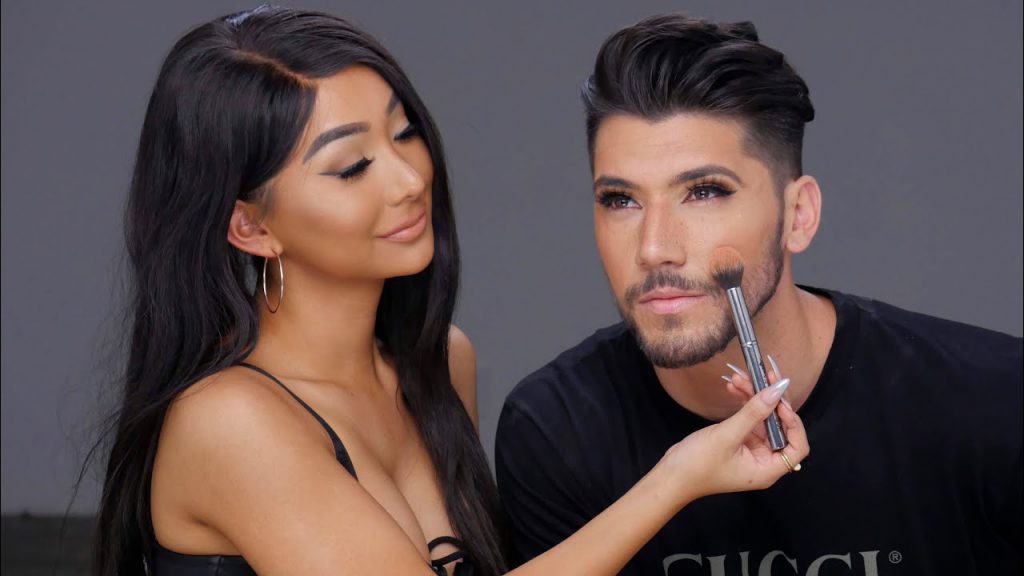 What is Josh Leyva's Net Worth?
Have you ever wondered how rich Josh Leyva is, as of mid-2018? According to various authoritative sources, it has been estimated that the total of Josh's accumulated wealth is close to $700,000, made mainly as a YouTuber and actor,. As his career continues to develop, the said amount can be expected to increase.
Always be thinking bout my next video idea! Check out my latest video of my creative process? #teampixel #ad @google https://t.co/ZtgYwWu4io pic.twitter.com/h7cONV7XcV

— J O S H Y (@joshleyva) October 23, 2017
Body Measurements
Concerning the physical attributes of the aspiring actor, his height is 5ft 10ins (178cm), while his current weight is 165lbs (75kg). His hair is pitch dark and his eyes are dark brown, while his body shape is generally described as muscular.
Social Media Presence
Due to the major influence of social networks, it is nowadays a regular thing for active celebrities to nourish a close and active relationship with their fans, for the sake of increasing the popularity of the projects they're working on, and thus their own net worth. Lance himself seems to be a regular subscriber, if not the leading example of this celebrity trend, as his presence is quite ubiquitous on most of the popular social media networks. His Facebook page has over 500,00 followers, his Twitter account over 100,000, and his Instagram account over 550,000 fans.
Accomplishments
Social profile links
Movies
Actor
| Title | Year | Status | Character |
| --- | --- | --- | --- |
| Laid in America | 2016 | post-production | Tucker |
| Love for All Seasons | | Short filming | Brad Smith |
| Untitled Eli Roth CryptTV Snapchat Murder Mystery | | Short announced | |
| Chachi's World | 2015 | TV Series | |
| The Storybook Killer | 2015 | Short | Peter |
| Lab Coats: Life After the Zombie Apocalypse | 2015 | TV Short | Robby |
| High Fives | 2015 | TV Series | Yomuscleboii |
| Saving Lives | 2015 | TV Series | Josh |
| AwesomenessTV | 2014 | TV Series | |
| Cholo Adventures | 2012-2013 | TV Series | Victim / Tiny |
Camera Department
| Title | Year | Status | Character |
| --- | --- | --- | --- |
| Cholo Adventures | 2012 | TV Series camera operator - 1 episode | |
Editor
| Title | Year | Status | Character |
| --- | --- | --- | --- |
| Cholo Adventures | 2012 | TV Series 1 episode | |
Self
| Title | Year | Status | Character |
| --- | --- | --- | --- |
| Drama King | 2015 | TV Series | Himself |
| YoMuscleBoii's Royal Caribbean Adventure | 2014 | TV Series | Himself - Host |
Source:
IMDb
,
Wikipedia