• Lauren Kay Sims is an American fashionista and lifestyle celebrity born on March 16, 1990
• She studied fashion merchandising and business administration at Baylor University
• She is married to Michael Sims and they have one daughter named Shiloh
• Her style is feminine with a bohemian, classic touch
• She advises aspiring bloggers to stay true to themselves, use SEO and write about topics they are passionate about.

Known for movies

Who is Lauren Kay Sims?
Lauren was born in Dallas, Texas USA on 16 March 1990, so under the zodiac sign of Pisces and holding American nationality – she is best known for being an American fashionista and a lifestyle celebrity. Lauren is also a very religious person – she is a part of the worship team at her church and loves to sing there.
Early life and education
Lauren rarely talks about her childhood, but is said to have spent most of her early years with her parents in her hometown where she went to high school, and afterwards attended and graduated from Baylor in 2012, majoring in fashion merchandising and a minor in business administration. She was one of the cheerleaders in her high school and although she is very good at running now, she didn't run until she got to college. She was also interested in music, and took piano lessons when she was around 10 years old.
She has shared some things about her family on her website – she grew up with six siblings and she loves the fact that her family is so big – it got a lot bigger after her siblings began having their own families. Her sisters seem to be her best friends, and she loves her family more than anything else in the world – she claims how not a single day goes by that she doesn't text her sisters about something.
Career
Lauren's first job was when she worked at Sonic as a car-hop although she couldn't rollerblade and carry her food as she was not good at it. After that, she worked at Hollister, and then at LOFT. As soon as she was done with her studies, Lauren went to New York City and began working for Pink Tartan showroom as an intern, the Fine Apparel buying office for Neiman Marcus Direct. Not more than two years after that, Lauren started writing articles about fashion sense, while also writing about travelling, and she managed to gather a lot of followers before she launched her own website in 2014. This is when Lauren slowly began to build her career – people would visit her website in order to get tips on how to organize all those things in their wardrobes and find their own unique style.
Lauren has been blogging for more than four years now.
Personal life
Lauren doesn't really share much about her love life with the public, however, it is known that the internet personality married the love of her life Michael Sims on 28 March 2014 – he proposed to her at White Rock Lake located in Dallas and that was the second best day of Lauren's life, while their wedding was their first. The couple was dating for several years before they exchanged their vows but it took them a while before they welcomed their first baby – there were speculations about why they waited for so long to have a kid, but it was said to be because they were both focused on their careers – Lauren hasn't shared the exact reason with the public. The couple is currently living together in Colorado with their little girl named Shiloh, and their golden retriever Beau who she got from Craig's List.
Even though Lauren has her husband, he can never replace her toy bear which she got when she was a little girl, and still keeps it close to her every single night.
Her own style
Lauren's style is feminine with a bit of bohemian, but classic touch. She follows trends but not too much, as the clothes which she has in her wardrobe always last more than just one season. She is a big fan of soft and neutral colors which have that bohemian vibe. She enjoys going out in her AG jeans, her Free People T-shirt, her suede boots and her big cardigan. Her personal favorites when it comes to brands are Madewell and Free People, while her favorite sport brand is Nike, and she had a dream of collaborating with Nike – she would do a hiking adventure in their shoes, and in that way help promote them.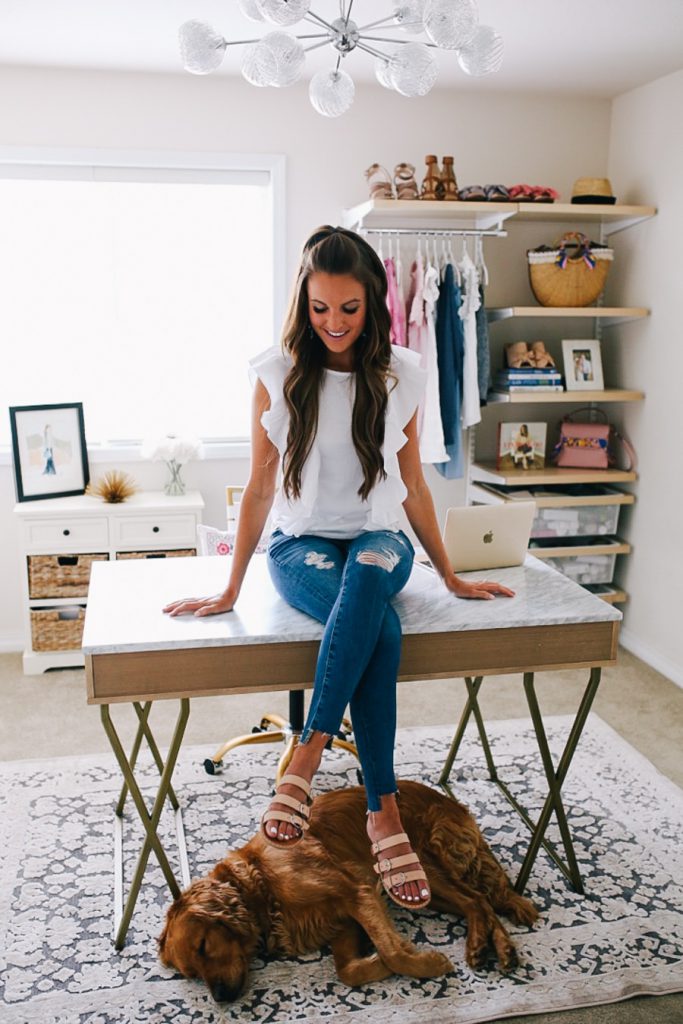 Likes and hobbies
In order to be a good fashionista who people are going to listen to when they need advice about clothes, one has to look good first, and that is why Lauren is very active, exercises on a daily basis -her favorite way of exercising is running, having completed three half marathons so far, and finished her first marathon last year. She loves spending time with her husband on vacations, and rarely chooses the same destination twice – she also loves to travel alone as it gives her a feeling of freedom. She eats healthy food– her favorites include eggs, veggies, proteins, but even though she is living a healthy lifestyle, she can't cut back on sweets, and eats desserts every day, cheesecake the most, ice cream, and brownies. She likes cooking as well and often prepares meals for her and her husband. Her favorite movie is "Gifted" and she claims to have cried every time she watched it. Her favorite travel destination is Positano in Italy, having been there with her husband about two and a half years ago. Even though not a lot of women enjoy putting clothes up after they do the laundry, Lauren finds some strange joy in it.
Last but not least, Lauren is a big believer – she claims how Jesus became a part of her life when she was six years old, and has been walking with him ever since – he is the 'foundation of my life and who I am, and the most important thing in the world to me'.
Would she rather be with people or alone?
Even though Lauren likes spending time with her friends, she admits preferring staying home on her own rather than going outside and hanging out with the people she knows. Somebody might misunderstand her and claim how she doesn't care about her friends – she does, and is there for them whenever they need her but she considers herself to be an introvert who loves the time she gets to spend on her own.
Sock phobia
You might probably not have heard about something which is called sock phobia but there's a first time for everything – Lauren has a fear of dirty socks as she can't stand seeing them anywhere else other than on someone's feet.
The word she hates the most
Although she doesn't have a problem eating it, "mayonnaise" is the word Lauren hates the most and calls it 'the grossest word ever'.
Fun fact
Lauren doesn't see the point of making your bed because it gets ruined over and over again – although she admits you have to do it if you are having guests.
Appearance and net worth
Lauren is currently 29 years old. She has long blonde hair, brown eyes, is 5ft 7in (1.7m) tall and weighs around 123lb (56kgs).
According to authoritative sources, Lauren's current net worth is estimated to be over $1 million, and is likely to rise as Lauren is still very active and is popular on the Internet.
Social media presence
Lauren is an Internet personality, active on numerous social media platforms – she launched her Twitter account in March 2009 and has so far gathered nearly one thousand followers and tweeted over 7,500 times. Her Instagram account is followed by more than 300,000 people while she posted nearly 7,000 pictures – she has a Facebook page as well with over 2,500 fans.
Lauren has her own website-blog which is completely focused on clothing styles and lifestyle hints – you can see a lot of Lauren's pictures, you can buy her own merchandise, and you can find links to her social media accounts.
lake tahoe – you were more beautiful than i could've dreamed ? pic.twitter.com/1E7mQ5ZruO

— lauren kay (@laurenkaysims) February 7, 2018
Advice on becoming a successful blogger
Lauren advises everyone who wants to become a blogger to not lose themselves while doing it – even though it might sound like a cliché, one should stay true to who he or she is, but they should also know some basics including how to use SEO. She claims how you shouldn't force yourself of being someone else just to blend in and make it out there, and you should always try to write about things which you are passionate about.
Movies
Actress
| Title | Year | Status | Character |
| --- | --- | --- | --- |
| The Secret Adventures of Jules Verne | 2000 | TV Series | Natasha |
| Promise Her Anything | 1999 | | Cynthia Miles |
| The Outer Limits | 1999 | TV Series | Lady Ellen |
| Foolish Heart | 1999 | TV Series | Louisa |
| Lassie | 1998 | TV Series | Samantha |
| Platinum | 1997 | TV Movie | Angie |
| The Hunger | 1997 | TV Series | Judith Sloan |
| The Lost Daughter | 1997 | TV Movie | Laure McCracken |
| Marked Man | 1996 | | Lisa Elkins |
| Zoya | 1995 | TV Movie | Dancer |
| Sirens | 1995 | TV Series | Sally Wield |
| Mothers and Daughters | 1992 | | Angela |
Source:
IMDb
,
Wikipedia