• Jan-Harm Pol was born in 1942 in Drenthe, Netherlands
• Grew up on a dairy farm and attended the University of Utrecht for veterinary studies
• Moved to Michigan, USA in 1970 and started his own veterinary practice in 1981
• Featured on the reality TV show "The Incredible Dr. Pol" from 2011-2018
• Has amassed a net worth of $3 million and over 700,000 followers on Facebook

Known for movies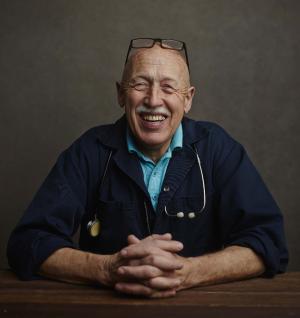 Who is "The Incredible Dr. Pol?
Born Jan-Harm Pol on the 4th September 1942, in Drenthe, Netherlands, he is a veterinarian, best known to the world from his appearances in the reality TV series "The Incredible Dr. Paul" (2011-2018), which showcased Jan's day-to-day operations at his clinic in Weidman, Michigan USA. The show also features his wife, Diane, and their employees.
https://www.instagram.com/p/BaM3QSGliTR/
Early Life, Siblings, and Education
With his two older brothers and three older sisters, Jan grew up on a dairy farm in Drenthe, which made him fell in love with animals at an early age, which only deepened as he grew older, and it was when he was 12 years old that he decided he would become a veterinarian. He helped a local vet deliver piglets, the moment of epiphany for the young Jan. In the early '60s, Pol was a part of the student-exchange program of the Mayville High School, spending a year at the school, with host parents who were the biological parents of his future wife Diane. Once his year of high school ended, he returned to the Netherlands, but he wasn't alone, as he took Diane with him. After successfully completing high school, Pol enrolled at the prestigious University of Utrecht, from which he obtained his veterinary degree in 1970.
Career Beginnings
Once he completed the DVM program at the University of Utrecht, Jan and his now-wife Diane, moved to Harbor Beach, Michigan in the USA, where he started looking for a career start, and found a place for himself as an assistant for an already proven veterinarian in Harbor Beach. Jan spent more than 10 years in service of this veterinarian when he decided it was a time for a step forward. He and his wife moved to Weidman, Michigan, where he started his own veterinarian clinic, Pol Veterinary Services in 1981.
Hey #DrPol fans! Join us for #FacebookLive from the Pol clinic Saturday morning between 9-11am EST to celebrate the premiere ? Be sure to check Nat Geo Wild to get in on the action ????? See you then!

Posted by Dr. Pol on Friday, January 5, 2018
Rise to Prominence
Once he got his clinic in motion, Jan's business venture began developing and he was in need of more people next to him. First to help was his wife Diane, but that wasn't enough. In 1992 he hired Dr. Brenda Gettenberger, who graduated from the Michigan State University College of Veterinary Medicine and soon after graduation joined "the incredible doctor Pol" and his Pol Veterinary Service. Year after year he had more and more satisfied clients, reaching 15,000 of them in 20 years. Thanks to his hard work and devotion, he was chosen by the producers of the National Geographic Wild producers for the new TV series that would showcase day to day operation at his clinic. The show "The Incredible Dr. Pol", premiered in 2011 and since then it has become one of the most popular reality TV series on the National Geographic Wild channel, so far totaling 12 seasons and 123 episodes, which has certainly made Dr. Pol a celebrity.
Continual Success
Since starting his practice, Jan has accumulated more than 22,000 client; though he had some problems with animal owners, including being sued for maltreatment, which jeopardized his license, he managed to settle everything outside the court, and the cases were dropped. His show suffered criticism too, and there was a petition for its cancelation, but Pol overcame all the issues and has most recently finished shooting the 12th season.
A little #MondayMotivation: Coffee and a PB sandwich. Classic! #DrPol pic.twitter.com/FDbPcyTvnm

— Dr. Pol (@DrPol) June 18, 2018
Do You Know How Rich the Successful Veterinarian and Reality TV Star, Jan Pol Is?
Since starting his own veterinarian practice Jan has had more than 20,000 satisfied clients who came to him with problems with their pets and farm animals. His hard work paid off when he became the cast member of the reality TV series "The Incredible Doctor Pol" in 2011. So, have you ever wondered how rich Jan Pol is, as of mid-2018? According to authoritative sources, it has been estimated that Pol's net worth is as high as $3 million.
Do You Know Of His Personal Life, Wife, Marriage, and Children
When he went to the USA for the first time, Jan met his future life companion, Diane, born in Mayville, Michigan in 1943. The couple married in 1967. They have three adopted children, Kathy then Charles who were both adopted soon after birth, while their third child, Diane, became a part of the Pol family when she was 18 years old. Their son Charles from an early age often helped Jan in his endeavors, but since then has pursued a career of his own as a film director. He was an intern for the late Sydney Pollack.
Is Dr. Pol on Social Media?
Since the start of the reality series "The Incredible Dr. Pol", Jan has become a quite famed personality, which can be confirmed through his social media network profiles. On Facebook alone, Jan has a fan base of almost 700,000 followers, with whom he has shared his newest professional endeavors. He is also no stranger to Twitter and Instagram, on which he has a total fan base of over 100,000. So, if you aren't already a fan of this successful veterinarian and reality TV personality, then this is a fantastic opportunity for you – just follow the links to his official pages.
Movies
Thanks
| Title | Year | Status | Character |
| --- | --- | --- | --- |
| Bring Us Your Women | 2015 | thanks | |
Self
| Title | Year | Status | Character |
| --- | --- | --- | --- |
| The Incredible Dr. Pol | 2011-2017 | TV Series documentary | Himself - DVM / Himself / Himself - Veterinarian / ... |
| WGN Morning News | 2017 | TV Series | Himself |
| Calling Dr. Pol | 2015-2016 | TV Series documentary | Himself - DVM |
| Jinek | 2015 | TV Series | Himself - Dierenarts |
Source:
IMDb
,
Wikipedia