• Dr. Michael Obeng is an American surgeon and TV reality star.
• He was born in Kumasi, Ghana, and moved to the US with $200 in his pocket.
• He has medical degrees from the Midwestern State University, the University of Texas, and Harvard Medical School.
• Michael has been a star of the E! Reality series entitled "Second Wives Club" from 2017 to this day.
• He is the founder of R.E.S.T.O.R.E. Worldwide Incorporated to help people in third world communities.
 
Who is Dr. Michael Obeng?
Michael was born in Kumasi, Ghana on 17 March 1973, so under the zodiac sign of Pisces and of African ethnicity, but now holds American nationality. He is noted as being one of  America's Top Surgeons while he is also a TV reality star, and Veronika Obeng's ex-husband.
Early life and education
Michael was born into a poor family but he didn't stay in Ghana for too long – he moved to the US when he was around 20 years old with nothing but $200 in his pocket. He doesn't usually talk about his parents or his siblings, and so nothing is known about them – he wanted to become a doctor from a very young age, as he was surrounded by people suffering from deformities and diseases, and was determined to help them some day. It all started for him when he was 15, and witnessed doctors from a charity organization helping his neighbor who had had acid poured on her face.
After he matriculated from high school, Michael enrolled and studied at the Midwestern State University in Wichita Falls, from which he graduated cum laude in Chemistry, and doing so well that he won the Han, Wrist and Microneurovascular Surgery Fellowship from Massachusetts General Hospital, while also winning the Deaconess Medical Center and Children's Hospital of Harvard Medical School Fellowship. He finished his postgraduate training and internship in Plastic and Reconstructive Surgery at the University of Texas' School of Medicine, and he also worked in John Sealy Hospital and the Shriners Hospital for Children in Galveston. He currently holds M.D. and F.A.C.S. medical degrees and certificates, while he is specialized in performing surgeries of aging face, neck, breast, extremities and genitalia.
Career and his appearances on TV
When it comes to his TV career, Michael has been a star of the E! Reality series entitled "Second Wives Club" from 2017 to this day – the show also helped him advertise his services as a cosmetic surgeon.
Michael held academic positions at the Northeast Medical University in Rootstown in Ohio, and at Tauro University in Vallejo in California – he has worked as a plastic surgeon in Pennsylvania and Ohio, while he also served as the Chief of Plastic Surgery at the Saint Elizabeth Boardman Medical Center in Boardman. In 2011 and 2014, he was named one of "America's Top Plastic Surgeons" by the Consumer's Research Council of America.
Michael is currently working at his private plastic surgery clinic, located in Beverly Hills in California.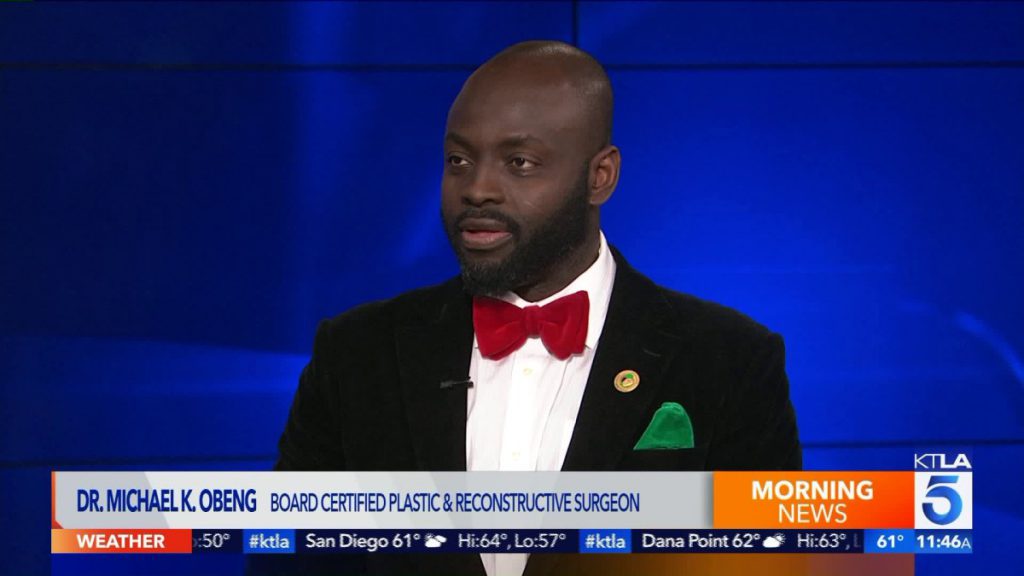 Personal life and his three ex-wives
Veronika Obeng, the woman he met at "Second Wives" was his third ex-wife – the couple has three kids together while Michael has five kids from his two former marriages. He has not shared anything about his two ex-wives with the public. The reason behind his divorce from Veronika is, according to her, that he cheated during the reality TV series – she filed for divorce in the summer of 2016 after she caught him cheating with the use of his Instagram account. She also accused Michael of using the services of prostitutes.
While Veronika filed for divorce, Michael hired a lawyer in an attempt to stop E! Entertainment from airing an episode in which Veronika was talking about their marriage, Michael's affairs, about him sleeping with his patients and spending his money on organizing sex parties. Nevertheless, the episode aired on 4 May 2017.
Who is Veronika Obeng?
Veronika was born in Spiro, Oklahoma USA, on 23 February 1984, so under the zodiac sign of Pisces, holds American nationality and is of mixed ethnicity; she is 11 years younger than Michael. She is popular for being a TV actress and for her appearance in the "Second Wives Club" reality TV show.
Veronika spent her childhood with her parents and her five brothers and one sister. After she matriculated, she enrolled at the University of Oklahoma, and graduated with a bachelor's degree four years later – she worked as the general manager of her ex-husband Michael.
Veronika is said to have inspired many women who have issues in their families because of their abusive or cheating husbands – when she spoke about her husband's affairs with other women on the show, she encouraged many others to speak up against their other halves. Veronika has apparently not been dating anyone after her separation from Michael in 2016. Her net worth is said to be around $2 million, garnered largely from her own hair boutique which is located in Beverly Hills.
Being an actress, Veronika is quite popular on several social media platforms – she launched her Twitter account in April 2017 and has so far gathered nearly 2,400 followers and tweeted around 350 times. She is a lot more popular on her Instagram account on which she has nearly 50,000 followers, while she's posted around 450 pictures.
Happy girls are pretty girls. pic.twitter.com/adr7yV701i

— Veronika Obeng (@VeronikaObeng) January 22, 2018
Philanthropy
Michael launched his own non-profit organization called R.E.S.T.O.R.E. Worldwide Incorporated, with the goal of helping children and people who are in need and living in third world communities – he often travels to Mexico and Ghana to offer his services free to those who need them.
Places he has worked at
Michael has worked at over 10 hospitals and clinics, while some of his jobs include positions of an Adjunct Assistant Professor at Touro University College of Osteopathic Medicine, Mare Island, Vallejo, California, Clinical Assistant Professor of Surgery, Northeast Ohio Medical University, Rootstown, Ohio, and Adjunct Clinical Assistant Professor of Surgery, Lake Erie College of Osteopathic Medicine, Erie, Pennsylvania.
Appearance and net worth
Michael is currently 46 years old. He has short black hair and brown eyes but his height and weight are not known.
According to authoritative sources, Michael's current net worth is estimated to be over $8 million, and will surely rise as he is still actively working as a surgeon.
Fun fact
Michael is one of the very few surgeons who were successful at reconnecting a limb, removing ribs to streamline the waist, and is one of the best in his field when it comes to reconstructive surgery.
https://www.facebook.com/DrMichaelKObeng/photos/a.1762330257221419/1898969236890853/?type=3&permPage=1
Social media presence
Michael is active on several social media platforms – he launched his Twitter account in April 2012 and has so far amassed nearly 1,400 followers and tweeted over 7,500 times. His Instagram account is followed by nearly 25,000 people while he's posted around 500 pictures – he has a Facebook page as well, which is followed by nearly 9,000 fans.