The reality television series "Gold Rush," enjoyed immense popularity over the years since it premiered in 2010. Some of the cast members became fan favorites, while others gained haters. While there had been many changes in the show, it never failed to dominate the TV ratings. It would be interesting to know if the net worth of the remaining cast members in the show also increased as it approaches its 14th season on Discovery Channel.
Take a look back at how "Gold Rush" started
With the legion of fans that the reality show enthralled in the past 13 years, not all of them knew how it started especially as some of the main stars have long said goodbye to the show. For those who haven't been there when it all began, here are some of the interesting facts about the origins of the show:
Todd Hoffman and his idea
In 2010, when things weren't going well with the family business, due to the effects of the recession in 2008, Todd Hoffman branched out into gold mining. The price of gold went up as a result of the government helping to flood the markets at that time, and Todd thought that it was just the thing that would help to save the family from financial ruin. He obtained a gold claim in Alaska, and led his family along with some of the unemployed men from Portland town to gold mining. Around that time, cable TV started creating documentary/reality series about unique and dangerous jobs. Todd pitched his idea to several networks, and eventually contracted with Discovery Channel to produce it.
TV premiere and changes in the title
A production crew followed the mining activities of Todd with his crew, including his son, Hunter, and father Jack. They produced 10 episodes for one season, which they called "Gold Rush: Alaska", which debuted on Discovery Channel on 3 December 2010, and subsequently attracted an average of three million viewers an episode, which made it the number-one show on cable that year. Due to the popularity of the show, producers added more cast members, and to make it more interesting, included other mining locations. Because of this development, the title was then changed to "Gold Rush."
"Gold Rush" went bigger and better
The subsequent seasons introduced more miners to the series, as having a diverse cast of characters could easily result in more human drama, which viewers loved. The conflicts within their small mining community made each character relatable, which allowed fans to connect with them. As the show became bigger and better, fans were curious to know if the main stars of "Gold Rush," who stayed with the series over the years, also became richer. Look at the following figures: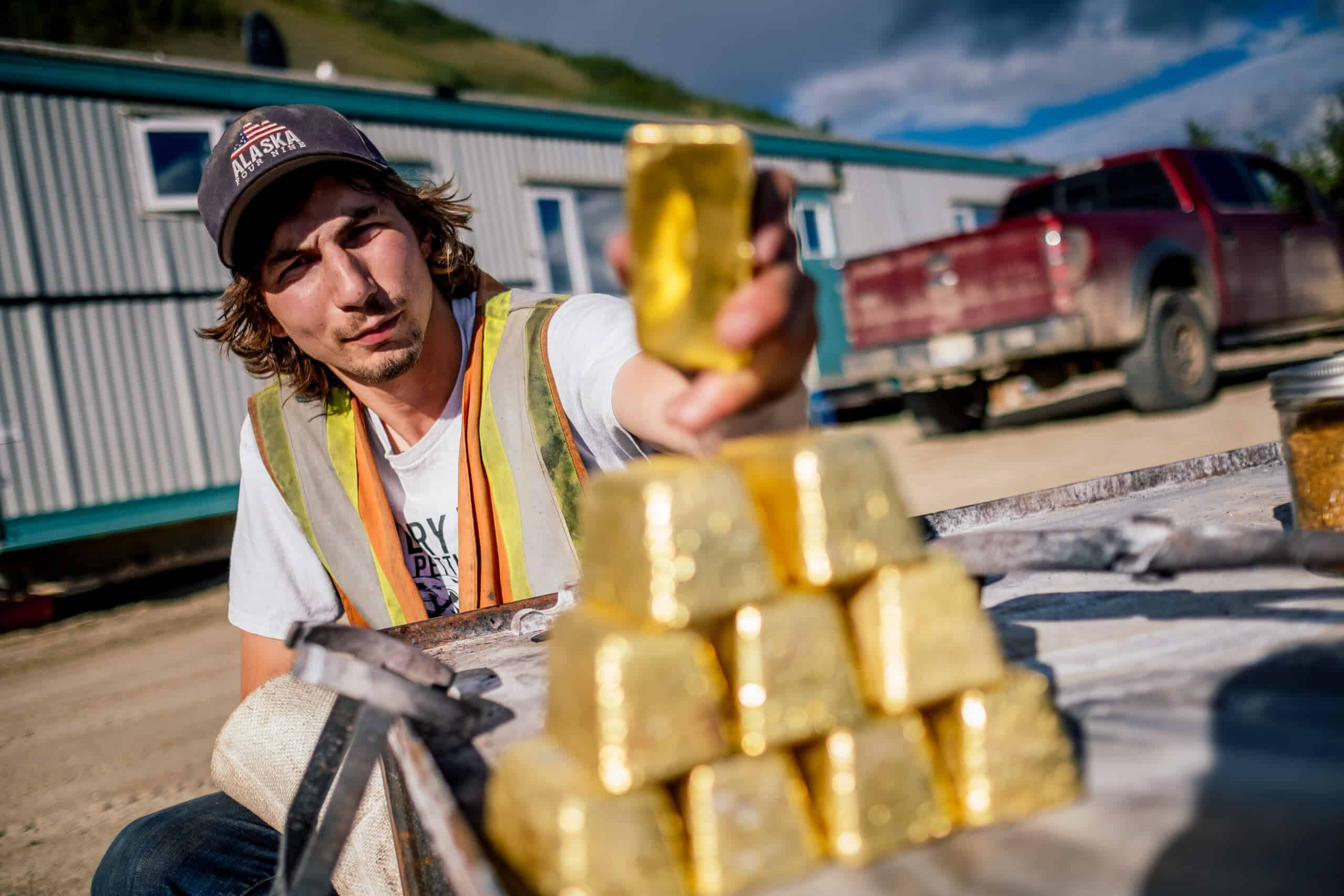 Parker Schnabel:  $10 Million
During the first season of the series, Parker Schnabel appeared as a guest, as his grandfather owned a gold mine known in the local gold mining industry as The Big Nugget. The producers liked his character, and invited him to be in the second season, an opportunity he grabbed, as his gold mining experience started early in life. Born on 22 July 1994, he didn't have a normal childhood since he had always been surrounded by a gold mining crew, which he didn't regret, saying that it equipped him with the essentials on how to mine gold efficiently. The patriarch in the family saw Parker's passion and determination and so at 16 years old, he was allowed to take over the family business. Eventually, he became the co-owner of the mine as he thrived in digging gold. Later on, he explored other opportunities by establishing his own business.
Parker appeared in a total of more than 260 episodes, and for each one he was rumored to receive $25,000. It was also said that he mined a total of about $13 million worth of gold – among all the gold miners in the series, he had the most gold harvested – around 8,300 ounces in season 12, and 8,100 ounces in season 13. He was known to never have indulged in a lavish lifestyle, as he used his money to improve his business. Authoritative sources estimate that his net worth could be as much as $10 million.
Tony Beets: $15 Million
From milking cows to a machine operator to a successful owner of a multi-million gold mining business, Tony Beets was an inspiration to the gold mining industry, as well as to the millions of viewers of "Gold Rush." He became part of the show in its second season, and with his experience and reputation, other gold miners often asked for his advice. Before he was offered a slot in the TV series, he came from humble beginnings on a farm in Widjenes, a small Dutch village in The Netherlands. He was a born leader, as he supervised men older than him when his father had an accident, so their farm continued to be productive. However, when their family encountered hard times financially they immigrated to Canada where he did odd jobs until he was hired in a gold mining company in the Yukon Territory.
Through dedication and tenacity, Tony established his own company, Tamarack Inc., and turned it into one of the most successful businesses in the region. He knew how competitive the industry was along with the unpredictability of the times, so he worked continuously for 12 hours a day with his crew to mine gold each day. He said that the only way to make it work was by being hands-on with the business, so that he could easily make decisions whenever there were machine breakdowns and weather disturbances. His mining operations were documented since 2010, and had appeared in close to 220 episodes. During his participation in the series, his biggest gold haul was over 5,000 ounces of gold in season 13, however, he admitted that he never revealed how much gold they actually produced. Authoritative sources estimated his net worth to be around $15 million, with profits coming from two of his mines, Tamarack Inc. and Scribner Creek. His wife Minnie, who joined him in the TV series, has an estimated net worth of $1.5 million, while their daughter Monica has $1 million, and son Kevin about $2 million.
Rick Ness: $4 Million.
Rick Ness was a football player in college, but when injury set in, he turned to music and joined a string band playing the upright bass. The band went professional and toured around after releasing three albums, but disbanded after seven years. Sometime in 2012, he was introduced to the world of gold mining by Parker Schnabel, when the reality TV star offered him a job in his crew. Rick agreed, and started handling heavy equipment for just $20 per hour. He made his TV debut in the first episode of the third season of the show. During his first year with Parker, they mined about $1 million worth of gold at the Scribner Creek mine, which was leased to them by Tony Beets. Through diligence and commitment to his work, Parker promoted him to the role of foreman, and he accepted it willingly even if it meant more responsibilities. Years later, Rick went out on his own which strained his relationship with his former boss. Some viewers were puzzled by his decision, considering that he'd had a successful run with Parker in his fifth season with him, acquiring gold worth $9 million at that time.
Rick gambled his money and time by creating his own gold mining business. In his first year, he accumulated gold worth close to $1.5 million, and his crew members were elated when he shared part of it with them. The risks that he took paid off, and he went on to dig more, but in the first episode of the 13th season, he was conspicuously absent from the TV series. His fans wondered on social media as to the reason behind it, and came out with various theories; no one from the show said anything. Later on, an episode entitled "Searching for Rick Ness" was aired to address his absence – it was one of his crew members and friend, Zee Zaremba who talked to him to get to the bottom of what was troubling him.
Apparently, he had what is known as SAD, or seasonal affective disorder. It's a type of mood disorder or what other people call depression, which was triggered by seasonal changes. It didn't help that Rick wasn't done yet with mourning for his mother, as he couldn't even visit the house that she'd left him. His time away from the show helped him to do some self-reflecting, and grieve properly for his mother's death. Today, he's engaged and was rumored to be filming for a new season with "Gold Rush", having appeared in over 180 episodes since he joined the series. Throughout the time he was with the show, he made millions in gold mining, and his net worth according to sources was estimated to be around $4 million.
Chris Doumitt: $400,000.
"Gold Rush" viewers were initially introduced to Chris Doumitt as part of Todd Hoffman's crew. He worked as a carpenter, and was there to build cabins for the crew. He was supposed to stay for just a little over two weeks, however, gold mining lured him to extend his stay, and in he ultimately worked for the Hoffmans for three seasons. In the fourth season he went to work for Parker Schnabel, and has remained with him ever since. He didn't have any mining background, as he was raised on a farm in Oregon, and later became a gun instructor; all the mining skills that he gained were due to being around the mining crew. It was reported that Chris was being paid $25,000 per episode on the show, and has an estimated $400,000 for his net worth.
Unfortunately, some of his assets were lost in 2016, when his van and legal documents were stolen. He also faced financial challenges in 2017, when his wife Sharon was diagnosed with cancer, which she survived after undergoing a series of treatments. Chris was also hospitalized as he required back surgery. Aside from his TV appearances, he established businesses related to his hobbies, which were cigars and golf, to help with his bills.
Good morning everyone ❤️&💡 pic.twitter.com/xlKBuaeqJq

— chris Doumitt (@ChrisDoumitt) January 11, 2021
Mitch Blaschke: $200,000.
It was in the third season of "Gold Rush" when Mitch Blaschke first appeared on the show, at that time as part of Todd Hoffman's crew, working at the Quartz Creek Mine. Just like Chris Doumitt, he didn't have any knowledge or experience in the business of gold mining, but was a proficient mechanic, as he was trained since he was 14 years old. His passion for go-karting was the reason why he became interested in dealing with motors and cars, and also used the money he earned to fund his go-kart racing activities.
In the fifth season, he switched teams and went to work for Parker Schnabel, and has stayed with him ever since. He helped run the heavy equipment used in the wash plants, and made sure that everything worked properly so that they could meet the deadline set each season without distractions. Mitch appeared in close to 180 episodes with an annual salary of $100,000, and an authoritative source estimated that he has over $200,000 for his net worth.
Todd Hoffman: $7 million
Even if Todd and his family bid adieu to the TV series they started in 2019, it was fitting to mention how much gold they mined during their time on the show and their financial status. His first season yielded a mere 15 ounces of gold, which could have made other people fold up and leave, but not Todd. He was relentless in mining gold for the next seasons, and it paid off. However, as his numbers increased, his decision to mine in a jungle in South America proved to be disastrous, but he was undeterred, and continued to learn from his mistakes even if some of the people around him – and most viewers – questioned his decisions. Todd had his ups and downs, but the total gold he mined when part of the series was worth a little over $14 million. With his TV appearance fee along with the profits he earned from gold mining and other businesses back in Oregon, his net worth is estimated to be around $7 million. Many fans said that it could have been much larger, but he loved taking risks and making unplanned decisions that led to costly failures.
After his stint with "Gold Rush," his family returned to Oregon to heal whatever was destroying the relationship he has with his son. He was so focused on making sure that they find gold, that he never realized that it cost him his son and some of his friends along the way. After a couple of years, Todd along with his father and son went back to mining gold and filming for a new reality TV series entitled "Hoffman Family Gold." This time, they were the producers of the show, which premiered in March 2022.
"Gold Rush" – 14th Season on the Horizon
After each season, a debate would surface online as to whether "Gold Rush" would be back for another season, as Discovery Channel was notorious for not officially announcing anything about the renewal or cancelation of their TV shows. However, there were reports that they would soon air the 14th season in the latter part of 2023. Loyal fans were excited, as there are rumors that a previous gold miner would return to the small screen. Some online entertainment sites shared that in February 2023, Rick posted ads on his Facebook page looking for a mechanic, and they concluded that he was looking for a new member to join his crew. He was specifically interested in a fully licensed diesel mechanic who could easily handle old and new machinery. He said that it would be a bonus if the mechanic would also have experience with welding, and should be amenable to working for long hours in a remote area. Rick's Facebook post also included, 'Well if you haven't guessed by now it is on a mine site in The Yukon Territory of Canada. Previous mine site experience is obviously a plus, but not necessary.'
Rick eventually addressed the rumors in May 2023 with a post on his Facebook page, saying that he can't confirm or deny it, to avoid spoilers. However, what he could confirm was that he was back looking for gold at his mining claim in Canada, and was looking for operators to join his team. Loyal fans said that there wasn't any reason for him to hide it if it wasn't for a TV show, and the non-disclosure agreement (NDA) that all reality TV stars signed with their contract. His girlfriend, Leese M. Arie, answered a fan's query on her Instagram page early this year about his return to the TV series, and she said that was the plan.
"Gold Rush" has continuously enjoyed high ratings each season, even if many reality shows kept on popping up from several cable channels and streaming sites. There was no reason to doubt that it would be back, unless the cast quit on them. As long as gold lies beneath the ground and viewers stay engaged, the reality TV series will continue to bring thrilling gold mining adventures to their screens.