Who is Tina Majorino?
Tina is an American actress, who started her career as a child actor in the early 1990s, gaining fame for her roles in popular films such as "Waterworld", "Corrina, Corrina", and "Napoleon Dynamite". After taking a break from acting, she returned to television in the 2000s with roles in series "Veronica Mars", "Grey's Anatomy", and "Big Love", among others. Tina has also appeared in several stage productions, and has been recognized for her performances with various award nominations. Outside of acting, she's also a singer, and has a band called The AM Project.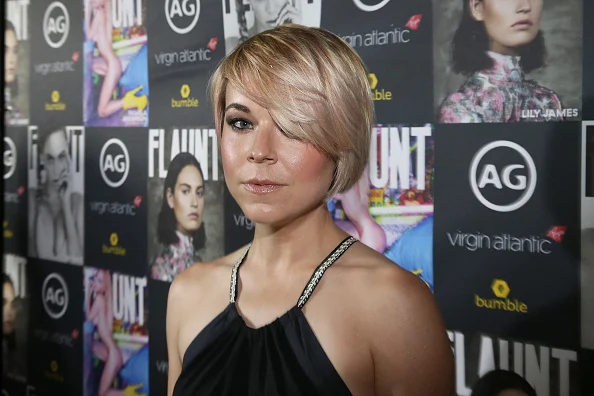 Early Life and Education
Tina Marie Majorino was born on 7 February 1985, in Westlake, California, USA, the daughter of Sarah and Robert 'Bob' Majorino, a real estate agent; Tina has one older brother named Kevin. Tina showed an interest in the arts from a very young age, particularly acting and dancing. Recognizing her talent and passion, her parents supported her pursuit of a career in entertainment.
Tina began her formal training at the age of seven by taking acting classes. Her natural talent and dedication quickly became evident, and it wasn't long before she started auditioning for roles in commercials, television shows, and films.
Career Beginnings
Tina's acting career began at a very young age. She made her TV series debut in 1989, only four years old, when she appeared in an episode of the comedy "ABC TGIF". Three years later, she landed a recurring role in the sitcom "Camp Wilder", which starred Mary Page Keller and Jerry O'Connell.
Her breakthrough came in 1994, when she landed the lead role of Molly Singer in the film "When a Man Loves a Woman", directed by Luis Mandoki and written by Ronald Bass and Al Franken. The film stars Andy Garcia as Michael Green, Meg Ryan as Alice Green, and features Tina as their daughter, Jessica Green. Alice is secretly struggling with alcoholism, which eventually leads to a series of events that force her to confront her addiction and seek help in a rehabilitation center. Michael, meanwhile, has to take care of their daughters while grappling with his own feelings of guilt and inadequacy. Tina's performance in the film received critical acclaim, and established her as a talented young actress.
In the same year, Tina starred as Whoopi Goldberg and Ray Liotta's daughter in the film "Corrina, Corrina", a role that earned her a Young Artist Award. She continued to build her filmography with roles in "Waterworld" (1995), alongside Kevin Costner, and "Before Women Had Wings" (1997), which also starred Oprah Winfrey and Ellen Barkin.
Alice in Wonderland
In 1999, Tina played the titular role of Alice in the live-action movie adaptation of Lewis Carrol's story "Alice in Wonderland". Directed by Nick Willing, the movie went on to earn critical acclaim, winning four Primetime Emmy Awards, while Tina earned a Young Artist Award nomination for her performance.
After a successful run in the 1990s as a child actor, Tina took a brief hiatus from acting to focus on her education and personal growth.
Recent Roles
In the mid-2000s, Tina made a return to acting, taking on a variety of roles in both film and television. In 2004, she starred in the hit comedy film "Napoleon Dynamite". The film stars Jon Heder as the title character, a socially awkward teenager living in a small Idaho town who goes through a series of misadventures with his best friend Pedro. Tina Majorino plays the role of Deb, a shy and introverted girl who becomes friends with Napoleon and Pedro. She has a side business taking glamour shots in her home, and also sells handicrafts door-to-door. Deb is initially portrayed as awkward and lacking in self-confidence, much like Napoleon, but over the course of the film, she becomes more self-assured. Tina's performance was widely praised, and led to a resurgence in her popularity.
Tina also made a name for herself on the small screen – in 2004, she joined the cast of the mystery drama series "Veronica Mars", playing the role of Cindy Mackenzie, appearing in a total of 33 episodes through 2007.
Another notable TV role for Tina was in the HBO comedy-drama "Big Love", which aired from 2006 through 2011. The series starred Bill Paxton, Jeanne Tripplehorn, and Chloe Sevigny; it follows a polygamist from Utah who juggles the relationships with his three wives while trying to keep his personal life from turning into a public scandal. "Big Love" earned positive reviews for its unique premise, and was nominated for nine Primetime Emmy awards.
Also in 2011, Tina starred in the music video for Pink's "Fuckin' Perfect".
Brooks from Grey's Anatomy and deb from Napoleon Dynamite are the same person pic.twitter.com/Qwat9X27Z6

— some old man (@Scango_marycate) March 13, 2016
In the following year, she appeared in six episodes of the fifth season of HBO's fantasy drama series "True Blood". She also joined the cast of the popular medical drama "Grey's Anatomy", playing the role of Dr. Heather Brooks, who was introduced in the ninth season as one of the new surgical interns at Grey Sloan Memorial Hospital. Tina's portrayal of the Dr. was well-received by fans of the show. However, her time in the series was relatively short-lived as the character of Heather Brooks met a tragic end in the two-part season 10 premiere.
In 2017 and 2018, Tina played a supporting role in the popular CBS crime drama "Scorpion". In 2020, she made guest appearances in series "Into the Dark" and "Etheria".
Most recently, in 2022, Tina starred alongside James Duval and Coy Stewart in the comedy film "Bury Me", written and directed by Paul Boyd.
In addition to her work in film and television, Tina has also ventured into theater. She's appeared in several stage productions, including "A Room with a View" at the Old Globe Theatre in San Diego, California.
Love Life and Relationships
Tina has always been relatively private about her personal life, rarely discussing her relationships in the public eye. She's been linked to a few individuals in the past, but there has been no official confirmation of any long-term relationship or engagements.
Tina has mentioned in interviews that she values her privacy and prefers to keep her personal life separate from her professional life. She has also expressed a desire to start a family in the future, but as of now, there are no public records of her being married or having children.
Interesting Facts and Hobbies
In addition to her acting career, Tina is also a talented singer and musician. She is a member of the band The AM Project, in which she provides vocals and plays the keyboard. Music has always been a passion of Tina's, and she enjoys being able to express herself through this creative outlet.
Tina is also an advocate for animal rights, and has been involved with several animal welfare organizations. She has been a vegetarian since the age of 11, and has spoken out about the importance of adopting pets from shelters. She has a pet dog called Stanley that she often features in her Instagram photos.
Another interesting fact about Tina is that she's trained in various forms of dance, including ballet, tap, and jazz. She began dancing at a young age, and has continued to incorporate dance into her life and work.
Net Worth
As of September 2023, Tina's net worth is estimated to be around $1.5 million; this includes earnings from her acting roles in film, television and theater, as well as other ventures such as music and endorsements.