Andrew Camarata, a man who transformed his love for heavy machinery into a thriving business, has carved out his own niche in the digital landscape. His YouTube channel serves as a demonstration of his craftsmanship, entrepreneurial spirit, and genuine passion, featuring projects related to demolition, excavation, renovation, and all aspects of property upkeep. As he captured the hearts of viewers across the globe, curiosity naturally arises about his personal story, journey, and of course his net worth.
Finding His Passion
Andrew Camarata's education was marked by a unique blend of adaptability and a determination to forge his own path. In his formative years, he followed a relatively typical high school trajectory, completing it up to 12th grade. While some students thrived within the confines of rigid lesson planning, his independent spirit sometimes led him down a different path.
His pivotal moment came when he discovered a trade school program offered by his high school. This unique opportunity allowed him to explore hands-on skills, starting with computer repair. His interest in this can be traced back to his younger days, when his father bought their family's first computer with modest 33 megahertz processing power, and it became a source of fun and exploration. As he attended college, he took a computer science course, but it only made him realize that this wasn't a career he wanted to pursue. As such, he went back to the trade school to take some welding and auto repair classes.
The Unconventional Beginnings of a Property Maintenance Business
Andrew Camarata's entry into the property maintenance business was a twist of fate, driven by necessity and a burning desire for property ownership.
Working at the post office
After he was done with school, Andrew embarked on a career at the post office, delivering mail, which he considered to be a pretty cool gig. Interestingly, it was his father's role as a postmaster that somewhat influenced Andrew's decision to join the postal service. Although he explored other employment opportunities, he regarded this particular job as reasonably rewarding due to its decent pay and the fact that it didn't demand his full-time commitment, allowing him more free time. Andrew had a specific goal in mind during this period – to save money for the purchase of a piece of property. He then worked diligently at the post office for a remarkable eight years, but steadily progressing toward his dream.
Side jobs
Andrew was never one to let opportunities slip by. During his mail delivery rounds, he would knock on the doors of properties with neglected lawns, showing his proactive nature. Moreover, whenever he heard a lawnmower running roughly, he would offer to repair it for a mere $40, leaving it in a condition that seemed as good as new. His expertise in small engine repair, acquired during his time at the trade school, certainly paid off. It's worth noting that his innate passion for creating and fixing things was a trait he inherited from his father, an adept mechanic and craftsman. Together, they went about salvaging discarded items, often rescued from the dump or considered irreparable, and ingeniously transformed them into fully functional creations, all the while operating on a shoestring budget.
Excavation jobs
With plans to construct his own property, he made the savvy decision to purchase an excavator that could serve dual purposes – aiding in his personal project, while potentially generating income by renting it out or operating it for excavation jobs. This strategic move proved fruitful, as he felt a tangible increase in his earnings. However, his entrepreneurial spirit led him to reinvest most of his profits directly back into the business.
Subsequently, he expanded his equipment inventory by acquiring a bulldozer, driven by the same objective. Investing in a variety of heavy machinery made perfect sense to him. Beyond the financial aspect, he discovered a genuine passion for operating these pieces of equipment, and it was this newfound enthusiasm that essentially set the foundation for his business. Many of his clients came through personal recommendations from previous clients, highlighting how important it is to always do a great job on every project.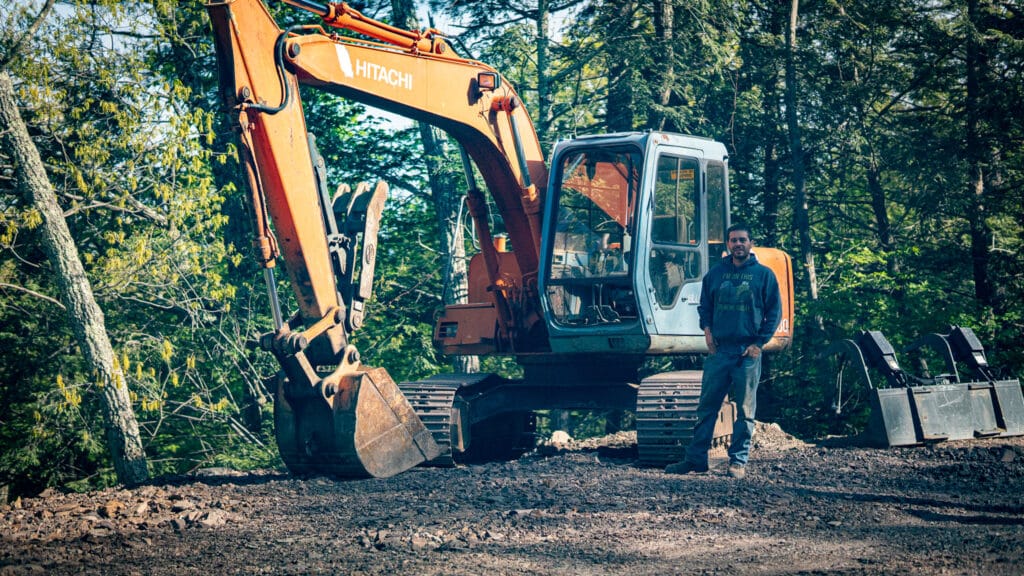 Camarata Property Maintenance Business
While Andrew's father had a significant influence on him and imparted valuable knowledge, he didn't pursue a business path himself. During Andrew's early years, his father owned a dump truck, and engaged in gravel deliveries, but his business endeavors didn't extend much beyond that.
According to the official website of Camarata Property Maintenance, Andrew started his business in 2009. His focus centered on providing upkeep and excavation services for both light commercial and residential properties, serving areas such as Kingston, Hurley, Saugerties, and Woodstock in Ulster County, and Catskill in Greene County, both in New York State.  The range of services offered by the company is extensive, encompassing driveway installation and repair, structure demolition and removal, and building site preparation. His company is all about turning a client's vision into reality. Andrew's dedication, strong work ethic, and exceptional skills have resulted in numerous highly satisfied clients.
A Place of His Own
While employed at the post office, Andrew harbored a strong desire to invest in a piece of property, as nterestingly during this period, he was still residing with his parents. Unlike many individuals who might have considered renting an apartment, he held a distinct perspective – he viewed apartment living as a seemingly wasteful expenditure of money. Consequently, he skipped that idea entirely, and instead set his sights on a more ambitious goal: constructing his own building.
With this objective in mind, he began his search for vacant properties situated on the outskirts of town, deliberately seeking locations that offered solitude without the proximity of neighbors. Given his inclination to engage in activities that might disturb those around him, a spacious plot of land became a priority. Andrew found such on a hill at a reasonable price, which was all he could afford at the time anyway.
Container Castle: Andrew's Unique Home
He embarked on the construction of his own house, a project he tackled using his impressive collection of machinery, including his own crane. However, this wasn't just any house; it was a container castle, a structure that defied convention. Comprising stacked cargo shipping containers, some oriented horizontally, others vertically, the four-story high creation resembled a medieval fortress.
The concept of a container castle intrigued him due to the affordability and durability of shipping containers. He envisioned a fireproof, hurricane-resistant, and virtually indestructible structure, a stark contrast to the vulnerability of wood-based constructions he'd witnessed during Hurricane Irene, and during his time as a volunteer in the fire department. Regarding the design concept, Andrew had a clear vision in mind. However, the challenge lay in the details of executing this plan. As he learned more about various materials and techniques, he figured out what worked best.
If you enjoy the self-build episodes of Grand Designs as much as I do, I'd encourage you to follow Andrew Camarata on YouTube as he begins the next phase of his Upstate NY Volksarchitektur. https://t.co/ydVSnxSKxZ pic.twitter.com/o736FuBd4U

— Josh Reich (@i2pi) November 10, 2019
In the early stages of designing his building, Andrew collaborated with an engineer who played a crucial role in formulating the project's blueprint. To aid in visualizing the structure, he crafted a small-scale model using materials such as balsa wood and cardboard. This approach was inspired by a similar practice his father had employed when their house underwent a significant expansion in the 1990s. Andrew's father had created a meticulously detailed cardboard model that closely resembled a photograph of the house, capturing the colors and dimensions perfectly. He then presented it to a carpenter, instructing him to replicate the addition. Andrew followed a similar path in realizing his vision for his building..
The construction process was an extensive endeavor that spanned a considerable amount of time. Andrew undertook the majority of the work on his own, seeking assistance from others only when necessary. Along the way, he also incorporated upgrades into the project, although it's unclear whether these enhancements are part of his initial plans.
Of note, there are several videos of Andrew working on his castle, but none document the early stages of construction, as he didn't start filming from day one.
Andrew's Journey into the World of YouTube
Andrew's venture into the world of YouTube was a natural progression, rooted in his early fascination with videography, sparked by his father's purchase of a video camera when he was a child. While initially experimenting with the bulky camera he had to carry around in a bag, the game-changer came when he acquired his first GoPro; its practicality and versatility revolutionized his approach to filming.
Andrew had always been captivated by the idea of capturing photos and videos, and the prospect of sharing his experiences with others strongly appealed to him. In 2016, two years after he opened a YouTube account, he took the plunge and began uploading content, a shift from his previous method of sharing via a web server hosted on his home computer.
As he amassed an archive of footage over the years, Andrew's passion for filming continued to grow. The catalyst for his YouTube journey wasn't entirely clear to him at the time, but he was drawn to the visual allure of time-lapse videos, a style he found appealing, especially given the capabilities of his GoPro. Consequently, many of his early videos featured time-lapse segments, particularly in his excavation-related content. However, he soon realized that a well-rounded video should offer more than that; it should include real-time footage, project explanations, and a coherent narrative structure. This realization became a fundamental part of his content creation approach, ensuring that each video tells a complete story.
Andrew recognized that the key to producing engaging videos lay in making them accessible and understandable to viewers who might not possess his level of expertise. Admittedly, as a content creator, he's motivated by engagement metrics. He wanted to produce content that would captivate viewers' interest, and as a result, he opted to discontinue filming repetitive tasks, such as gravel deliveries, and instead concentrated on projects that would resonate with his audience. Some of his most popular videos, including "Installing A New Driveway" (29 million views), "Moving An Antique Truck" (28 million views), and "Buying A Trench Digger" (9 million views), attest to this successful approach.
Rise to Fame
His videos featured various aspects of his property maintenance business. However, what set him apart from the rest was his ability to operate a wide range of heavy machinery with precision and skill. His content resonated with a diverse audience that included construction enthusiasts, Do It Yourselfers or DIYers, and people who were simply fascinated by heavy machinery in action. His videos offered a unique blend of education and entertainment in which viewers could learn about the intricacies of heavy equipment while enjoying the satisfaction of watching a skilled operator at work.
As he began uploading videos and sharing them with his local acquaintances, he noticed an unexpected trend – people were subscribing to his channel. The concept of subscribers was entirely new to him, and he was astounded by the growing number of viewers enjoying his content. Motivated by this unexpected support, he continued to create and share videos. His evenings were dedicated to editing, often spending three to four hours meticulously perfecting them, a task he handled entirely on his own. He believed that his hands-on approach, fueled by passion, was what endeared viewers to his work.
As the years passed, Andrew Camarata's YouTube channel gained momentum, with viewership skyrocketing as more people discovered his content. Currently, he has close to 1.3 million subscribers, and his videos have amassed over 600 million views.
Monetizing his YouTube Channel
Fully aware that many individuals sought fame on YouTube for the financial opportunities it offered, Andrew, for his part, initially embarked on this journey purely for the joy of it; the idea of monetizing his content didn't even cross his mind then. However, one day while filming, he had an unfortunate incident – he accidentally smashed his camera. This mishap occurred while attempting something he thought was pretty cool: constructing the tower of his castle. He'd set up his tripod at the top of the tower to film himself, and suspected that a strong gust of wind caused the camera to topple from its elevated position, crashing all the way to the ground. He vividly recalls thinking, 'Oh man, that's about 400 bucks right there.' It was on that very day that he decided to monetize his channel, to fund the replacement of his camera.
Personal Life
While Andrew's YouTube channel primarily focuses on his professional life, glimpses of his personal life have gradually surfaced over time, as he shared anecdotes about his life away from work, mostly revolving around his beloved dogs. A day in the life of Andrew doesn't typically start early; he usually wakes up around nine or 10 in the morning, has breakfast, and then gets to work – he often has a list of tasks to accomplish. When it gets dark outside, that's when he dedicates his time to editing his videos. Before bedtime, he occasionally watches television for about 20 minutes, or educational YouTube videos.
Despite his increasing fame, Andrew Camarata has managed to maintain a relatively low profile when it comes to his personal life. So far, he's only talked about his father, so there's no information about the rest of his family. People who've been following Andrew are well aware that he doesn't often discuss the individuals featured in his videos, even those who've assisted him in various projects; Their names remain unmentioned.
Details about his girlfriend are kept private, with only the information that by 2022, it appeared that they'd separated. Viewers have occasionally glimpsed a young woman in some of his videos, in which she can be seen assisting him with his work, or accompanying him as he walks around the property with his dogs, leading to speculation about her identity. Some have suggested that she might be his sister, while others have argued that she's his girlfriend. Much to the surprise of many, Andrew, who rarely responds to comments, confirmed the girl's identity at least in a video posted in September 2022, simply referring to her as his girlfriend. However, two months later, he left another comment, stating, 'Was my girlfriend.' Nothing more has been revealed about her or the reasons for their separation. As far as his fans can tell, Andrew is currently assumed to be single. No one knows for sure if he's been married.
Net Worth
Many have been curious about Andrew Camarata's earnings from YouTube and his overall net worth. Estimating the net worth of a YouTuber can be challenging due to various income streams and expenses. He generates income through ad revenue on his videos, sponsorships, merchandise sales, and possibly other ventures related to his property maintenance business.
While most people would capitalize on their fame, Andrew is different. People often ask him if he's interested in joining Patreon, a membership platform in which creators, such as YouTubers, offer exclusive content to their fans in exchange for a small monthly fee, but he's always declined. To him, it doesn't feel like genuine income; it feels more like begging, and he prefers not to accept handouts. There have been times when people offered to pay him for interviews, but he found that idea strange too, and declined those offers as well.
Given his substantial viewership and the popularity of his channel along with a thriving business, it's reasonable to assume that his net worth has grown significantly over the years. Some estimates suggest that it's around $4 million as of late-2023.