Debbii Dawson burst into the limelight on 26 July 2022 as a standout performer in episode eight of the 17th season of "America's Got Talent", often referred to as "AGT". Her rendition of ABBA's timeless classic "Dancing Queen" left an indelible mark on both the judges and the audience.
With an expertly played guitar in hand, Debbii delivered a performance that was nothing short of jaw-dropping, singing with a crystal-clear distinct voice that resonated with the crowd. She also played with the tempo in a way that made the song feel like a deliberate departure from the original, landing somewhere around two thirds of the original speed.
The magic of Debbii's stage presence was evident as the audience quickly embraced her artistic expression, responding with enthusiastic cheers and applause. Even the seasoned judges, known for their discerning tastes, found themselves in a state of awe, impressed by the sheer talent she had brought to the stage.
Dawson received a unanimous vote of confidence from the judges in the wake of her stunning performance, securing four resounding 'yeses'. Her journey through "AGT" was off to a remarkable start, and the newfound fans were filled with anticipation. They held high hopes that she would continue to deliver outstanding and personalized renditions of songs, perhaps even earning a coveted spot in the finals.
However, the hopeful masses faced a sudden letdown in early August 2022, when the judges confronted the daunting reality that lay before them. The sheer volume of successful auditions that year had soared to unprecedented numbers, rendering it logistically implausible for all of them to grace the subsequent live shows – the pivotal stage in the arduous journey of "America's Got Talent."
Then came rather unpredictable news that left most competitors who passed the audition scrambling to make sense of things. Instead of the customary advancement of 36 acts to the live shows, the judges made a bold decision to expand that number to a staggering 55. This alteration presented a formidable challenge for the quartet in charge, causing them to have to narrow down their choices, so as to accommodate only the best of the best.
With the exception of the fortunate six recipients of the coveted golden buzzer, the prospects of any other contestants securing a spot became exceedingly uncertain, and the same goes for Debbii. The task of making these crucial decisions fell upon the trio of judges: Howie Mandel, Heidi Klum, and Simon Cowell, who convened at Simon's lavish estate for deliberations. Meanwhile, Sofia Vergara opted for a more remote approach, crafting meticulous notes rather than joining the deliberations in person.
Their final decision crystallized into a roster of 54 contestants destined for the prestigious live shows. However, a tantalizing twist awaited as they entrusted the ultimate selection to the global audience, having them vote online for the final contestant. This intriguing turn of events led to a worldwide poll that featured four distinct talents, with Debbii Dawson counted among them.
The outcome that was anything but predictable, ultimately had comedian Jordan Conley emerge as the victor, but this Twitter announcement didn't sit well with a substantial portion of the viewership. Numerous users took to social media to state their grievances on the matter, a number of whom took Dawson's side and stated that she should've been the one to pass, calling the vote a fraud.
Despite the resounding dissatisfaction that resonated through a significant segment of the audience, Debbii's rendition of ABBA's timeless masterpiece remained the solitary performance she could bestow upon the crowds throughout the entirety of the 17th season of "AGT."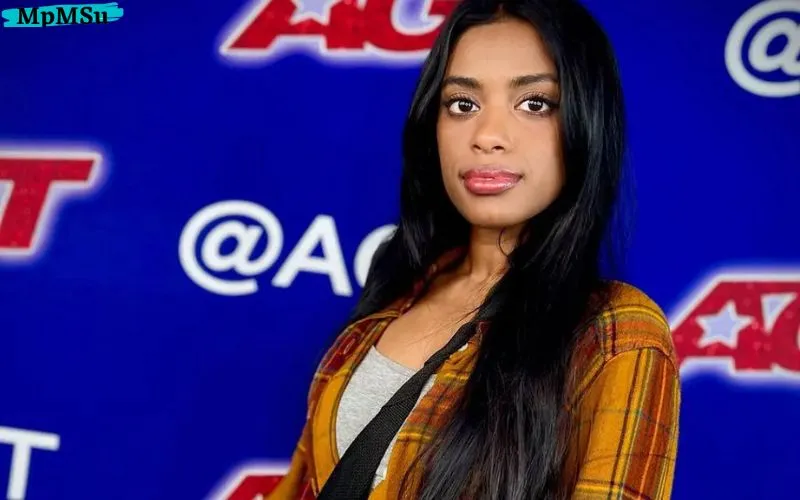 Who really is Debbii Dawson?
Debbii Dawson's journey began on 10 March 1993, in Hutchinson, Minnesota USA, in a close-knit family with a rich tapestry of musical heritage. Her upbringing took place in two particular locations – her birth state and the art-spangled urban jungle of California. At some point the family decided to embark on a new chapter, relocating to the diverse city of San Francisco.
Her brother Jonathan stood out as a professional photographer, carving his own path to the spotlight as well. He eventually met, fell in love with, and married a doctor named Salomi Paul Dawson, expanding their union through the birth of their son Felix on 25 March 2020, also in San Francisco.
Debbii's sister Sitarah Gjerme shared her musical inclinations to the utmost extent, as together they set their steps towards the world of show business during their teenage years. Their joint endeavors led them to participate in various talent competitions early on, honing their vocal prowess in spectacular fashion.
It stood out among their numerous pre-career achievements that they secured second place in a musical competition at the Minnesota State Fair. They also graced numerous sports events in Hutchinson, thereby captivating audiences with heartfelt renditions of the national anthem.
The beginning of the Dawson family's musical legacy can be traced back to Debbii's parents, who found love through their shared passion for creating tunes. Her father David, of Indian descent, received instruction in various musical instruments from his paternal grandfather. Her grandfather improved his craft under rather challenging circumstances, resorting to sketching organ keys on concrete with a piece of charcoal for practice.
David's pursuit of higher musical education led him to the US, where dumb luck played its part in shaping the family's destiny forever thereafter. Debbii's mother Sharon, shared his passion for music and happened to be nurturing similar interests at Texas Bible College.
Their gazes intertwined when David chanced upon a captivating piano performance in the corridors of the college while strolling around. This seemingly ordinary encounter sparked a conversation that would eventually lead to their union, and the birth of three famous children.
Debbii's education commenced in Hutchinson, where she initially enrolled in a local high school, staying there for an unspecified time. She subsequently had to resort to switching institutions, however, as the family moved away and left their old life behind. Having matriculated in 2011, the future singer realized that the world had a lot more to offer elsewhere, and moved to Los Angeles so as to fully dedicate herself to music.
Does she hate attention?
Despite Dawson's firm commitment to pursuing a career as a renowned musician, it appears that she isn't inclined to seize every corner of the spotlight – a tendency often associated with aspiring young superstars. She surprisingly seems to be a rather private individual in the cutthroat realm of show business, in which there's practically no bad PR.
This inclination toward privacy became evident during her audition, when the judges raised the question of her strangely absent parents. At the start she simply conveyed that they hadn't attended, but the judges insisted on reaching out to her family to tell them of her success.
However, as the phone call connected and her father received the exhilarating news of his daughter's stunning performance, he revealed that it was Debbii herself who had requested her parents' absence, much to the crowds' and judges' genuine confusion.
Fighting through the prejudice
The singer touched upon her father's struggle against racism during his youth, and has shared her own encounters with similar challenges when striving to find her place in society, whether within professional circles or social settings. While it's plausible that a person of color might have encountered derogatory remarks in a mostly Caucasian environment, the details she provides in her account appear somewhat scant, leaving the narrative somewhat lacking in clarity.
As per Dawson's account, her father found himself behind bars somewhere in Mississippi in the 1980s. This predicament was said to be a consequence of his confrontations with racial discrimination and his resistance against it. The precise circumstances that led to his incarceration remain a matter yet to be fully disclosed by members of the Dawson family.
It leaves open the question of whether he was detained due to a genuine breach of the law or whether it was a result of the racial bias prevalent in law enforcement at that time. It's worth noting that each contestant in "AGT" often receives significant recognition for their resilience in the face of adversity, particularly if they belong to a minority group in one form or another.
Their narratives of overcoming challenges tend to captivate television audiences, drawing in more viewers and generating heightened emotional engagement, akin to the intensity experienced by an average teenage viewer while exploring "AGT" clips on YouTube. It can thus be inferred that some contestants tailor their stories to align with the audience's expectations, which is a strategic move that paradoxically enhances their prospects of winning the highly desired $1 million prize and securing a career-defining contract.
The biggest step
Debbii's Kickstarter project was initiated in December 2022, having played a significant role in expanding her creative portfolio, leveraging her newfound fame to propel her career to greater heights.
The results were rather impressive, with a total of 143 backers contributing over $25,000, thus surpassing her initial goal of slightly over $20,000 by the project's conclusion. Dawson devised a range of packages with unique perks to express her gratitude, and offer various incentives to her supporters.
One offering, priced at $50, granted backers exclusive access to her private concert livestreams, providing an intimate connection between the star and her dedicated audience. Meanwhile, the $80 package included a cherished keepsake: a polaroid featuring Debbii's personal autograph, which was a much more tangible memento of their support.
She also introduced limited-edition merchandise, such as the "Day One" t-shirt, available in the $150 package. For those craving a more personal touch, the $300 package included hand-written lyrics for any song of the customer's choice.
At the pinnacle of the offerings, an exclusive $1,000 deal attracted five discerning individuals. This deluxe package featured Dawson's original acrylic paintings on medium-sized canvases, each piece adorned with her signature and dispatched to destinations across the globe, making it a truly unique and coveted collector's item.
Catch my episode not COVID @AGT @AGTAuditions @NBCNews @peacockTV #AmericasGotTalent #agt #agtauditions #nbc #singer #TuneIn #airingnow pic.twitter.com/FfipYDhkos

— debbii dawson (@debbiidawson) July 22, 2022
In her Kickstarter campaign Debbii exuded enthusiasm about her forthcoming debut EP, emphasizing that she had been crafting and producing songs from the comfort of her bedroom for several years, eagerly awaiting the moment to share her creations with the world. The funds raised this way were earmarked to support the elaborate process of recording the EP in a professional studio, followed by its subsequent release.
The singer elaborated on the EP's essence, describing it as a candid glimpse into her heart and mind, exploring themes of love, loss, justice, and life's intricate blend of joys and struggles. Her music drew inspiration from a spectrum of genres, including classic pop, R&B, and folk/country, amalgamating these influences to craft a sound that was distinctly her own.
She expressed a desire to retain ownership of the master recordings she had meticulously composed over the years. This aspiration granted her the freedom to authentically express herself and establish a direct connection with her audience, bypassing intermediaries. Debbii envisioned her music as a bridge between cultures, resonating with those embarking on their personal journeys.
The Kickstarter project reached its culmination on 4 May 2023, marking the fulfillment of a promise to her backers – the entire EP was made available as a digital download to each supporter. For the rest of the world, the songs would gradually emerge at a set pace, building anticipation for Dawson's unique musical journey.
What is she doing now?
After making a near-breakthrough in the subsequent phase of the "AGT" competition, it appeared that Debbii ventured into various pursuits to advance her career. However, the fame she garnered from her participation in the show essentially served to amplify what she had already been engaged in for over six years. Her journey as a vocalist began well before her highly publicized performance, and it was time to continue after the fall from grace.
Debbii has been nurturing her YouTube channel since 20 May 2016, with ambitions of one day releasing her own extended play (EP). An EP typically comprises more tracks than a single but falls short of the scale of a full album, most of the time featuring a collection of 3-5 songs. Her undeniable talent ultimately shone through in the realization of this goal, as she released "Learning" on both YouTube and Spotify on 21 July 2023.
It features five original songs that she also wrote the lyrics to, including her previous two singles entitled "Even If It Kills Me" (from 5 May 2023), and "Downer" (23 June 2023). The three brand-new songs that came out with the EP are "Eulogy for Nobody," "Ghosting Myself," and "Terrified."
Looking at her published work thus far, it appears that Debbie's artistic expression draws on a semi-pessimistic view of the world, and nuances of self-deprecation. The overall message, however, is a positive one, but getting to that part requires truly absorbing the somber lyrics and picking them apart for their true meaning.
Hi, remember me?

Posted by Debbii Dawson on Saturday, February 9, 2019
What can be said without a doubt is that the young singer has beaten the first and greatest obstacle of any beginning musician – getting over relative failure and pushing through the inexperience and anxiety to achieve one's first multi-track release.
Her YouTube channel has garnered over 55,000 subscribers as of early September 2023, accumulating over two million total video views. The standout highlight is, unsurprisingly, the acoustic rendition of the song she delivered in "AGT." This particular video emerged as the primary catalyst that drew audiences to her channel, amassing close to 480,000 views.
Debbii's channel features exclusively music-related content, with no vlogs or fan update videos to speak of. Much like her choice to exclude her parents from witnessing her "AGT" performance, she maintains a penchant for keeping her personal matters shielded from the public eye, even as she endeavors to launch a career in the music industry – a realm heavily reliant on dedicated fan support.
Finally, Dawson partnered up with themoroccan.com to bring about the opportunity of running her own singing event, in which she is set to perform all of her original tracks, but probably also most of her famous covers, so as to fill the time frame that is as of yet unspecified. Interested fans can go see her at the Moroccan Lounge on 12 September, with tickets purchasable both on the site and at the location.