Who is Viv Richards?
Antiguan retired professional cricketer Sir Isaac Vivian Alexander 'Viv' Richards was born in St John's, Antigua, British Leeward Islands, on 7 March 1952, making Pisces his zodiac sign. He's known best for having played cricket for the West Indies team from 1974 through 1991, and Viv's still today regarded as one of the best batsmen in the history of the sport; he led the West Indies to win the Cricket World Cup in both 1975 and 1979.
The greatest ODI innings in history according to everyone who witnessed it 🐐

📆 #OnThisDay 36 years ago, Viv Richards took West Indies from 102 for 7, then 166 for 9, to end up on 272 for 9, and eventually beating England by 104 runs https://t.co/4IqqBGo1rD pic.twitter.com/Xm1oelqUNT

— ESPNcricinfo (@ESPNcricinfo) May 31, 2020
Education and early life
Viv was raised in St. John's alongside his brothers Donald and Mervyn, by their mother Gretel and father Malcolm Richards; his brothers were both amateur cricketers, and their parents' professions remain undisclosed.
Viv studied at St. John's Boys Primary School prior to receiving a scholarship from Antigua Grammar Secondary School. He initially practiced cricket under his father and their neighbor Patrick 'Pat' Evanson, who was an Antiguan professional cricketer.
Viv quit high school only a couple of months before he was to matriculate, and then began working at D'Arcy's Bar and Restaurant to financially support himself; the owner of the restaurant D'Arcy Williams respected Viv's passion for cricket, and he bought him new gear after he became a member of St. John's Cricket Club. After a couple of years with St. John's, Viv became a member of the Rising Sun Cricket Club and stayed with them until 1972, when he turned professional.
Viv's career
Viv made his professional debut in January 1972, age 19, when the Leeward Islands defeated the Windwards; this was a non-competitive match, and his first competitive match was a couple of days later, when the Combined Leeward and Windward Islands lost to Jamaica.
He was 21 when his skills were noticed by Vice Chairman of Somerset Len Creed, which led to Viv moving to the UK and signing a contract with the cricket team Lansdown C. C.; his debut with the team was on 26 April 1973, and they then also appointed him head goundsman, so that he could earn more money until he could rely solely on his career as a cricketer. Viv became close to his colleague 'Shandy' Perera after he made his first team debut, and cited him as the main influence on his cricket development. Viv became the best player in batting averages in the team, and then signed a two-year contract with Somerset CCC.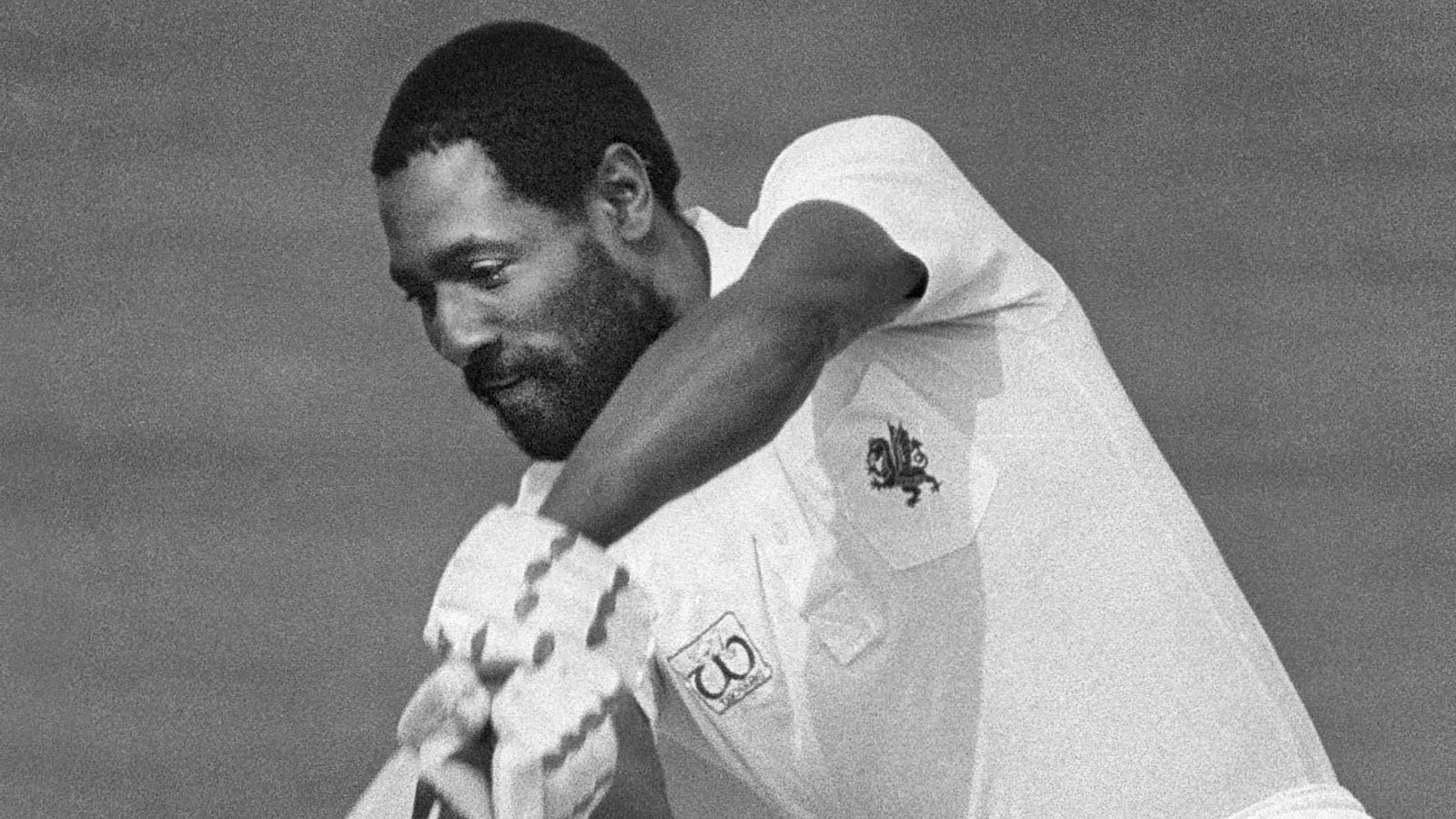 His new team assigned him living accommodation in Taunton, which he shared with cricketers Dennis Breakwell and Ian Botham. Viv played his first match on 27 April 1974, which Somerset won against Glamorgan in the Benson & Hedges Cup; his teammates went on to throw him a party, because he had been named Man of the Match.
His first match with the West Indies team was a win against India in 1974, and the following year saw them win the inaugural Cricket World Cup, which Viv still today describes as the most memorable moment of his career. He became one of the best cricketers in the world, outplaying Greg Chappell, Ian Chappell and Alan Turner, and Viv led the West Indies to win the Cricket World Cup again in 1979.
His finest year was perhaps 1976, as he numbered seven centuries in 11 Tests, averaging 90.00 and scoring 1,710 runs; Viv simultaneously played for both West Indies and Somerset, competing in the County Championship with the latter and winning the 1979 Gillette Cup, the 1981 Benson & Hedges Cup, and the 1983 NatWest Trophy. He became known as 'the master blaster' for his powerful hitting.
He became the captain of the West Indies in 1984, holding the position for seven years, and Viv to this day remains the only captain of the West Indies to not lose a single Test series.
The year 1985 saw him score a record of 322 in a Somerset match against Warwickshire, but his contract wasn't renewed after it expired in 1987.
He officially retired from cricket in 1993, after helping Glamorgan win the AXA Sunday League.
Life after retirement
Viv's today working for BBC as the commentator on their show "Test Match Special"; he mentored the Quetta Gladiators of the Pakistan Super League from 2016 through 2020, and in 2022.
Love life and wife
Viv's keeping his family away from media, and thus not many details have been shared about his wife and their children.
He was once in a relationship with Indian actress and director Neena Gupta, who's perhaps known best for portraying a young widow in the 1994 drama movie "Who Chokri", for which she won a National Film Award for Best Supporting Actress. Neena gave birth to their daughter Masaba Gupta on 2 November 1989, and she's today a successful fashion designer and actress, as well as the owner of the label House of Masaba.
Viv's today married to British non-celebrity Miriam and they have two children together, including their son Mali Alexander Richards who was born on 2 September 1983, and is today playing cricket for the West Indies.
Interesting facts and hobbies
Viv was once also passionate about soccer, and played internationally for Antigua and Barbuda, including in the qualifying matches for the World Cup in 1974.
He was appointed an OBE in 1994 for his contribution to cricket, and was in 1999 named Knight Commander of the Order of the Nation in his home country; he was 'promoted' to Knight of the Order of the National Hero in 2006.
Viv was honored with the Order of the Caribbean Community in 2022.
He authored his 1979 autobiography "Viv Richards" with the help of David Foot, and his second autobiography "Hitting Across the Line" was published in 1991.
Viv enjoys watching movies and his favorite actor is Don Cheadle, and some of his favorite movies include "Hotel Rwanda", "Miles Ahead" and "Devil in a Blue Dress".
Height, eyes and wealth
Viv's age is 71. He's bald and has brown eyes, is 5ft 10ins (1.78m) tall and weighs around 180lbs (82kgs).
Viv's net worth's been estimated at over $20 million, as of August 2023.