Dorothea Hurley is an American karate instructor, philanthropist, and restaurant manager, but probably best known as the wife of the rock and roll singer, guitarist, and actor John Francis "Jon Bon Jovi" Bongiovi Jr. Jon started playing music in 1974, and released 15 albums with his rock band Bon Jovi between 1983 and 2023. Dorothea has lived a mostly private life, cared for their four children, and ran the family's charity organization, allowing her husband to pursue his music career.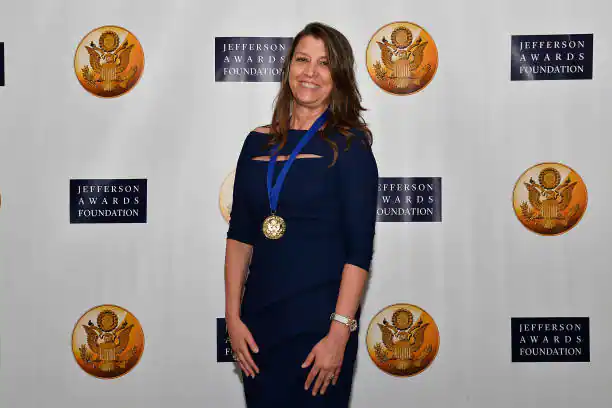 Early life
Dorothea Hurley was born on 29 September 1962 in New Jersey USA, to Donald Hurley and Dorothy Pawlyk Hurley. Her name resulted from a combination of her mother's name and a close family friend who died from cancer shortly before her birth.
Early education and source of career
Dorothea attended the same New Jersey school as her future husband, Sayreville War Memorial High School in Parlin. She began practicing karate around that time, and eventually became a junior karate champion. After her husband's career took off and the interest in her increased, Dorothea revealed that she was the 4th best green belt karate master in the US in 1999. Three years later, she became a fourth-degree black belt.
Career
Dorothea turned her passion for karate into her primary profession and became a New Jersey-based karate instructor. Years later, she opened a restaurant chain called JBJ Soul Kitchen, initially in three locations. There are two locations open in 2023, in Red Bank and Toms River, both in New Jersey. The restaurants offer a three-course meal based on the American Regional cuisine, and the optional salad or soup and custom entrée.
The place stands out because The JBJ Soul Foundation, which Dorothea co-founded with Jon in 2006, funds it and provides free meals to people. Moreover, there are no reservations, so the business uses the first-come, first-serve method. Customers who have the means are asked to pay forward for the meals for those who don't, a concept that Dorothea invented.
According to the official website, that method makes up 46% of the funding. The remaining 54% came from volunteers earning meals for themselves or others. Curiously, Dorothea and Jon sold their mansion in Palm Beach, Florida, for $20 million in 2020 and spent $43 million on an estate two miles away. During that time, they reportedly washed dishes and served people in need at their restaurants, as the COVID-19 pandemic entered its most alarming period.
Other foundation's efforts
Dorothea has also helped open the B.E.A.T. Center in Toms River, a community building providing social services to locals. She told People magazine journalists in November 2020, 'The foundation is a partnership. When we see injustice or people suffering, we want to help. We're very blessed, and we have the ability to do that. To see people be unable to feed their families is unacceptable.'
JBJ Soul Foundation has also built 500 affordable housing units and renovated 15 houses in Philadelphia, and many others in collaboration with Habitat for Humanity. Jon has previously joked, 'My wife does all the work, and I get all the credit!' Dorothea was more honest, 'Somehow it works, probably because we grow at the same rate, equally and not in opposite directions.'
Personal life, husband singer Jon Bon Jovi
Dorothea met Jon Bon Jovi during high school in 1980, when he tried to cheat by peeking at her paper during a history test. He had just transferred from St. Joseph High School in Metuchen, New Jersey, and was in his freshman year. Jon said that he felt a spark the first time that he looked at her. However, Dorothea was dating his best friend, Bobby, preventing him from acting upon those feelings, so Jon wrote a song, "Bobby's Girl," about the situation.
After a while they became friends, and started dating in their early 20s when she was unattached. Jon said that he 'used the three-week rule,' a version of the five-second rule when a piece of toast falls onto the ground, according to his Best Life magazine interview from 2017. Three weeks after Dorothea's boyfriend left town and joined the military, Jon expressed his romantic interest, and won her over.
They briefly broke up
Sadly, they broke up in 1985 due to undisclosed problems. The 2010 book "Sex, Drugs and Bon Jovi" by the band's former manager Rich Bozzett provided some suggestions; according to him, Jon started dating actress Diane Lane during the break in their relationship. They broke things off after about five months, and he quickly returned to Dorothea, while Diane Lane began dating Jon's bandmate, singer-songwriter, and guitarist Richie Sambora.
Eloping in 1989
Dorothea eloped with Jon to Las Vegas, Nevada, during the stop in Los Angeles on Jon's New Jersey Syndicate Tour in 1989. They married on 29 April at the Graceland Wedding Chapel, with no one but the priest in attendance. They didn't have proper attire or wedding rings because it was unplanned; Jon said that his band enjoyed immense success, so he felt elated and proposed the marriage in their room at the St. James Club art-deco hotel on a whim; at first, Dorothea felt that he was out of his mind.
Understandably, family, friends, and the band's manager were infuriated that they weren't warned or invited, and most thought that it was the wrong career move. Jon later explained, 'It was like Harry Styles or Justin Timberlake getting married. I was that to the young girls.' However, Jon realized then that Dorothea was the one for him, and that he couldn't care less; they married for themselves and were delighted.
The secret of their marriage
Dorothea and Jon celebrated their 34th anniversary in 2023. Jon admitted to Men's Health magazine in 2010 that 'he isn't a saint, and that he missed tons of birthdays and school plays while Dorothea has been in the loop the entire time, as she understood his rockstar lifestyle.'
In a People magazine interview in 2016, he said that 'Dorothea is the glue that holds everything together, while he is the crazy visionary with things flying and all seams splitting.' Over the years, he revealed that he isn't a handyman, and that he throws things when they break or calls a professional, but that Dorothea knew who she married. She also lets him be the family disciplinarian, and is the more caring partner.
Jon told the Express UK magazine reporter in 2018 that 'he feels 10 times better today and that marriage was the best deal that he ever made.' The couple revealed to People magazine in September 2020 that they stay together because they 'have mutual respect, grew up together and grew together as people, and like each other, so they want to hang out.' Dorothea added that she had a gift for spotting potential, hinting at her husband's accomplishments. Jon clarified that they 'never fell for the traps that fame brings, because being a songwriter and frontman is something that he does, not who he is.'
Children
Stephanie's birth
Jon and Dorothea welcomed their first child, Stephanie Rose Bongiovi, on 31 May 1993 in Red Bank. She performed "I've Got The Girl" with her father at seven, but never found the same prominence as in November 2012. She called her father at 2 a.m. and frantically told him that she had overdosed on heroin in her dorm room at Hamilton College in Clinton, New York State. Thankfully, a prompt medical intervention saved her life, as she was unresponsive for a time. Additionally, neither Stephanie nor her friend Ian Grant were charged after the arrest following her recovery, as the law prohibited indicting people who had a drug overdose.
Dorothea and Jon were slammed in the bad media as terrible parents, but accepted the insults gracefully. Stephanie never retook drugs and completed her degree in liberal arts. She modeled for the Nikki Lund fashion show and was a camera operator and production assistant for several TV shows.
Welcoming Jesse
Their first son, Jesse James Louis, was born on 19 February 1995, in Los Angeles, California. He stays out of the spotlight, but the public knows that he played American Football at the University of Notre Dame before graduating with a political science and government degree. Jesse also founded a winemaking company, Hampton Water Rosé, with his father in 2018 and currently operates it.
His father previously admitted that he can't imagine a day without a glass of wine or any kind of cookie, but that he only drinks at the end of a productive day. Jon also called Jesse 'a mini-me' because they shared a way of thinking – Jesse proposed to his girlfriend, also named Jesse, in July 2022 after a four-year relationship.
Jacob recently became famous
Jon and Dorothea welcomed their second son, Jacob Hurley "Jake" into the world on 7 May 2002 in New Jersey. He grew up in Middletown Township. His birth is the topic of a funny family story; on the night of 6 May, Jon played a show in New Orleans, Louisiana, and was expectedly exhausted. However, fans discovered how to dial his hotel phone, prompting Jon to mute it to get some sleep. Unfortunately, Dorothea's water broke then, and she needed to get to the hospital. Thankfully, the tour manager received the news and woke Jon up, who flew home on a private plane, reaching the hospital in time for Jake's delivery.
Jake attended Poly Prep Country Day School in Brooklyn, New York City, and matriculated from The Pennington School in Pennington, New Jersey, where he played football like his old brother. He enrolled at Syracuse University in New York State in 2020, but reportedly did not return to attend his sophomore year.
Jake began dating the well-known British actress Millie Bobby Brown in 2021, and they made things official at the red-carpet event for the 2022 BAFTA Awards. In April 2023, the two announced their engagement with Instagram posts dedicated to each other – Millie wore a lavish engagement ring in online videos and paparazzi shots. Although many criticized their decision as the two were 20 and 19, respectively, others praised their commitment, citing Jake's parents as an excellent example that love can last. Jon dismissed the comments, 'I don't know if age matters if you find the right partner and grow together.' Jake is now an actor, scheduled to appear in two movies, "Sweethearts" and "Rockbottom," and a model signed to IMG Models and William Morris Endeavor (WME).
Romeo is the youngest
Romeo Jon, their fourth child, was born in 2004. Not much is known about him except that he attended high school in Manhattan, the New York City suburb, during the COVID-19 pandemic, and that he enjoys privacy.
Two years before Romeo was born, Jon admitted that he only discovered the full extent of what love can be after he had children. Regardless, the parents admitted to People magazine that they would enjoy becoming empty nesters once Romeo marries, but would never cease regular contact with any child.
Physical characteristics
Dorothea Hurley has light brown hair and hazel eyes. She is 5ft 4ins (1.62m) tall, weighs about 128lbs (58kgs), and her vital statistics are 35-23-35.
Apr. 29, 1989 Jon Bon Jovi married childhood sweetheart Dorothea Hurley at the Graceland Wedding Chapel in Las Vegas. They are still married. #Music #Wedding pic.twitter.com/yvTEH0jUSn

— Music Beat (@MusicBeat5) April 29, 2023
Net worth
Scarce online sources estimate Dorothea's net worth at $3 million. That could be true if some of the family's properties were in her name. She owns a karate dojo and manages two restaurants and the philanthropic efforts of the JBJ Soul Foundation, but those don't make her a multi-millionaire.
Contrastingly, Jon Bon Jovi has a net worth estimated at over $400 million. Additionally, the couple bought an old home in 1999 on a 15-acre property in Middletown, New Jersey. It eventually grew to 18,000sqft or 1,672m2 of living space with 750 feet or about 230m of waterfront access, six bedrooms, nine bathrooms, and a recording studio that was previously the stables. The couple sold it for $20 million in July 2019.
Jon and Dorothea owned a $24 million penthouse stretching across 7,400sqft or 687m2 in Manhattan 2010. However, they put it up for sale in 2013 for $42 million, and sold it for $34 million in June 2015. Around that time, the couple bought a three-bedroom, 4,000sqft or 372m2 apartment in West Village, Manhattan, and sold it for $15 million in January 2018. A few months before, Jon paid nearly $19 million for a four-bedroom apartment in Greenwich Village and sold it for $22 million in February 2022. Their current, permanent residence is unknown.