Who is Glory Johnson?
Glory is a professional basketball player, best known for her time in the US Women's National Basketball Association (WNBA), in which she played for the Tulsa Shock and later the Dallas Wings, in addition to several other clubs.
Wiki: Age, Childhood, and Education
Glory Bassey Johnson was born on 27 July 1990, in Colorado Springs, Colorado USA. She pursued her education at the Webb School Of Knoxville, and found her passion for basketball during her college years while playing for the University of Tennessee Lady Vols.
Not only did she excel on the court, but she also dedicated herself to her studies, graduating with a bachelor's degree in global studies, showcasing her commitment to a well-rounded education. She didn't stop there, and went on to earn a master's degree in communications, demonstrating determination both on and off the basketball court.
During her college years, Glory became a star thanks to 36 double-doubles, which etched her name in history. Her college basketball stats at Tennessee include a total of 1,643 points; she averaged 8.6 rebounds, 1.0 assists, 1.3 steals, 0.7 blocks, and 11.7 points per game.
In 2011, she represented the US in basketball at the 2011 Summer Universiade, at which her team clinched the gold medal. Johnson contributed with an average of 6.2 points and nine steals per game during the tournament.
Professional Career, WNBA Draft, Tulsa Shock, and Dallas Wings
Glory Bassey Johnson's basketball journey continued as she entered the WNBA. She was selected in the first round of the 2012 WNBA draft, an impressive 4th overall pick by the Tulsa Shock.
In her rookie season in the WNBA, Glory Johnson showcased her defensive skills by ranking fourth in steals per game, reaching a career-high of 2.1 steals per game. This early success hinted at her potential as a standout player in the league.
As her career progressed, Johnson's talent continued to shine. In both the 2013 and 2014 seasons, her second and third years with the team, she earned a spot on the Western Conference All-Star team, solidifying her status as one of the league's top players.
However, in 2015, Johnson took a temporary break from the WNBA season due to maternity leave following her pregnancy announcement. This hiatus marked a significant personal milestone in her life.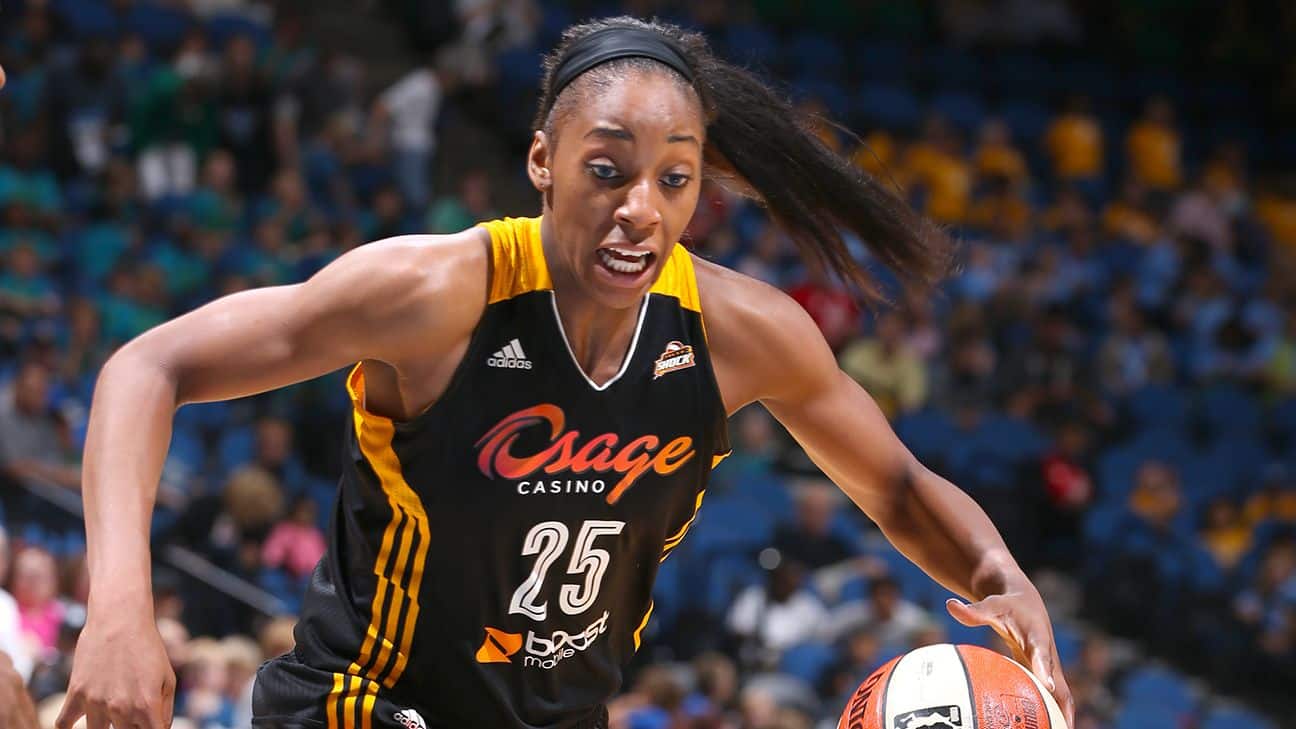 The following year, 2016, Johnson made a comeback to the WNBA. Her return was notable, considering she'd served a suspension stemming from a domestic violence incident involving Brittney Griner. During this time, the Tulsa Shock had relocated to Dallas, and adopted the name Dallas Wings. Johnson's return was not just a return to the court; she re-signed with the team during free agency.
2016 saw her averaging 11.3 points per game in 18 games, including six starts. A standout moment during this season was her impressive 20-point, 20-rebound performance in a game against the Phoenix Mercury, which ranked 16th in the league for such a remarkable performance.
Johnson continued to excel in the 2017 season, consistently recording double-doubles in both rebounds and points, a statistical strength she had displayed earlier in her career. Her performance reached a peak when she scored a season-high 27 points in a game against the Washington Mystics.
For her outstanding contributions, Johnson received recognition when she was named the Western Conference Player of the Week from 31 July 31 to 6 August 2017. However, her season also had its challenges; on 19 August 2017, during a game against the Atlanta Dream, Johnson was involved in an altercation that resulted in a one-game suspension.
The Dallas Wings concluded the 2017 season with a record of 16–18, and secured the Number 7 seed in the league. In her first career playoff game, Johnson displayed her skills once again, scoring 15 points and grabbing 14 rebounds in a game against the Washington Mystics. Unfortunately, despite her efforts, the Wings faced elimination in the first round of the play-offs.
In 2018, Johnson encountered difficulties, including injuries that kept her out of several games, and the need to adapt to playing off the bench. She participated in 29 games, with 17 starts, and experienced career lows in both scoring and rebounding.
NEWS: @WNBA's Dallas Wings Re-Sign 2-Time All-Star Forward Glory Johnson To A Multi-Year Contract pic.twitter.com/6xNYebbheO

— Dallas Wings (@DallasWings) February 22, 2016
Despite these challenges, the Dallas Wings managed to secure a playoff spot in 2018 with a record of 15–19, securing the 8th seed in the league. However, their postseason journey was cut short as they were eliminated in the first round by the Phoenix Mercury.
In 2020, Glory Johnson made a move to the Atlanta Dream team. During that season, she played in 18 games, with just one start. Her statistics for the season included averaging 15.4 minutes of playing time, with 3.7 rebounds, 0.6 assists, 0.8 steals, 0.4 blocks, and 4.7 points per game.
Overseas Career
From 2012 to 2015, Glory Johnson ventured overseas during the WNBA off-seasons, finding opportunities in Russia to further develop her skills. She played for two teams during this period, first with Chevakata Vologda and later with Nadezhda Orenburg. This international experience allowed her to gain valuable exposure to different styles of play and competition.
In November 2016, Johnson continued her overseas journey by signing with the Xinjiang Tiashan Deers of the Women's Chinese Basketball Association (WCBA) for the WNBA off-season. This marked another step in her global basketball career, showcasing her versatility and adaptability as a player.
In August 2018, Johnson took her talents to Turkey, signing with Hatay BB of the Turkish League for the 2018–19 off-season.
In subsequent years, Glory Johnson continued to expand her international basketball journey. In 2020, she made her way to Hungary, representing Sopron Basket. The following year saw her continue her overseas journey as she joined the ranks of Kayseri Basketbol in Turkey, but her global basketball tour didn't stop there. In the same year, she added a new destination to her basketball resume by becoming a part of Elitzur Ramla in Israel.
Net Worth
According to authoritative sources, Glory Johnson's net worth is estimated at $4 million, as of mid-2023.
Personal Life, Relationship with Britney Grinner, Marriage, Children, Divorce
In early 2014, Glory Johnson and fellow WNBA player Brittney Griner began dating. Their relationship took a significant turn on 14 August 2014, when they publicly announced their engagement, signifying their commitment to each other.
However, their relationship faced a tumultuous period on 22 April 2015, when both Johnson and Griner were arrested for engaging in a physical altercation at their Goodyear, Arizona, residence. Despite the incident, they decided to move forward together, and on 8 May 2015 exchanged vows and married.
Soon after their marriage, in June 2015, Johnson shared another life-changing announcement, revealing her pregnancy, which meant she would have to miss the entire 2015 WNBA season due to this significant personal development. However, the joy of impending parenthood was met with a legal challenge. Just one day after Johnson's pregnancy announcement, Griner filed for an annulment of their marriage, however, this request was ultimately rejected.
Their relationship took a new turn in October 2015 when Johnson gave birth to twin girls, who arrived 16 weeks prematurely. The twins were conceived through IVF treatment using Johnson's eggs and a sperm donation, marking another milestone in their journey together.
Despite these shared experiences, the couple's differences persisted, and by June 2016, their marriage came to an end with the finalization of their divorce.