Frank Fritz was one of the two co-hosts of "American Pickers," the reality TV series that followed him and Mike Wolfe as they scoured the country for antiques and collectible items connected to US history. They drove their Mercedes-Benz van between 2010, when the show premiered, and 2014 when they employed a new 2015 Ford Transit. The two would visit the homes of private sellers or antique shops to browse their catalogs and sometimes 'freestyle' or randomly visit places they thought had something worth picking. They would then restore and hold onto the artifacts or sell them in their shops, Frank Fritz Finds in Savanna, Illinois, and Antique Archaeology in LeClaire, Iowa, and Nashville, Tennessee.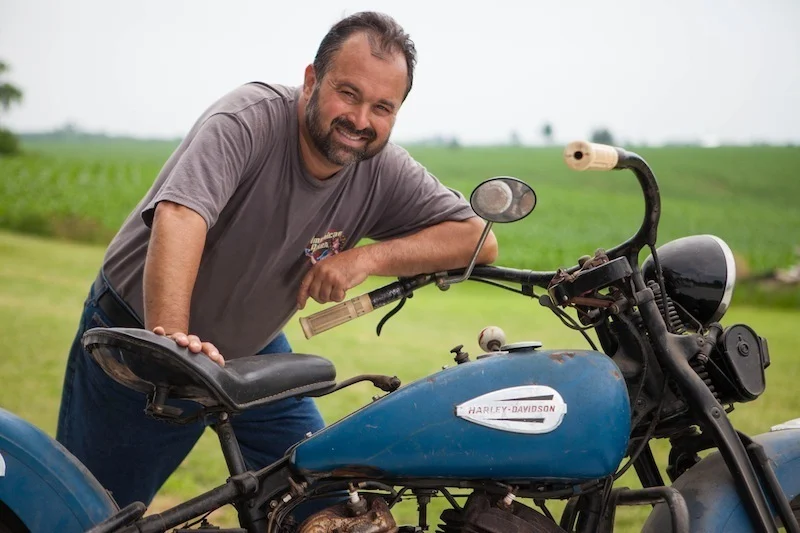 While Frank appeared in over 21 seasons of "American Pickers," his interest in the Americana artifacts began when he was a child, so it's unsurprising that he has an estimated net worth of $6 million. An insider told The US Sun in October 2022. that Frank owns around 40 motorcycles, most of which are for sale via his Facebook page, in his antique shop, and formerly on his website, www.frankfritzfinds.com. The show's viewers are even more captivated by his collection, because he was fired from "American Pickers" in July 2021, after about a year of recovering from his back operation.
Several news outlets reported that he had a stroke shortly after, and Mike confirmed it via his social media profiles. Frank recovered, but didn't return as a cast member. Consequently, his store has received many negative reviews for being 'cheap, tacky, and unwelcoming,' recently prompting him to spend some of his wealth on refurbishment. Here's what comprises Frank's $6 million empire.
The number is an estimate
Although an insider evaluated Frank's wealth at $6 million, there is no concrete proof. Frank has found many valuable items in the show, but preferred to make many small deals rather than seek huge scores. Therefore, he has an extensive collection across several barns, basements and warehouses, including a private room behind a biker bar in Savannah, which he calls the Frank Fritz Finds store. However, it would be unusual if he had hidden items; the show's producers have analyzed his possessions, and he showcased the most significant deals for the cameras.
Frank owns a modest Iowa farmhouse with about an acre of land worth about $200,000 and, according to the insider, about $1 million of antique clocks, lamps, figurines, and dinnerware for sale on top of four cars, 40 motorcycles, and personal items. However, Frank's tax returns show a yearly income of only $60,000 for 2021, while his expenses could be as high as $610,000, and he had no will. However, his representative at the bank revealed that Frank has profitable investments.
Frank also worked as a fire inspector in Iowa for a quarter of a century, before he dove into antique-finding, and received a salary from History Channel for about ten years, an estimated $300,000 to $500,000 per season; after all, "American Pickers" was the highest-rated History Channel show debut in January 2010, with 3.1 million viewers.
Frank could have earned up to $5 million from his TV appearances alone. Additionally, "American Pickers" had meager ratings in March 2023, and he recently reconnected with Mike after three years. Frank likely won't return to the main show, but he might get the rumored spin-off, a prospect that excited him before his health issues threatened his life two years ago.
He prefers smaller scores
Mike is the richer of the two hosts, something that Frank graciously admits. He never wanted to become wealthy from his History Channel salary, and claims that they feuded because they hadn't talked in two years by the time Frank was fired in July 2021. According to Frank, Mike knew that he had a significant surgical operation on his back, but didn't call to check on him. For reference, Frank had to have two rods in his spine, resulting in 185 stitches, and was on a hiatus from the show after March 2020. Frank accepted that, but also found it fascinating that their show was 'tilted towards Mike 1,000%, and that he cannot bend that far to show how tilted it is.'
However, he was comfortable as the second man. Frank felt that Mike may have been troubled because Frank was more beloved by the viewers. Frank clarified, 'I'm not arrogant, and I'm more of a regular old guy. The guy who connects with me is the guy who buys a 30-pack of Busch Light and a pizza on the weekend. My guy buys a $150 sign, not an $8,000 one.' He also admitted that he 'never found a $100,000 vase, Michelangelo paintings, or had a big score that Mike did,' as small scores were his bread and butter. Frank reminded fans that his first sale was a $15 collectible that he sold for $475
Frank had another antique business – FFF Holdings, LLC, – created in July 2010 and dissolved in 2017, as he didn't file an annual earnings report. Therefore, Frank Fritz Finds evidently operates without a business license and, according to reviews, is hidden behind a biker bar and a restaurant. Visitors previously said that it's disorganized, dusty, and resembles a thrift store or a flea market with few valuable items.
He owns a farmhouse
Frank purchased his Iowa farmhouse on 14 May 200 for $130,000. According to Zillow, its value was around $155,000 in 2022 and rose by an estimated 6.3% by August 2023, making it worth around $165,000 today. The house, which has a basement plus three garages, a barn and a shed, was instrumental in Frank's recovery, and was also where his friend found him unconscious after the stroke. That friend called 911 on 14 July and was later called the 'longtime friend' in court documents. They agreed to be Frank's temporary guardian and conservator on 18 August.
That friend agreed to help Frank with his post-stroke recovery, Crohn's disease management, and mandatory physical therapy; Frank also had problems with seizures and pneumonia. Because Frank couldn't make critical financial decisions, his guardian arranged to go grocery shopping, and cook. He also handled the required customizations to the Iowa farmhouse, including installing ramps, and handles in the shower and near the toilet.
The farmhouse is 1,660sqft or 154m2 with two bedrooms and a single bathroom, and sits on 0.79 acres of land. According to the Scott County Assessor's Office, Frank renovated it after the purchase, then added 0.34 acres of land from the adjoining property for $25,000. According to MidWestOne Bank, Frank also owns 'numerous outbuildings full of valuable collections.'
Frank recently sold some items
According to the insider who put a price on Frank's wealth, Frank also owns four cars on top of 40 motorcycles, but was selling most of them. He also had about $1 million of items that he could sell, and already made plenty of money from a Las Vegas producer who needed antiques for his ranch.
Furthermore, Frank evidently organized his collection, as he was criticized for only going to Savannah's Frank Fritz Finds when he needed to drop off items. Recent reviews on websites such as Tripadvisor and Yelp mention improvements, including that he added more antiques. He also evidently hired better staff members who can locate desired possessions, and are no longer rude. That was an essential step, because Frank was officially unemployed when he had a stroke. Moreover, his 2021 tax return statement, according to the US Sun, only listed $60,000 in annual income from investments. It also showed that the healthcare would cost him $274,000 yearly, and that he spent $28,300 monthly, $23,000 of which was for in-home healthcare.
Thankfully, Frank's guardian reached out to MidWestOne Bank, and the institution invested his assets to generate income. Furthermore, Frank began selling old merchandise, and designed black T-shirts with white text that hinted at his firing; captioned 'bring back Frank,' a phrase that his fans parroted after his departure.
#EXCLUSIVE: #AmericanPickers star Frank Fritz suffered devastating loss DAYS before stroke https://t.co/rfVNMF4Xwe pic.twitter.com/GbRL2ntPHo

— The US Sun (@TheSunUS) July 27, 2022
Frank is a motorcycle enthusiast
Frank started collecting as a kid, and initially picked up stamps, coins, razor blades and beer cans. He was always fascinated by motorcycles and dirt bikes, but he could only start his motorcycle collection after matriculating from high school, where he met Mike. Among his first purchases was a 1964 Harley-Davidson, for which he paid $4,100; understandably, his parents weren't happy.
Frank now lets people see and buy motorcycles, including a Honda 750 from the 1970s, and a 1957 Harley-Davidson Panhead. Most vehicles are inside the barns and warehouse on his Iowa property.
Frank also wants to help people in other ways; he wrote one book, "How to Pick Vintage Motorcycles," in 2013, and contributed to another written with Mike Wolfe and Libby Callaway, entitled "American Pickers Guide to Picking" and published in 2011. His books sell for between $7 and $39, depending on the edition and state.
He eradicated bad habits
Frank admitted that he stopped eating high-calorie foods, cut out alcoholic drinks before and after his back surgical operation in March 2020. He revealed that he lost 65lbs or 30kgs during the ordeal, and checked into an addiction rehabilitation center in Iowa for 77 days. Frank said around July 2021 that he'd been sober for 11 months and would have led an alcohol-free life for over a year if he hadn't relapsed roughly a month into the process.
He said that his mother was an alcoholic, and died from alcohol-related causes, and so was his grandfather, although his addiction didn't cause his death. Mike now checks into meetings about twice weekly, and remains sober because he feels excellent and no longer enjoys it. Moreover, beating his alcohol addiction saves him much money; Alcohol.org estimates that drinking about five beers a day costs $480 monthly and about $5,760 yearly in early 2023, and costs skyrocket for alcoholics who frequent bars and restaurants.
An affair ruined his finances
Frank admitted that a romantic affair destroyed him financially, costing him six figures, anywhere from $100,000 to slightly under a million US dollars. He said, 'The main problem was this girlfriend I had; I thought I was getting married, and I bought a brand new house and an expensive ring. Then I found out that while I was on the road, she had a boyfriend for two and a half years back here.'
Frank even got a tattoo that would remind him that cheaters stay cheaters. That also juggled viewers' memories; they realized that Fritz has full sleeve tattoos on both arms, a full-color chest piece in a traditional style, and might have tattooed his legs. Diann Bankson, his ex-fiancé, said that Frank was lying and playing the victim, as she caught him in bed with another woman in November 2018, but forgave him.
Diann sued him in January 2020 because a firework Frank drunkenly set off with a friend caused a nearby ashtray to explode. That accident created third-degree burns to her arm and hand, and burned off her eyebrows and eyelashes, so she sought $50,000 in damages from Frank. However, Diann dismissed the case in March, saying that she wanted to heal and move on after they broke up.