Bianca Ryan, the American singer with an astounding voice, captured the hearts of millions as she was declared the winner of the inaugural season of "America's Got Talent", commonly referred to as "AGT" Her subsequent incredible journey from her amazing victory on the show to her subsequent musical career fascinated millions of fans. Her promising singing career hit a roadblock when she was diagnosed with a paralyzed vocal cord, the condition forcing her to step away from performing and appearing on shows, leaving her fans eagerly awaiting her return to the stage. That moment finally arrived when she made a stunning comeback, competing once again, this time in "America's Got Talent: The Champions."
BACK WHERE IT ALL STARTED! ❤️ My first dream come true! 😘✈️🌴 @AGT #AGT pic.twitter.com/tjuy5hTqay

— Bianca Ryan (@BiancaRyan) March 24, 2018
Bianca Ryan's early years and family
Bianca Taylor Ryan, born on 1 September 1994, in Ocean City, New Jersey USA, is a name synonymous with raw musical talent and determination. Her journey from a childhood prodigy to becoming the first-ever winner of NBC's "America's Got Talent" is a tale of grit, talent, and the indomitable spirit of a young artist.
Her musical journey had humble beginnings. She's the second of five children born to Shawn and Janette Ryan, who relocated to Philadelphia when she was just three years old. Bianca's father, an avid fan of The Rolling Stones, named her after Mick Jagger's ex-wife. Her diverse heritage includes Irish, Japanese, Italian, German and Cherokee roots, making her a true representation of America's melting pot.
Interestingly, Bianca's initial foray into the world of performing arts was through tap dancing, which she excelled at and even won awards. It was only at the age of eight that she discovered her singing talent and began to explore her passion for music. Her love for country music, particularly artists such as LeAnn Rimes, eventually led her to the world of rhythm & blues, and soul music.
Participated in several amateur competitions
Bianca's first public singing appearance was on "Star Search," as she delivered a show-stopping rendition of "Think" that impressed both judges and her father, and caught the attention of many, soon becoming a sensation in the making. During the Junior Singers competition, she faced a setback, losing to fellow contestant Spensha Baker. However, her talent had already started to shine through.
She continued to rise in prominence, eventually winning "Amateur Kids Night" on "Showtime at the Apollo." Her powerful voice and magnetic stage presence were becoming undeniable.
"America's Got Talent": A Platform for Talent and Success
There had been several talent competitions on television but nothing as relevant and diverse as "America's Got Talent", which has been a pivotal platform for discovering and nurturing exceptional talents across various entertainment genres.
History and Premise
"America's Got Talent" often abbreviated as AGT, is a reality TV competition show, which made its debut in 2006, the brainchild of renowned producer and judge Simon Cowell. Unlike other talent shows, "AGT" embraces a wide range of skills, from singing and dancing to comedy, magic, and more, making it a truly diverse showcase of talent.
The panel of judges and host
The show's judging panel has featured a rotating cast of celebrity judges over the years. Notable names such as Simon Cowell, Howie Mandel, Heidi Klum, Mel B, and the ever-charismatic host, Terry Crews, have graced the AGT stage over the years. These judges provide feedback and ultimately determine the fate of contestants. However, during its initial season, the judges were David Hasselhoff, Brandy Norwood and Piers Morgan while Regis Philbin was the host.
Prize of the winning talent
The reality talent competition TV show offers contestants not only fame but also a substantial cash prize, often totaling a million dollars, and the opportunity to headline a show in Las Vegas. However, that $1 million prize could only be claimed through two payable options: the winning individual or group could be paid through a financial annuity of 40 year,s or choose to receive the present cash value of the said annuity. In 2011, Forbes Magazine featured the show and calculated the prize – if the first option was chosen, back then it would mean the winner would receive $25,000 pretax each year. For the second option, the value was around $300,000 pretax.
Elimination Process
While "AGT" would change its rules and process now and then, basically it used a multi-round elimination process. The contestants would first audition in front of the judges, and if they received enough "yes" votes from the panel of judges, they move on to the Judge Cuts round. From there, they advance to the live shows in which viewer votes play a significant role in determining who progresses. However, each judge along with the host has the power to choose a contestant they feel deserves to advance to the live round by pressing the Golden Buzzer, while the judges are deliberating the performance. The final round culminates in the crowning of the winner.
Number of seasons and success stories
Since its TV premiere, it quickly became a summer TV sensation, and eventually spawned numerous international versions of the show, and became one of the most-watched reality TV series on earth. It has discovered and catapulted numerous talents to stardom, with Bianca standing as one of its early shining stars, along with ventriloquist Darci Lynne Farmer, magician Shin Lim, and dance group The Olate Dogs. Bianca's victory in the inaugural season not only changed her life, but also set the stage for many more talented, encouraged individuals to follow in her footsteps. The discovery of new talents continues as the show celebrates its 18th season this 2023.
Her historic milestone in "AGT"
In 2006, the stars aligned for Bianca when she learned about the auditions for the inaugural season of "AGT"; coincidentally, the auditions were taking place on a day when her family was in New York City for an outing. Although initially hesitant due to the eclectic mix of contestants, including a torch-juggling lady with a two-foot-long beard, she decided to stay after her father revealed the grand prize of one million dollars. For her televised audition, she selected the challenging Dreamgirls show tune, "And I Am Telling You I'm Not Going." Her performance left both the judges and the audience in awe, making her an instant standout; her audition video quickly became a sensation on YouTube.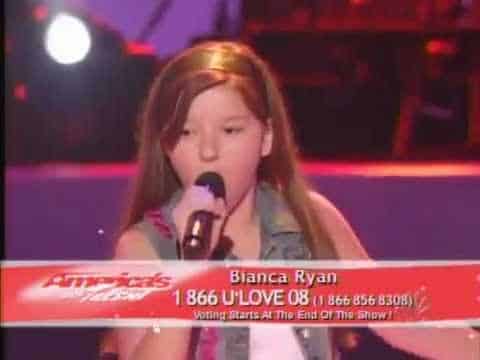 Throughout the competition, Bianca displayed her incredible versatility by performing a diverse range of songs, consistently earning standing ovations, and praise from the judges. She performed the song, "Piece of My Heart" in the semi-final round, and while they gave their thumbs-up to her great vocal performance, they disapproved of her song choice. Her family and school proved to be a great support system for the young Bianca, as she was welcomed back home with a large banner hanging outside their house, and a pep rally for her at school after winning the semi-final round.
Week after week, her talent shone brighter, solidifying her status as a frontrunner. She was visited at her home by one of her favorite gospel singers, two-time Grammy Award winner, Yolanda Adams, to give her encouragement and pointers for her final performance. When the final results were announced on 17 August 2006, 11-year-old Bianca emerged as the first-ever winner of "AGT," making history with her exceptional talent and charisma. It was a dream come true, and marked the beginning of her remarkable journey in the world of music.
Music Career and Post-AGT Success
Following her historic victory on "AGT," Bianca's music career soared. She signed a five-album record deal with Syco Music, a division of Columbia Records, and released her self-titled debut album in November 2006, featuring a mix of cover songs such as "The Rose" and "I Believe I Can Fly" as well as original tracks. Her incredible vocal talent, combined with her charming stage presence, earned her critical acclaim. The album debuted at No. 57 on the Billboard album charts.
In addition, Bianca released two Christmas-themed EPs, "Christmas Everyday!" and "True Meaning of Christmas," which showcased her versatility as a vocalist. She continued to perform at various venues and events, captivating audiences with her emotive singing. However, despite early success, the young singer took an hiatus from the music industry to focus on her education and health-related issues.
Lost her voice due to a paralyzed vocal cord
People were worried that for someone so young, Bianca faced personal challenges and struggles with health issues that threatened her singing career. Initially, she underwent two vocal surgeries because one of her vocal cords was paralyzed. The surgery were a success, and after therapy, her beautiful voice remained intact, and she even gained an extended vocal range. However, just when she thought everything would be back to normal, she was informed by her doctors that she needed to undergo another operation because she might get esophageal cancer. The young singer kept delaying it, but when the doctors told her that there was a high chance that she would never sing again, she agreed to it.
These surgeries were not only physically taxing, especially the long recovery, but also mentally exhausting. Through the help of her loved ones, Bianca went through it all full of patience and strong resolve, ultimately being rewarded with a better voice and increased stamina. The experience of battling through these health challenges only reinforced her desire to chase her dreams. Her ability to overcome adversity and continue pursuing her passion for music and the arts served as an inspiration to many.
Return to the entertainment scene
Despite feeling apprehensive that people might have forgotten about her, she bravely returned to the music scene, and ventured onto other platforms to show her talents.
More music releases
Her comeback to the music scene in May 2017 was marked by the release of her single "One Day", followed by other singles including "Man Down" and "Remember." Her EP "The Reintroduction, Pt. 1" was released in January 2019, establishing her triumphant return to the industry. Bianca explored various musical styles, including neo-soul, R&B, and pop.
Acting career
Bianca has also ventured into acting, initially with early auditions for projects such as "Camp Rock" and "Hannah Montana." She made her acting debut in the 2005 film "12 and Holding," making a memorable walk-on appearance as a young performer, but she decided to try acting once again by taking on the lead role in the music video for "About to Fall" by The Wrecking. Later on, one of her significant acting roles came via the independent feature film "We Are Kings," which premiered in 2014. In the movie, she portrayed one of two homeless musicians who join forces with a runaway rapper to save an elder bluesman from losing his repossessed blues club. Bianca co-wrote much of the film's music, showcasing her songwriting abilities. The film highlighted her versatility as an artist, receiving both praise for her music and mixed reviews for her acting.
Are you ready for the next ROCK & BLUES MOVIE?Starring real musicians, including singer Bianca Ryan, guitarist Boogie Long, rapper Pryce, bluesman Sammy Blue! Get the full movie here: https://www.facebook.com/WeAreKingsTheMovie/app_222219647807785

Posted by We Are Kings on Tuesday, September 22, 2015
Business ventures
In addition to her musical and acting endeavors, the "AGT" first winner also has a passion for make-up and beauty, that led her to launch her own lipstick line called Ciao Bianca. In December 2018, she introduced an impressive array of 23 shades and tints to ensure that her products would be suitable for different types of people; her entrepreneurial spirit also has given her another outlet to explore her other skills. Despite facing various challenges, Bianca's diligence in taking advantage of every possible opportunity offered to her has earned the respect of her peers;
Surprising everyone in "America's Got Talent: The Champions"
In 2018, Bianca made a triumphant return to the "AGT" stage as a contestant in one of its spin-off series called "America's Got Talent: The Champions." In this talent competition, the producers brought together the most talented and memorable acts from past seasons of "AGT" and the global "Got Talent" franchises. Her comeback was marked by an outstanding performance of Sam Smith's "Say Something," which received a standing ovation from the judges and audience.
Her appearance and performance in the spin-off series were a powerful testament to her resilience and courage, overcoming both setbacks and nerves to showcase her talent once again. The judges, including Simon Cowell, praised her for her remarkable journey; he paid tribute to her being the first winner of the entire franchise, 'I think, without you, we may not be sitting here.' The show's creator also expressed his excitement about her return to the "AGT" stage and the entertainment scene after her previous health issues. Judge Heidi Klum also told her that she was genuinely happy that Bianca had her voice back, not only for herself but for all her fans.
Although she finished second in the fan voting and was ultimately eliminated from the competition, her presence on "America's Got Talent: The Champions" provided her with the best platform to remind the world of her extraordinary talent, and her enduring legacy within the "AGT" family. The first season of the returning champs was won by the renowned magician Shin Lim.
Bianca has reflected on her journey, saying, 'I have had more setbacks than anyone I know of in this industry. I just have really bad luck. But you know, everything happens for a reason.' She shared that she overcame these challenges by always seeking the positive aspects of any situation she encountered. This perspective eventually led her to never take anything for granted, and to bravely confront all obstacles head-on.
Broadway and Expanding Artistic Ventures
As Bianca grew more confident in her artistic pursuits, her career extended beyond singing. In 2017, she graced the Broadway stage, taking part in the production of "Home for the Holidays", which featured a line-up of vocal performers, including Candice Glover, Josh Kaufman and Peter and Evynne Hollens. While the show received mixed reviews, her participation again showcased her versatility as a performer.
Maintaining a Presence on Social Media
Bianca's career continues to evolve, and she fearlessly explores new avenues. She rekindled her presence on YouTube, sharing cover songs and original content. Her renditions of John Legend's "All of Me," Sam Smith's "Say Something," and Whitney Houston's "I Have Nothing" garnered attention. Notably, her most-watched video featured her original song entitled "Alice," amassing over two million views.
However, in comparison to her contemporaries and other "AGT" winners, her social media following, including Twitter, Instagram and Facebook, is not as extensive. In 2017, she expressed her hopes for newer artists such as Grace VanderWaal in the age of social media, remarking, 'In the new age of social media, I hope she has a better opportunity than I did back then.'  She was referring to her own experience in 2006, when after receiving praise from the judges, her interaction with the audience was limited. Today, social media platforms offer a direct connection between artists and their audience, and Bianca aspired to reconnect with her old fans through these channels.
Fans suggested that Bianca could attract more followers on YouTube, by consistently uploading videos of her solo performances and collaborations. This proactive approach would likely help her gain a more substantial online following.
Bianca's profound love for her family and music has been the unwavering driving force behind her remarkable career, empowering her to conquer obstacles with determination. She's exhibited an unparalleled commitment to her art, garnering the respect of her peers in the ever-evolving landscape of the entertainment industry. As she continues to craft and release new singles, it becomes abundantly clear that her journey is far from reaching its conclusion.