Anna Cramling
The Spanish-Swedish YouTuber, Twitch streamer, and chess champion Anna Yolanda Cramling Bellón, was born on 30th April 2002, in Malaga, Spain, and is known for her numerous feats in strategy game.
Anna currently holds the Fédération Internationale des Échecs (FIDE) title of Woman FIDE Master; in March 2018, she had a peak FIDE rating of 2175, with the cut-off value being 2500 for women. Although the blonde is half-Spanish, she is more in touch with her Swedish side and has represented the country in two European Team Chess Championships and two Chess Olympiads.
Early Years/Overview
Since her childhood, Anna has been surrounded by skilled chess players, as her mother Pia Cramling is a Swedish grandmaster, while her father Juan Manuel Bellón López is a Spanish grandmaster. At just three years old, Pia – who lived in Spain at the time – began playing chess; when the Cramling-Bellón clan moved to Sweden in 2013, she then switched federations.
From 2015 until 2019, Anna participated in various World Youth, World Cadets, European Youth, and World Junior Chess Championships, and began making a name for herself in the surprisingly competitive game. She also previously played on the same team as her mother, while representing Sweden in international team competitions.
At just 15 years old, Anna reached her peak rating, and was named Woman FIDE Master. In the same year, she beat the Spanish International Master Renier Castellanos Rodriguez, who had a superior 2498 FIDE rating.
As live-streaming gained popularity in 2020, Anna became active on Twitch and other social media platforms, occasionally featuring her mother and father. A year later, she became the first chess streamer of the Panda e-sports organization.
Chess Career
In February 2013, Anna earned her first FIDE rating of 1519 after competing in the Gibraltar Chess Festival's amateur competition. The next year, she returned to the competition and won the women's prize, garnering local media attention, as her parents were known for being regular competitors at the annual festival.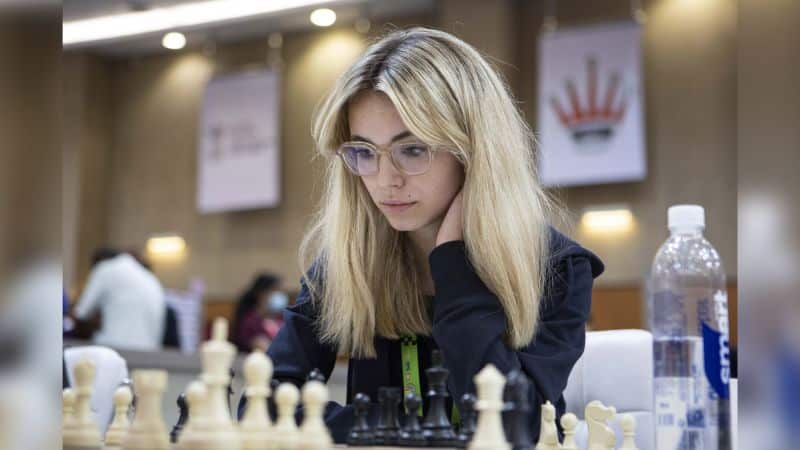 Aged 12, Anna's FIDE rating skyrocketed from 1600 to over 1900 as she participated in four tournaments, including the Amateur A and Amateur B competitions in Gibraltar and the Rilton under-1800 tournament in Stockholm. It became evident that Pia and Juan Manuel saw a great deal of potential in their daughter, as they had no qualms about flying to various countries several times a year, so that she could participate in chess events, such as the World Cadets Chess Championship in Greece.
In June 2016, Anna reached a 2000 rating following an impressive performance at the Hasselbacken Chess Open, and just three months later, she and her parents represented Sweden in that year's Chess Olympiad, which was held in Azerbaijan. Out of over 130 competing teams, Sweden placed 23rd, with Anna competing in seven rounds out of 11.
As the months passed, Anna played the Masters competition in Gibraltar in early 2017, later competing in the World Junior Chess Championships (under-20 division) and European Youth Chess Championships (under-16 division). The following year, she reached her peak rating of 2175 and earned the title of Woman FIDE Master – but just when everything was falling into place for the chess prodigy, she underperformed in the World Youth Championships and saw her rating decline to below 2000.
Nevertheless, Anna recuperated the majority of her lost rating points throughout 2019 thanks to positive performances at the European Youth Championships. Since then, the Spaniard has rarely competed, having found her niche in being one of the only popular chess streamers on the internet. Over-the-board tournaments have also seen a decline since 2020, due to the COVID-19 pandemic's travel restrictions and safety measures.
Anna and her mother made their big comeback at the 2022 Chess Olympiad held in India.
Mahabalipuram, TN | It has been going great for Sweden. I am happy for India too, they've done well. I am rooting for India. Both India's women & open sections have very well: Anna Cramling, Sweden Chess Player on chess olympiad pic.twitter.com/Cdz2LUMpIL

— ANI (@ANI) August 1, 2022
Social Media/Personal Life
Despite being a popular Twitch streamer with over 360,000 followers, Anna's social media platform of choice is YouTube, as her most popular uploads have racked up millions of views – Anna's most-seen YouTube upload is "I Played Magnus Carlsen", which has been viewed 11 million times; the Norwegian chess grandmaster is a five-time World Chess Champion, and has broken numerous records, such as having the highest peak rating in history (2882).
In March 2023, Anna spoke to CNN about feeling lonely and uncomfortable as a woman on the chess circuit. As the game found itself having a #MeToo moment when numerous women (three of them underage) came forward to accuse grandmaster Alejandro Ramirez of sexual misconduct, Anna discussed having "weird experiences" in the chess world since her childhood.
"A chess game typically takes four to five hours, so it felt weird knowing that someone so much older than me had been thinking about me in that way for so many hours," Anna told the media outlet, explaining that adult men used to inappropriately compliment her at chess tournaments, and some opponents would even send her awkward private messages after games.
During a youth tournament that Anna participated in at just 15 years old, a tournament official approached her and claimed she was distracting all the male players. As the event was held in summer, Anna was wearing shorts and had approached some friends who were competing in the men's tournament. The unpleasant experience made the YouTuber feel "embarrassed and guilty", leaving her unable to concentrate throughout the game.
According to the Twitch streamer, one of the main issues is that there are far more male players than female players in chess. Anna is also of the opinion that the game has less female competitors due to "hostile" environments at tournaments.
Even so, Anna has found a way to make her skills work for her. In 2023, she was nominated for Best Chess Streamer at The Streamer Awards – perhaps an unimaginable feat when she filmed her first video three years prior, using her then-boyfriend's laptop. The Spaniard's net worth reportedly lies close to $1 million, and for now, she has no intention of straying away from her trusty formula of entertaining chess-related content.