Amy Madigan is an American actress, producer, and former singer and pianist, known for her career in Hollywood that started in the early 1980s, when she married actor and filmmaker, Ed Harris. As of late-2023, they have a joint net worth of over $50 million.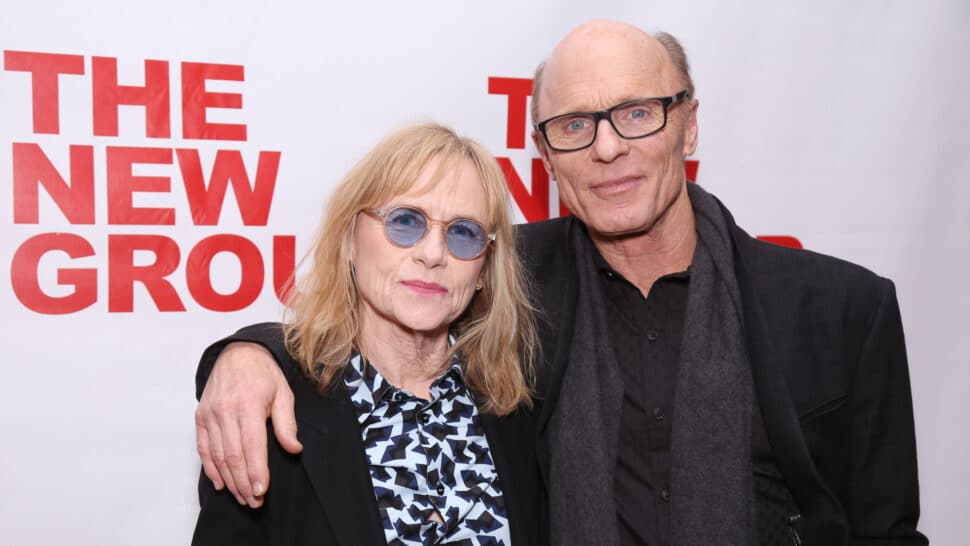 Early life
Amy Marie Madigan was born on 11 September 1950, in Chicago, Illinois USA. Her parents are John, born in 1918 and died in 2012, and Dolores Madigan (née Hanlon), born in 1921 and passed away in 1992 from cancer at the Northwestern Memorial Hospital in Chicago. Her father was a political commentator, known for CBS radio and TV programs "Face the Nation" and "Meet the Press", and a journalist for the Newsweek magazine.
Her mother worked as an amateur actress at the community theatre called South Shore, as part of the SPN Players theatrical group. She was also an administrative assistant for Teamster Local 705 health and welfare fund, and also worked as an assistant credit manager for the local Drake Hotel.
Amy is of Irish descent on both sides, according to EthniCelebs.com, but her paternal grandparents, John Joseph Madigan and Anna or Annie Cotton, and maternal grandparents Edward J. Hanlon and Edward J. Hanlon, were all born in Illinois State. Like Amy, they were Roman Catholics.
Early education, source of career
Amy said that her mother had a great voice and could dance, and that she inherited her talent from her. She pointed out that her mother chose to raise her and her two brothers, Jim and Jack, and her two grandchildren (at the time of her death) instead of becoming a professional stage actor. Amy added that she was motivated to star in high school plays, and attend speech and recitation contests because it felt like following in her mother's footsteps, although she described herself as being a tomboy during that time.
Amy attended St. Philip Neri Grammar School and matriculated from St. Aquinas Dominican High School, both in Chicago. She then studied piano at the Chicago Conservatory of Music in the 1960s. Amy eventually graduated with a bachelor's in philosophy from Marquette University in Milwaukee, Wisconsin, USA, the moved to Los Angeles, California in 1974 and worked as a waitress. At one point, she met Lee Strasberg, a well-known acting teacher and theatre director, and enrolled into the Lee Strasberg Theatre and Film Institute. Although the institution has headquarters in New York City, Amy learned method acting at the secondary campus in Los Angeles in the early 1980s.
Keanu Reeves & Amy Madigan – "The Prince of Pennsylvania" 1988 pic.twitter.com/9iOzTcB4aL

— Keanu Reeves หนูรักเค้า ❤ (@keanureevesmore) July 7, 2019
Career
Considering her education, Amy unsurprisingly wanted to pursue a career in music after relocating to Los Angeles. She was the lead vocalist for the Jelly band, but which only released one album entitled "A True Story" in 1977. She toured the US afterwards to promote the album, and to attract attention even appeared naked and slathered in jelly in the June 1978 issue of Playboy magazine. Amy told the Orlando Sentinel in 1985 that 'people sometimes pulled her off the stage by her pants because they were offended, hated her voice, or her songs, and that she has been performing in beer joints for a decade.' Amy also sang for the music group Big Daddy. She told Broadway.com in 2016 that she misses being a vocalist, but knows that she lacks the voice of a Broadway musical theater person. If she were to return to Broadway, she would want Lin-Manuel Miranda to cast her in a play.
Acting debut
Amy's debut role on television was as Adele in an episode of the "Hart to Hart" series in 1981, and her film debut was as Terry Jean Moore in the 1982 "Love Child". The latter got her nominated for a Golden Globe Award in the New Star of the Year category. Playing Viola Davis in the 1984 movie "Places in the Heart" was significant, because it was the first role alongside her husband, Ed Harris.
Acting in the 1980s
Amy co-starred with her husband in the 1985 movie "Alamo Bay"; the well-known French film director, Louis Malle, directed and produced the film, which featured a despairing Vietnam veteran, Shang Pierce, played by Ed, who enacts violence on Vietnamese immigrants moving to his small Texas bay town.
Amy received much praise for her role in the film "Twice in a Lifetime" the same year, and was promptly nominated for a Golden Globe Award in the Best Supporting Actress in a Motion Picture category, then for Best Supporting Actress at the Academy Awards, which boosted her reputation. Amy returned to the stage in 1987, making her Off-Broadway debut in play "The Lucky Spot" ,for which she received the Theatre World Award.
1989 was arguably Amy's most successful year; she was first nominated again for the Academy Award for playing Annie in the baseball-focused movie "Field of Dreams" alongside Kevin Costner. She then won a Golden Globe Award for portraying Chanice Kobolowski in the "Uncle Buck" movie, choosing the name after the director, John Hughes, asked her for ideas. Amy told Vanity Fair that she liked assigning names to animals and people all her life, and was happy that he adopted the one she suggested one. She was the nominated for a Primetime Emmy Award for playing Sarah Weddington in the TV movie "Roe vs. Wade."
The 1990s onwards
Amy debuted on Broadway in the 1992 play "A Streetcar Named Desire", and had two notable roles alongside her husband, in the 1996 movie "Riders of the Purple Sage", and the 2000 film "Pollock," both of which they produced. Amy played Liz Beaumont in the 1993 movie "The Dark Half" in the scene with the character of Sheriff Alan Pangborn, portrayed by Michael Rooker. A few months later in August, Ed played Sheriff Alan Pangborn in the unrelated movie "Needful Things."
The couple also notably refused to stand up and clap as filmmaker Elia Kazan received his honorary Oscar at the 71st annual Academy Awards ceremony in 2000 – the reason was political: they disapproved that Elia ratted out eight of his old friends, all former Communist Party members, in front of the House Un-American Activities Committee in April 1952, to save his skin. He later supported the blacklisting of Hollywood while the Cold War was raging.
Amy also starred in TV shows such as "Carnivale" from 2003 to 2005 as Iris Crowe, "The Path to 9/11" in 2006 as Patricia Carver, "Grey's Anatomy" between 2008 and 2009 as Dr. Katharine Wyatt, and "Fringe" from 2010 to 2011 as Marilyn Dunham. Amy also returned to theatre after two decades, to portray Susan Perch in the Off-Broadway play "The Jacksonian" in 2013, then played Halie in "Buried Child" in 2016 and 2017, first Off-Broadway, then at the Trafalgar Studios West End theatre.
Husband actor Ed Harris
Amy Madigan married actor, director and producer Ed Harris on 21 November 1983 – they married while filming "Places in the Heart", but did not fall in love on set, which people widely assumed. Instead, they'd met in 1981, doing a play in Los Angeles entitled "Sunset Boulevard." Amy was late to the rehearsal, and filled the empty chair beside Ed.
Ed spotted her unusual socks and complimented, them to break the ice. She later asked him to come over for a tuna sandwich at her house, and while nothing happened then, Ed said that it ignited a spark and they started dating. He added that he recognized that she was the one when she critiqued his acting in the "Fool for Love" play, and he took it seriously instead of becoming defensive. Amy admitted to WomenWorking.com that she saw him onstage in the "Cowboy Mouth" play in 1980 or early 1981 and thought to herself, 'There he is!' She also somehow knew that she would meet him again.
Simple wedding
Amy and Ed explained to OrlandoSentinel.com in 1985 that the small-town setting in Waxahachie, Texas, USA, where they filmed the movie enchanted them. At one point, they decided that their marriage was inevitable, and it felt like a good time to do it. Amy and Ed visited a coffee shop for breakfast, picked up their dog, and headed to the justice of the peace, a local magistrate for marriages, inquests, and oaths, and tied the knot. They headed to work afterwards, but couldn't stop giggling and telling everyone that they were married. After work ended, the two 'drank a lot of beer and played pool to celebrate.'
In 1985, they revealed to Chicago Tribune that starring in many projects early on brought them closer. Ed said that 'acting is so intimate and personal, and that working together brings unspoken thoughts and emotions that go into the work, allowing them to share what happened during the workday without mulling things over at home.' Ed told The Guardian in 2007 that Amy was the greatest love of his life, and that 'love feels like a lazy swim' because it was so effortless. He also described their love as nature taking its course, saying that his wife's skin was his favorite smell!
Who is Ed Harris?
Edward Allen "Ed" Harris was born into a family of devout Presbyterians on 28 November 1950, in Englewood, New Jersey USA. He matriculated from Tenafly High School in 1969, and played varsity football at Columbia University in New York City.
His goals changed when his family moved to New Mexico; after starring in theater plays, Ed studied drama at the University of Oklahoma in Norman, then spent two years at the California Institute of the Arts before he earned his Bachelor of Fine Arts degree in 1975. Interestingly, Ed moved to Los Angeles only a year before Amy, and debuted as a stage actor in 1976. The couple's fans interpret this as fate bringing them together.
Ed Harris' appeared in 11 movies with Amy as of 2023, but "Places in the Heart," "Alamo Bay," and "Pollock" brought him the most renown – Ed even built an artist studio, gained 30lbs (about 13kgs), and learned to paint like Pollock for the role.
Unsurprisingly, he was nominated for the Oscar in the Best Actor in a Leading Role category in 2001. He also received three Oscar nominations for his supporting roles in "Apollo 13" in 1996, "The Truman Show" in 1999, and "The Hours" in 2003. Ed also had notable roles in TV series such as "Empire Falls" as Miles Roby, and "Westworld" as Man in Black. Both earned him Emmy Award nominations, plus he received the 2,546th star on the Hollywood Walk of Fame on 13 March 2015.
Daughter Lily Harris
Amy and Ed welcomed their only daughter, Lily Dolores Harris, on 3 May 1993. A Facebook group, Oregon Adventure Theatre, revealed that she graduated from Reed College in Portland, Oregon, with an English degree around 2016. She is passionate about horse-riding, drinking Earl Grey tea, and medieval literature. Lily was also in the class of 2020 at the MFA Acting program at the American Conservatory Theater in San Francisco, California.
She made her acting debut in 2021 under her stage name Lily Harris. Lily starred in and produced the short movie "The Garden Will Not Crumble", and played Astrid Meadows in an episode of "Chicago Med" that year. A few of her projects are in post-production, including the short movie "Salty," which she also co-directed.
Physical characteristics
Amy Madigan has blonde hair and blue eyes, is 5ft 5½ins (1.66m) tall and weighs 120lbs (55kgs), wit vital statistics of 35-25-37. She frequently wears glasses, primarily pairs with light brown or burgundy-colored rims.
Net worth
Amy Madigan has a net worth estimated at $25 million, according to CelebrityNetWorth.com, which is unsurprising considering that she's been an actress for nearly half a century. Her husband, Ed Harris, also has a net worth of $25 million, although it undoubtedly rose a tad with the popularity of the "Westworld" TV series, which aired for four seasons on HBO between 2016 and 2022.
The couple has had a home in Malibu, California, for over two decades, worth approximately $5 million. Moreover, they fronted $660,000 for the adjacent two-acre property in 1998, presumably to expand their home. However, they tried to sell it for $2.6 million in 2015.