It's impossible to not get caught up watching the highs and lows of the stars of "Deadliest Catch". Whether it's about the stressful lives on board the ships, the feuds between the crew, captains and film crew, or the accidents which more often than not occur on high seas, the show has done a great job at keeping its audience on the edge of their seats for several seasons.
With that being said, it's unsurprising that the interest awakened by the cast members' experiences on board their crab fishing vessels now extends to their personal lives as well. Stay reading to take a look at the wives and girlfriends of our favorite Bering Sea fishermen, while also taking a quick look into their lives away from cameras!
Sig Hansen's Wife
As the Captain of one of the biggest and most popular ships in "Deadliest Catch", it's unsurprising to know how greatly popular Sig Hansen is. When he's not at the wheel of the Northwestern, he's roaming the seas of Norway, letting the audience see glimpses of his family's history, and how the Hansens have built a legacy for generations.
Although his wife June doesn't appear too often in front of "Deadliest Catch" cameras, the truth is that she;s always been supporting him and his business from back home. She and Sig have been married since the late 1990s, and he also adopted her two daughters Nina and Mandy, the latter appearing more than once in the show as the Northwestern relief Captain.
In 2018, June was diagnosed with throat cancer, and revealed her diagnosis by phone to Sig, who was on the Northwestern at the time and in the middle of filming the 15th season of "Deadliest Catch". Fortunately, her cancer was discovered during its early stages, and was cured before it could worsen. June has also been supportive of Sig during his own health scares, including the two heart attacks he suffered between 2016 and 2018.
Though not much is known about June's daily occupation and background, she often appears beside Sig during the show's events and is seen on his social media.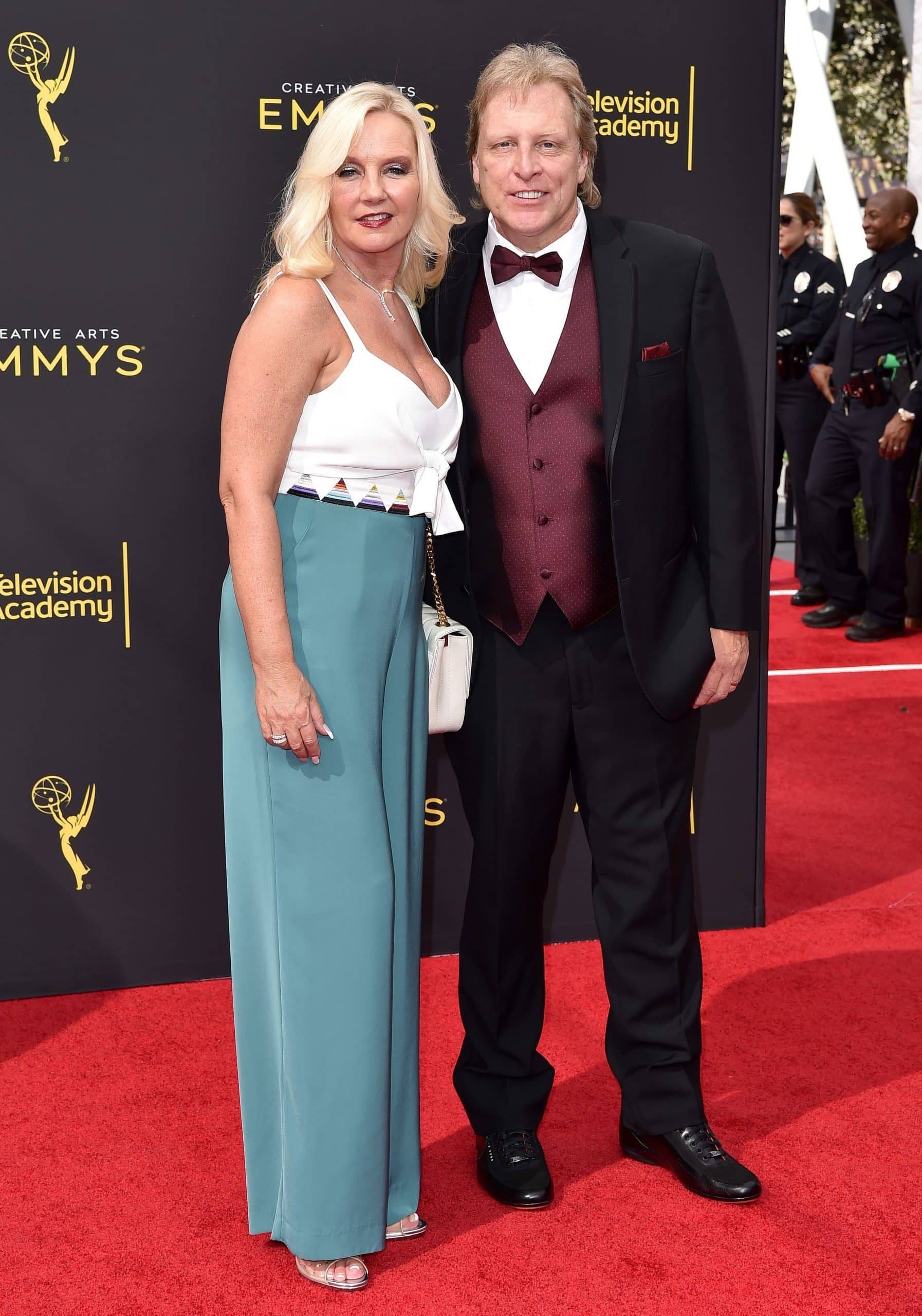 Jake Anderson's Wife
Fans of "Deadliest Catch" have seen Jake Anderson go from the bottom to the top. His journey to become the Captain of the Saga is truly inspiring, but he has also faced many tragedies on the screen, such as the passing of his sister and his father.
Not everything is bad news for Jake though, as his years on the show have let the audience see him living through memorable moments of his life, such as welcoming a family, alongside his wife Jenna. The pair met in the early 2010s during a Festival in Seattle, when Jenna's family approached Jake for autographs. The unexpected incident ended up with Jake getting Jenna's number, eventually developing a long-distance relationship.
In May 2012, Jake and Jenna married at the same festival they'd met at years before, the ceremony officiated by his mentor and former Captain, Sig Hansen. In a 2023 Instagram post, Jake recalled how special that moment was: 'Up to that point it was the best day of my life. Little did I know what was to come,' he wrote.
So far, Jake and Jenna have welcomed three children, and have sorted out the difficulties of being married with his demanding job.
Johnathan Hillstrand's Wife
In recent years, viewers of "Deadliest Catch" have seen the many changes in Captain Johnathan Hillstrand's life. Starting with the fact he and his brother Andy briefly retired from the show and fishing altogether, put their boat Time Bandit on sale, and then returned from their retirement without selling the vessel, there's no doubt that it's been a wild ride for him.
Nonetheless, one of the great things which has happened recently to Captain Johnathan is his marriage to his now-wife Heather. While not many details about their early relationship are known, it's been revealed that they met at church and started a relationship, eventually tying the knot in 2017. At the time, Johnathan shared an emotional video of himself serenading his wife during their wedding celebration, letting his followers see how happy they were.
Not much is known about Heather, except for the fact that she has three adult daughters and enjoys life on the sea as much as him. As seen on Heather's and Johnathan's social media accounts, they often go on trips to sea-like locations, and warmly celebrate each other's special moments.
Andy Hillstrand
Whether you love or hate him, there's no doubt that Andy Hillstrand is one of the most memorable stars from "Deadliest Catch". He's so unforgettable that upon his exit from the show in the 13th season, the audience take long before asking where the former Captain was, until his eventual return to the show in the 19th season.
What most people don't know is that Andy is more than a fisherman, but a businessman as well. Alongside his wife Sabrina, Andy owns the Hobby Horse Acres, located in Indiana, which offers many options for outdoor adventures to customers, including a horse-riding area.
According to the business' website, having a ranch and teaching people to ride horses was a shared dream of Andy and Sabrina, who have been married for over 30 years and have two daughters together. When Andy is roaming the seas on board the Time Bandit, Sabrina takes care of this business – Sabrina's professional profile online states that she's a manager at Time Bandit Productions.
Though not much is known about Sabrina outside of that, it's clear that she and Andy have built quite a nice life together, including their business partnership.
"Wild" Bill Wichrowski's Girlfriend
Even though Captain Bill Wichrowski is quite the popular "Deadliest Catch" star, he's done a great job at keeping details about his personal life away from the spotlight. With that being said, not much information about his romantic partners is available.
The first time we saw Captain Wild Bill with a partner was back in the earliest seasons of "Deadliest Catch", when he and his wife Karen Gillis attended several events for the show and often met with fans. Eventually the pair separated, with Wild Bill introducing his social media followers to his new girlfriend, Melissa Marie Taylor in 2018, though it's unclear how long they'd been together before that.
Despite often appearing on each other's social media during their adventure trips, Wild Bill and Melissa, who is a Florida-based real estate agent, eventually broke up. Later in 2021, Wild Bill introduced his girlfriend Shaunta Scott on his social media, with whom he's still together to this day. However, not much is known about Shauna either, except for the fact that she and Wild Bill enjoy going on summer trips together, as hinted by the many pics he's posted alongside her on his Instagram and Facebook.
Keith Colburn's Girlfriend
Just like his fellow Captain Wild Bill, the Wizard's skipper Keith Colburn keeps details about his romantic life away from the public spotlight, letting us see little to nothing about his partners.
The first time we saw glimpses of Captain Keith's former wife Florence was back in 2012, when he introduced her to his followers on Facebook. At the time, he described Florence as his 'business partner', but didn't give too many details about her. The pair also attended several events for "Deadliest Catch" during the earliest seasons of the show.
However, in a 2016 interview with KIRO Radio's Don O'Neill, Captain Keith announced that he and Florence had been separated for a while. Despite not revealing much about the cause of their divorce, he described her as 'wonderful'.
Sienna, the innkeeper's wife in #LesMiserables. Took extra solos when partner got food poisoning. #proud #ESCHDrama pic.twitter.com/nOWK7IFkjD

— Capt Keith Colburn (@crabwizard) March 20, 2016
Though Keith doesn't reveal much about his personal life, in 2020 he introduced a woman called Hillary on his Instagram account, revealing they had Easter together in Idaho. Nonetheless, further details about Hillary or whether the pair are still together are unknown.
Overall, while Keith Colburn and the rest of the Captains from "Deadliest Catch" have different personal stories and romantic lives, they've all faced very similar difficulties of life on the high seas.