Football is a big and prolific business and that inevitably extends to its stars. While there is no shortage of football players trying to make a name in the league, those who are talented and hard-working enough to stand out from the rest are assured of landing very juicy and record-breaking contracts, which also happen to be all from quarterback players.
In the following list, we've included the biggest contracts in NFL history based on their length, annual earnings, and longevity in the league. We've also added a quick net worth summary to give you a deeper insight into what all of these football stars are doing with their money off the pitch. So stay here and enjoy!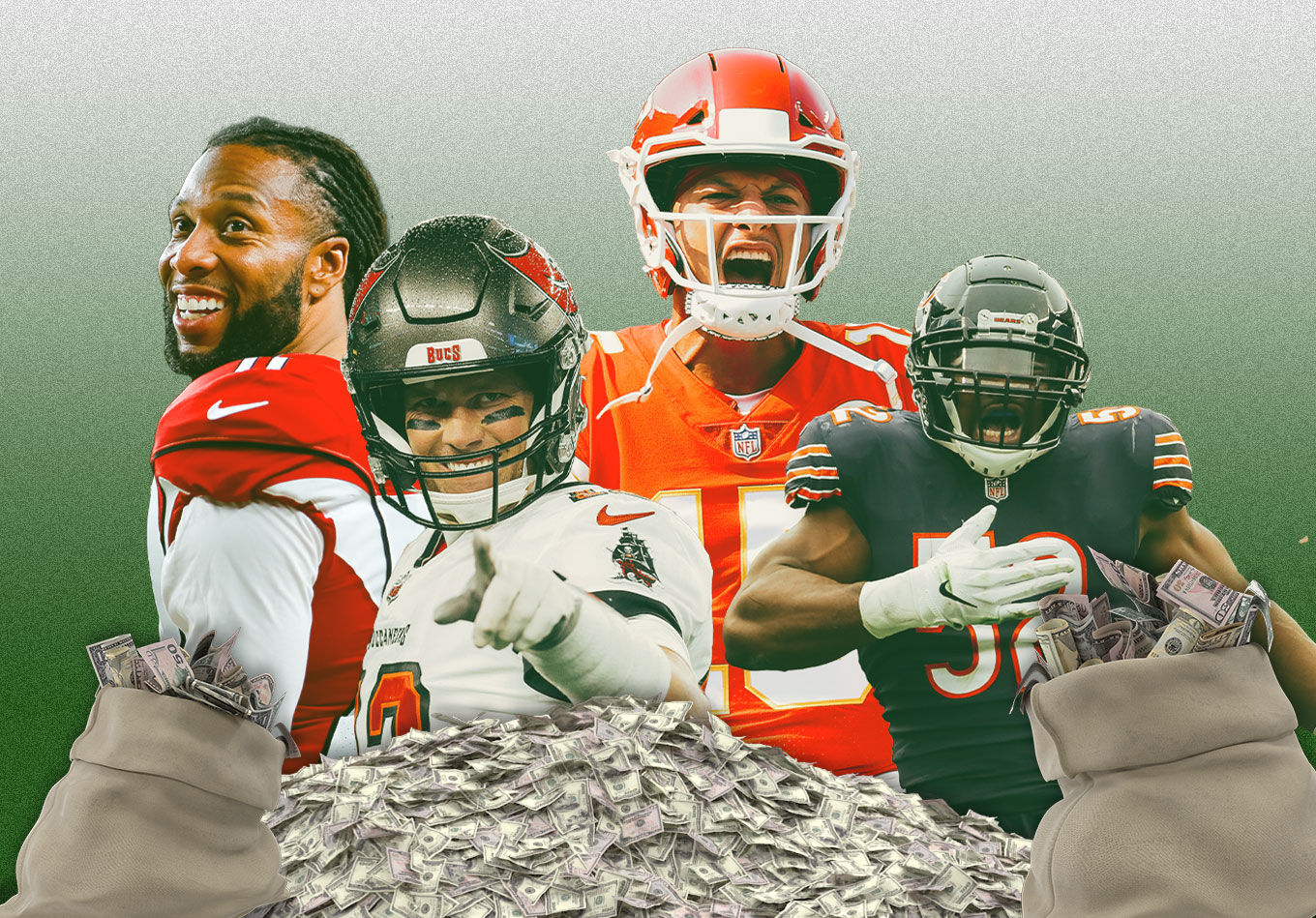 Patrick Mahomes
No one else could be at the top of this list except for Patrick Mahones. After signing with the Kansas City Chiefs in 2017, Patrick has been escalating the National Football League (NFL) ranks to the top. Despite his young age, Patrick's talent and impressive career accomplishments gained him his first Most Valuable Player title in 2018, before winning the Super Bowl the next year with his team, while also breaking lots of records in the league.
In 2020 Patrick made history once again by signing a $477 million contract with the Chiefs, the biggest in NFL history. According to reports, Patrick's extension contract will keep him playing for the Chiefs for ten years. That means that he would be earning an impressive yearly salary of $5.5 million by 2023, increasing to over $38 million by 2031, on top of several conditional and unconditional bonuses which could make his contract hit the $500 million mark.
Patrick's deal with the Chiefs famously stands out for its impressive bonuses, making him the record holder for the longest and most expensive NFL contract to date.
With that being said, Patrick has an estimated net worth of $70 million by 2023, though this number will only increase as his promising career as a quarterback stays strong.
Joe Burrow
Following the line of quite recent but impressive NFL contracts, it's necessary to mention Joe Borrow, who to date holds the title of the highest-paid active player in the league. While Joe's career is still in the earliest stages, his prominence as one of the most promising quarterbacks was proven by landing a $275 million contract extension with the Cincinnati Bengal in September 2023.
Joe's extension includes several bonuses and guarantees, making his projected base salary $48 million by the end of the contract in 2029. Though this figure is bigger than Mahomes' base salary, Joe's contract isn't as extensive in time and bonuses as that of the Chiefs' quarterback.
Joe's estimated net worth by 2023 is $50 million, but considering his promising career and how great a contract he landed with the Bengals, it's safe to say his fortune will keep growing.
Nonetheless, Joe's choice of spending his money is a far cry from other NFL players with a taste for luxury. As he revealed in 2020, he's planning to live off the 'marketing money' earned through his career, while his contract money with the league is meant to go to long-term investments.
Justin Herbert
The Los Angeles Chargers quarterback Justin Herbert is next on this list for very good reasons. In July 2023, Justin signed a five-year contract extension for $262.5 million, becoming the highest-paid player in the league for a couple of months before Joe Burrow's massive contract surpassed him later that year.
By including $219 million in guarantees on top of the roster and pro-rated bonuses, Justin's contract states his salary at an impressive yearly $40 million by its end in 2029. Justin's estimated net worth before signing his contract was $25 million, but that will surely change as his career keeps moving forward.
Lamar Jackson
The next on this list is Lamar Jackson, the prolific quarterback who signed a $260 million contract with the Baltimore Ravens in early 2023. His contract includes $185 million in guarantees, made up of over $113 million in pro-rated bonuses.
BREAKING: Ravens, Lamar Jackson agree to terms on contract extension. (via @RapSheet) pic.twitter.com/986WnipDYK

— NFL (@NFL) April 27, 2023
Lamar's salary by 2023 was established at $7.5 million, but it's projected to go up to $51 million by 2027, one year before his contract ends. This deal is impressive not only for its size, but also for the fact Lamar represented himself through the entire process. Though his non-exclusive contract with the Ravens also allowed him to receive offers from other NFL teams, Lamar still kept his focus on getting an extension from Baltimore.
These days, Lamar Jackson has an estimated net worth of $40 million, which he's reportedly enjoyed by buying impressive real estate and luxury cars.
Josh Allen
The Buffalo Bills quarterback Josh Allen's most recent contract with the league is also quite big. After joining the Bills on a four-year contract worth $21 million in 2018, Josh visibly upgraded his status in the team by signing a six-year extension for $258 million in 2021.
Back in the beginning of his extension, Josh's base salary was $900,000, but is projected to hit the $15 million mark by its end in 2028, estimated without considering the bonuses and guarantees.
While Josh's current net worth is estimated at $14 million, his future earnings in the league are expected to increase his fortune soon. Also, Josh's sponsorship deals with worldwide known brands, and his shares in the manufacturer company OnCore Golf Technology mean positive things for his net worth.
Jalen Hurts
Another quarterback to sign a massive deal is Jalen Hurts of the Philadelphia Eagles. After playing with the team for three years, Jalen's hard work paid off when his contract extension hit the $255 million mark, becoming for a short time the highest-paid footballer based on a yearly salary.
Jalen's base salary for 2023 was estimated at over $1 million, but it's expected to go up to $1.4 by 2028. Jalen's contract includes pro-rated and other types of bonuses, which amount to massive yearly earnings. With that being said, Jalen's current net worth is $30 million, but his fortune is meant to increase far beyond that.
Jalen spends his money with caution though. As Jalen once revealed to GQ Sports, his first NFL money was spent on charity, personal expenses, and his sister's college tuition, but he still saved over 70% of his money for the future.
Russell Wilson
While not as massive as other contracts, there are many good reasons for having Russell Wilson as title holder of one of the biggest contracts in the league. In 2023, he signed an extension with the Denver Broncos for $242 million, out of which $165 million is guaranteed.
Russell's base salary is at $2 million by 2023, but it's expected to go up to $50 million by the time the contract runs out in 2028. Nonetheless, Russell isn't new to the league, having accumulated an impressive net worth of $165 million in the decade he's spent in the NFL. Lots of Russell's money goes to self-invest in his career, reportedly spending around $1 million yearly in taking care of his body and athletic lifestyle.
Kyler Murray
Last but not least, we have Kyler Murray with his five-year contract extension with the Arizona Cardinals signed in 2022 worth $230 million, out of which $160 million is in guarantees.
While Kyler's base salary for the 2022 season was $965,000, it will go up to $31 million by the time his contract reaches its end in 2028, which includes roster bonuses starting in 2025, alongside pro-rated bonuses which amount to $70 million in total.
Kyler's estimated net worth of $40 million is undeniably impressive, but so is his potential to keep moving forward in his career in the league. Meanwhile, he's been enjoying the results of his hard work by buying an eye-catching collection of luxury cars.
In the case of Kyler and every other NFL player on this list, their contracts were signed quite recently, demonstrating how much the league has been investing in their players, and how the overall value of sportsmen is expected to keep increasing.
Nonetheless, it's also fair to remember how NFL legends such as Roger Staubach, John Madden, Peyton Manning, and Tom Brady established themselves as not only great and prolific athletes, but also built long-lasting fortunes even when they were away from the pitch.