Bodhi Ransom Green
Fans of the actors Brian Austin Green and Megan Fox will be more than familiar with Bodhi Ransom Green, the middle child of the former couple, who was born on 12th February 2014 in Los Angeles, California, USA. Despite the "Jennifer's Body" star being an open book in most aspects of her life – especially her relationship with rapper Machine Gun Kelly – she is less forthcoming when it comes to her children. However, thanks to the occasional interview or Instagram post, we've been able to piece together some facts about the Green brothers.
Green Siblings
Megan and Brian welcomed their first son together, Noah Shannon Green, on 27th September 2012. Although Noah's birth marked Megan's first foray into the world of motherhood, Brian already shared a son, Kassius, with ex-fiancée Vanessa Marcil. Somehow, Megan managed to enjoy a lowkey pregnancy, and was able to make the birth announcement via Facebook, writing: "He [Noah] is healthy, happy, and perfect."
Over the years, Megan has been frequently criticized for allowing her sons to wear girl's clothing and grow their hair out. In June 2023, the "Transformers" alum went back and forth with politician Robby Starbuck, who claimed that she was forcing her children to dress a particular way. In a heated Instagram post, Megan lambasted Robby and accused him of "exploiting [her] child's gender identity to gain attention in [his] political campaign" – however, it's not the first time such accusations have been made about the Tennessee native, who sparks controversy almost every time she discusses the sensitive topic.
Over the years, Megan has often discussed Noah's love for fashion and his tendency to wear dresses, which apparently began when he was just two years old. "I'm trying to teach him to be confident no matter what anyone else says," she proudly stated in a 2019 TV appearance.
Self-expression is very much encouraged in the Fox household, as Megan has also purchased books for Noah, to help him navigate bullying and instill confidence in himself. Not only is Noah a future fashionista who loves drawing and designing outfits, however, Megan's firstborn is said to be a talented musician who loves playing the piano.
Moving on to Bodhi, Megan named her second-born after the Bodhi tree that Buddha was sitting beneath when he reached nirvana – although she was also influenced by Patrick Swayze's character in "Point Break". His middle name also has a "religious and spiritual" meaning for the actress, as well as being her great-grandfather's middle name.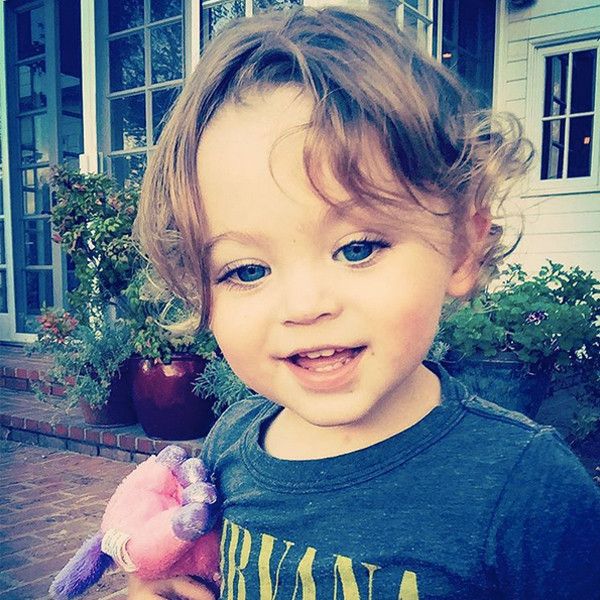 While Megan is known for having a love-hate relationship with the press – the actress was allegedly blackballed from Hollywood for years, after comparing director Michael Bay to Napoleon and Hitler in a disastrous interview with Wonderland magazine – she does share the odd photo of her children. When Bodhi was almost two years old, she posted a close-up of his face, showing off his long lashes and large blue eyes, captioning the adorable snap: "Bodhi: Stunner. Clown. Unicorn."
While discussing Bodhi in a Sports Illustrated interview, Megan also revealed that he's a "classic middle child" who always tries to behave correctly and tell the truth. Like Bodhi, Noah also enjoys wearing feminine clothes from time to time, and has had long hair for years. If Robby Starbuck's disturbing allegations are to be believed, he and Noah once had a "full on breakdown saying they were forced by their mom to wear girls [sic] clothes", an incident which Robby claims to have witnessed in 2018, when Megan and Brian lived in the same gated community as him.
Moving on, Megan and Brian's third child, Journey River Green, was born on 4th August 2016 following a rough patch in the couple's relationship. Months before announcing her pregnancy, Megan had actually filed for divorce from the "Beverly Hills 90210" star; however, she and Brian were still spotted together several times, with and without their sons, so no one was too surprised when they confirmed their reconciliation, and a new bun in the oven.
Little is known about Journey, as Megan has fought tooth and nail to keep him out of the spotlight, just as she's done with her two eldest sons. Nevertheless, we can confirm that the youngster is said to have a "naughty and mischievous" personality, along with an innate curiosity and strong memory.
Megan and Brian
Before calling things off for good in mid-2020, Megan and Brian's 16-year relationship was full of ups and downs. The former couple first met while filming "Hope & Faith" for ABC; while the castmates were gathered around a monitor watching a scene, Brian accidentally touched Megan's leg, and she soon developed a serious crush on him.
Brian, however, was newly single and made a point of ignoring Megan because he didn't want to enter another relationship so soon. However, he changed his mind when the beautiful brunette began seeing other men.
Following a two-year relationship, Megan and Brian became engaged in November 2006, but dragged their feet when it came to wedding planning. Both parties were clear that they wanted it to be a small, intimate event with absolutely no journalists or paparazzi present; in fact, they were even considering eloping at one point.
When the discreet duo called-off their engagement in February 2009, many fans thought that that would be the end of their love story. However, they reconciled and became engaged again in June 2010, marrying a week later in a private sunset ceremony in Hawaii with only one guest: Brian's son, Kassius.
For the next couple of years, Megan constantly raved about her husband and their blissful married life, and the actor was equally enthusiastic about the union. Somewhere along the line, though, things soured between the two, with a source close to Megan claiming that they had been separated for months prior to her filing for divorce in August 2015.
After Megan's third pregnancy, we didn't hear much from the couple for years. The "This Is 40" starlet asked courts to dismiss the divorce case in April 2019 – which is why the whole world was taken by surprise when she was spotted canoodling with controversial rapper Machine Gun Kelly (MGK) a little over a year later.
Despite Megan and MGK going Instagram official, and becoming an established couple at lightning speed, Brian initially held out hope that they would rekindle. "I never say never," the actor confessed during an August 2020 Instagram Live with his fans. When it became apparent that Megan had no intention of going back, however, Brian changed his tune, as months later Megan accused him of manipulating social media to portray her as an absent mother.
In November 2020, Megan filed for divorce for a second time, with Brian filing his response on the same day. Since then, it appears that the former lovebirds have moved on amicably: Brian congratulated his ex-wife on her engagement news, whereas she showered him and his new girlfriend Shana Burgess with support when they announced their baby news. Fans hope that both parties continue to co-parent in a healthy manner for the wellbeing of their children.