• Brooke Mayo is an MMA fighter born in 1992
• She has a younger brother and matriculated from a local high school
• Her first MMA fight was in 2015 and she has won several fights
• She is dating Nick Pica, another professional MMA fighter
• Brooke currently has a net worth of less than $1 million.
 
Who is Brooke Mayo?
Brooke Mayo was born in Pleasanton, California USA on 10 August 1992, so under the zodiac sign of Leo and holding American nationality, and she is famous for being an MMA fighter, better known as 'The Bully'.
Early life and education
Brooke hasn't shared anything about her parents with the public – she grew up alongside her younger brother Harrison Mayo, and wasn't interested in fighting during her childhood. However, after she matriculated from a local high school, she chose not to attend college, but to pursue her MMA career.
Career
Brooke first appeared in the MMA ring on 30 May 2015 at WFC 14, when she fought Brieta Carpenter and won by unanimous judges' decision. Brooke's next fight took place at Hoplite Fight Productions – No Judges Required on 18 July 2015 when she fought Anntonnette Bernal and won by a knockout in the third round.
Brooke suffered her first defeat at GKO 4 – Global Knockout 4 when she faced Shaianna Rincon – Brooke wasn't happy about her defeat, so went on to train harder, and won the next fight against Allison Price at GKO 5, and then won against Megan Little at GKO 6.
Brooke's following fight was against Mayra Mello Mazza at the GetDown Promotions – GetDown Fight 22: 1st Female California State Championship held on 2 July 2016 – Brooke beat Mayra by a technical knockout in the third round.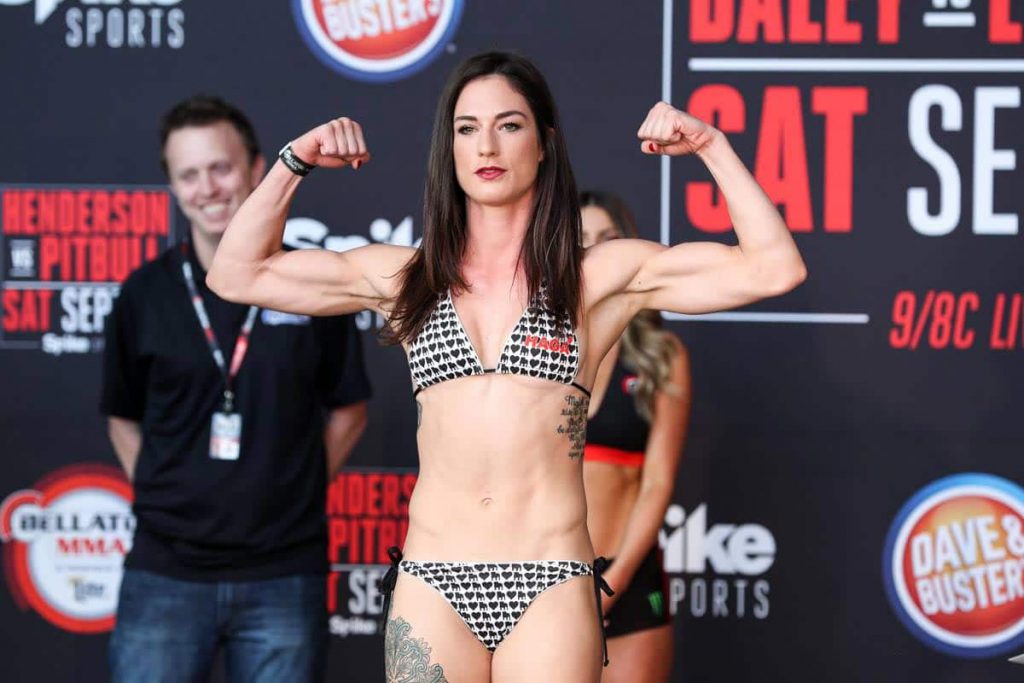 While the fights before 2017 were in the amateur category, Brooke had her first professional fight on 18 February 2017 at Bellator 172 – Thomson vs Pitbull where she faced Veta Arteaga and lost by a technical knockout in the third round – Brooke was associated with Team Black MMA and fought in 'flyweight' class. Her next professional fight was on 23 September 2017 at Bellator 183 – Henderson vs. Freire when she faced and lost to Kaytlin Neil by a unanimous judges' decision. This was also Brooke's last fight as she hasn't fought in MMA after this for unknown reasons – however, it is rumored that she had problems with her manager and ex-coach Dan Black. Brooke was not happy with the way he handled his job and didn't want him as her coach anymore but rather just as her manager – it didn't go that well as Brooke had difficulty finding training partners, and trained in a very small place.
After these problems, Brooke left Team Black MMA and became part of Team Alpha Male which made things with Black even worse – he would call the managers of the team and complain how she should be representing his team's name and not only Team Alpha Male. Not only that, he called her sponsors and asked them directly about the deal which they have with her, even though those things had nothing to do with him. The worst of all was when Brooke had chances to fight, Black did not want to book the fights for her with the explanation 'No, I think that's too risky, I don't want to do that.'
In November 2017, Brooke asked to be let out of her contract with Black which led to him calling her coaches and telling them to kick her out because he doesn't want her to train there, that she is using drugs and is a bad person.
Unfortunately for Brooke, she did not manage to break free from the contract she made with Dan Black, and was advised to find a lawyer and file a case against Black which she decided against.
Personal life
Brooke is currently dating Nick Pica who is a professional MMA fighter – they often share pictures of themselves on their Instagram accounts, and can be seen attending parties and going to events together. Brooke has never married, and she doesn't have any kids – she seems to be spending most of her time with her three pure bred English Bulldogs Lola, Max, and Tina – Tina became mom to 10 puppies which Brooke gave away to people who wanted dogs, and were ready to take good care of them.
Dominick Pica
Dominick Pica is an MMA fighter who is associated with Team Black and fights in the middleweight class – he is 5ft 10in (1.78m) tall and weighs 185lb (84kg). His first professional fight was held at DH – Dragon House 11 event on 18 August 2012 when he faced Christian Barber and won with a technical knockout in the first round.
Nick's second fight took place at DH – Dragon House 12 event on 11 November 2012 when he won again with a technical knockout against Joshua Turner in the first 40 seconds of the match. His next fight was held at WTFC 9 – Mitchell vs. Jara event when he beat Jordan Powell in the third round – Nick's fourth fight and fourth win was when he faced Eric Smith at WFC 12 – Ricetti vs. Emmet on 15 November 2014 as he won by choking in the first round. His fifth and last win in his MMA career was during Bellator 142 – Dynamite event held on 19 September 2015 when he faced Mauricio Alonso and won by unanimous judge's decision.  He had one more duel before he stopped fighting in MMA – he faced Diego Herzog at Bellator 165 – Chandler vs. Henderson event on 19 November 2016 and lost by a technical knockout in the second minute of the first round. The reason behind his decision to quit MMA fighting is not known, but it is rumored that the Brooke's problem with Black had an impact on Nick's career and his relationship with Black as well.
Nick has an Instagram account, but is not nearly as popular as Brooke – he has over 1,300 followers and has posted around 125 pictures.
Appearance and net worth
Brooke is currently 26 years old. She has long black hair, brown eyes, is 5ft 7in (1.7m) tall and weighs around 124lb (56kg).
According to authoritative sources, Brooke's current net worth is estimated to still be less than $1 million – she has a disclosed career earnings of $11,000.
#GKO5 https://t.co/1pXCLfQ6od pic.twitter.com/xh08W2Dkct

— Brooke Mayo (@brooke13_mayo) October 10, 2015
Social media presence
Brooke is quite active on several social media platforms – she launched her Twitter account in June 2015 and has so far gathered nearly 2,000 followers and tweeted over 500 times. She is a lot more popular on her Instagram account on which she is followed by nearly 30,000 people while she's posted more than 1,000 pictures. Brooke has a Facebook page as well with over 3,000 fans.
Trivia
Brooke is a wearer of the purple belt in jiu-jitsu.
Source:
IMDb
,
Wikipedia