• Khonry Gracie is a professional mixed martial arts fighter with a net worth of over $50,000.
• He is the son of semi-retired professional fighter Royce Gracie and hails from the highly popular Gracie family.
• He made his Bellator debut in 2018 and won his first match in MMA during Bellator 209.
• He is a brown belt in Brazilian Jiu Jitsu and is highly active on social media.
• He is single and hopes to continue the legacy of his family in MMA.
 
Who is Khonry Gracie?
Khonry Gracie was born on 23 April 1997, in the United States of America, and is a professional mixed martial arts (MMA) fighter, best known for competing in the welterweight division of the MMA promotion Bellator MMA. He is the son of semi-retired professional fighter Royce Gracie.
The Net Worth of Khonry Gracie
How rich is Khonry Gracie? As of early-2019, sources inform us of a net worth that is over $50,000, earned through a career as a professional MMA fighter. He's also shared a significant amount of wealth with his father who has a net worth estimated to be over $5 million. As he continues his endeavors, it is expected that his wealth will also continue to increase.
Early Life and Mixed Martial Arts Beginnings
Khonry is of Brazilian descent and hails from the highly popular Gracie family, who are known for being pioneers of Brazilian jiu-jitsu (BJJ). The martial art focuses on grappling, ground fighting, and submissions taking its fundamentals from the Japanese form of the martial art, integrating its own innovations and adaptations. The system also takes inspiration from techniques of judo, promoting that a smaller and weaker person can successfully defend themselves against bigger opponents through the use of technique. The martial art has been promoted as a combat sport, and for self-defense situations.
His father Royce is considered an MMA legend, and made his way into the Ultimate Fighting Championship (UFC) Hall of Fame. The promotion is considered one of the top in terms of MMA, and is responsible for bringing combat sports into the mainstream. He grew up with two brothers and a sister, and initially didn't think about pursuing martial arts as a career, and played a lot of soccer.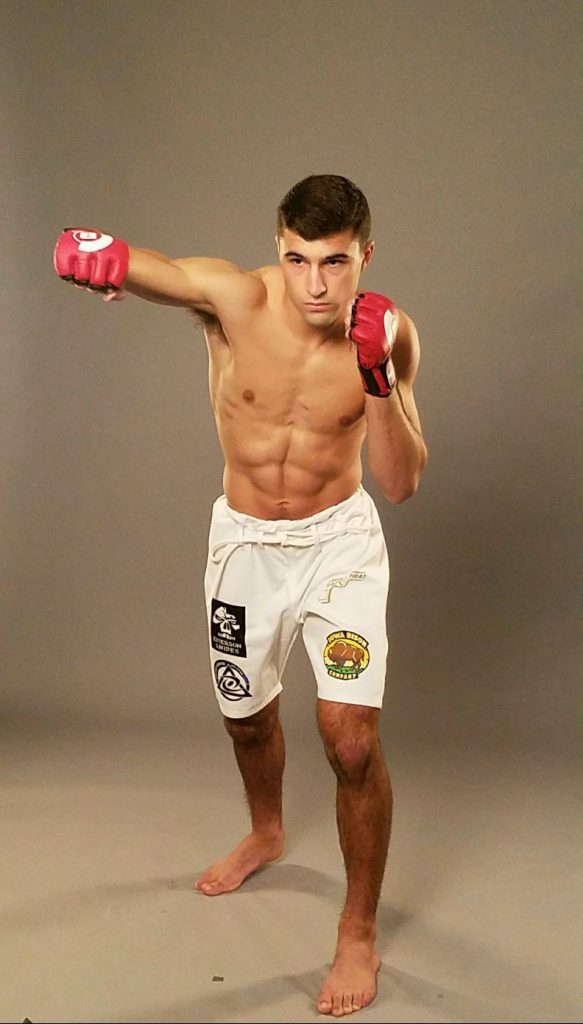 Fighting Career
Eventually, Gracie started considering following the footsteps of his father, and began competing in mixed martial arts professional matches. He started in 2017 as an amateur fighter, for the promotion called Attitude. His first match was against Ben Clark and he easily won, receiving praise for his well-developed striking and technique. He continued to impress many and this led him to sign a contract with the promotion, Bellator MMA in which his father also competed. The promotion is based in California and is one of the largest promotions in the world, with many considering it one of the upper echelons of combat sports.
The promotion has been known to feature talents such as Michael Chandler, Rory MacDonald, Quinton "Rampage" Jackson, Matt Mitrione, and many others. Khonry made his Bellator debut against Devon Brock in 2018 which was held at the event Bellator 192, however, he lost his match, but based on several websites, he has managed to get his first victory in MMA during Bellator 209 against Ron Becker, winning via unanimous decision. He continues to train and improve his skills, and is currently a brown belt in Brazilian Jiu Jitsu.
The recovery is just as important as the training. Thanks @osmarpersonal for the great work you do! pic.twitter.com/3pyoq8ThGt

— Khonry Gracie (@KhonryGracie) August 25, 2018
Father – Royce Gracie
Royce Gracie is considered to be one of the most influential figures in the history of MMA, gaining success in the 1990s with the UFC. He was the tournament winner of UFC 1, UFC 2, and UFC 4, and also fought to a draw in the championship match in UFC 5 against Ken Shamrock, with the two having a notable rivalry during this period. He is known for popularizing the use of grappling and ground fighting in mixed martial arts, also heavily responsible for popularizing Brazilian Jiu-Jitsu, so revolutionizing combat sports.
After leaving the UFC, Royce went on to compete in PRIDE Fighting Championships in several controversial matches against notable fighters from Japan. After some disagreements, he then went to fight at the K-1 scene in Japan in several matches, before returning to the UFC in 2006 to fight against Matt Hughes, which he lost. After a win in 2007, it was discovered that he was taking anabolic steroids to give him a competitive edge, leading him to be fined. After trying to defend himself for his actions, he announced in 2010 that was intending to fight once more, but eventually decided to retire in 2013. Three years later he returned to Bellator in a planned trilogy against former rival Ken Shamrock, in which he won the first match. Subsequent matches are yet to be scheduled.
Personal Life and Social Media
For his personal life, not much is known about Khonry's romantic relationships. Several sources state that he is single and has never been married; he is also still very young and looks to be developing his MMA career as opposed to looking for a long term partner. He has mentioned in interviews that he hopes to continue the legacy of his family in MMA, and shares a special close bond with his father.
Similar to numerous professional fighters, he is highly active online through accounts on social media, specifically on Twitter on which he has over 500 followers. He recently celebrated his birthday and was greeted by his father through social media. He uses the online platform to promote his upcoming fights and recent events, and also to express some of his political beliefs, though at times it takes him weeks between posts, likely due to his busy schedule preparing for fights.
Source:
IMDb
,
Wikipedia