Brazilian TikTok sensation Cibelly Ferreira, found herself in the limelight, albeit for controversial reasons, but she's significantly leveraged her rising popularity across diverse social media platforms. On a global scale, she became known as the English teacher reportedly dismissed by her school due to her innovative yet provocative teaching approach. Her actions and unapologetic response to the severe criticism she faced sparked a lively online debate, especially when more of her online activities were revealed to the public.
#Videos | ▶️🔥🥵 Conoce a Cibelly Ferreira, la bellísima maestra de 29 años que ha causado polémica por grabar TikToks sensuales con a sus alumnos. https://t.co/QpwlD7eQ8A

— Excélsior (@Excelsior) May 14, 2023
Meet Cibelly Ferreira
The English teacher's life story is nothing short of extraordinary, marked by her journey from a small town in Brazil to becoming a TikTok sensation, and a controversial figure in the world of social media.
Early life and education
Cibelly Ferreira, born on 15 October 1997, in Lavras, Minas Gerais, maintained a distinct separation between her private and public life. Little is known about her parents, siblings, or her childhood, as she seldom delved into these aspects of her personal history.
Her educational journey, however, was marked by a commitment to academic excellence. She earned a degree in biological sciences from the Federal University of Lavras, Brazil, laying a robust foundation for her future endeavors. Furthermore, she embarked on a transformative educational experience at the South Australian College of English in Hobart, Tasmania, Australia, where she not only honed her language proficiency but also inspired her to focus on giving language lessons to non-English speakers.
The TikTok sensation
Cibelly's meteoric rise to fame can be traced back to her pioneering teaching methods and her active presence on the immensely popular social media platform, TikTok. With a goal to captivate her students and infuse a sense of excitement into the learning process, she ingeniously introduced dancing into her classroom routines. Little did she anticipate that this decision would propel her to stardom with millions of followers on TikTok.
She candidly expressed her insight, saying that she clearly understood the challenge that the younger students face when trying to divert their attention from social networks and technology and try their best to focus on learning. She further explained that she needed to be creative enough to explore various ways so that the students could be more attentive to her lessons.
The controversy
Cibelly's unconventional teaching methods quickly drew significant attention and ignited controversy. She faced a wave of criticism for her choice of attire in her dance videos, with many deeming it inappropriate within the confines of a classroom. One particular video, in which she danced alongside students while donning a revealing green dress, provoked outrage among certain internet users.
Detractors argued that her actions were "sensualizing" the educational environment, blurring the boundaries between teacher and student. This controversy escalated when it came to light that Cibelly also maintained an OnlyFans account, through which she shared adult content to supplement her income. Her dual identity as an educator and an adult content creator added fuel to the ongoing debate.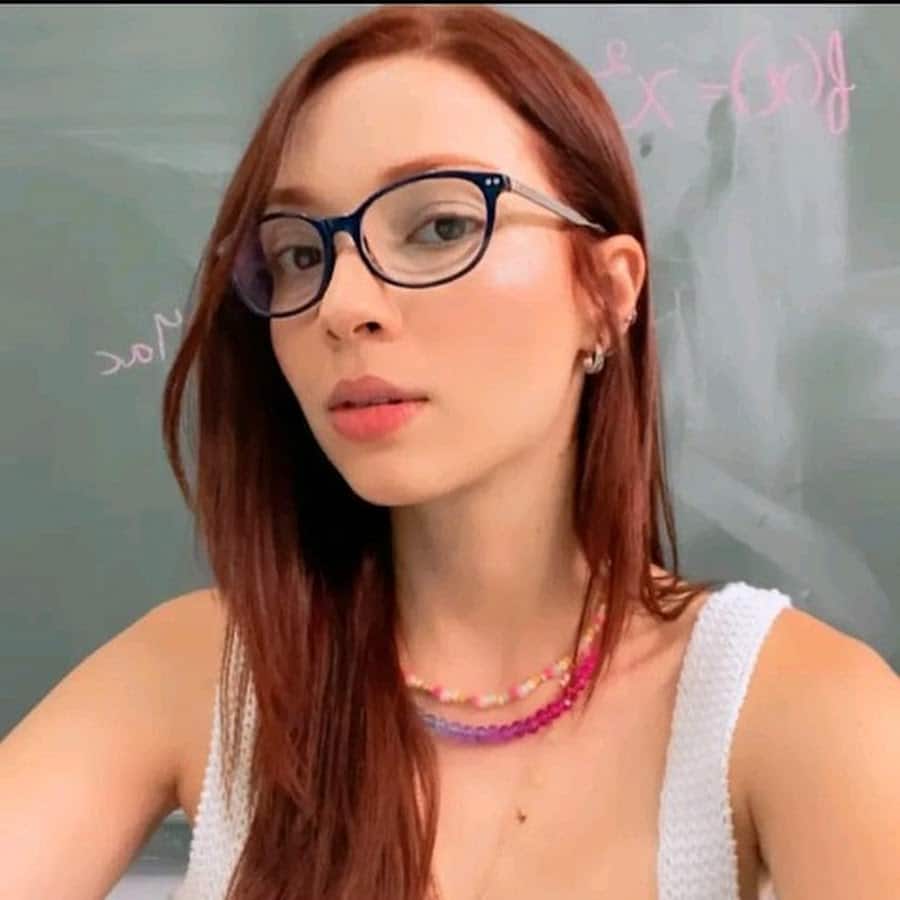 The disputed firing
The next headline in the saga revolved around the young teacher's purported dismissal from the school. Questions loomed: was she truly let go from her position? News initially broke that Cibelly Ferreira had been terminated from her teaching role, ostensibly due to the controversy surrounding her TikTok videos and other online activities. Reports indicated that her dismissal was linked to concerns about her behavior as a teacher, and its potential impact on her students. Numerous online news outlets reported this development, however, as time passed, reports emerged that disputed her alleged termination.
Several Brazilian online users posted clarifications regarding the teacher's supposed firing. Some argued that she had never been terminated, because she owned the school she was working for—a private institution focused on imparting English education to young Brazilians. This revelation cast doubt on the authenticity of the firing, and added a layer of complexity to the controversy.
Cibelly's "SuddEnglish"
Further investigation into Cibelly's LinkedIn profile revealed that she is the founder of SuddEnglish, the very school where she employed her controversial teaching methods. Sources disclosed that the parents of her students had granted their authorization for their children's participation in the videos, and didn't perceive any issues with her concurrent involvement as a model on an adult content platform. SuddEnglish was established in January 2020, and Cibelly not only founded the institution but also worked there as a full-time teacher. Prior to opening her English school, she had been teaching the language since 2013 as her part-time job while studying.
Divided opinions
The young English teacher's actions sparked a diverse range of reactions from the public. While some vehemently criticized Cibelly's behavior, deeming it inappropriate and unprofessional, others fervently defended her approach, viewing it as a distinctive and engaging method of connecting with students. The resulting debate on social media platforms was spirited, with individuals both endorsing and condemning her actions. This discourse delved into the evolving role of educators in the digital age, raising important questions about professional boundaries.
However, the revelation that she maintained an OnlyFans page, complete with explicit photos and videos accessible to subscribers, left many in shock. Those who had previously defended her stance took a step back, and the conversation shifted towards a broader debate on whether teachers should engage in side pursuits, particularly ones that could potentially tarnish their image in the eyes of impressionable students.
Balancing Multiple Roles
In the midst of controversy, Cibelly adeptly navigated the complexities of her multifaceted roles. She continued to juggle her responsibilities as an educator, an influencer boasting a vast following on TikTok and Instagram, and an adult content creator. Her candid discussions about the necessity for "extra income" were coupled with a firm emphasis on the importance of women feeling empowered and fulfilled within their own bodies.
There were persistent internet theories and rumors suggesting that Cibelly might not be an actual teacher, and that her videos were staged with actors, some saying that the production company behind her uploaded videos was registered in her name. These speculations generated a fresh wave of buzz across various platforms and online forums.
Nevertheless, these theories and rumors were swiftly debunked by vigilant online users, who pointed out that videos showcasing her unconventional teaching methods continued to be posted online, demonstrating her active role as an educator. Additionally, interviews attributed to her suggested that she had never concealed her various interests from the public eye. Her rationale was clear: her involvement in these platforms had significantly bolstered her financial stability.
In today's digital age, internet celebrities such as Cibelly, who ascend to fame and success through social media platforms, hold the potential to become influential figures within popular culture. Here are the staggering statistics reflecting her online presence:
TikTok (cibellyferreira_)
Similar to numerous other individuals who charted their course to internet stardom within the dynamic world of social media, Cibelly seamlessly embraced the TikTok platform. Her unwavering self-confidence shone through as she boldly created short videos that unabashedly showcased her unique style—a choice that considerably fueled a meteoric rise in views and followers on her TikTok account. Her profile flourished with an extensive catalog of over 400 videos, with the most unforgettable ones featuring her students, and sparking widespread debate. These captivating videos propelled her into TikTok stardom, amassing an astounding following of more than 10.5 million, with her content garnering over 100 million views.
Instagram (cibellyferreira_)
In September 2016, Cibelly ventured onto Instagram, and over the course of seven years, she successfully cultivated a massive following, exceeding one million. With nearly 600 posts in her account, she capitalized on this platform, leveraging sponsored posts and advertising deals to monetize her substantial reach. Her presence on Instagram provided a platform for brand awareness, enhancing her earning potential and solidifying her status as an influential figure in the digital landscape.
YouTube Channel (Professora Cibelly Ferreira)
While her content across various social media platforms often exhibited similarities, YouTube afforded Cibelly the opportunity to craft more extensive and cohesive content, unrestricted by time limitations. Despite launching her YouTube channel as recently as September 2022, she achieved a remarkable feat, as her catalog of 340 videos has garnered nearly 125 million views, and attracted over half a million subscribers. This achievement underscored the captivating appeal of her content, and the rapid growth of her digital footprint, cementing her status as a formidable presence on the platform.
Personal Life
Cibelly Ferreira diligently shielded her personal life from the prying eyes of the public. However, a significant shift occurred in April 2023, when she initiated a departure from her privacy stance. She began sharing photographs featuring a man whose Instagram handle is @divisaodelucro, hinting at a blossoming romantic connection. Judging by the images, the duo appeared to be in a committed relationship. Her boyfriend, recognized as the CEO and Founder of the record label "DDL – Divisão De Lucro," brings a unique dimension to her life.
June 2023 witnessed a more profound glimpse into her personal life when Cibelly engaged in a live stream session for her ardent fans. The setting was her kitchen, where her boyfriend took on the role of the culinary maestro, diligently preparing a meal for both of them. The atmosphere was filled with joy as they danced and interacted with their enthusiastic audience. Among her dedicated followers, a palpable sense of hope prevailed, with many fervently wishing for wedding bells in the couple's future.
Appearance
Standing at a height of 5ft 5ins (1.65m) and weighing 123lbs (56kgs), Cibelly Ferreira possesses a curvaceous physique that often takes center stage on her active social media accounts. Her penchant for donning alluring outfits while showcasing her dance moves is a hallmark of her online presence. Complementing her captivating dance videos, she sports striking red hair and brown eyes.
Net Worth
Cibelly Ferreira astutely recognized the financial potential of harnessing her body and dancing talents online, compelling her to embark on a dual career path as both a digital creator and a teacher. While TikTok catapulted her to stardom, she further ventured into opening an OnlyFans page, an Instagram account, and various other income-generating platforms, many of which catered to adult audiences. Authoritative sources conservatively estimate her net worth to fall as high as $500,000.
Cibelly Ferreira's remarkable journey, from a biology graduate to a TikTok sensation and a focal point of public discourse, serves as a poignant reflection of the changing landscape of education and the intricate challenges confronting educators in the digital age. Her story stands as a compelling testament to the profound influence of social media, the intricate art of maintaining multiple personas in the public eye, and the ever-evolving boundaries of creativity and public acceptance.