Who is Ciro Messi Ruccuzzo?
Ciro Messi Ruccuzzo is the third son of the renowned Argentine professional footballer, Lionel Messi, and his wife Antonela Roccuzzo. Like his older brothers, Thiago and Mateo, Ciro is often seen in various social media posts and public appearances with his family, showcasing their close-knit and loving relationships. Although he's still very young, Ciro has been exposed to the world of football and is frequently seen during his father's matches and events. It remains to be seen whether Ciro will follow in his father's footsteps in the realm of professional sports.
Maestro n'abahungu be 3:

📸:
Lionel Andrés Messi
Thiago Messi Roccuzzo
Mateo Messi Roccuzzo
Ciro Messi Roccuzzo

Harya kamwe gafana Real Madrid ni kariya ko hagati? 🧐

95.3 FM #SimplySports pic.twitter.com/ZeFFnuaYSj

— IMFURAYACU Jean Luc (@imfuraluc01) March 19, 2021
Early Life
Ciro was welcomed into the world in the bustling Spanish city of Barcelona, on the 10 March 2018, immediately garnering media attention as the third son of football icon, Lionel Messi.. From the outset, Ciro's life has been anything but ordinary, with every milestone celebrated not just by family, but fans worldwide.
Growing up in a family deeply embedded in the world of sports, Ciro naturally experiences a childhood that is intricately intertwined with football. His early years have been punctuated with appearances at his father's matches, events, and on the social media platforms of his parents, offering the world a peek into the private life of the Messi family. Despite the global fame and constant public attention, the family maintains a semblance of normalcy, ensuring that Ciro and his siblings experience a grounded and loving upbringing.
Growing Up In the Spotlight
The Messi family, including Ciro, often shares snippets of their life on social media, revealing vacations, celebrations, and simple day-to-day activities, which are always met with adoration from fans and followers. Ciro, with his cherubic cheeks and infectious smile, has undoubtedly captured the hearts of many, becoming a beloved figure in his own right.
While Ciro's life is undeniably influenced by his father's illustrious career, Lionel and Antonela strive to shield their children from the overwhelming glare of the media spotlight as much as possible. They're intent on providing Ciro, along with his brothers, Thiago and Mateo, a childhood that is as normal and joyful as possible, filled with love, learning, and playful adventures.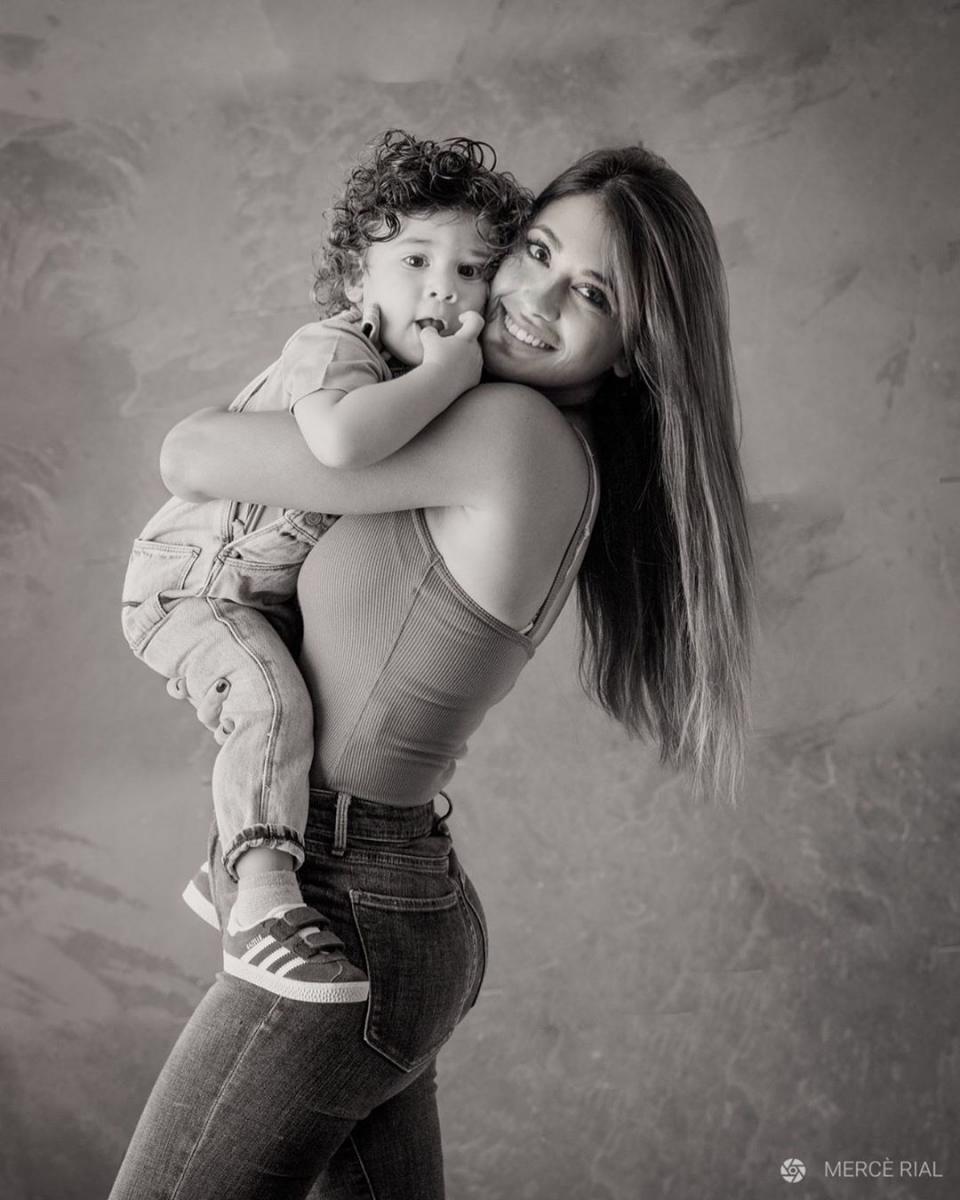 As Ciro grows, the world watches with bated breath to see if he will tread a path similar to his father, embracing the world of football, or carve out a unique journey of his own. Regardless of the direction he chooses, it's evident that Ciro will navigate through life with the unwavering support and love of his family, and the well-wishes of millions around the globe.
Who is Ciro's Mother?
Antonela Roccuzzo, born on 26 February 1988, in Rosario, Argentina, is widely recognized not just for being the wife of football superstar Lionel Messi, but also as a loving mother and a successful woman in her own right. Antonela and Lionel share a love story that dates back to their childhood, having known each other since they were just five years old. Their relationship blossomed from friendship to love, and they have been inseparable ever since, providing the world with a heartwarming tale of childhood sweethearts turned life partners and parents.
Antonela and Lionel's love story came full circle when they married on 30 June 2017, in a beautiful ceremony attended by friends and family in their hometown of Rosario. The event, dubbed as the 'wedding of the century' by Argentine media, was a testament to their enduring love and commitment to each other.
Antonela pursued higher education in Nutrition at the Universidad Nacional de Rosario, but has also demonstrated a keen interest and flair for fashion and business. Antonela co-owns a boutique with her friend Sofia Balbi, who is the wife of Lionel Messi's friend and fellow footballer, Luis Suarez. The boutique named "Sarkany," is located in Barcelona, and offers a range of fashionable footwear, showcasing Antonela's entrepreneurial spirit and her inclination towards the fashion industry.
Antonela is also known for her philanthropic endeavors; she often engages in various charity events and initiatives, particularly those that aim to assist children in need.
Lionel Messi Wiki Bio
Lionel Andrés Messi was born in Rosario, Argentina, on 24 June 1987. His mother Celia worked as a housekeeper, while his father Jorge worked in a steel factory. Lionel's journey into the world of football began at a tender age, with his talent glaringly evident. At just six years old, he joined his local team, Newell's Old Boys, and astonishingly scored almost 500 goals in six years, earning him the nickname 'La Pulga' (The Flea) due to his diminutive stature and agility. However, Lionel's path to success was not without hurdles. At 10, he was diagnosed with a growth hormone deficiency, posing a significant threat to his football dreams.
Undeterred, Lionel's family sought opportunities to support his aspirations, leading them to relocate to Barcelona, Spain, after the famed Football Club Barcelona offered to cover his medical expenses in exchange for his promising talent. Thus at 13, Lionel embarked on a journey that would weave his name into the tapestry of football legends.
Lionel's career at FC Barcelona blossomed rapidly. He made his first-team debut at the age of 16 during a friendly match, and by 17, he was the youngest player to score a league goal for the team. His career trajectory soared upwards, breaking record after record, and becoming FC Barcelona's all-time top scorer. His time with the team witnessed an era of unprecedented success, including numerous La Liga and Union of European Football Associations (UEFA) Champions League titles.
Lionel's playing style, characterized by his incredible dribbling ability, precise finishing, and remarkable football intelligence, has left spectators and opponents alike in awe. His left foot has crafted some of the most memorable goals in football history, plus his humility off the pitch has endeared him to fans globally.
Internationally, Lionel has been a beacon of hope and sometimes a subject of scrutiny for the Argentine national team. His international career has been a rollercoaster of highs and lows, from the anguish of World Cup near-misses to the euphoria of winning the Copa America in 2021, a victory that held immense personal significance for him. However, things changed in December 2022, when he led the Argentine national team to World Cup victory.
Away from the pitch, Lionel's life is deeply private and centered on family. His love story with his wife Antonela is one that has melted hearts worldwide, evolving from childhood friends to life partners. The couple, blessed with three sons often share snippets of their life away from the limelight, revealing a family bonded by love, laughter, and simplicity.
Lionel's impact extends beyond football. His philanthropic endeavors, channeled through the Leo Messi Foundation, aim to provide access to health care, education and sports for vulnerable children. Having faced health challenges as a child, Lionel holds a deep-seated commitment to giving back, ensuring that his success on the pitch translates into positive societal impact.
In 2021, a new chapter unfolded in Lionel's career as he bid farewell to FC Barcelona, a club that had been his home for over two decades, due to financial constraints faced by the club. The world watched as Lionel, with tears in his eyes, expressed his heartfelt gratitude to the club and fans that had embraced him as their own. Subsequently, he joined Paris Saint-Germain (PSG), where he played for two seasons, before transferring to Inter Miami in 2023.
As of October 2023, Lionel Messi's net worth has been estimated at a staggering $600 million, while his yearly earnings are reputedly $75 million. He's the second richest football player in the world, and one of the highest-earning athletes of all time.