Amy Yasbeck is an American-born actress, who is probably best known for her appearances in the TV sitcom "Wings", and two of the three "Problem Child" film series.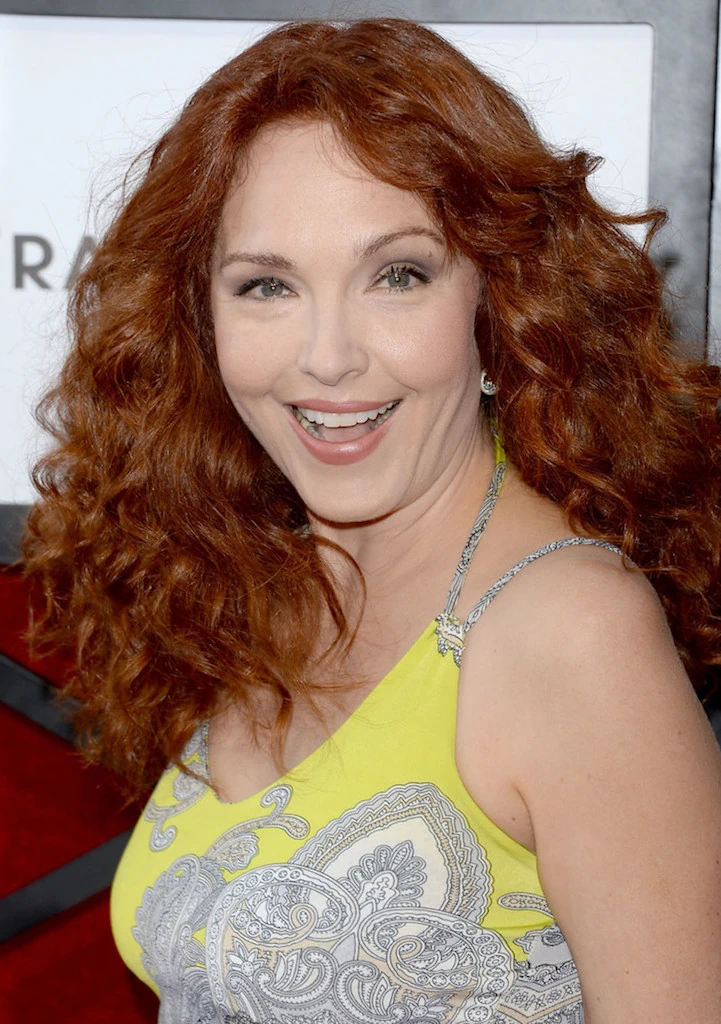 Age, Early Life, and Education Background
Amy Marie Yasbeck is a native of Blue Ash, Ohio USA, who was born under the Virgo zodiac sign on 12 September 1962, which makes her 61 years old as of 2023. She's the daughter of the former grocery store owner and butcher, John Anthony Yasbeck, and his wife Dorothy Louise Mary. Yasbeck is of Lebanese roots from her dad's side, and Irish through her mom. She's the sister of Patti and Ann Yasbeck. During her childhood, Yasbeck's photo was used on the package art for Easy-Bake Oven by Betty Crocker.
Yasbeck attended the Cincinnati-based Roman Catholic Summit Country Day School before she joined Ursuline Academy, a Catholic high school situated in Blue Ash. Subsequently, she was enrolled at the University of Detroit for a theater program, but didn't complete her studies.
TV Appearances
Yasbeck caught the public's attention for her portrayal of Olivia Reeds in the long-running TV soap opera "Days of Our Lives" (1986 and 1987). In 1987, she appeared in an episode or two of four TV series, including the CBS soap opera "Dallas." Her next noteworthy appearance was in four episodes of the CBS crime drama "Magnum, P.I." in 1987 and '88, then mainly landed minor TV roles in the early to mid-'90s.
In 1994, Yasbeck landed her career-defining role of Casey Chappel Davenport in the NBC sitcom "Wings", which follows the brothers and pilots Brian Hackett (Steven Weber) and Joe Hackett (Tim Daly), who oversee a one-airplane commuter service from an airport situated on the island of Nantucket in New England. It features several eccentric and hilarious characters, including Joe's on-and-off girlfriend, Helen Chappel-Hackett (Crystal Bernard). Amy's stint lasted for three years, and ended in 1997. She went on to star as Renee in the sitcom "Alright Already" (1997 and 1998) and Michelle Lackerson in the Fox sitcom "Life on a Stick" in 2005. Amy appeared in single episodes of various TV series throughout the late 2000s to early 2010s, including "The Archaeologist in the Cocoon" of the police procedural drama "Bones" and "Larry's Wife" of the ABC sitcom "Modern Family" both in 2013. Amy's most recent TV appearance was in an episode of the mystery drama "Pretty Little Liars" in 2016.
I guess my episode of #PrettyLittleLiars is Airing now. Can anyone take some pics and tweet them? Hahaha

— Amy Yasbeck (@AmyYasbeck4real) February 10, 2016
Film Appearances
Yasbeck made her film debut in 1987 as Lana in the comedy horror, "House II: The Second Story", then in 1990, she appeared in two films, including the black comedy "Problem Child" in which she starred as Flo alongside her late husband John Ritter, Jack Warden and Michael Oliver, and the multi-award winning "Pretty Woman". In 1991, she was cast as Annie Young in "Problem Child 2" and some of her next notable performances were in the 1993 Mel Brooks-produced and directed comedy "Robin Hood: Men in Tights", and the 1995 gothic comedy horror "Dracula: Dead and Loving It," which was also directed by Mel Brooks.
Yasbeck took a break from film appearances after the 1998 buddy comedy "The Odd Couple." She made a comeback in 2012 with two appearances – in "Little Women, Big Cars" and its sequel "Little Women, Big Cars 2, which was her last film appearance.
Other Works and Awards
In September 2010, Amy released the book "With Love and Laughter, John Ritter" in which she disclosed how she dealt with the sudden death of her husband, Ritter.
Social Media Presence
Yasbeck is active on Instagram (@yasbeckamy) with around 17,000 followers. She joined Twitter(@AmyYasbeck4real) in December 2010 and is currently followed by around 10,000 fans.
Personal Life
Amy is the widow of the Primetime Emmy Award-winning American actor, John Ritter, born Johnathan Southworth Ritter, the son of the actor and pioneer of country music in America, Tex Ritter. Amy's husband is possibly best remembered for his portrayal of Jack Tripper in ABC's "Three Company," Paul Hennessy in the sitcom "8 Simple Rules," and Healy Jr. in the first two installments of the "Problem Child" film series. The duo met in the late '90s at the house of the film director Dennis Dugan, and dated for several months before welcoming a daughter they named Stella Ritter in September 1998 – Stella changed her sex to male on her 18th birthday in 2016, and is now named Noah Ritter. Amy and John walked the aisle on 18 September 1999 at the Wilmington, Ohio Murphy Theater, and remained together until his death in 2003.
Before Yasbeck, Ritter was married to the American actress, Nancy Karen Morgan. They exchanged vows in October 1977 and had three children together: Carly Ritter and the actors Jason Ritter and Tyler Ritter. Ritter divorced Morgan in 1996, after spending 19 years together.
Yasbeck began dating the attorney, Michael Plonsker in 2011. The duo seemed to be very much in love and often attended various celebrity events, including the ninth annual GLSEN Respect Awards, together. Yasbeck has remained tight-lipped about her current dating life.
Yasbeck Husband's Death and Lawsuit
Yasbeck's husband, Ritter, was rushed to the Burbank, California-based Providence St. Joseph Medical Center, after experiencing severe nausea, vomiting, chest pains, and profuse sweating on his daughter's fifth birthday on 11 September 2003. After examining him, the doctors established that he had suffered a heart attack and administered anticoagulants as they planned a cardiac catheterization but the treatment seemed to worsen his condition. It was later established that Ritter had suffered an aortic dissection (AD), which is a tear in the inner layer of the aorta, but he sadly passed away – six days before his 55th birthday on 11 September 2003 – as he was being taken to surgery. Ritter was laid to rest at the Hollywood-based Forest Lawn Memorial Park. Several weeks after her husband's death, Yasbeck founded The John Ritter Foundation for Aortic Health to raise awareness about the rare heart condition.
In 2008, Yasbeck, on behalf of Ritter's family and children, filed a $67 million wrongful death lawsuit against the cardiologist, Joseph Lee and radiologist, Matthew Lotysch, who misdiagnosed her husband's condition at Providence St. Joseph Medical Center. However, a Los Angeles County Superior Court acquitted the two physicians of causing Ritter's death due to negligence. Yasbeck's family agreed to settle the case out of court and the hospital paid them $9.4 million in damages – several other defendants paid a total of $4.6 million in damages to the Ritters, which brought the total sum to $14 million.
Height, Weight, and Physical Appearance
Yasbeck is of White ethnicity and has a set of hazel eyes, and red hair. She has an hourglass body, weighs approximately 120lbs (54kgs), and is 5ft 6ins (1.68m) tall, with vital statistics of 35-25-36.
Net Worth
Yasbeck has made a name for herself and accumulated a good sum from her successful acting career. The money paid by various medical defendants for the wrongful death of her husband has also contributed to her net worth. Yasbeck's net worth is approximately $16 million as of 2023. In 2017, she sold her Beverly Hills home for around $6.55 million.