• Elizabeth Zaks is a fitness model and Instagram sensation born in 1996 in Florida, USA to a family of Russian descent.
• Elizabeth started posting her photos and videos to Instagram in 2013 and has since gained 800,000 followers.
• She created her own website, EZ Fit Guide, to share her experience with changing her body and life.
• Elizabeth has commercial contracts with brands like FashionNova, Gymshark, and EHPlabs.
• She has a net worth of around $500,000 and earns up to $4,000 per post on Instagram.
 
Elizabeth Zaks is a fitness model and an Instagram sensation, who has come a long way from a poor emigrant to a popular Internet personality. She motivates and inspires her followers to work out on daily basis and change their lives. Let's find out more about her current relationship status, ex-boyfriend, net worth, etc.
Early life and family
Elizabeth Zaks was born on 13 June 1996, in Florida USA, so under the sign of Gemini and holds dual American and Russian nationality. Elizabeth comes from a family of Russian descent – her parents came from Russia when their daughter was six years old. Elizabeth's mother was a doctor in Russia, then she had to start her medical education all over again in the US, so worked on various jobs: cleaner, waitress on a casino boat, wall painter in new apartments in which there was no air conditioning.
even if you don't usually watch travel vlogs just pls at least watch this intro lol https://t.co/5U7DYDU8Oq hawaii w ze girls @itsnikkib @maryanadvorska pic.twitter.com/qVNTxgVgqx

— Elizabeth Zaks (@ElizabethZaks) May 8, 2019
Elizabeth's father, Ilya Zaks, died on 18 June 2004, when he was only 31 years old, and Elizabeth eight. She doesn't remember much about him, and her mother took care of her daughter on her own. She posted a video in which her mother unpacks various presents from Elizabeth for Mother's Day, and can't believe that she bought all those things for her; she even dropped she couldn't even think of the price of the presents, and Elizabeth asked her not to think about it then as it was her turn to spoil her mom. At the moment, Elizabeth's mother lives in a big house with four bedrooms. Elizabeth has a half-brother Danny and a step-sister Sasha; according to her posts on Instagram she has more step-siblings, though she never mentioned others. She also has a lot of relatives living in Moscow and Saint-Petersburg.
Educational background
Elizabeth matriculated from her local high school in 2014, where she was bullied in middle school for being too thin. She's never mentioned attending college or university.
Career
Instagram sensation
She started posting her photos and videos on her Instagram account in 2013. As many girls of her young age back then, she hated the reflection she saw in her mirror – she remembers even crying over her far-from-perfect body. One day she decided to visit the gym with her long-term boyfriend, as he started working out and doing fitness professionally from his high school, and wanted to become a fitness trainer.
So she tried working out, and understood it was the key to the body of her dreams. She started eating properly, and worked out five-six times a week, doing lots of cardio and lifting weights. She shared her progress on her Instagram account, and soon understood that she could help other people struggling with their physical problems, which according to Elizabeth's opinion, were based more on a mental level, and depended on self-esteem and self-confidence. Her Instagram continued gathering likes and subscribers, and by 2019 the number of her followers on the social media platform reached 800,000.
Elizabeth's Fit Guide
Elizabeth created her website entitled "EZ Fit Guide" to spread her experience on changing her body and life. She made-up special training and nutrition plans for her followers, and started selling them from her website. For a long timeб she didn't post any "transformation" photos on her website, as she wanted other people not to be inspired by someone else's success, but to be motivated to change because of their love of themselves. As for now, she's shared a few transformation photos in order to inspire those who were still hesitating. Being a fitness model, she has several commercial contracts with such brands as FashionNova, Gymshark, EHPlabs online store and many others.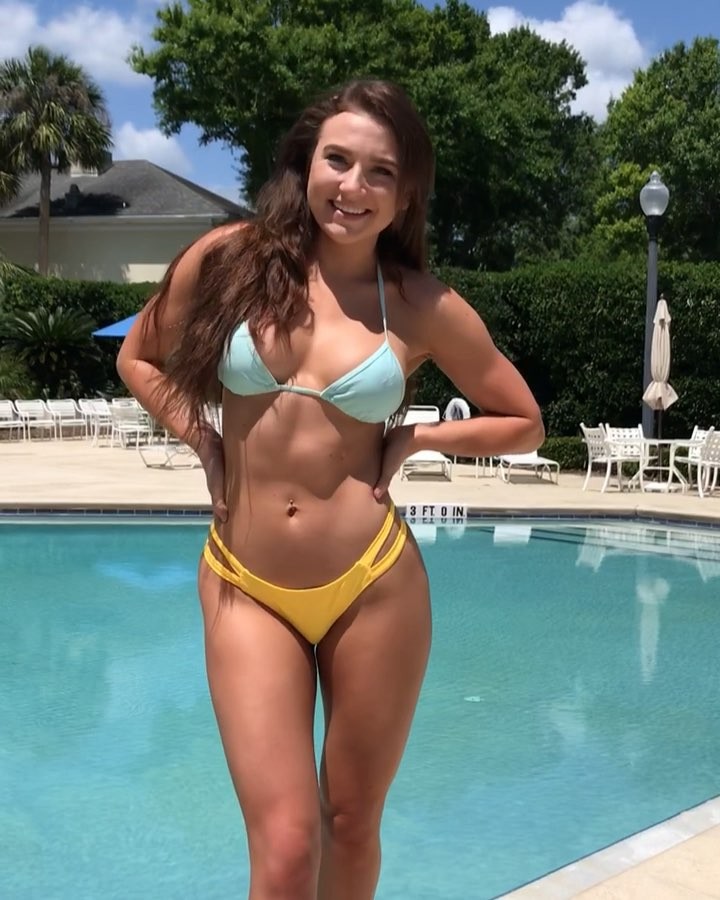 Personal life, ex-boyfriend fitness trainer Michael Falco
In 2011 Elizabeth started dating Michael Falco. They studied in the same high school, but got to know each other even earlier. In July 2018 they broke up, and Elizabeth shared it had been no one's fault – it just happened. Since then Elizabeth hasn't been in any relationship, and still doesn't feel that she is ready for it. She shared in one of her videos that she feels very comfortable being alone, as she is on her way to a better understanding of her inner wishes and future plans. She tries to analyze what kind of a person her new boyfriend should be, and admits it is hard to distinguish her ex-boyfriend's qualities and those of a person she would like to date, as they were in relationship for over seven years.
Who is Michael Falco?
Michael Falco is a fitness trainer from Florida, USA. He started his professional workouts when he was a high school student, but decided to make fitness his profession. He had a very popular Instagram account on which he often shared mutual photos with Elizabeth; it had over 36,000 subscribers, but he stopped posting there in 2016. He later created another account which now has more than 7,000 subscribers, but has never shared personal photos there, only posting his workout videos and pictures. There is no information about his current relationship status.
Hobbies and interesting facts
Elizabeth likes drawing, and enjoys painting when she has some spare time.
She has a cat named Luna.
Her favorite flower is a sunflower.
Her favorite singer is Hoodie Allen.
Though she sticks to a healthy diet, she treats herself with a sweet dessert such a waffle, a cake or chocolate donut.
Most of all Elizabeth enjoys travelling around the world; she has been to Hawaii, Australia, several European countries, etc.
Social media presence
Elizabeth is very active on various social media platforms. Her main Instagram account has over 800,000 subscribers, while her alternative account on which she posts some casual photos, memes and funny videos, has over 34,000 subscribers. Her Twitter is read by over 18,000 users. She also has a YouTube channel, which is followed by almost 300,000 subscribers – her most popular video is entitled "Bikini Haul – Try On & My Thoughts", and has over 2.1 million views.
https://www.facebook.com/photo.php?fbid=108076616788184&set=pb.100027575380468.-2207520000.1566762775.&type=3&theater
Appearance, clothing style
Elizabeth has long naturally straight brown hair which she used to dye blonde and black; she has blue eyes. Elizabeth is 5ft 6ins (1.67m) tall, weighs around 130lbs (59kgs), and her vital statistics are 35-24-39. Her fans noticed that her curves changed from her early photos, and it was not only about her consistent workouts; they suspect Elizabeth underwent plastic surgery and has breast implants now, however, Elizabeth never confirmed this information. She is not afraid to show her imperfections, and encourages her followers not to be ashamed of their own. Thus, she used to post the photos of her stretch marks on her thighs, saying it is absolutely normal to have ones as they can appear even if a person doesn't suffer from obesity.
As to her clothing style, she prefers casual looks, and rarely wears dresses; one can see Elizabeth in jeans, shorts, a T-shirt or a tank top.
Net worth and salary
According to authoritative sources, Elizabeth's overall net worth is estimated to be around $500,000, as she works hard as a fitness model and trainer. She also benefits from her commercial contracts with fashion brands and fitness product online stores. Her Instagram account helps her to earn up to $4,000 per post. Her YouTube channel is less popular and doesn't promote income at the moment.
Source:
IMDb
,
Wikipedia