Sexyy Red
She burst onto the mainstream rap scene with her unashamedly raunchy single "Pound Town (Spring Break Edition)" – which went from meme material to unexpected summer hit in a matter of weeks – and it looks like Sexyy Red (birth name Janae Nierah Wherry) is here to stay.
There's been no shortage of young, promising female rappers with sexually-charged lyrics and standout looks over the last few years, as it appears that former "Love and Hip Hop" star and stripper Cardi B ushered in a new age for women in the urban music industry, with the success of her 2017 single "Bodak Yellow". So what differentiates the likes of Sexyy Red, Ice Spice, and GloRilla from Asian Doll, Flo Milli, and others who are waiting to get their big break?
Although the answer is a complicated one, relatability is a big part of Sexyy's success. In one of her first major interviews with Complex magazine in May 2023, the St. Louis native regaled fans with unforgettable quotes, such as: "I ain't going to lie. I'm in it for the moolah. Because I need money. I got to live. So I want all the money."
Sexyy hasn't just received co-signs from music heavyweights such as Drake, Post Malone and Summer Walker; in September 2020, a photo of the rapper with New York Jets owner Woody Johnson (the American philanthropist and businessman with a net worth of $4.8 billion) went viral. The unlikely duo met at the Monday Night Game, and posed for a surreal photo op; Sexyy beamed from ear to ear while holding up a stack of cash to her ear, which is her signature pose, whereas Woody appeared to be in good spirits as he sported a massive diamond chain and a slightly unbuttoned shirt.
Taking it back to Sexyy's origin story, she was born on 15th April 1998, in St. Louis County, Missouri, USA, and became, as she puts it, "a product of my environment". Since she was young, she's always spoken what's on her mind, which sometimes shocked her friends and family – but it seems that in Sexyy's case, having no filter is more of a blessing than a curse, as her first song – a diss track about her cheating boyfriend, the girl he was cheating on Sexyy with, and the girl's friends – helped launch her career back in 2018.
Surprisingly, the cheating boyfriend in question was one of the first people to hear the song, and he was so impressed that he started playing it for his friends. Always one to cash in on an opportunity, Sexyy recorded another song straight afterwards, which went viral in her city, and caught the attention of party promoters who offered her $100 to perform at small, local events.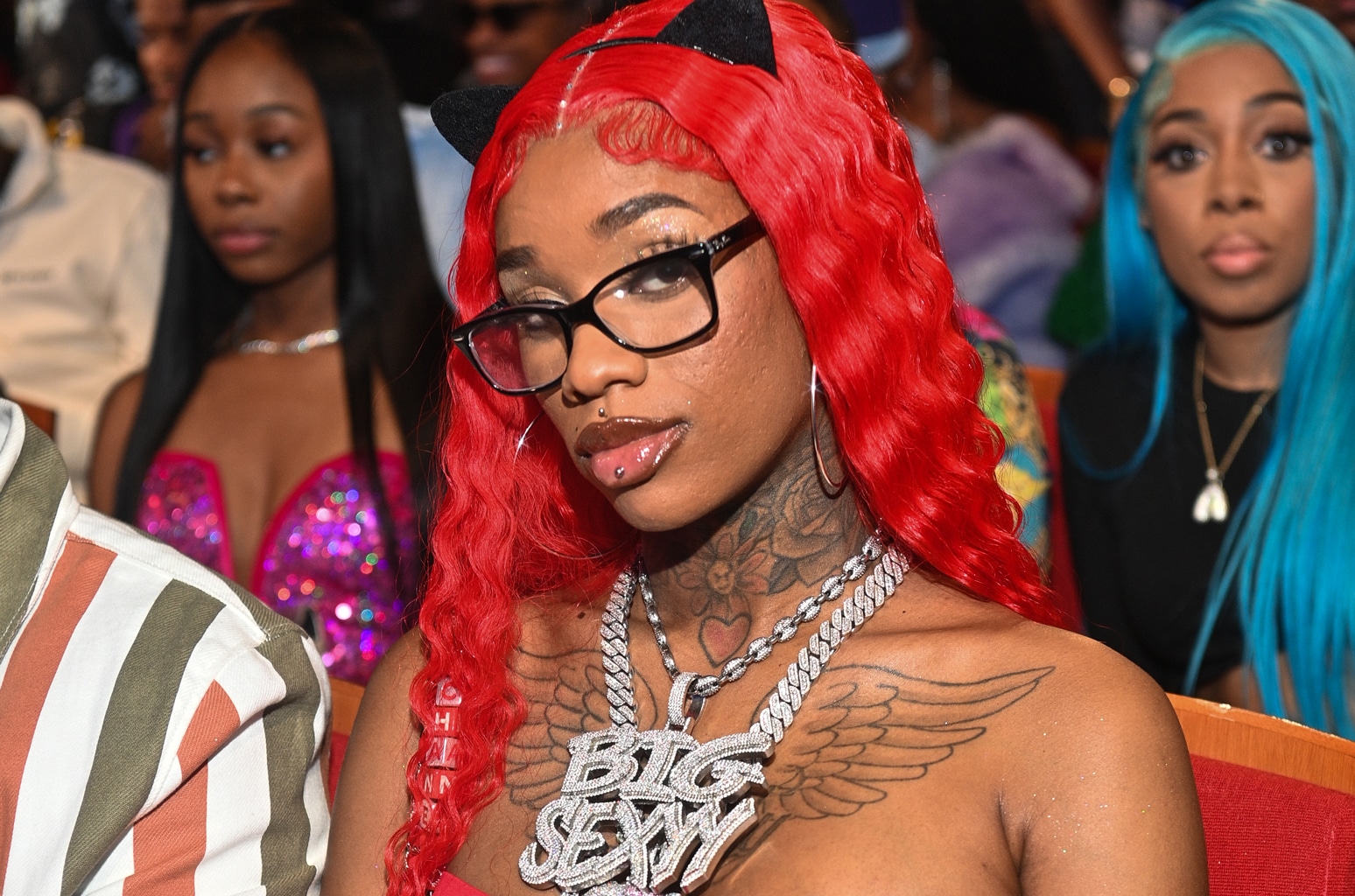 Coming up with Sexyy's stage name was easy enough. Her nickname was already "Red" since middle school, thanks to her love of the color, as she would frequently wear crimson wigs and clothes. As the rapper didn't know what name to use when she uploaded her first song, her cameramen suggested "Sexyy Red", and a star was born.
Before becoming one of the hottest artists of the moment, Sexyy listened to Juicy J, Three 6 Mafia, Chief Keef, and Gucci Mane to name a few. These male rappers helped mold and inspire her current sound – ratchet rap, with most of the lyrics based around sexuality and urban life – but the irony of female artists being criticized for explicit songs when their male counterparts aren't, isn't lost on the Missouri native.
"When we get to talking about [sex], it's a problem," Sexyy acknowledged. "But I don't care what they think, because it's not for the n****s, it's for the girls."
Sexyy's debut mixtape, "Ghetto Superstar", was independently released on Christmas Eve 2021. Little over a year later, she and producer Tay Keith joined forces for "Pound Town" – and since then, Sexyy has collaborated with the likes of Nicki Minaj, NLE Choppa, and Sukihana. An avid businesswoman, Sexyy immediately released her second mixtape, "Hood Hottest Princess", when she saw that "Pound Town" had the potential to become the summer song of the year.
GHETTO SUPERSTAR pic.twitter.com/HRaKj4vFh8

— ✰ (@SSZEXXYY) June 26, 2023
Another refreshing quality of Sexyy's is her stage presence. In an age where music lovers bemoan lackluster performances from their favorite artists, Sexyy isn't afraid to give it all her when she's in front of a crowd. So far, the rapper has headlined the Hood Hottest Princess tour, and been an opening act for Drake and 21 Savage for the It's All a Blur tour.
Personal Life
If you take a good look at Sexyy's Instagram profile, you'll notice that one of her staple closet pieces is a pair of hot pants with "FREE MY BABY DADDY" emblazoned across the backside. The only thing we know about her child's father for now is that his nickname is Chuckie, and he's currently in jail; contradictorily, Sexyy recently claimed that she wanted Chuckie to stay behind bars, as he would be safer in prison than in the streets.
In late September 2023, Sexyy posted a romantic photo of her feet in bed along with the unidentified foot of a male wearing an ankle monitor, which are typically worn by convicted criminals on probation. "I like f*kin wit drillaz… dread head killaz," Sexyy captioned the photo, insinuating that the foot belonged to a murderer.
Despite internet sleuths trying their hardest to figure out who this possible love interest is, it's almost impossible to identify someone with just their foot, but it's interesting to note that Sexyy disabled the comments on that particular photo.
Also in late September, Sexyy uploaded a rare story of her son on Instagram. The boy, who looks to be about three or four years old, slept peacefully under a luxurious-looking blanket while flying to an unspecified location in private jet. As Sexyy avoids discussing her son in interviews, we don't yet know his name, or other relevant information.
Named one of the biggest breakout artists of 2023, Sexyy is currently worth a estimated $400,000, set to reach six figures in 2024. The rapper is 5ft 7in (170cm) tall and weighs about 132lbs (60kgs).