Wynton Harvey
Keeping up with the Harvey siblings is harder than it sounds. Although their multi-millionaire father, the author and TV personality Steve Harvey, has been a household name for decades thanks to his hosting gigs, morning show, and other pursuits, the Harvey siblings – sans Lori – enjoy relatively lowkey lifestyles.
Wynton Brycelon Ali Harvey was born on 18th July 1997, to Steve and his second wife, Mary Shackelford. The couple married in 1996 but divorced nine years later; in a 2016 PEOPLE magazine interview, Steve confessed that he had married Mary "for the wrong reasons", as he was tired of being alone, and shouldered the blame for the split: "I have to own that. It was me, not her."
Back in 2011, Steve was awarded primary custody of Wynton, who was reportedly willing to go and live with his father. Mary didn't take the news well, as she claimed in a YouTube video that Steve had cheated on her, and taken Wynton after their divorce. It's widely believed that Steve did cheat on his second wife with Marjorie Bridges, whom he has been married to since 2007, but as both parties have kept their relationship timeline deliberately vague, there's no concrete proof.
According to People magazine, Wynton currently resides in Atlanta and works as a photographer. The fashion icon – who isn't afraid to stray outside style norms and rock big afros, flares, and other staples of yesteryear with a modern twist – is, however, something of a traveler. In late 2023, he posted up in Burj Al Arab Jumeirah, which is described as Dubai's most luxurious hotel. Later, Wynton uploaded snaps in Italy, where he stayed at Portofino and o the Isle of Capri.
In June 2023, Wynton collaborated with artist Big Papito for the release of their single "Shadows". The business partners and bandmates have set up their own label, Teranga Sound Recs, and have been teasing upcoming music on their social media profiles for a while.
Harvey Siblings
Steve married his first wife, Marcia Harvey – apparently her birth name – way back in 1981. Their twin daughters, Karli and Brandi, were born in August 1982. At the time, Steve was an insurance salesman who quit his job to pursue a career in entertainment after winning a $50 first-place prize at a stand-up comedy event. Although he knew he had to provide for his family, he felt that he absolutely had to take the chance.
Even if Steve is enjoying the fruits of his hard work now, this obviously took a toll on his home life. The lowest point for the Harvey family was when Steve was homeless for three years in the late 1980s; according to celebrity biographies, he slept in his 1976 Ford, and showered at swimming pool showers or gas stations. It's unclear where Marcia and the twins stayed during this time, but by the point he became successful, Marcia was tired – they divorced in 1994, when he began starring in the ABC series "Me and the Boys".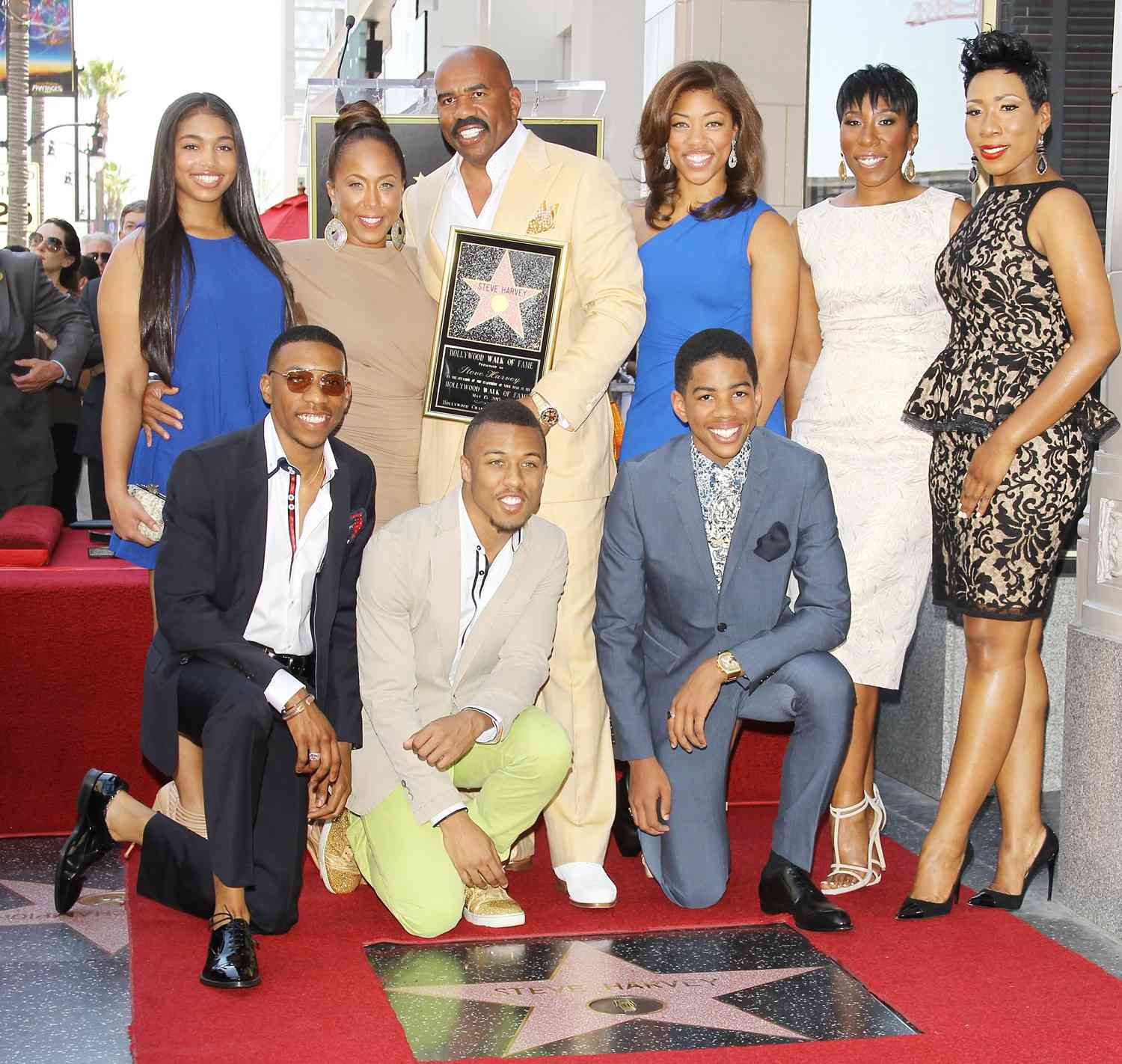 It took Brandi and Karli years to understand why their father was always away. Although the relationship between father and daughters was strained at first, they're now in a much better place: in fact, Steve walked Karli down the aisle when she married in 2015. She and her husband, Ben Raymond, appeared on Steve's talk show prior to the wedding for a tearful heart-to-heart.
Karli and Benjamin welcomed their first son, Benjamin Troy Raymond II, in June 2016. Meanwhile, her twin sister Brandi is a fitness influencer, podcast host, author, and former bodybuilder. While Karli prioritizes her family, Brandi is clearly focused on her career, and is the founder of the female-oriented wellness and lifestyle brand Beyond Her – as well as the executive director of the Steve and Marjorie Harvey Foundation.
Next up is Broderick Harvey Jr., Steve and Marcia's only son, born in Cleveland in April 1991, and lived with his mother and sisters following Marcia and Steve's divorce. In May 2019, Broderick went on his father's talk show and confessed that Steve wasn't around full-time in his life until he was 16 years old.
Broderick doesn't often make headlines, but he's doing well for himself with Steps By Stephens, a charitable shoe company that donates three meals to an impoverished child for every pair sold. Steve, obviously proud of his son's philanthropic works, has heavily plugged the shoe company on his talk show in the past, and shared: "The most important thing that I've tried to teach all of my kids is the value of hard work and giving back to others."
Steve's other three children – Morgan Hawthorne and Jason and Lori Harvey – may not be biologically his, but he legally adopted them after marrying Marjorie in 2007. Morgan was born in May 1985, when Marjorie was just 19 years old. All three of Marjorie's children took the Harvey surname in 2007, but Morgan changed it again when she married boyfriend Kareem Hawthorn in 2013.
Morgan is now the mother of two children named Elle Monroe and Marley Jean, as well as a food blogger, professional chef, and cookbook author.
Jason was born in August 1991, and also married in 2013. He and his wife, former model Amanda Hill, have four children – Rose, Noah Ellington, Ezra Nehemiah, and Joey Iris, who were born between 2014 and 2020.
Although Jason and Amanda have their hands full with four young children, he also finds time for his Atlanta-based clothing label, Worldly, which "looks to embrace the fashion industry while creating an intersection between diversity, spirituality, and empowerment." Apparently, Jason wishes to provide a support system for Black designers, and provide them the resources to take their business to the next level.
Last but certainly not least is Lori Harvey, often mistaken for Steve's biological daughter due to their good relationship. Despite having her own skincare line, swimwear business, and other pursuits, Lori is widely recognized in the urban entertainment scene as a socialite who has dated a score of celebrity bachelors.
Lori was born in January 1997, and began modelling in 2015, since when she's worked for Michael Kors, Burberry, and Dolce & Gabbana amongst other brands. Her high-profile romantic history includes an engagement to professional soccer player Memphis Depay, a brief liaison with Sean "Diddy" Combs made controversial by the decades-wide age gap, and an on-off relationship with womanizing rapper Future.
In November 2020, Lori's image began undergoing a serious change while she was dating A-list actor Michael B. Jordan. Fans were initially concerned when the skincare mogul lost a startling amount of weight, going under the knife for buccal fat removal and other procedures, and many breathed a sigh of relief when Michael and Lori called it quits in June 2022. According to sources, Michael wanted to make their relationship more serious, but Lori got cold feet and preferred not to commit.
"She's growing up as a public figure," Steve said in the aftermath of the break-up. "She doesn't get to make her mistakes like everybody else… hers get publicized." Six months later, Lori began dating actor Damson Idris, who happens to be one of Michael's many industry peers.
Even if the Harvey family has recently been rocked by scandal after major news outlets began reporting Marjorie's shady past – Steve's third wife is referred to as "Lady Heroin" online, as she was linked to the Memphis drug trade and had children by two kingpins who happened to be related – Steve and his clan appear to be as content as ever. The comedian is worth a staggering estimated  $280 million, whereas his son Wynton, who is 5ft 9in (182cm) tall, has a more modest net worth of close to $500,000.