Who is Jami Gertz?
Famous American actress Jami Beth Gertz was born in Chicago, Illinois USA, on 28 October 1965, making Scorpio her zodiac sign. She has 50 acting credits, but is perhaps still known best for portraying Dr. Melissa Reeves in the 1996 action adventure thriller movie "Twister", which starred Helen Hunt and Bill Paxton, and was directed by Jan de Bont. It follows advanced storm chasers Jo and Bill Harding who are about to divorce, but now have to work together to create an advanced weather alert system; the movie won 11 of its 28 award nominations, including two Oscar nominations for Best Sound and Best Effects, Visual Effects.
Jami and her husband, American billionaire businessman Antony P. Ressler, are today co-owners of the Atlanta Hawks competing in the National Basketball Association (NBA).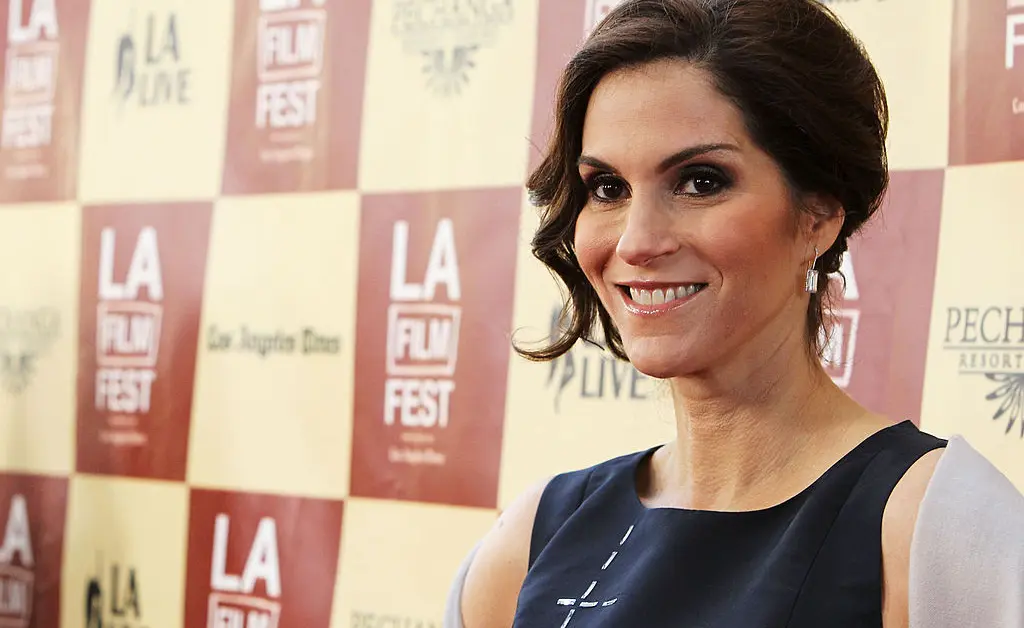 Education and early life
Jami was raised in Chicago alongside her brothers Scott and Michael, by their father Walter Gertz and mother Sharyn, who was a housewife, and Walter a contractor and builder. Jami was raised in Conservative Judaism.
She studied at Maine East High School, and was 15 when she made her debut film appearance, playing Big Girl in the 1981 romantic comedy "On the Right Track", while the same year saw her play Patty in the popular romantic drama "Endless Love", which starred Brooke Shields and Martin Hewitt, and was directed by Franco Zeffirelli. It follows two teenagers who've fallen in love, and their parents who are against the relationship; the film won three of its 19 award nominations, including an Oscar nomination for Best Music, Original Song.
Jami matriculated in 1984 and then enrolled at New York University, from which she graduated with a Bachelor's degree in drama in 1988.
Roles in TV series
Jami's debut TV series role was playing Muffy Tepperman in all 20 episodes (1982-1983) of the comedy "Square Pegs", which starred Sarah Jessica Parker and Amy Linker, and was created by Anne Beatts. It follows two awkward teenage girls as they're trying to fit in at Weemawee High School, and the series won one of its five award nominations.
In 1984, Jami starred as Martha Spino in all 13 episodes of the comedy "Dreams", which also starred John Stamos and Cain DeVore, and was created by Andy Borowitz. It follows the lives of members of the music band Dreams, and the series was nominated for only a single award.
Jami had no other TV series roles in the remainder of the '80s, until in 1991 and '92, she played Lily Ruscio in all 22 episodes of the comedy "Sibs", starring alongside Alex Rocco and Marsha Mason; it follows the lives of three sisters. The remainder of the '90s saw Jami appear in an episode of the comedy "Seinfeld", another comedy "Dream On", and the romantic comedy "Hudson Street".
From 2002 through 2006, she starred as Judy Miller in the romantic comedy "Still Standing", which also starred Jennifer Irwin and Mark Addy, and was created by Diane Burroughs. The series follows the lives of Judy and Bill and their four children, and it won three of its six award nominations. Jami appeared in only two TV series in the remainder of the 2000s: the crime mystery "Shark" and the comedy "Entourage".
From 2012 through 2014, she starred as Debbie Weaver in all 44 episodes of the popular romantic family comedy "The Neighbors", which also starred Lenny Venito and Simon Templeman, and was created by Dan Fogelman. It follows a New Jersey family who've moved into a neighborhood full of aliens, and the series won two of its eight award nominations.
Jami's since had only two TV series roles, playing Marin Rosenthal in the 2016 episode "Career Days" of the romantic comedy "This Is Us" and David's Wife in the 2017 episode "Bernie and Blythe" of the comedy "Difficult People".
Roles in movies
In 1983, Jami portrayed Monica Mitchell in the comedy "For Members Only", and the year 1984 saw her play Robin in the critically acclaimed romantic comedy "Sixteen Candles", which starred Molly Ringwald and Anthony Michael Hall, and was written and directed by John Hughes. It follows a girl's 16th birthday party, and the movie won two of its three award nominations. Some of Jami's notable performances in the remainder of the '80s were in the 1985 romantic comedy "Mischief", the 1987 horror comedy "The Lost Boys" and the 1990 romantic comedy "The Boyfriend School".
She had only a couple of roles in the '90s, and the most popular film amongst these was perhaps the 1999 romantic comedy "Seven Girlfriends", which starred Laura Leighton and Tim Daly, and was written and directed by Paul Lazarus. It follows a man who's been told that he doesn't know how to be in a relationship, which has led him to visit his seven former girlfriends and ask them why it hadn't worked out between them; the film won five of its six award nominations.
Some of Jami's notable performances in the 2000s were in the 2005 biographical drama "Fighting the Odds: The Marilyn Gambrell Story", the 2006 comedy "Keeping Up with the Steins" and the 2007 romantic drama "Lost Holiday: The Jim & Suzanne Shemswell Story".
She appeared in only two movies in the 2010s: the 2013 comedy "Dealin' with Idiots" and the 2015 comedy "Untitled NBA Project", and most recently, Jami portrayed Rita in the 2022 romantic comedy "I Want You Back", which starred Charlie Day and Jenny Slate, and was directed by Jason Orley. It follows Emma and Peter who are in their 30s, and are planning to sabotage their exes' relationships so that they could have them back; the movie was nominated for two awards.
Other credits
Jami produced the popular 2011 romantic movie "A Better Life", and she's the producer of the upcoming series "Magic City: An American Fantasy".
She received special thanks for the 2015 episode "The Lost Boys" of the series "Horror Talk Movie Reviews".
Some of Jami's recent talk-show appearances have been in "The Talk", "Good Day L. A." and "Home & Family".
Awards and nominations
Jami's 'won' one of her four nominations: a 1996 The Stinkers Bad Movie Award for Worst Supporting Actress, plus a nomination for a 1997 Razzie Award for Worst Supporting Actress, both for "Twister", but also a 2001 Primetime Emmy for Outstanding Guest Actress in a Comedy Series, for "Ally McBeal" and a 2004 Young Artist Award for Most Popular Mom & Pop in a Television Series, for "Still Standing" (shared with Mark Addy).
Love life and marriage
Jami doesn't shy away from sharing the details of her love life with her fans, and it's known that she's been a married woman for nearly 35 years now.
She and Antony P. 'Tony' Ressler exchanged vows in a large ceremony in 1989, and they've since kept each other company during many events. Jami gave birth to their first son Oliver Jordan on 6 May 1992, and their second son Nicholas Simon followed on 17 February 1995; Jami gave birth to their third son Theo in 1998.
Jami and Tony have bought the Milwaukee Brewers of Major League Baseball (MLB) through their investment group, and the school Gertz-Ressler High Academy has been named after them. Jami's today the board director of the Melanoma Research Alliance.
There are no other men whom Jami's been with, that we know about; she's married to Tony Ressler as of August 2023, and they have three sons together.
Interesting facts and hobbies
Jami and her husband were named top donors to charity by The Giving Back Fund in 2010.
Her marriage with Tony has made her one of the wealthiest women in the USA.
Jami was nearly cast to star as Rachel Green in the evergreen 1994 comedy series "Friends", with the role eventually going to Jennifer Aniston.
She appeared alongside Tom Cruise in the 1981 movie "Endless Love", which was his film debut.
Jami dreamt of becoming a figure skater during her teenage years.
She and her family are today residing in Los Angeles, California.
One of Jami's favorite actresses is Sandra Bullock, and some of her favorite movies include "Bird Box", "Our Brand Is Crisis" and "Miss Congeniality".
Appearance and net worth
Jami's age is 57. She has brown hair and eyes, is 5ft 5ins (1.65m) tall and weighs around 120lbs (55kgs).
Jami and her husband have a shared net worth of over $8 billion as of August 2023.