Gabimfmoura is a 19-year-old Brazilian dancer and social media personality, best known for her TikTok account gabimfmoura, on which she's amassed over 10 million followers, and her Instagram account with the same username, on which she's attracted over two million followers.
Early life and childhood
Gabriela "Gabi" Moura was born on 18 June 2004, in Rio de Janeiro, Brazil. Her mother's name is Leticia, but she has yet to reveal her father's name; he died on 24 July 2019, and Gabriela thought that he physically resembled Negan Smith, the villain played by actor Jeffrey Dean Morgan in "The Walking Dead" TV series. He affectionately called her  'his popcorn'.  Gabimfmoura wanted to become well-known on the Internet since she was a child, and launched her first YouTube channel at nine. She deleted it shortly before she reached 100 subscribers, because she feared what others would think. She grew up in a religious setting, and is a devout Christian.
Career
Gabimfmoura debuted on TikTok in March 2020, and immediately established herself in the niche that would bring her renown: dancing. She confirmed in July 2023 that the 'mf' in her profile name stands for 'motherf*cking.' Gabimfmoura began posting videos of herself dancing to various songs, from Brazilian tunes to rap tracks from artists such as Blueface, Gunna, Lil Uzi Vert, and Don Toliver. She didn't compete but has trained in dancing and has primarily focused on belly dancing. Gabimfmoura occasionally filmed comedy-related skits, answered questions, and discussed her religious beliefs.
She initially filmed videos with friends Carol "Lola" Felix, Maria Marton, and Gigi 'Giospfariaa' who had a minor following. As the number of followers grew, Gabimfmoura began to model clothes, especially bathing suits and summer outfits. She also collaborated with TikTok stars with a large following, including Pri Aprini, Duda Rubert, Ingrid Ohara and Renan Pertile.
Moving to California
In early 2023, Gabimfmoura began posting images to Instagram from the US, primarily Los Angeles and New York City. She attended the New York Fashion Week in September 2023, and collaborations with brands such as GUESS USA, Sneaker Sul, Revolve, and USEVILLE followed. Gabimfmoura also promoted companies such as AliExpress, Woke Customs, and Edikted, hairstylists such as Tony "Sigatony" Lima, and events such as the CARNARILDY carnival.
Moreover, in 2023, Gabimfmoura attended the Coachella Valley Music and Arts Festival, premieres of movies such as "Spider-Man: Across the Spider-Verse," "Barbie" and "Nefarious," and was at the red carpet event for the TikTok Awards. Although she occasionally returns to Brazil to be with her mother, Gabimfmoura said in mid-2023 that she never wants to leave Los Angeles.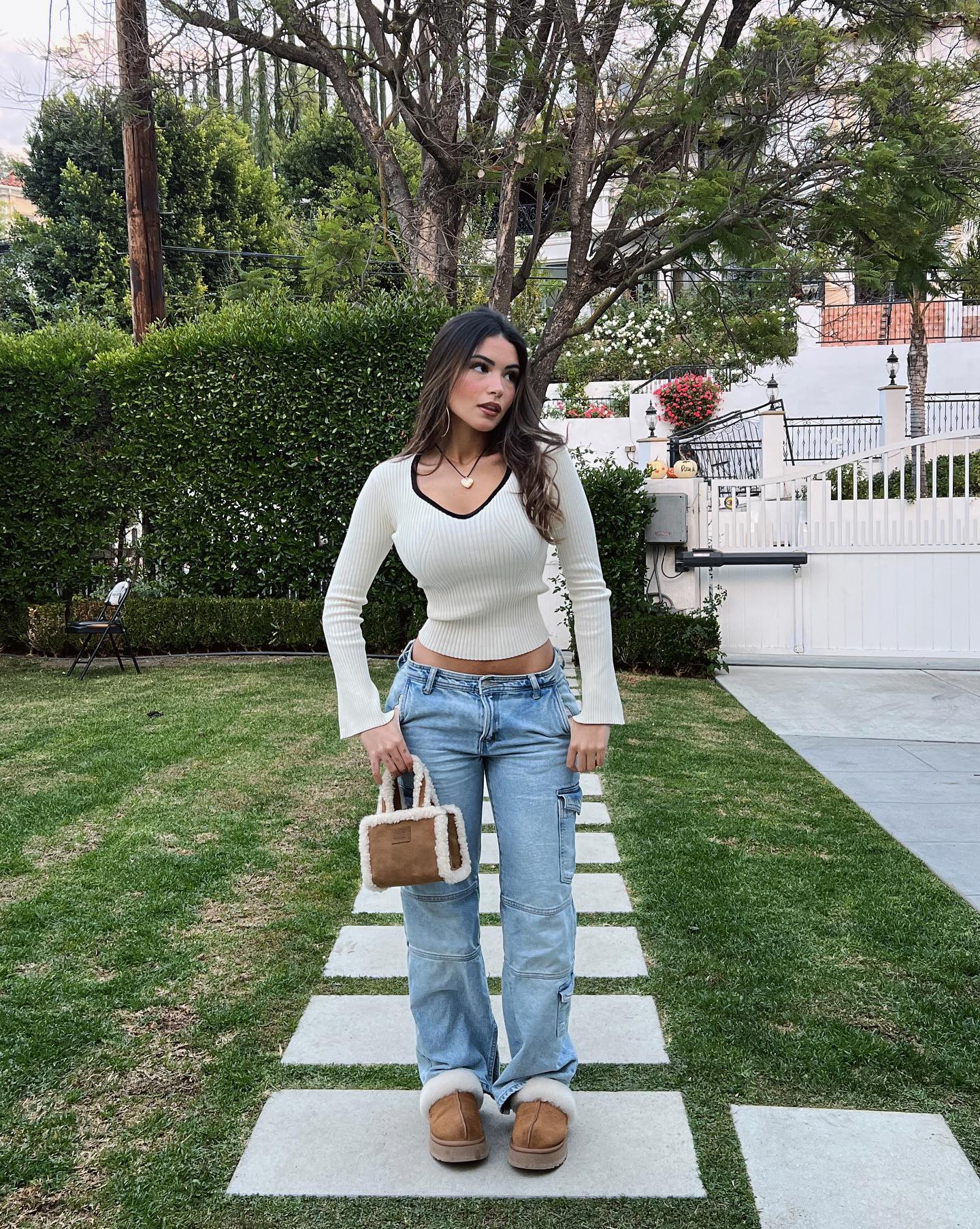 In late April 2023, Gabimfmoura began posting content with her boyfriend, Canadian social media personality, actor, recording artist and businessman Joshua Kenneth "Josh" Richards. She previously hinted at being infatuated, by mentioning that she wants someone to tell her that they like her. She added that she cannot stop thinking about them, and sometimes wishes that they never met him, finally specifying the gender. Moreover, Gabimfmoura posted an image of a large flower delivered to her house, on Snapchat and Instagram shortly before they went public.
After the two admitted that they were a couple, their fan bases gave them a relationship name, 'Jabi,' resulting from a mix of their nicknames. Their Q&A (Questions & Answers) video from August 2023 revealed that Josh said 'I love you!' first and that he's more protective but that Gabimfmoura cleans more. Josh also cooks more, which she loves about him, but spends more money. Gabimfmoura is more likely to start an argument and fall asleep first; she's close with his sister, Olivia, who has a TikTok account, @oliviarichardzz, on which she's amassed over 715,000 followers.
Who is Josh Richards?
Josh was born on 31 January 2002, in Toronto, Ontario, Canada; he's best known for his TikTok account, @joshrichards, to which he's attracted an audience of over 26 million followers. Josh also has a significant following on YouTube, Twitter, and Instagram. Like Gabi, he's posted dancing, lip-synching, and comedy skits, but has used his prominence to branch out more.
Moreover, Josh co-founded a digital management company, TalentX Entertainment, and became its first recording artist after he signed a contract with Warner Records in July 2020, shortly before he released his single, "Still Softish," featuring fellow social media personality Bryce Hall. Furthermore, acting as the CEO and founder of the CrossCheck Studios production company, he signed a first-look deal with Amazon in July 2022. Josh also co-hosted a podcast entitled BFFs, and co-founded the Ani Energy drink company.
Interesting facts
Gabimfmoura has a Bolognese dogin Brazil named Megussa Pitulina.
When she first came to Los Angeles, she felt that she knew all the central locations because she played the "Grand Theft Auto V" video game. One of the fictional cities in the game, Los Santos, was inspired by Los Angeles.
Gabimfmoura's best friend, a fellow social media personality named Carol "Lola" Felix, who has over 270,000 followers on her TikTok account, @carolfelixvt, was born on April Fools' Day.
Gabimfmoura considers two friends her twins – Maria Martonand well-known social media personality Duda Rubert. Duda is also from Brazil and moved to Los Angeles, and Gabimfmoura regards Duda as the most beautiful woman she has seen in person.
She wants to become a singerbut thinks that her voice sounds terrible. However, she would love it if someone made a song about her, as Justin Bieber did for Selena Gomez.
Her two mottos are 'You only live once', and 'Sleep while it passes.'
Gabimfmoura wants to star in the "Fast and Furious" movie franchise,and is a big fan of the "Prison Break" TV series that aired from 2005 to 2017.
She is frequently late to her appointments.
She cries when she reads comments praising her personality, not her looks.
Gabimfmoura loves to give and receive flowers.
She enjoys swimming at night, even at four a.m.
The song that she wants Alexa to play for her birthday is "Birthday" by Selena Gomez.Another favorite is "Something About the Sunshine" from the 2010 TV movie "StarStruck."
Gabimfmoura doesn't drink champagne,and even hates the drink. However, she sometimes holds it in her photos for a better aesthetic.
Her Instagram account was hacked on 7 July 2023; someone impersonated her friend Kika and tricked her into sending a verification code. Thankfully, she restored access two days later.
She said that the 1.18ins x 1.57ins (3cms x 4cms) passport picture that she took in August 2023 is the only ID-type picture in which she doesn't look ugly.
Gabimfmoura confessed that watching the "Bridgerton" TV series raised her standards for a romantic partner. Simultaneously, she realized that no one would live up to a fictional character's traits and behavior.
Physical characteristics
Gabimfmoura has dark brown eyes and dark brown hair, is 5ft 6ins (1.68m) tall, and weighs about 128lbs (58kgs). Gabimfmoura has several tattoos, including butterflies on her left forearm, branches on her left rib and right forearm, the words 'wish you were here' on her left palm dedicated to her late father, and a wolf surrounded by flowers on her right triceps.
Net worth
Online sources estimate that Gabimfmoura has a net worth of close to $1 million. The number seems low and disproportionate compared to the wealth of other TikTok creators with a similar or larger audience, including her boyfriend. However, Gabimfmoura only promoted a few brands that she genuinely liked on Instagram, while she has yet to monetize her TikTok popularity.
Contrastingly, Josh Richards has a net worth of $5.2 million as of September 2023, according to Forbes experts, who estimated Josh Richards' net worth at $5 million at the end of 2021, making him the fourth highest-earning TikTok personality, alongside Bella Poarch after Charli D'Amelio, Dixie D'Amelio, and Addison Rae. Therefore, his net worth is likely much higher. On top of his business ventures above, Josh was the CSO (Chief Strategy Officer) for the now-defunct social media platform Triller. Additionally, he's an investor in a Gen-Z venture capital fund entitled Animal Capital. According to its LinkedIn page, the company had over $15 million in funding, and access to over 150 million engaged consumers.