In the world of reality television, few personalities have made a lasting mark like former partners Jarrod Schulz and Brandi Passante. They were labeled as "The Young Guns" during their stint on "Storage Wars," which captivated audiences globally as they offered a glimpse into the life of ordinary people doing business by bidding for unclaimed storage units, and finding hidden treasures inside them. The couple experienced a series of highs and lows over the years, building a devoted following along the way. However, their once-strong bond began to deteriorate in 2018, leading to their eventual separation, which affected Jason's tenure in the reality TV show.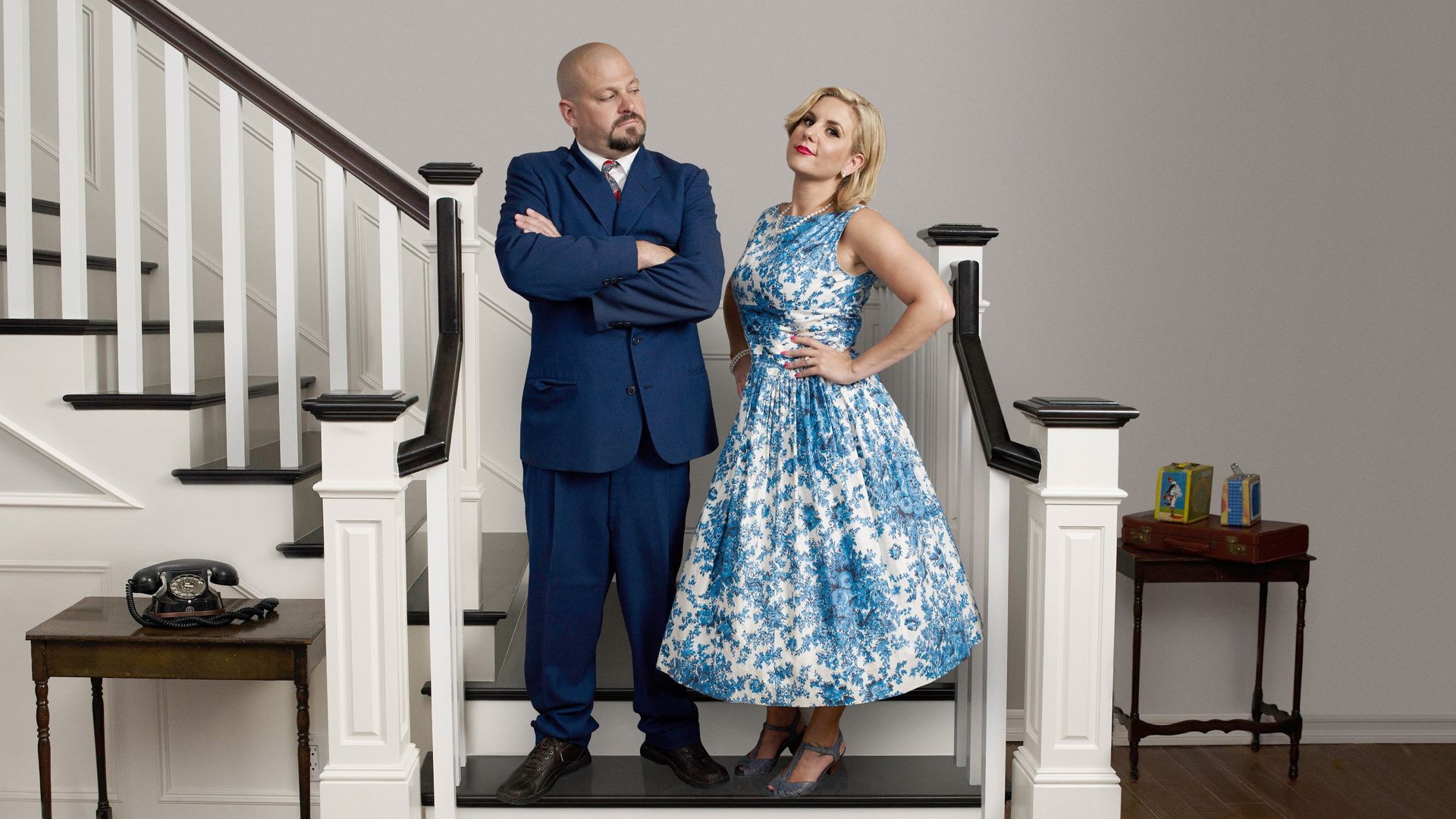 Meet Jarrod Schulz and Brandi Passante
Born on 15 October 1977, in Long Beach, California, Jarrod Schulz emerged as a charismatic figure in the world of reality TV. His journey, however, was not without its share of challenges and setbacks. As a young man, Jarrod's life took a tumultuous turn when he found himself facing the repercussions of criminal charges. In 1997, he was arrested for felony possession of a controlled substance, and driving under the influence. The aftermath of his actions led him to spend 16 months behind bars, a chapter that would shape his perspective on life, and encourage him to make better decisions. He turned a new leaf, and there were no further reports of any other drug-related run-ins with the law. Jarrod didn't share much of his personal life with the public so there was limited information about him. It was revealed later on that he already had a child, prior to his relationship with Brandi.
Brandi Leigh Passante, who hailed from the Lone Star State, was born on 16 May 1980, in Harris County, Texas. Her parents, Joe and Cheryl Passante, welcomed her into a family that included her two brothers, Bruce and Alexander. Despite the occasional glimpses into her upbringing, Brandi rarely dwelled on her early years, alluding to a troubled childhood. In a candid podcast appearance, she tacitly acknowledged the host's description of her home life – one characterized by instability, unpredictability, and occasional tumult though details remained largely undisclosed. It became apparent to her fans that her reluctance to delve into these matters stemmed from a potentially difficult upbringing. In her own words, she revealed, 'I was constantly questioning if I was adopted or something, because I just felt that I never belonged.'
When Jarrod met Brandi
The origins of Jarrod and Brandi's relationship can be traced back to 1999 when Brandi found herself working at a carpet cleaning company. Amidst the routine of work, their paths crossed. She was introduced to Jarrod Schulz, who held the position of her supervisor. In the early days, a playful narrative emerged from Jarrod's side, one in which he would jest that Brandi was following him with keen interest after their initial encounter. However, as time passed by and emotions deepened, a more earnest tale was revealed – one in which Jarrod's pursuit of Brandi went beyond jest, evolving into relentless determination. His playful commentary gave way to the admission that he was the one who ardently pursued her affections.
Friends and colleagues often reminded Jarrod not to pursue Brandi if he wasn't serious with her. They were also kind of wondering if she would even entertain him as everyone knew that she was way too good for him! Recognizing this perceived disparity, he chose a creative approach by doing things to ensure she would always think of him. He also heeded the advice of others, reminding himself constantly to approach her with care and kindness. His pursuit was deliberate, fueled by a fervent desire to win her heart. During interviews, Brandi shared that Jarrod's presence became a constant in her life, and recalled how he persistently pursued her and never gave up. Eventually, he broke down the walls that she deliberately built around her and won her heart.
Became a family
While their journey together wasn't easy during the early years, Jarrod and Brandi overcame the hurdles in their relationship, and later became parents to two children, Payton and Cameron. A lot of viewers became inspired by their story from the unassuming beginnings to the spotlight of a reality TV show.
The "Storage Wars" Era – The Young Guns
A background on "Storage Wars"
The landscape of TV underwent a revolutionary transformation in the early 2000s, courtesy of reality shows. These captivating "reality" narratives captured hearts globally, transcending geographical boundaries and invading not just the TV screens, but also several social media and streaming platforms; amidst this cultural shift, "Storage Wars" emerged. It was in 2010 when it made its TV debut, and the industry was surprised at the level of attention that it gained from viewers. The notion that mundane topics such as abandoned storage units could attract viewers to such an extent was initially met with skepticism by some A&E executives, yet against the odds, the show resonated with audiences, becoming a phenomenon that defied convention.
In its first season, it commanded an average weekly viewership of nearly 2.5 million, ascending to the list of the most-watched non-scripted content on the cable channel. This unexpected success served as the catalyst that ignited the storage auction frenzy within the world of reality TV programming, a concept that has continued to entertain audiences, as it offered its 15th season this 2023.
The premise of "Storage Wars"
At its core, "Storage Wars" introduced a group of astute business entrepreneurs who ventured into the abandoned storage lockers industry, seizing opportunities through strategic bids during auctions held at storage facilities. A little-known fact is that, in the majority of US states, storage units left unpaid for ninety consecutive days granted storage facility owners the right to auction off the contents. Within these unassuming spaces, treasures of varied forms were unveiled – artworks, gadgets, antiques, and jewelry, each offering a glimpse into the unexpected riches hidden within the seemingly ordinary.
The TV series became some sort of modern-day treasure hunt, set within the confines of storage facilities rather than exotic locales. However, not all the bidders went home with valuables, as some of these units could turn out to be worthless, but the failures and successes of these bidders quickly enticed viewers. Aside from the dynamic duo of Brandi Passante and her fiancé, Jarrod Schulz, there were other key players in the TV show such as Brandon Sheets, Dave Hester, and Barry Weiss. Facilitating these captivating auctions were the familiar voices of resident auctioneers Dan and Laura Dotson, who orchestrated the high-stakes bidding battles.
"@MikeMGerr: i dont mean to offend @Jarrodmschulz but he's gained so much more weight after a couple of seasons of storage wars "funny"

— Jarrod Schulz (@Jarrodmschulz) May 10, 2013
How did Jarrod and Brandi end up with the show?
As fate would have it, Brandi and Jarrod became part of the show by chance, as the A&E producers who were looking for people to headline their show went to the same auction event in a storage facility in California that they attended. In an interesting turn of events, the initial conversation that the producers had was with Jarrod, the magnetic force behind the couple's auction endeavors. However, as the producers' eyes shifted to Brandi, they recognized the unique dynamic that she brought to the table, and so asked him if they would be willing to step into the world of reality TV.
They agreed, and it was one of the best decisions they made as a couple, the start of the unexpected twist that shaped their journey. As Brandi reflected on that pivotal moment, she recounted the incredulous nature of the proposition that they received. It wasn't a path they had envisioned, nor was it an aspiration that they harbored when they were growing up. While they didn't have any idea about show business, Jarrod and Brandi recognized the potential for growth, both in their business and personal lives, so they embraced the unexpected opportunity wholeheartedly.
Years with "Storage Wars"
Jarrod Schulz's breakthrough into the mainstream came with his role in the reality TV sensation, "Storage Wars." His presence added a layer of intrigue, as his on-screen dynamic with Brandi Passante fueled competitive bidding wars for the most promising storage lockers. Their funny interactions and friendly rivalry quickly earned them a devoted fan base.
Top interesting moments between Jarrod and Brandi
While some viewers were already skeptical about confrontations or people arguing on reality TV shows, the loyal fan base of the couple enjoyed their bickering, whether it was scripted or not. Here are some of their most interesting moments in the show:
Jarrod wrecked Brandi's car
There was an episode in which Brandi was becoming annoyed at Jarrod, as he kept on breaking things. For instance, when he drove Brandi's car to the storage facility, he hit a pole while trying to park her car. On the very same day, when Jarrod was guiding the truck driver so that the back of the truck would be aligned with the storage unit that they bought, he kept on telling the driver to keep backing up and it inadvertently broke the radio inside the unit. All the money they made by selling the items from that unit just went to pay for the repair of Brandi's car.
He pulled a bidding prank on her
Jarrod loved to see Brandi frustrated, and so he pulled a prank on her during an actual bidding process. He stood behind Brandi while bidding was going on, and kept indicating secretly to the auctioneer that she was interested in the unit. There were even units that they agreed before the bidding war started that they didn't want, but he kept on secretly signaling the auctioneer when they were up in the auction block that she was interested. She was awarded three units and was frustrated because she swore that she didn't bid for any of them. By the time the third unit was being auctioned, Brandi slowly realized that Jarrod was pranking her, and she couldn't do anything about it but yell some expletives afterwards. The good thing was that in one of the units, they found a box full of rare and quirky tea cups, and when taken to an expert they were informed that the estimated value of the set was around $2,500. Brandi was happy with the result and forgave him, saying teasingly 'I am good at it. Hear that Jarrod. My lockers were a hit.'
Brandi spent close to $7,000 for a storage unit
There was one unit that Brandi wanted, but Jarrod said that they shouldn't go past a certain amount. The unit had three Yamaha three-wheeler bikes and she told Jarrod that she would bid for it even if it reached $5,000 but Jarrod disagreed. However, Brandi couldn't be dissuaded and went on to win it for $6,750. He said that he created a monster because, during the early years, she wouldn't even spend more than $700 for a unit. Initially, they tried to start the bikes but failed, and Jarrod said she'd made a huge mistake. When they brought them to a motorcycle expert, they found out that they could fetch $12,000 or more. She was pretty smug about it, and rightfully so after being berated by him many times on how she blew $7,000 for nothing.
The spin-off series revealed the truth about their relationship
Jarrod and Brandi's journey in reality TV took an unexpected turn, when A&E network gave them a spin-off series that delved deeper into their lives. "Brandi and Jarrod: Married to the Job" was a testament to their popularity, and the intrigue they held for their audience. The spin-off series offered viewers an intimate glimpse into what they did with their families, after they finished bidding on units and selling their wares. It was launched in August 2014 with eight episodes.
Intriguingly, despite the deep connection they shared and their portrayal as a loving couple, the series revealed a surprising truth. While they treated each other as husband and wife, official wedding vows had not been exchanged. As the episodes unfolded, the audience became privy to the intricacies of Jarrod's proposal to Brandi and the ensuing wedding plans. However, for reasons unbeknownst to the viewers, the spin-off never went beyond the first season. There were no talks anymore of their wedding plans, and they just returned to the original show.
Jarrod and Brandi broke up secretly
In 2018, Brandi and Jarrod decided to separate quietly, marking a poignant chapter in their relationship. While they never announced it to the public immediately, primarily due to the potential impact on their children, and secondly because they still had a contract with A&E to fulfill. To be separated would break the narrative that they created over many seasons, apparently, they called it quits after the filming of the 12th season ended. Some eagle-eyed fans already had suspicions that the two were no longer together, as they posted photos on their social media pages with different individuals beside them. After a two-year hiatus due to the Covid-19 pandemic, viewers were finally officially informed about it during the 13th season premiere, when they openly talked about the separation without going into too many details.
Domestic violence charges
In April 2021, news about Jarrod being charged with misdemeanor domestic violence surfaced. Allegedly, he went to an Orange County bar where Brandi was out having fun with friends. They had a heated discussion, and she told him to just go home. Things escalated when he didn't want to, and started to get physical with her. The police arrived after someone called them to intervene, but Jarrod had already left. Nevertheless, a complaint was filed and the police arrested him – no updates were given as to how he was able to resolve it.
Jarrod's absence in "Storage Wars"
During the off-season, fans discussed online if they would see Jarrod again in the reality-TV series. Most of them highly doubted it, when news broke out that he was physically violent with Brandi. It turned out they were right, as the 13th season was Jarrod's last year with "Storage Wars." He was conspicuously absent in the 14th season, and even then, some fans thought that there might be a slight chance that he would be back the following season. However, he was still a no-show in the latest season, which aired in 2023. It seemed that his services were terminated, but there was no official announcement from the network. Basically, the charges against him filed by Brandi ended his career with "Storage Wars."
An entertainment site reported that Jarrod's lawyer refused to enter a plea deal, unless the result would be a dismissal of the misdemeanor domestic violence charges. There was a schedule of a hearing in July 2023, but no updates were reported. These days, while Brandi was still very much part of "Storage Wars," Jarrod was busy tending to his restaurant called "The Rush Bar and Grill." Both of them had already moved on, and were dating other people as per their Instagram pages. Brandi is with a man named Clifford Weaver while Jarrod is in a romantic relationship with his bartender, Rochel Beckman.