Heidi Lavon
The actress and model Heidi Lavon was born on 22nd May 1987, in Casa Grande, Arizona, USA, and is of mixed Ukrainian, Russian, Polish, and Jewish heritage. After matriculating from high school in Fairbanks, Alaska, the brunette moved to Phoenix, Arizona.
Career
Heidi is best-known for her work as a photographer, model, and contributing writer for the tattoo publication Skin Art magazine. With her curvy 5ft 7in (170cm) and numerous tattoos, the influencer stands out wherever she goes, and her outgoing personality has helped her rack up millions of followers, mostly on TikTok, YouTube, and Instagram.
The Arizonan, who is also a licensed hairstylist, has featured various times on the cover of FHM and other mainstream magazines geared towards male audiences. Despite only having one credited TV appearance in the show "Portlandia", Heidi's IMDb biography claims that she was also on "Say Yes To The Dress" and has her own episode in the animated series "Beavis & Butthead".
In July 2020, Heidi and her partner James Ramsey launched The Exposure Therapy Podcast on Apple. Some of the topics discussed were the influence of social media on mental health, the Wayfair conspiracy that links the furniture company to child trafficking and missing minors, and Heidi's diagnosis of the rare skin disorder lymphomatoid papulosis.
Heidi and James often had guests on their podcast, with the first one being the activist and showgirl Toxic the Songful Bird. Newbie model Alexus Ann and Argentinian rugby player Ramiro Herrera also had their own sit-down conversations with the tattooed couple. Following a three-month hiatus, Heidi and James returned to the podcast to discuss the many changes that had been going on in their lives, such as their move to a new studio, and the addition of a (furry) family member. The last podcast episode was in January 2021.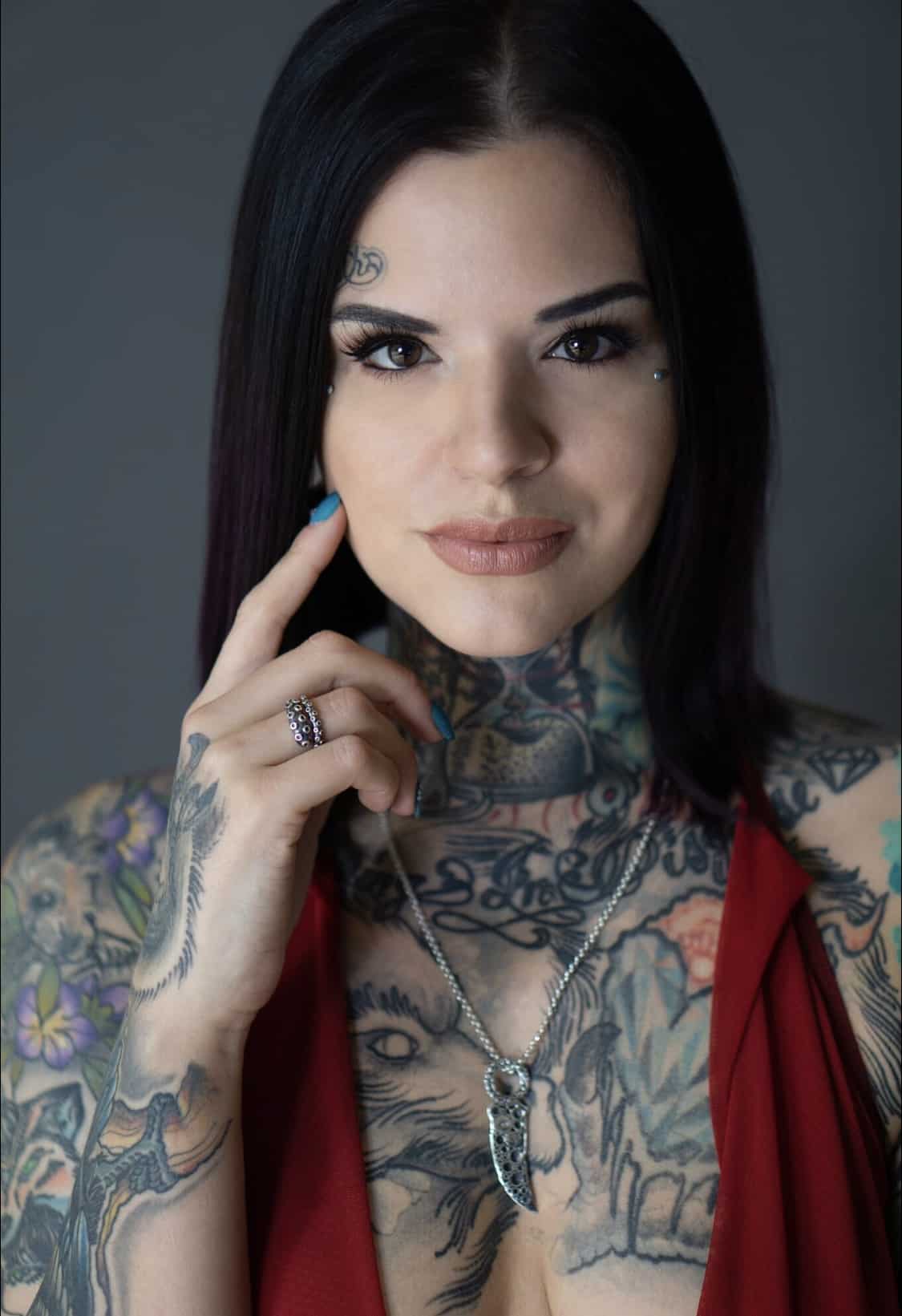 James Marshall Ramsey
Once described as "one of social media's hottest and sexiest couples", Heidi and James met through a mutual friend who hired them to do a seductive photoshoot. According to Heidi, she and James scheduled to meet beforehand so that there wouldn't be any awkward moments on the big day; after discovering that they had many common interests, they began seeing each other regularly, and eventually dating.
James was born in Portland, Oregon, on 5th October 1980. The US Army vet is of Scottish-Irish descent and attended Estacada High School; later, he entered the army's delayed entry program and served for six years, working his way up to the rank of Sergeant. After being honorably discharged, James returned home but was involved in an unpleasant motorcycle accident which resulted in a shattered pelvis and the amputation of his right leg above the knee.
Navigating life as an amputee was certainly a challenge for James, but he made the best of his situation, receiving an Associate's Degree and graduating with honors from Le Cordon Bleu College of Culinary Arts in Portland. He then took vocational welding classes at Portland Community college and was discovered by photographer Michael Stokes in 2015, which is when his modelling career began.
Since then, James has earned a living as a model for major tattoo publications and various romantic novels. He also appeared alongside Heidi, who he describes as his business partner and long-term fiancée, in "Portlandia" and "Say Yes To The Dress". Like Heidi, James is active on several social media platforms and regularly uploads content onto Facebook, Instagram, Twitter, Tik Tok and Twitch.
As is the norm for someone with James's following, the tattoo model also promotes products on Amazon and earns a commission every time someone purchases the items on his profile, such as cologne, coffee mugs, and haircare items.
We mentioned earlier that Heidi and James had moved into a new studio in 2021, but since then they've relocated to Arizona. Heidi shared the happy news via Instagram in February 2023, writing: "I bought my first ever home!… I've worked my ass off to get to this point in my life. Remember it's possible to achieve what you want when you don't listen to anyone." She also thanked James for his unconditional support, adding that he had been her number-one fan for the last nine years; that is to say, since 2014, when they began dating.
That's not the only big thing that's happened in the couple's relationship this year: in early October 2023, James shared that he had finally met his daughter in real life for the first time. The Army vet shared a touching video of the experience as he welcomed his daughter, who looks to be in her late teens, at the airport. For now, James has yet to expound on how he learned he had a daughter, but some netizens believe that she was the product of a brief-lived fling who took a paternity test years later.
Lifestyle, Net Worth
Back to Heidi, she and James are believed to be planning their wedding, possibly a date in 2024. The alternative model has a lot on her plate right now, as between running her social media, including uploading adult content onto OnlyFans, endorsing brands via her Amazon storefront, and doing regular live streams on Twitch in different cosplays, there's not much time left over.
Heidi's promo rates are listed on her website, and it turns out that the influencer earns up to $12,000 for TikTok promos, while charging rather less for her Twitter, Facebook, and Instagram adverts from $215. As a flourishing content creator, this easily puts Heidi's net worth at somewhere in the $1 million range – and that's without taking her variable Twitch and YouTube earnings into account.
Despite being rather less active on YouTube, the videos that Heidi does upload average thousands of views. The most popular video is "TATTOO TOUR PT.1", but the model also discussed a rare personal problem, as she revealed to her subscribers that she bites the skin around her fingernails and has done so for years. Needless to say, James features in some of these videos, such as "FIANCE DOES MY MAKEUP".