Who is Aya Cash?
Aya is an American actress who's been active in the film and television industry since the 2000s. She is perhaps best known for her role as Gretchen in the critically acclaimed TV show "You're the Worst", which aired on FX from 2014 to 2019. She was also featured in the popular Amazon Prime series "The Boys", in which she played the character Stormfront from the second to fourth season.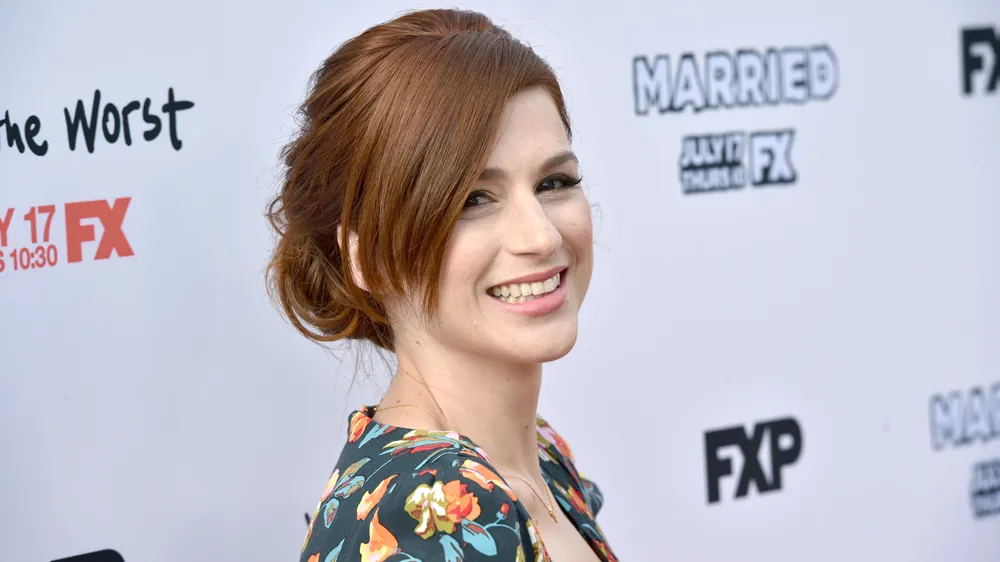 Early Life and Education
Born on 13 July 1982, in San Francisco, California, Aya grew up in a home filled with creativity. Her father Kim is a poet and novelist, while her mother, Eugene, is a Buddhist teacher. Moreover, she's the granddaughter of tennis player Pauline Betz and sports writer Bob Addie.
Aya attended the San Francisco School of the Arts, where she initially discovered her passion for acting. After matriculating, she further honed her skills at the University of Minnesota's Guthrie Theater Actor Training Program. After graduating in 2004, she moved to New York City to pursue a career as a professional actress, but initially struggled with landing roles, and had to work as a waitress full-time to make ends meet.
Roles in TV Series
Aya began her acting career in 2006 with a minor role in an episode of the acclaimed procedural drama "Law & Order", followed by her appearances in other TV series such as "In Men We Trust" (2006), "Brotherhood" (2007), and "Law & Order: Special Victims Unit" (2009).
Aya's first recurring role on television was in the 2011 Fox comedy series "Traffic Light", in which she played Callie, a quirky and confident character who provided the show with plenty of humorous moments. Although the show only ran for one season, Aya's performance stood out, demonstrating her flair for comedy and setting the stage for more significant roles.
However, Aya's true breakthrough came three years later, when she joined the cast of the FX romantic comedy "You're the Worst". The series revolves around two toxic, self-destructive people, Jimmy Shive-Overly (played by Chris Geere) and Gretchen Cutler (played by Aya), who fall in love and attempt a relationship. Aya's portrayal of Gretchen was universally acclaimed for its honesty and depth. The series ran for five seasons, and during that time, Aya was often highlighted as the show's standout performer, earning a Critics' Choice Television Award nomination in 2016.
Parallel to her work on "You're the Worst", Aya also made appearances in other TV series, including "Modern Family", "The Good Wife", and "American Dad!".
In 2019, she played one of the leads in the biographical mini-series "Fosse/Verdon", which explored the romantic and professional relationship between the choreographer Bob Fosse (played by Sam Rockwell) and famed Broadway dancer Gwen Verdon (Michelle Williams).
In 2020, Aya took on a different kind of role in the superhero series "The Boys", developed by Eric Kripke. Based on the eponymous comic book created by Garth Ennis and Darick Robertson, the show offers a dark and often satirical take on the superhero genre, standing in stark contrast to the idealized versions often presented in popular media. Aya joined the series in its second season, playing Stormfront, a charismatic and social-media savvy superhero, with a disturbing background tying her with Nazi ideologies.
Since 2022, Aya has been appearing in "Welcome to Flatch", a mockumentary sitcom following a group of teenagers growing up in a small and religious town in rural Ohio.
Congratulations to A Guthrie Experience alumna Aya Cash on her role in "Welcome to Flatch," a Fox sitcom debuting in March.
https://t.co/XajsAjif7Y

— Guthrie Theater (@GuthrieTheater) January 25, 2022
Roles in Movies
Aya's earliest film role was in the 2008 indie thriller "Off Jackson Avenue", in which she played the role of Olivia. Although the film didn't gain widespread attention, Aya's performance marked her as a promising newcomer. Later in the same year, she played the minor role of a secretary in the mystery crime drama "Deception", centering on a timid accountant (Hugh Jackman) who unknowingly becomes entangled in a woman's disappearance, and a multi-million dollar heist.
In the 2011 comedy drama "The Oranges", directed by Julian Farino, Aya appeared alongside Hugh Laurie and Leighton Meester.
The year 2012 marked a significant milestone in Aya's film career when she starred in "Sleepwalk with Me", directed by comedian Mike Birbiglia. The film, an indie comedy about a stand-up comic with a sleep disorder, was a hit at Sundance, and earned Aya critical acclaim for her role.
In the following year, Aya appeared in Martin Scorsese's "The Wolf of Wall Street", which was another significant step in her career. She played Janet, the secretary of Jordan Belfort, played by Leonardo DiCaprio. Though her screen time was brief compared to the film's leads, she stood out in every scene she appeared in, holding her own against an ensemble of established actors.
In 2017, Aya took on the challenge in a romantic comedy-drama in "Mary Goes Round", playing the title character, Mary, a substance abuse counselor battling her own addiction.
Aya continued to broaden her cinematic repertoire with a role in 2020's "Scare Me", a horror-comedy in which she played Fanny, a successful horror author. The film follows her and two of her writer colleagues as they try to outscare each other with their stories during a stay at a cabin, before ultimately realizing that their stories are coming to life.
Most recently, in 2023, Aya starred opposite Leon Bridges in the comedy drama "The Young Wife", written and directed by Tayarisha Poe.
Theatre career
Aya's theater career is as significant and diverse as her work in film and television. Aya's first substantial theater role came in 2006, when she starred in the off-Broadway production of "The Pain and the Itch" at Playwrights Horizons. Her performance as Kelly earned her considerable praise, and signaled the beginning of a promising stage career.
In the following years, she continued to make her mark on the New York theatre scene, with her roles in Off-Broadway productions such as "From up Here" (2008), "Three Changes" (2008), and "Offices" (2009)
In 2011, she starred in Sharr White's play "The Other Place"; the Off-Broadway production of the play premiered at the Lucille Lortel Theatre in 2011, produced by the MCC Theater, while the direction was undertaken by Joe Mantello. The play centers on Juliana Smithton, a successful neurologist whose life starts to unravel. Aya played the role of 'The Woman'. This character is multifaceted, representing various figures from Juliana's memories and perceptions, further emphasizing the play's theme of the fluidity and unreliability of memory.
Another notable theatre role for Aya was in the world premiere of Zoe Kazan's play "Trudy and Max in Love" in 2014.
As of 2023, Aya is appearing in the MTC Off-Broadway Premiere Production's drama "The Best We Could (a family tragedy)".
Love Life and Relationships
Aya has been married to actor, producer and writer Josh Alexander since 2012. However, their love story dates way back, as they actually met while Aya was still working as a waitress.
As an actor, Josh has appeared in a number of movies and TV series, including "The Briefcase", "Law & Order", and "Under New Management". He has also notably produced several documentaries, such as "Southern Rites", "Blesses Child", and "I'm Leaving Now".
Aya and Josh are very private when it comes to their relationship, only sharing small glimpses of their personal lives with the media. However, they can often be seen supporting each other at various events and premieres.
Hobbies and Interesting Facts
Aya is an ardent animal lover, often sharing pictures of her pet dogs on social media. She also enjoys cooking, and has shared her culinary exploits with fans online.
Aya is a celebrity ambassador of International Network For Aid Relief and Assistance (INARA), a non-government organization which helps war refugees receive medical care.
She has a tattoo of a hawk on her back, because she believed that 'Aya' means 'hawk' in Hebrew. She later learned that 'Aya' is a actually a Modern Hebrew name for honey buzzard, a different kind of bird.
Net Worth
As of 2023, Aya's net worth is estimated to be around $1 million. This figure is likely to rise as Aya continues to book more prominent roles. Despite her wealth, Aya remains grounded and focused on her craft, always striving for better, more challenging roles that allow her to grow as an actress.